The Best Choice for Mac - Elmedia
Elmedia Player is the best video player for Mac. Enjoy your content in a plethora of various formats, ranging from AVI, FLV, SWF, WMV, MOV, MKV, to MP3, and more. This video player for Mac comes with an incredibly friendly user interface, and lets you customize virtually any aspect of your viewing experience from playback controls, subtitle support, advanced audio controls, and picture modes, and tons more.
For only $19.99 you can upgrade your free Elmedia Player to the PRO version, and enjoy features such as wireless connectivity, and streaming to Smart TVs, Chromecast, and DLNA-enabled devices. Fine-tune your audio and video to the absolute last detail to get the perfect picture and audio experience you can have.
Pros
Multiple video and audio formats supported
Wireless video streaming
Screenshot features, picture-in-picture, playback controls, etc.
Playlist creation options for creating, managing, and enjoying your content
Cons
Supported media formats
This media player for Mac has native support for a large number of multimedia formats, including:
How to Play Videos on Mac
2. Choose how to open you media files:
Directly drag and drop the video onto Elmedia's window or dock icon.
Go to File - Open to locate the video file.
Use Finder to identify the video then press right-click to select "Open with" and pick Elmedia Player from the list.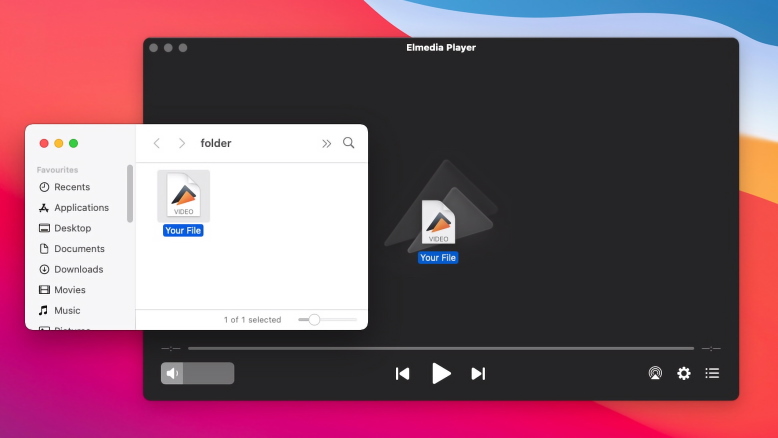 3. Sit back and enjoy your videos!
JustPlay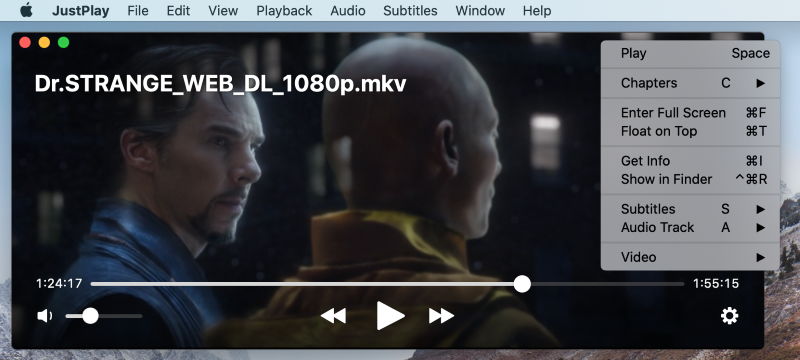 JustPlay is the next entry on our list of best media players for Mac. It's so compact and simple, you'll be surprised by the functionalities it has to offer. It boasts a massive list of supported file formats, without the need for codecs and plugins, and can even handle your 4K and 8K videos. This media player offers cool features such as a deinterlacing option, audio equalizer with presets, picture-in-picture mode, plus it's perfectly integrated with macOS.
Pros
Support for a broad range of file formats
Effortless 4K and 8K playback
Lightweight and compact
Mac-specific controls, i.e. Touch Bar integration
Various audio and video options available
Cons
No free version available
Blu-ray capabilities are limited
VLC Media Player - A Solid Contender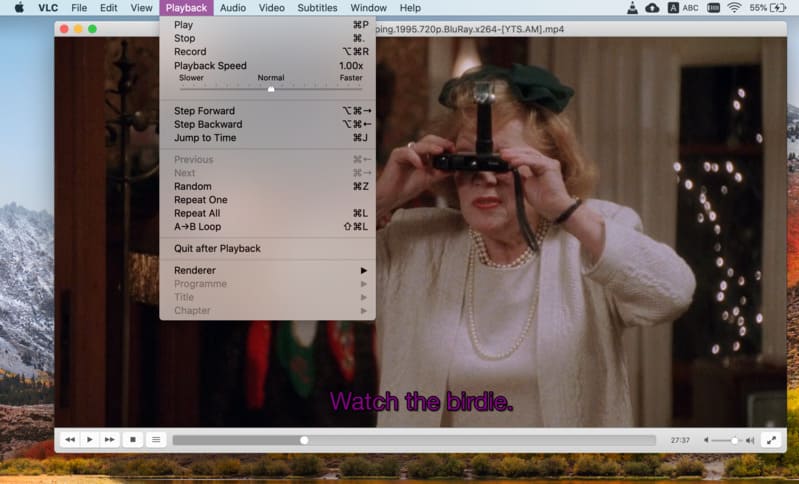 VLC player for Mac is one of the oldest and longest-standing apps around today. This video player for Mac lets users watch content in virtually any file format you can imagine - without the need for additional codecs and downloads. It includes great features like streaming, video, and audio playback with the highest levels of optimization and user experience, and allowing users to also use ZIP files without having to unpack each file individually.
What's great about this app is that it's also free to use - which is something everyone loves. While this app is old and can feel outdated to some, its usability features far outweigh any aesthetic downfalls it may come with.
Pros
Supports virtually any file format you throw at it
Optimized video and audio playback
Support for plug-ins
Cons
UI can feel outdated to most people who are used to more modern interfaces
Can run into some troubles with files that require higher processing power like 4K video
IINA - A Viable Mac Video Player Worth Considering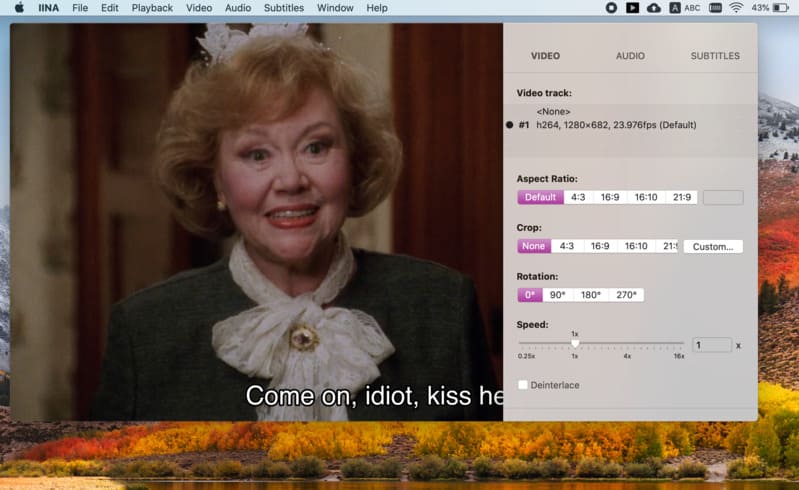 Now when it comes to an aesthetically pleasing user interface, this app does it right. IINA is a Mac media player that takes on a completely opposite approach to other apps you may have used before. IINA takes after the native Apple design language and incorporates it into its app in a beautiful and seamless way. Mac-specific features such as Force Touch, Touch Bar, Picture-in-Picture, and Dark Mode are some of the many examples of how IINA stands out as an exemplary video player for Mac.
While the highlight of this app is its eye-catching interface, it neither falls short of its performance and capabilities as a full-blown media player. Play any file format, along with subtitles, and benefit from similar playback controls and features that are found in many of the common video players today. In conclusion, this app is definitely worth a try.
Pros
Aesthetically pleasing and easy to use, similar in feel to Apple's native design language and UI
Support for various file formats
Subtitle support and seamless integration
Video and audio adjustment features for ultimate customizability
Cons
Heavy in storage usage and CPU over other similar apps
Inconsistency with playback of 10-bit H.265 full HD videos
5KPlayer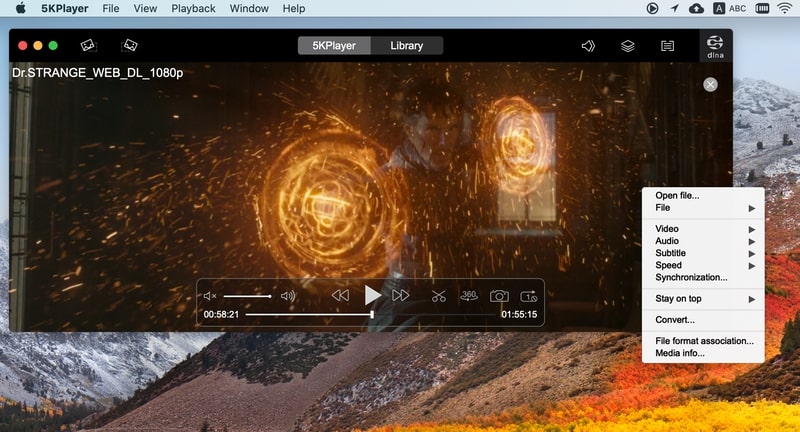 Don't be too quick to discard this one: we only use the term "generic" in its best sense. Imagine watching a movie with no interruptions or discomforts, with no need to fiddle with settings. 5K is the perfect program to embody this image. It exists and it works, and it's pretty damn good at it. The features are very subtle, and while unnoticeable in use, their absence would be very noticeable and inconvenient.
The perfect image is ruined, alas, marred by ads. That's the major downside of the 5KPlayer, and who knows? Mayhaps it would easily take the spot of the best media player for Mac, had it not been for those pesky ads. Until then, it'll stay a runner-up.
Pros
Supports high resolutions, Ultra-HD included
Streams from YouTube
Overall solid experience
Cons
Ads galore
Unoptimized CPU-wise
Cisdem Video Player - A Great Alternative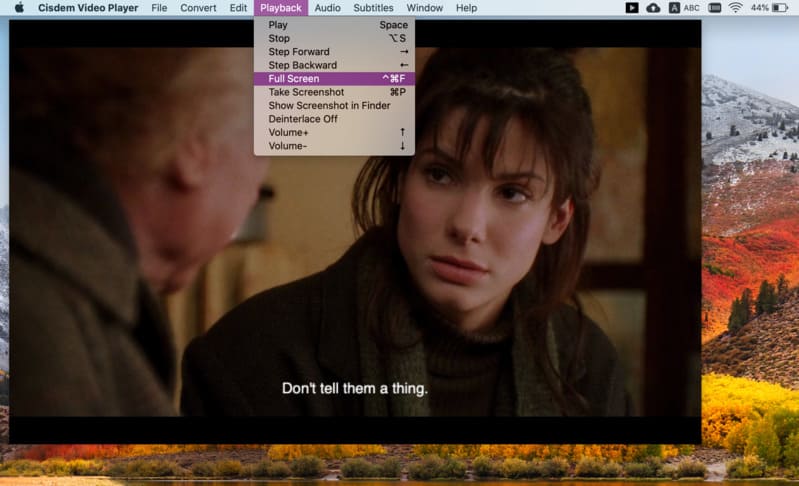 Cisdem Video Player is another one of the great video players for Mac that you may have heard of. It offers many of the same features as other apps while supporting the latest versions of macOS.
Just like other similar apps, Cisdem Video Player allows users to enjoy content in a variety of file formats and resolutions - all without the need to download additional codecs and hardware. You can enjoy the benefits of high-quality 4K and 5K video playback that comes with a seamless subtitle experience as well. And best of all, this video player takes security seriously and ensures users that its app maintains a high level of security against any sort of malware and spyware that other apps may be more susceptible to.
Pros
Support for over 50 file formats
Playback customization for the perfect viewing experience
4K and 5K seamless playback with subtitle integration
Supports latest macOS with ease
Cons
Additional features like the video converter are only accessible by paying for the premium version of the app
OmniPlayer - A Mac Media Player Worth Downloading?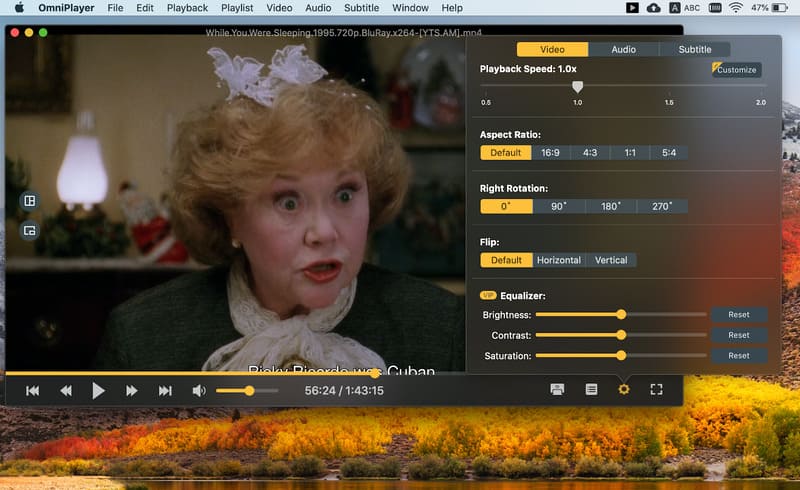 And finally, we come to OmniPlayer - a comprehensive and useful Mac video player that can easily be downloaded through the App Store. This app comes with the bells and whistles you're probably familiar with. Rich features such as a beautiful design and user-interface, making it a breeze to navigate. Also, support for various file formats, 4K video, subtitle support, playlist management, and customization, and so much more. This is an app definitely worth trying.
Pros
Simple to use and a pleasure to experience the design and user-interface
Picture-in-picture allows for greater versatility and user-experience
Playlist creation and customization features
Cons
As with other apps, most of the better parts of the app are tucked behind the paid version of the app