Furthermore, Elmedia is a powerful player that handles more than DAT files. You can trust this software to play a multitude of video and audio formats, such as MKV, MOV, AVI, WMV, FLV, FLAC, MP4, MP3, and many others. Just follow the instructions in this article, download the app, and you'll know how to play any multimedia file.
What is DAT Video File?
A DAT video file is a file that accompanies VCD video files, and it's used to play videos from VCD optical discs. The file contains various information about the video, and it can be saved in MPEG-1 or MPEG-2 formats as well. So, while this file isn't the one containing the actual movie you're trying to watch, you still need a reliable Dat file player, like Elmedia, that opens this file type in order to enjoy smooth playback.
How to Open a DAT Movie file on Mac OS using Elmedia Player
Now that you know that Elmedia is the go-to DAT video player when it comes to viewing files from VCDs, it's time to get more info on how to use this software to get the best experience. Here's a step-by-step guide on how to use Elmedia Player to open DAT file on Mac and watch every video you want.
Step 1. Download, and Launch the Elmedia App
To be able to easily play a Video CD movie DAT file using Elmedia, you first need to download the software, install it on your Mac, and launch the app.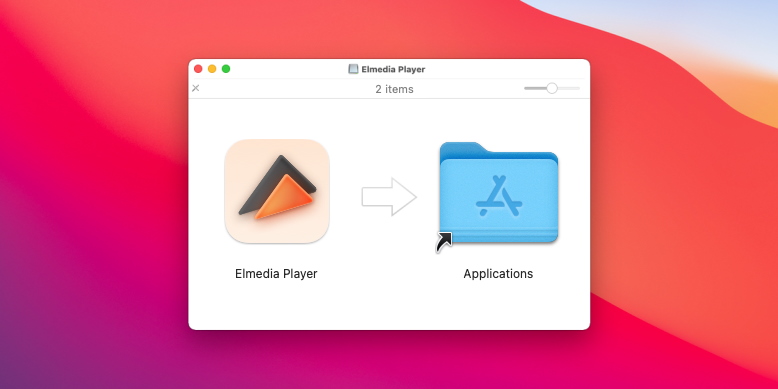 Step 2. Drag and Drop the DAT File, Which Should be a Video, into the Program
After opening Elmedia Player, leave the window open and browse your hard disk to locate the folder where the video is saved. Then, easily drag and drop the DAT file into the player's window to get things started.
Step 3. Enjoy watching!
Now you've completed all the steps to play DAT file on Mac. You can grab the popcorn and enjoy!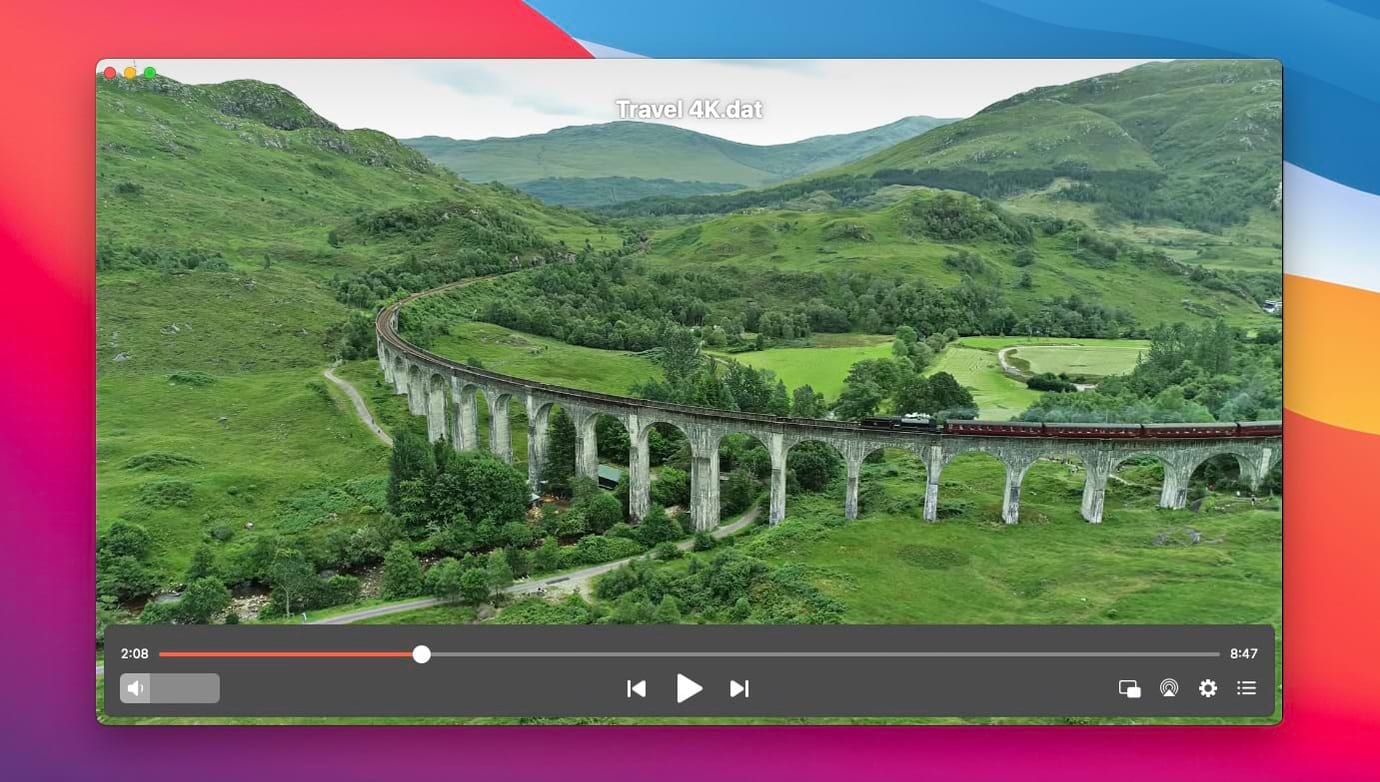 Elmedia Player: Free and PRO Versions Features
While you can play a Video Compact Disc DAT file using the free version of the Elmedia Player, there are quite a lot of advantages to upgrading to the PRO app as well. Join us as we explore the numerous functionalities offered by this app and how they contribute to outstanding playback, no matter the video file format.

AirPlay Support
One of the features only available in Elmedia Player PRO, support for AirPlay is vital if you want to stream to an Apple TV and enjoy your movie on the big screen. While the basic Elmedia app will open a VCD file on Mac, buying the PRO version will enable you to stream to Apple TV, Chromecast, and DLNA devices.
Ability to Take Screenshots
Another PRO functionality in Elmedia Player refers to taking screenshots. Actually, when upgraded, the app is capable of converting the entire video files into several screenshots.
Full Audio Control
If you're all about getting the best playback experience out of movies in digital format, you should definitely get the Elmedia Player PRO version. It gives you access to an A-B loop, a 10-band audio equalizer, and many presets that allow you to tweak everything the way you want it.

Support for Multiple Formats
Both in the free and PRO versions, Elmedia allows users to play movies in a wide range of formats. From MOV, AVI, SWF, FLV, and all the way to 3GP, you will be able to enjoy any movie out there without needing additional codecs or other software.

Hardware-Accelerated HD Experience
You can watch all your favorite movies in perfect detail thanks to the 4K resolution supported by Elmedia through its hardware acceleration feature.

Build Playlists
Even in the free version of Elmedia, users can easily create playlists and manage the video or audio files they want to play. Why play one video after another when you can just build a playlist and sit back to enjoy everything?

Full Control over Playback
With Elmedia Player, you get complete control over playback speed. If you want to increase the video speed or slow things down a bit, you can do so in a couple of clicks.
Audio/Video Sync
Don't you just hate it when the audio of a media file is not in sync with the video? Elmedia fixes that issue even in the free version, so you won't have to worry about a thing.

Complete Subtitle Support
No matter if you use the free or PRO version of Elmedia, you can always rest assured knowing you can load any subtitle file to accompany your video.
Video Deinterlacing
Even the best video format can sometimes be corrupted or have hiccups, flickering, or blurriness for a multitude of reasons. Elmedia Player has a deinterlacing feature that will make you forget everything about such issues.
What other users are saying about Elmedia
If you are searching for an advanced media player for your mac system, then Elmedia Player 7 is here for you. Elmedia Player 7 is known as the best media player amongst the new generation of Mac users.
Elmedia Video Player for Mac offers a wide range of features to meet all your multimedia needs. You can stream directly to Smart TV or Apple TV.
Elmedia Player has a wide variety of other features and capabilities, but having the ability to play just about every possible video format, tweaking settings as needed for sync, audio and video problems.
It can play any file format including the widely-used ones like AVI, MP4, FLV, SWF, WMV, MKV, MP3, M4V, etc without the need of installing any other plugin or codec.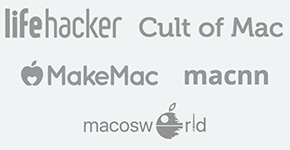 FAQ
VLC is known to be a powerful video player that is capable of handling pretty much any format out there. And while the app should be able to handle the MPEG-1 or MPEG-2 formats used for these files, that's not always the case. This means that there's a good chance you won't be able to play DAT with VLC because the player will not recognize the format.
You may need to install a DAT codec within VLC in order to be sure you can watch DAT videos without worries. That's why it's simpler to choose Elmedia Player and make sure you can play anything, anytime you want.
If you don't want to settle for just any video player for your DAT files but wish for the best solution for this, there's only one answer - Elmedia Player. With this app installed on your Mac, you won't ever have to worry about compatibility issues, formats that can't be played, or any other issues. It's powerful, versatile, and includes many features even in the free plan.
Furthermore, upgrade Elmedia to the PRO plan, and you will unleash the full force of a remarkable player that knows no boundaries. Stream to Chromecast, AirPlay, or DLNA devices, enjoy advanced deinterlacing features and get full control over video playback with this all-in-one player for Mac.

#1 at Video
Elmedia Player Free
Get a download link for Desktop
Submit your email address to get link for quick download and get started!
Languages:
Deutsch, English, Français, 日本の, Español, 中文