The Ideal MP4 Player for Mac: Elmedia Player
If you want the perfect all-in-one solution for watching MP4 files on Mac, then you want Elmedia Player. It combines the benefits of wireless streaming, video and audio customization and precise tuning options, video downloading, and much more.
Playback Controls on the Best MP4 Player for Mac
Elmedia Player has been designed to be the best free MP4 player for Mac, and it's proof positive thanks to having the most complete experience you'll ever find. Elmedia Player has the power to playback nearly any media file format, from popular formats like MP4 and MOV, physical media like Blu-ray discs, and niche formats like MKV and FLV. This versatility is made even better thanks to its hardware-accelerated decoding abilities, which means you'll never have any lag, slowdowns, or quality defects.
Personalized Playback Controls
Thanks to Elmedia Player, you can control every aspect of what you're watching. Speed up or slow down video playback, keep your subtitles in check as you watch your favorite video, correct audio problems, and even bookmark the best parts of a video to watch for later - it's all possible! To make it even better, you can multitask thanks to the picture-in-picture feature, which lets you browse or do other tasks on your Mac without missing a minute of the action.
Build Your Perfect Playlist
Ever wanted a bunch of different videos going on in the background while you work? What about a favorite music album you just want to keep on loop forever? Elmedia Player offers playlist building functionality for whatever you want to play, so all you need to do is build your own perfect playlist and let this Mac MP4 player do the rest!
Fine-Tuning and Enhancing Your Videos with Elmedia Player
Playing MP4 on Mac has never been this effortless and simultaneously customizable thanks to Elmedia Player. You'll wonder how you ever got along without the wide variety of features this Mac MP4 Player has to offer.
High-Quality Full Screen Features
No matter if you've got multiple monitors hooked up to your Mac or if you're playing a video in 4K, you can hit the full screen feature on Elmedia Player and enjoy it without any loss of quality for the most immersive experience you've ever seen in an free MP4 player for Mac.
Fine-Tuning Video Options
Elmedia Player allows you to tweak video settings like it's your own TV. From adjusting the brightness, gamma, hue, contrast, and many more, you've got plenty of options to make sure that you get the ideal picture for every video you watch. You can even adjust it while your video is running!
Precise Screenshots
Have you ever hit pause on a video at the perfect moment? Yeah, us too. Elmedia Player can immortalize those moments by screen-shotting the exact frame that you want. You can even convert the entire video to a library of screenshots for storyboarding, blogging, and whatever else you might see fit to do.
Continuous Loop
Make a loop at any two points of a video and let it play over and over and over and over again. Forever, if you want. Great for transcribing a movie for custom subtitles, setting mood music, or just annoying your friends until they leave the room. The choice is up to you!
Video Deinterlacing
Ever get those annoying horizontal stripes, or odd video playback? With Elmedia Player's deinterlacing tool, you can quickly and easily take care of these problems to ensure a perfect, stripe-free watching experience, free of lag and anything else that might screw up your viewing enjoyment.
No More Audio Delays
Ever watch a video with a dedicated audio track that goes off the rails? Before you know it, people are speaking in what might as well be another language! Elmedia Player changes that. Before watching a video or while it's playing, you can alter delay timers for your audio tracks so they're perfectly synchronized.
How This MP4 Video Player for Mac Optimizes Subtitle Integration
Like watching foreign movies or other videos with subtitles? Elmedia Player gives you complete control of subtitle integration and support. There's no need to convert files to other formats or use an additional source or program to get your subtitles to work with your video. And if your subs are delayed or not synchronized for any reason, you can adjust their delay as well. Here are some other things Elmedia Player can do with subtitles:
Appearance

Ever think the default font for subtitles is kinda lame? Elmedia Player allows you to shake things up, with a variety of fonts, sizes, text color, and background color of your fonts as well, so you can make sure they're legible and match the tone of your movie or video.

Automatic Loading

If you've got subtitles for your video file, you're already done. The best MP4 Player for Mac can automatically load subtitles in the language (or languages!) you want to use.

Online Search

Do you not have subtitles? No problem! Elmedia Player collaborates with OpenSubtitles.org. That means that if the perfect subtitle file for your video exists, OpenSubtitles will find it, and you'll be able to download it and use it with no sweat.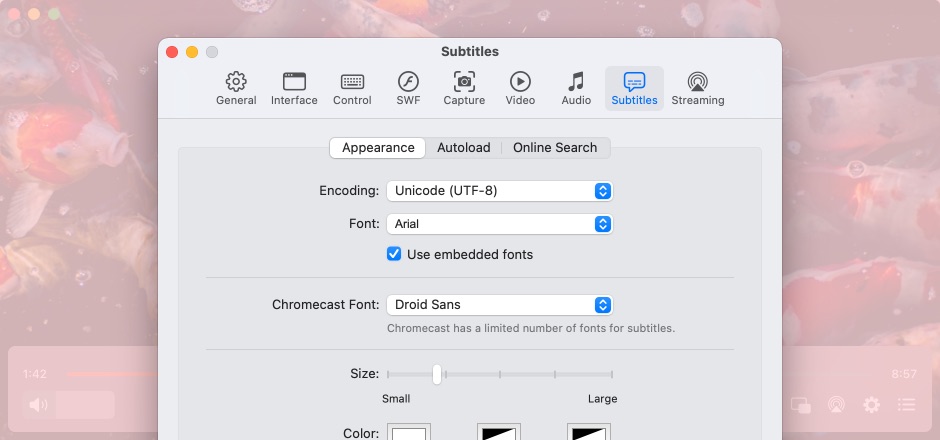 Stream Local MP4 Files Wirelessly to Your TV
Ever wanted to stream MP4 to Chromecast, Smart TV or Apple TV? Elmedia Player makes it easy! No matter what your device is, if it's DLNA-enabled or AirPlay compatible, it works with Elmedia Player. You just need a file saved on your computer, and you can stream it hassle-free to a wide variety of devices, like Chromecast, a DLNA-enabled Smart TV, or anything that works with Apple AirPlay, like Apple TV. Elmedia Player can be used to receive and play streamed content sent through Apple Music on your Mac, someone else's Mac, or another Airplay Device. It couldn't be simpler!
AirPlay Devices and Apple TV
DLNA-Enabled Devices and Smart TVs
Chromecast and Chromecast Ultra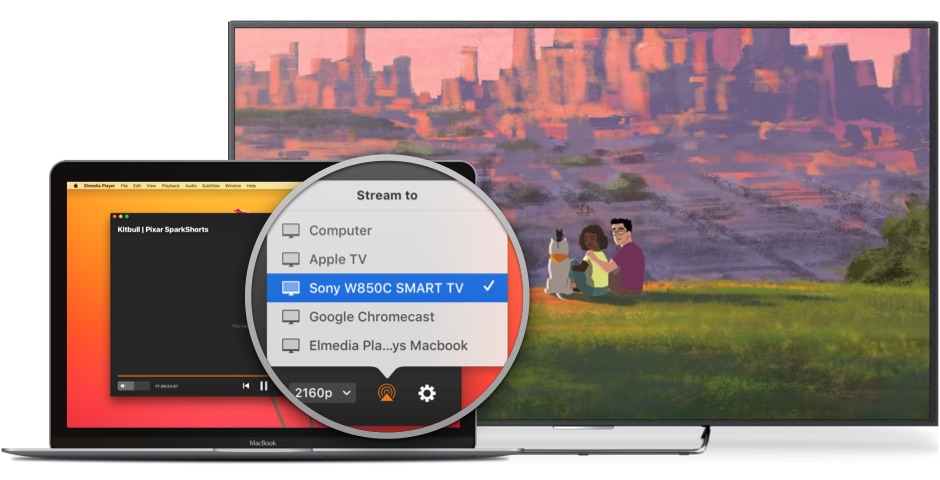 What other users are saying about Elmedia
Ecléctico q.b., o Elmedia Player é uma ferramenta tão capaz quanto eficiente. Oferece as mais recentes tecnologias do mundo da visualização do vídeo e do áudio, não sobrecarregando de todo o processador ou a máquina em si. Uma das suas mais recentes mais valias prende-se com a emissão para Chromecast ou AirPlay, que o tornam muito apetecível. Sem dúvida que fica recomendado o investimento por se tratar de um software bastante nobre.
If you are searching for an advanced media player for your mac system, then Elmedia Player 7 is here for you. Elmedia Player 7 is known as the best media player amongst the new generation of Mac users as it is packed with a number of advanced features inside.

#1 at MultimediaApplication
Elmedia Player
Universal video player for Mac
Get a download link for Desktop
Submit your email address to get link for quick download and get started!
Category:
MultimediaApplication
Languages:
中文, Český, Deutsch, English, Français, Italiano, 日本の, 한국어, Polski, Русский, Español, Svenska, Nederlands