Elmedia Player: Feature-Filled MP3 Player for Mac
Finally, a simple, all-in-one platform to listen and enjoy all your favorite MP3 music and soundtracks on your Mac. Elmedia Player offers a robust experience by delivering high-quality video and audio playback of essentially every file format, tons of advanced and personalized features, and the ability to stream wirelessly to other devices and screens. It's all possible with Elmedia Player, one of the best MP3 players for Macs.
Enjoy Audio Playback with this MP3 Player for Mac
Personalized Playlist Creation
Creating and enjoying your own custom made playlist of tracks and music has never been easier. Simply use Elmedia Player's playlist feature to have all your favorite audio files neatly organized, categorized, and ready to play whenever you want.
App-Specific Volume Controls
Native volume control lets you have exclusive control of Elmedia Player's volume, without it affecting the rest of the system volume settings. So if your Mac's notifications are on, they won't blast in your ear as loud as your music is playing.
AC-3/DTS through S/PDIF
With the player's settings, you can adjust for the highest quality surround sound for your audio files. Set up passthrough for hardware decoders with AC-3 or DTS for the best surround sound quality.
Never-Ending Loop
If you have a specific part of the audio that you missed or simply want to keep on repeat, you can do that. Elmedia Player lets you loop any part of any audio repeatedly and uninterrupted for as long as you like.
Fine-Tuned Audio with 10-Band Equalizer
When talking about customization to the last detail, this is what we're talking about. This intuitive MP3 software for Mac has a 10-band audio equalizer for you to manually adjust to find the perfect sound. It also provides useful presets you could use as well.
MP3 Audio Extraction from Videos
What if you only want the audio from a video that you like? Rather than having to download the video just so you can listen to the audio, you'll be able to extract the audio from the video and save it as an MP3 or M4A format.
Choose Playback Channels
You can activate this surround sound playback feature in Elmedia Player by going into the settings and adjusting it there. You get to choose from a variety of playback channels for a more comprehensive experience. Select either two-channel, four-channel, six-channel, or eight-channel sound.
User-Friendly Interface and macOS-Esque Design
Apple macOS constantly upgrades and improves its user interface, design, and functionality, so why shouldn't Mac MP3 players do the same? Elmedia Player offers a very well-rounded experience with its updated and user-friendly interface. Everything is clean and organized and reflects a similar macOS feel as you navigate the app.
MP3 Player Mac: Connect with Chromecast, Apple TV, DLNA, and AirPlay
Having the ability to project your favorite videos and audios from your Mac to a big screen makes for a more wholesome experience. Whether you have family and friends to entertain or you just want to experience the big screen, you can do it all with Elmedia Player.
You can stream your local video and audio files to Apple TV, Chromecast, Smart TV, and other DLNA-enabled and AirPlay devices. So that means streaming from your phone to your Mac is not a problem either.
Apple TV and other AirPlay devices
Smart TV and DLNA Connectivity
Chromecast and Chromecast Ultra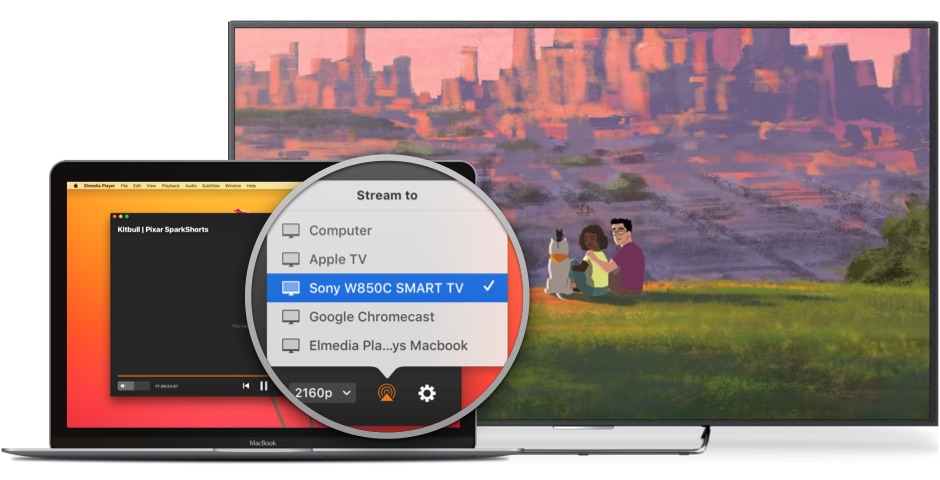 What other users are saying about Elmedia
If you are searching for an advanced media player for your mac system, then Elmedia Player 7 is here for you. Elmedia Player 7 is known as the best media player amongst the new generation of Mac users.
Elmedia Video Player for Mac offers a wide range of features to meet all your multimedia needs. You can stream directly to Smart TV or Apple TV.
Elmedia Player has a wide variety of other features and capabilities, but having the ability to play just about every possible video format, tweaking settings as needed for sync, audio and video problems.
It can play any file format including the widely-used ones like AVI, MP4, FLV, SWF, WMV, MKV, MP3, M4V, etc without the need of installing any other plugin or codec.

#1 at MultimediaApplication
Elmedia Player
Universal video player for Mac
Get a download link for Desktop
Submit your email address to get link for quick download and get started!
Category:
MultimediaApplication
Pricing:
Starts from $19.95
Languages:
中文, Český, Deutsch, English, Français, Italiano, 日本の, 한국어, Polski, Русский, Español, Svenska, Nederlands