Elmedia Player
Best free video player for Mac
A can-do-it-all Mac video player offering advanced streaming options - Elmedia Player works with practically any audio or video file type out there and will stream content to Chromecast, AirPlay and DLNA devices. The app does not require any additional codecs.
Good looks combined with high quality
Best player for Mac
Elmedia Player is a free video player for Mac that plays all formats usually available for video and audio files, including popular AVI, FLV, SWF, MP4, WMV, MOV, MP3, DAT, FLAC, M4V, MPG, DivX and MKV. You are getting an outstanding HD experience with this video player Mac App thanks to its unrivaled ability to unload the processor while delivering you high definition content without slowdowns or sync issues.
Your unique playlists
Do you like only a couple of tracks from each artist? Do you want to watch videos non-stop in your player? Not a problem. Just create your very own playlists and enjoy your videos and music just the way you want!
Control the playback
With our Mac movie Player with speed control you can set the playback speed while watching a movie, or you can sync subtitles or sound with your video in case original file had some issues. You can also watch videos frame-by-frame, which allows you to grasp every detail easily. Favorite moments can be bookmarked for future reference.
Media player Mac streaming
Video player for Mac with Chromecast, AirPlay and DLNA streaming
Thanks to Elmedia Player you will effortlessly stream your locally saved files to Apple TV, Chromecast, Smart TV, as well as other DLNA-certified and AirPlay devices. If you need to receive streaming media on your Mac, this video player Mac application will do the perfect job too. If you have great music on your phone and want to stream it to your Mac, since it has larger speakers, you can use Elmedia to receive and play it too!
Apple TV
and other AirPlay devices
One of Elmedia Player's coveted features is the ability to stream content to Apple TV and other AirPlay devices. Also, if you have another instance of Elmedia on a different Mac, you can stream content from one Mac to another with the player on it.
Smart TV
and other DLNA devices
Elmedia is the best Mac video player thanks to its versatility. Additionally to Apple TV support it works great as a DLNA Mac video Player, letting you stream audio and video wirelessly over the network to DLNA-certified devices you have installed at your house.
Chromecast
and Chromecast Ultra
You'll find it satisfyingly easy to cast online and local media files from your Mac to TV set with Chromecast or Chromecast Ultra.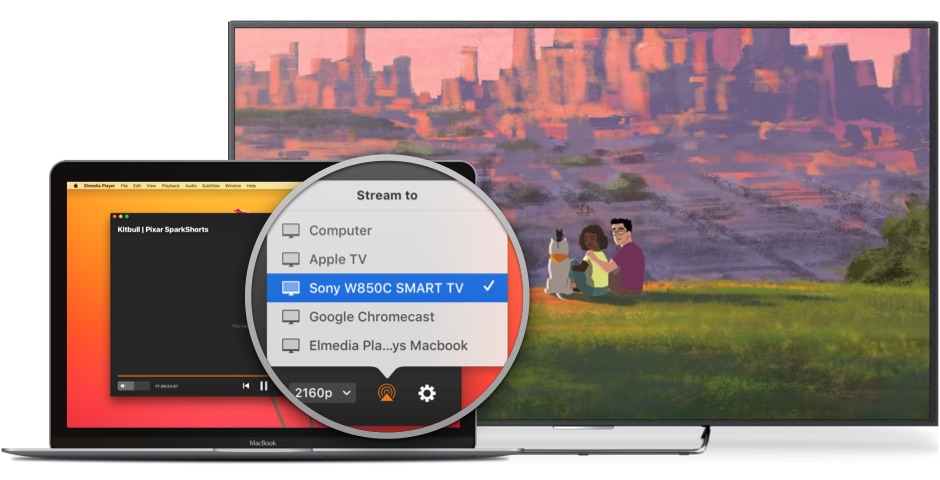 Video player for Mac that plays all formats
Elmedia can play and stream an immense variety of formats. AVI, FLV, MKV, 3GP are supported among many others.
Stream online videos sans ads
With the player's Open Online Video option you can stream videos from YouTube, Dailymotion and Vimeo omitting the ads.

Stream Ultra HD videos
You can easily stream high-definition videos to 4K compatible devices - Chromecast Ultra, Apple TV 4K, Smart TV Samsung, LG, Sony, Panasonic, etc.).

Stream videos with subtitles
Elmedia supports either embedded or external subtitles, so you don't have to leave them out while streaming.
Stream your own playlists
Compile your own unique playlist in Elmedia Player and stream it all uninterrupted to your large TV screen.
Controlled streaming
Even though your videos are streaming to another device, you have full control over them from your Elmedia - adjust the volume, play, pause, seek, or stop the video.
Manage subtitles
Mac video player with subtitles support
Not only does Elmedia offer extensive subtitle support, it also lets you decide how they will look in your video. You can also choose to either load them manually or automatically. Such formats as SRT, ASS, SMIL and others are supported. There is also the possibility to increase or decrease subtitle delay to sync them with video, in case the original file has some issues.
Custom appearance

Set the size, font, as well as the color for text and background.

Load automatically

Set the subtitle files to autoload in your preferred language.

Online subtitles

If you need the subtitles, but your file doesn't have any, search an extensive database directly from the player.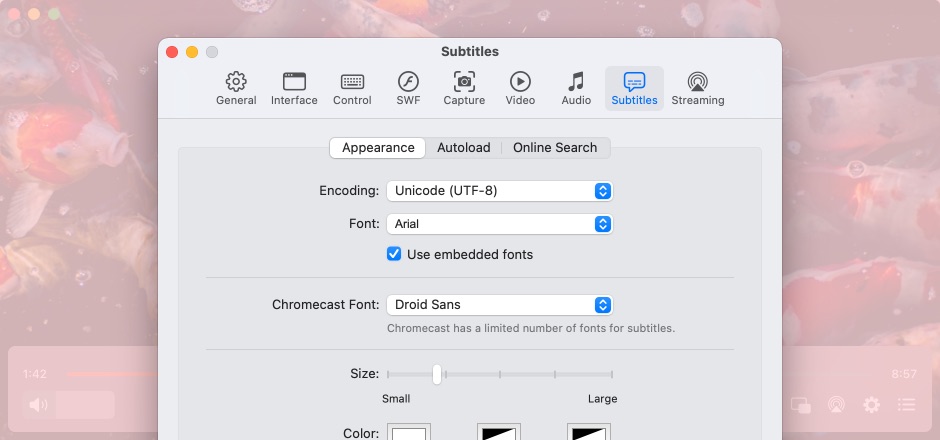 Video player for MacBook
The most enjoyable video and audio experience
Extended possibilities in full screen
Additionally to watching a video in full screen you can set which monitor the video will be played on. Elmedia supports the native macOS full-screen mode.
Tune the videos to perfection
Adjust a currently playing video brightness, saturation, contrast, hue, gamma, sharpness, and reduce the noise.
Make precise screenshots
You can make a screenshot of precisely the moment you need in a currently playing video or even convert it all into a series of screenshots.
Continuous loop
Choose any part of your video to play in an uninterrupted loop for as long as you need it.
Video deinterlacing
If you got a video that has low quality issues like horizontal stripes on fast moving objects, then you can use Deinterlace option to get rid of the problem.
Eliminate audio delays
If the original file has video and audio out of sync then you can easily increase or decrease audio delay to match sound and image together.
Great sound quality
Enhance the video sound with flexible settings
Native volume control
Elmedia Player has its own volume control that only adjusts sound in the player, all other sounds in the system stay untouched.
External tracks
Elmedia Player offers you the possibility to add external soundtracks to any of your videos, so you can watch a movie in a different language or with a more suitable dubbing.
AC-3/DTS through S/PDIF
Use the player's settings to set up passthrough for hardware decoders – AC3 or DTS for surround audio.
Audio equalizer
The 10-band graphic equalizer for tuning the sound to your liking either manually or with one of the carefully selected presets.
Open Online video
Play online videos without embedded ads
Watch online videos from YouTube, Dailymotion, or Vimeo directly in your Mac video player. This way you will only see the videos but not the built-in ads that are sometimes so frustrating. Don't forget to use Open Online Video option to be able to play videos without the ad breaks.
Easily play any file format
Supported media formats
This
media player for Mac
requires and natively supports a large number of multimedia formats , including:
What other users are saying about Elmedia
If you are searching for an advanced movie Player for Mac, then Elmedia Player 7 is here for you. Elmedia Player 7 is known as the best media player amongst the new generation of Mac users.
Elmedia Video Player for Mac offers a wide range of features to meet all your multimedia needs. You can stream directly to Smart TV or Apple TV.
Elmedia Player has a wide variety of other features and capabilities, but having the ability to play just about every possible video format, tweaking settings as needed for sync, audio and video problems.
It can play any file format including the widely-used ones like AVI, MP4, FLV, SWF, WMV, MKV, MP3, M4V, etc without the need of installing any other plugin or codec.

#1 at MultimediaApplication
Elmedia Player
Universal video player for Mac
Get a download link for Desktop
Submit your email address to get link for quick download and get started!
Category:
MultimediaApplication
Languages:
中文, Český, Deutsch, English, Français, Italiano, 日本の, 한국어, Polski, Русский, Español, Svenska, Nederlands