NEW
Yoo-hoo! Elmedia runs natively on Mac computers with Apple silicon: M1 and M2 series!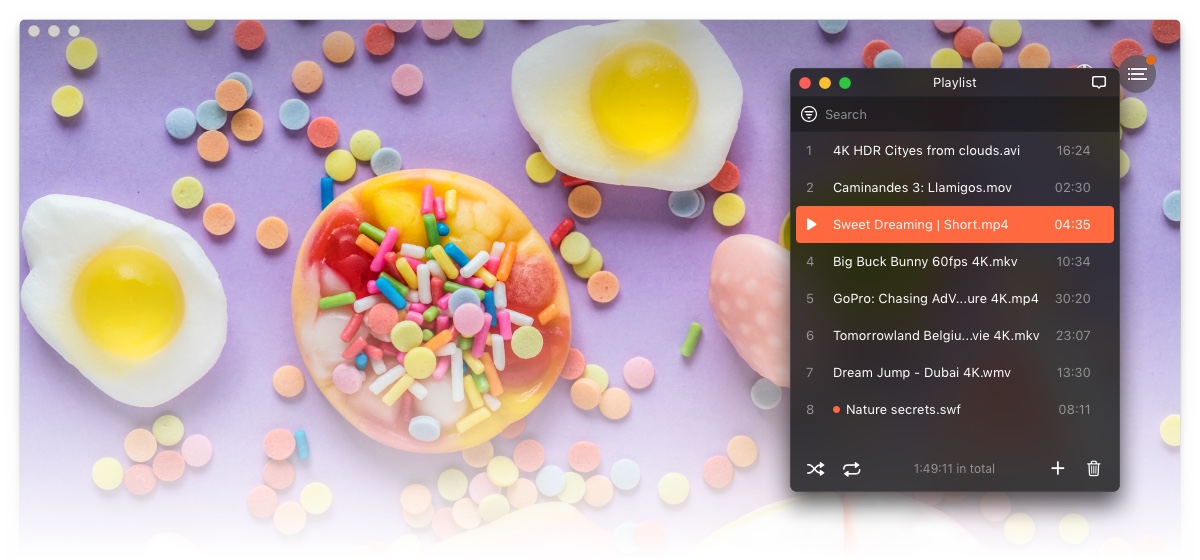 How to Play Videos on Mac
1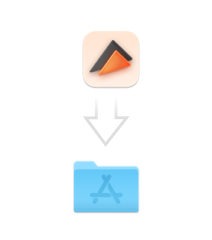 Download Elmedia Player
The
download
is free of charge. Install the .dmg as usual.
2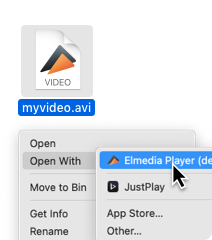 Choose from the several ways to open a clip
You can drag and drop files onto the main window, or the Dock icon.
Alternatively, you can right-click a movie file and "Open With" Elmedia.
Finally, there's a file browser in the app itself.
3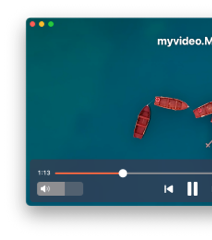 Watch and Enjoy
Don't forget to tweak the settings if you want to improve your experience.
Good aesthetics combined with high quality
The Best Media Player for Mac: Playback Options
Elmedia is the best free video player for Mac that boasts compatibility with all commonly used video and audio formats, including AVI, FLV, SWF, MKV, WMV, MOV, MP3, DAT, FLAC, M4V, MPG, DivX and MP4. This video player app delivers an outstanding HD experience without putting a strain on your CPU. With Elmedia, you can be sure that no slowdowns or sync issues will occur.
Your unique playlists
Pick and choose, put a playlist together. Enable repeat or shuffle. Export your current playlist to load and watch it later.
Control the playback
Sync subtitles and audio, speed the movie up, slow it down, or watch it frame-by-frame if you want to appreciate the camerawork. Use the timeline preview thumbnails to make seeking easier. Throw in bookmarks, and you've got the recipe for an excellent Mac movie player.
Manage subtitles
Mac Video Player with Subtitle Support
Not only does Elmedia offer extensive subtitle support, it also lets you decide how they will look during playback. You can choose to either load them manually or automatically. SRT, ASS, SMIL and other formats are supported. Set a custom subtitle delay to sync them with video - useful if the original file has issues.
Customize their looks

Set the size, font, and background and text colors as well.

Load them automatically

Configure subtitle files to load automatically in your preferred language.

Search online

An extensive database is available directly from the player.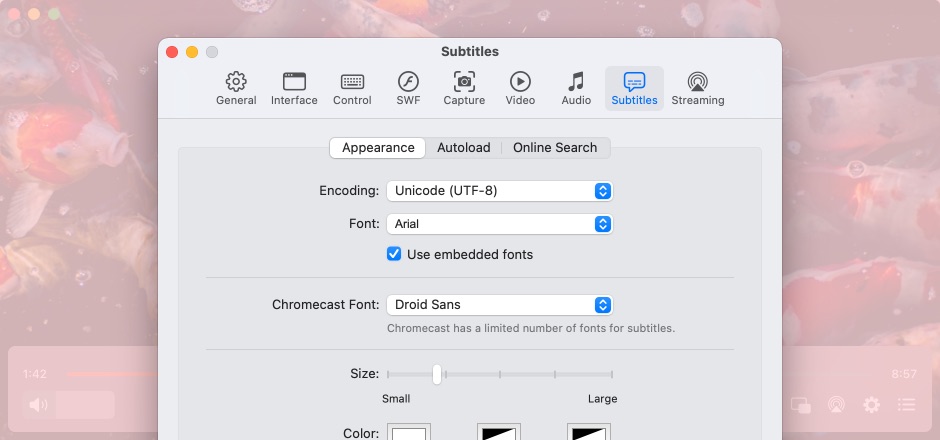 Video Player for MacBook
An Exquisite Audio and Video Experience
Options for a multi-monitor setup
Choose the monitor to play your video on. Fullscreen will always work, no matter which screen you choose. Elmedia supports the native macOS fullscreen mode.
Tune every little thing
On any given video, you can adjust brightness, saturation, contrast, hue, gamma, sharpness, and even noise reduction.
Advanced looping
Video fragments can be marked and looped infinitely. Useful for single-file music albums.
Make precise screenshots
Frame-perfect screenshots are Elmedia's speciality. Alternatively, you can quickly make a series of evenly spaced screenshots on your current video.
Deinterlace the video
Deinterlace option can get rid of stripe defects on low-quality video. It's a real help with old DVDs and recordings from analog cameras.

Utilize the Picture-in-Picture Mode
Keep Elmedia playing in a small window on top of your other apps. It can be used as an accessible widget that gives you a lot of control over the playback.
Great sound quality
Use Flexible Settings to Refine Your Audio
Elmedia is also a good
music player for Mac
, with many codecs included. It plays songs in formats such as MP3, WMV, OGG. By using Elmedia for your audio, you get access to the audio equalizer, playback speed setting and more.
It's all built in
The advanced sound control settings of Elmedia will not interfere with your other apps. You can safely keep it playing in the background, even when editing clips or enjoying video games.
External tracks
You can add different audio tracks on top of your movie clip. Watch the same video in a different language, or choose a better dub.
AC3/DTS through S/PDIF
Use the player's settings to set up passthrough for hardware decoders – AC3 or DTS for surround audio.
Audio Equalizer
With the 10-band graphic equalizer, sound can be manually tuned to your liking. You should also try our artfully composed presets.
Sync the sound
Desynchronized audio can be counteracted with a simple option - just change the audio delay.

Audio Visualizer
Elmedia Player's audio visualizer comes with a multitude of options. Experience music in ways that you haven't tried before!
Mac streaming done on a media player
Video Player for Mac with Chromecast, Airplay and DLNA Streaming
Thanks to Elmedia Player you can effortlessly stream your local files to Apple TV, Chromecast, Smart TVs, and other AirPlay or DLNA-certified devices. Alternatively, this video player application will receive streaming media with excellence. For example, you'll be able to stream music from your phone to your Mac, making use of the larger speakers.
Apple TV and other AirPlay devices
Smart TV, Roku, DLNA devices
Chromecast and Chromecast Ultra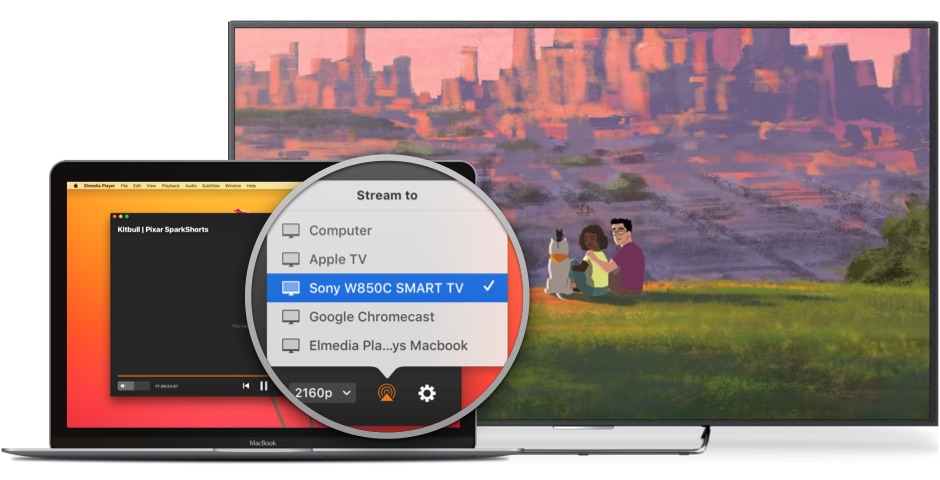 Video player for Mac with enhanced compatibility
Elmedia can play and stream an immense variety of formats. AVI, FLV, MKV, 3GP are supported, among many others.
Bask in the glory of Ultra HD
You can easily stream high-definition videos to 4K compatible devices - Chromecast Ultra, Apple TV 4K, Smart TV Samsung, LG, Sony, Panasonic, etc.).

Clear it up with subtitles
Elmedia supports either embedded or external subtitles. This way, you'll get the complete streaming experience.
Control your stream
Even though your videos are streaming to another device, you have full control over them through Elmedia - adjust the volume, play, pause, seek, or stop the video.
Broadcast your playlists
Compile your playlist and watch it on a widescreen TV with every convenience that Elmedia has to offer.
Play any file easily
Supported media formats and codecs
Elmedia has native support for a large number of multimedia formats and codecs, including:
What other users are saying about Elmedia
If you are searching for an advanced movie Player for Mac, then Elmedia Player 7 is here for you. Elmedia Player 7 is known as the best media player amongst the new generation of Mac users.
Elmedia Video Player for Mac offers a wide range of features to meet all your multimedia needs. You can stream directly to Smart TV or Apple TV.
Elmedia Player has a wide variety of other features and capabilities, but having the ability to play just about every possible video format, tweaking settings as needed for sync, audio and video problems.
It can play any file format including the widely-used ones like AVI, MP4, FLV, SWF, WMV, MKV, MP3, M4V, etc without the need of installing any other plugin or codec.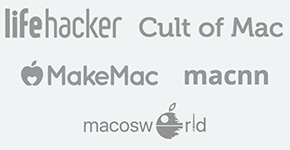 #1 at Video
Elmedia Player Free
Get a download link for Desktop
Submit your email address to get link for quick download and get started!
Languages:
Deutsch, English, Français, 日本の, Español, 中文
Most Popular
Mac devices won't support playing MKV files out of the box. Discover the best methods to play MKV files on your Mac device for the optimum solution.
Which Is Best VLC, IINA, or Elmedia Player? We compare all three across various categories to help you choose the best for your needs.
If you are facing the issue: The VLC Audio Not Working while playing videos, learn more about how to fix VLC No Sound Errors.