AVI Video Player for Mac with Unlimited Options
Elmedia Player's popularity as a
free AVI player for Mac
is deeply rooted in its incredible offering of great features like HD quality seamless streaming, audio and music support, and more. You can essentially run any file type and Elmedia Player can handle it.
Full Control for Playback
Elmedia Player doesn't disappoint when it comes to user controls and playback options. This AVI player for Mac sets the stage by allowing for a seamless experience when interacting with playback controls like setting speed, tweaking subtitles, syncing audio or video, and so on. Bookmarking is another welcomed feature that gives users an additional sense of control over their library and content, which is always appreciated.
Create Unique Playlists
Customization is a big part of Elmedia Player's mass appeal. Its intuitive playlist creation tool allows users to save their favorites and build their very own libraries and personalized content - which they can enjoy anytime. So not only can you
watch AVI on Mac
with Elmedia Player, you can also use it as a personal library categorization tool. Play AVI on Mac with peace of mind that your content is made to suit the way you decide to enjoy your videos.
How to Play AVI Files on Mac
1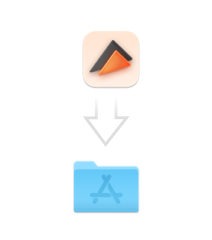 Install Elmedia Player.
Download
a .dmg installer from the official website.
2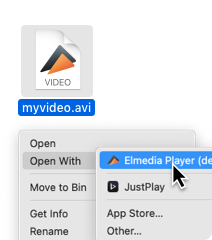 Add AVI files to your Library.
Drag-and-drop them into the player window or open them using "File".
3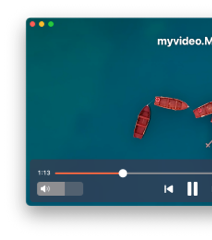 Select and play.
Double-click the file in the list to your right.
Add Subtitles to AVI File
How great is a movie if you can't understand or keep up with what's going on? That's why it's critical that any decent Mac AVI player supports high-quality subtitle integration and support. And that's exactly what Elmedia Player does. You'll be able to quickly and easily add .srt to .avi - either manually or by automatic search on OpenSubtitles.com.
Subtitle Appearance

Elmedia Player goes the extra step by letting you have freedom over the appearance of subtitles - such as size of text, font, background color, and so on.

Autoload

If you've saved your AVI file on Mac with subtitles included already, Elmedia Player will load them automatically. Or you can even search for them using name, hash, or auto functions.

Online Search

Don't have subtitles already added with your videos? No problem. Elmedia Player can automatically find the perfect subtitles for your titles with OpenSubtitles.com and even displays the best results in just seconds.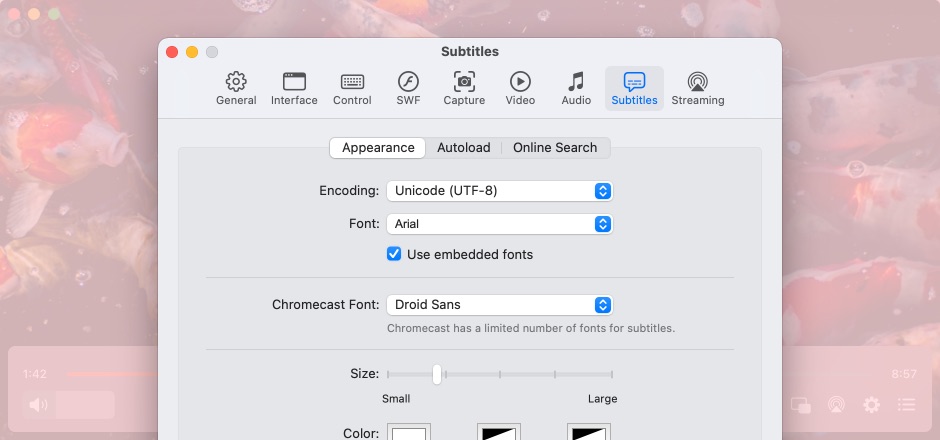 Stream AVI to Chromecast, Apple TV or DLNA Devices
With this wireless streaming feature, you can open AVI on Mac in a breeze and immerse yourself in an entirely new experience.
Stream local videos to Apple TV
, Smart TV, Chromecast or DLNA-certified devices and AirPlay devices.
AirPlaying
Stream to DLNA Devices
Chromecasting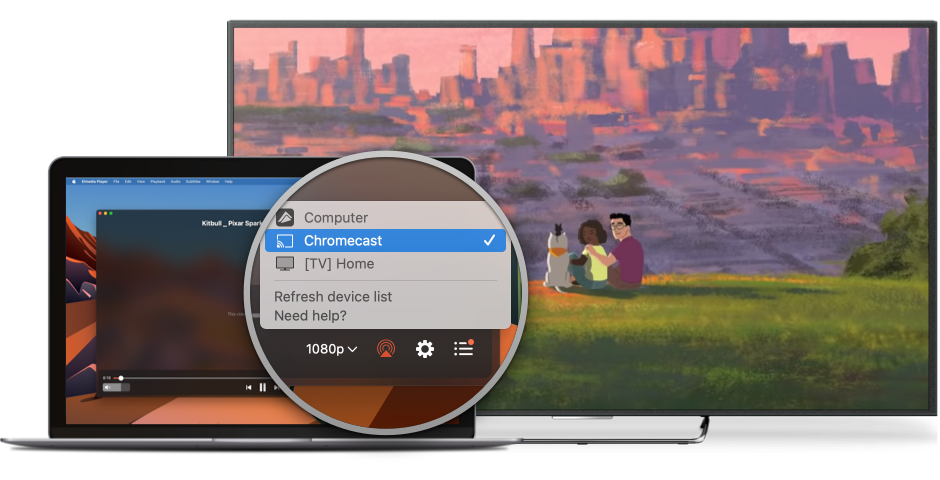 Video Quality Enhancement
Now that we've covered your concern on how to play AVI files on Macs, we can't stop there. In order to get the best experience at home watching your AVI files, Elmedia Player brings you even more video enhancements options.
Better Viewing Experience in Full Screen
Along with being able to rotate orientation, activate mirror mode, and more with Elmedia Player, you'll also be able to open AVI on Mac in full screen. And what's better is this app adapts perfectly to any size screen and reproduces an authentic native macOS full screen.
Get Rid of Audio Delays
Not every video file is perfect. At times you may run into inconsistencies with video and audio sync, which throws any video off. But thankfully, Elmedia Player comes with another solution for that problem. With the simple controls you can increase or decrease speed so your audio and video match perfectly.
Tune Videos the Way You Want Them
Video not perfect? Simply fine-tune your videos - during playback - to achieve the exact contrast, sharpness, brightness specifications, and much more.
Loop Your Videos
Never miss a favorite scene again. Make use of the built-in loop feature to play specific scenes or clips on repeat for as long as you like.
Unlimited Screenshots
For whatever reason, sometimes you need to get the perfect screenshot - either for a thumbnail or to save to your library, Elmedia Player makes it a piece of cake. Play AVI on Mac, as you screenshot to your heart's content.
Deinterlacing Services Included
Say goodbye to those horizontal stripes and buggy lags on screen, ruining your entire viewing experience. Elmedia Player's Deinterlace feature zaps away any unwanted mishaps on screen from horizontal stripes to flashing, inconsistent rendering issues.
FAQ
AVI stands for "Audio Video Interleave". It's a container that can store most available video or audio codecs, including MPEG. Most players offer .avi compatibility. You can learn more about
AVI files
through the link.
When comparing
AVI vs MP4
, the MPEG format has a clear advantage in compatibility. Much like MKV, M4V, and other modern formats, it simply has so much more to offer compared to AVI.
Elmedia Player is a highly versatile and functional player with a simple UI. It's certainly the best AVI player you can find on macOS.
What other users are saying about Elmedia
This app truly heads the lists of streaming software because it allows you to cast local files to Chromecast-enabled devices quickly, easy and pain-free.
I highly recommend you to check out the Elmedia player if you often watch movies on your Mac. The free version can satisfy most users and if you are interested in the advanced features like 4K video streaming, you can upgrade anytime at a very affordable cost.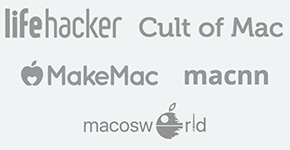 #1 at Video
Elmedia Player Free
Get a download link for Desktop
Submit your email address to get link for quick download and get started!
Languages:
Deutsch, English, Français, 日本の, Español, 中文