How to Play WMV File on Mac
Opening WMV files on Mac is super simple. Only 3 steps are required:
1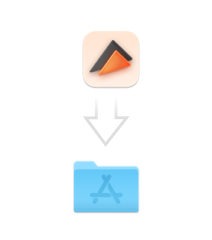 Install Elmedia Player
Download
this video player from the website.
2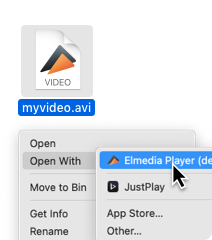 Choose a WMV file
There are a few ways you can do that:
Drag and drop your WMV file onto the Elmedia Player window or on the dock logo
Use the finder, find the file and right-click "Open With". Then choose Elmedia Player
Open the file straight from the Elmedia Player window
3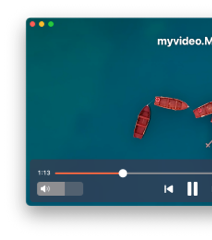 Enjoy!
Watching WMV on Mac: a Fully-Featured Player
What makes Elmedia Player the primary choice Mac WMV player? Let's go through some potential reasons.
Support for All Formats
Elmedia, as a .wmv player for Mac, stands out among many others through the sheer scale of its codec base. It supports virtually any file format - WMV, FLV, MP4, MP3, FLAC, MKV, you name it. Never again will you need to bother converting files and installing unnecessary software.
Complete Playback Control
This WMV player for Mac grants you full control. Features can be changed to a fine degree - control the playback, make bookmarks, play picture-in-picture in the background… Experience freedom that's never been seen in a Mac WMV player.
Open online videos
There's nothing worse than being interrupted by irrelevant and annoying ads while streaming your favorite content online.
Playlist Creation
When watching WMV on Mac, grouping similar videos together lets you experience them in a unique way. It's simple. Take a specific group of videos or music tracks, create your own unique playlists - and achieve ultimate satisfaction. Play your media according to your mood.
Finally, A WMV Player for Mac With Subtitle Support
Foreign language in videos and movies is no longer an obstacle. Elmedia Player will allow you to watch WMV files on Mac with integrated subtitle support. In addition, choose their mode of operation. You can have them loaded automatically or manually, by yourself. Customize the little details like font, size, placement and more. And now for the best part: you'll be able to manually adjust the delay, making sure your videos and subtitles sync perfectly every time you're watching WMV on Mac.
Visual Alterations

Decide exactly how you want your subtitles to appear. Choose how to play WMV file on Mac in your own way. Adjust color, font, text size, background shading and more.

Automatic Loading

Save yourself some time by setting your subtitles up to load automatically in the language of your choice. You can also choose subtitles with the hash function or by their name.

Quick Online Search

With OpenSubtitles.com, you can find the exact subtitles you need within minutes. They will be opened and played without any need for conversion. Spend more time watching, not searching.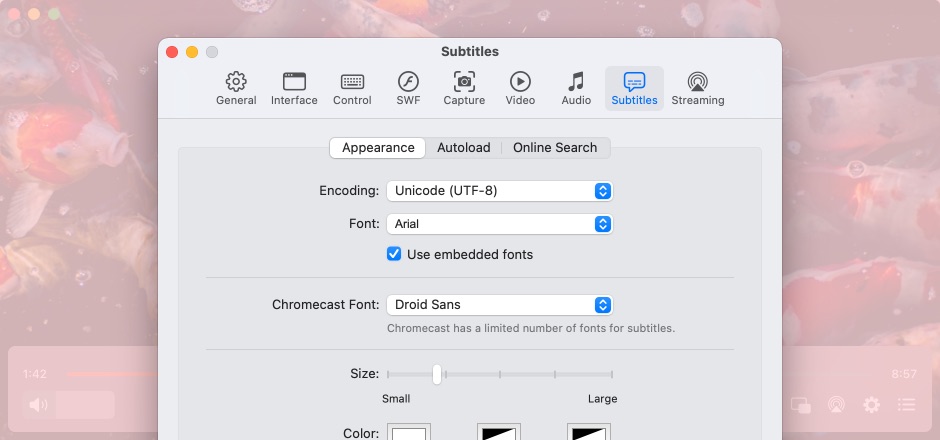 Experience the Extraordinary with Elmedia Player PRO
There's no contest for this WMV player for Mac. With everything that Elmedia Player offers, it's already worth downloading right away. But it gets even better. For under $20, you can unlock advanced features that take your viewing experience to a different level. Take a look inside Elmedia Player PRO - the contents will surprise you.
Project WMV Wirelessly to a TV via Chromecast, DLNA or AirPlay
Watching WMV files on Mac just got better. With PRO, you'll be able to stream local files wirelessly to Apple TV, Chromecast, Smart TV, or any other AirPlay or DLNA-certified devices. This way, you can enjoy your videos on the big screen. And it works just as well the other way around. You can receive wireless streams as well, whether from iTunes, or from another Mac device.
AirPlay Mode
Don't be content just watching WMV on Mac. AirPlay lets you stream wirelessly from your Mac to Apple TV and other devices.
DLNA Functionality
Stream your favorite movies and songs from your Mac on the big screen by using DLNA compatibility.
Chromecast
Elmedia Player also supports Chromecast and Chromecast Ultra. Use the app to project files from your Mac to a TV screen.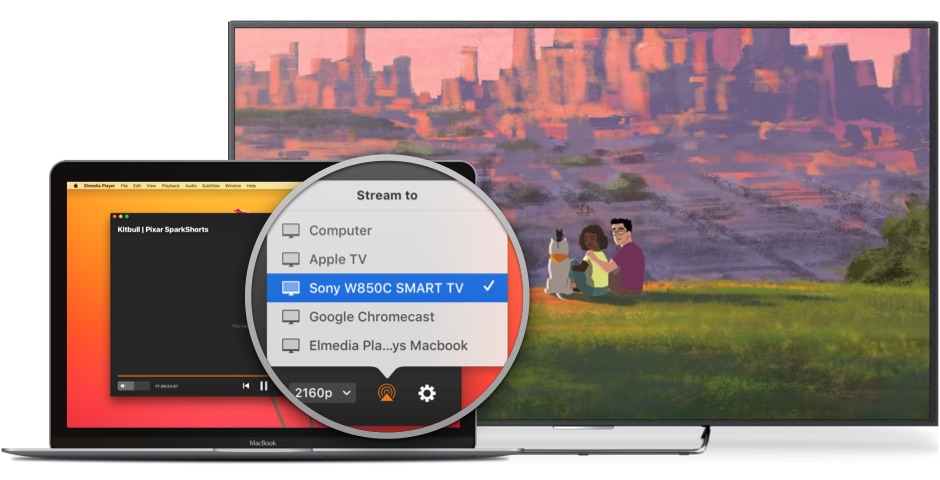 Fine-Tune Your Audio and Video Experience to Perfection
Elmedia Player PRO will provide you with a ton of video and audio enhancement options. For starters, you'll be able to manipulate your video settings in any which way you like - from brightness and rotation to color parameters. How to play WMV file on Mac with great sound? Adjust the audio settings to get the feel you're looking for. This WMV Mac player delivers a dynamic audio experience, ultimately customizable with the 10-band audio equalizer. With PRO, you get a whole new world of functions and features for the ultimate home viewing experience.
Adjust Settings in Real Time
Adjust your video settings on the fly. Alter saturation, brightness, hue, gamma, sharpness, noise reduction and more. See the effects immediately.
Picture-Perfect Deinterlacing
Experiencing lag, stripes, blurriness and other video defects? Elmedia Player's PRO deinterlacing feature will get rid of that in a flash.
Screenshots
Capture the precise moment you're looking for with the use of the PRO screenshot feature in PRO. Take automated series of shots at even intervals.
Unlimited Looping
Play any part of your video on repeat with the loop feature. Is your music album packed in a single file? Now you can choose a song to loop.
Ten-Band Audio Equalizer
Audio quality is just as important as the picture. Using our 10-band audio equalizer, you can change the sound to your tastes.
AC-3/DTS Through S/PIDF
Use the player settings to set up passthrough for hardware decoders – AC3 or DTS for surround audio.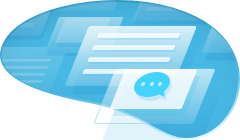 Related Articles
FAQ
There are many players to choose from. Elmedia is better than most. Alternatively, there's IINA with its polished UI, or the professional Switch player. Here's a list of the best WMV players for Mac, for you to choose based on their codecs, HD compatibility and functionality.
QuickTime is incompatible with the WMV format. As an alternative, you should find a third-party player with WMV support, and you can avoid the "
Quicktime can't play WMV
".
WMV files
are a proprietary Microsoft video format. The format is not native to macOS, but just like MP4, it supports HD resolutions, subtitles, etc. It is currently competing with MP4.
What other users are saying about Elmedia
Elmedia Player Pro is indeed a great upgrade for those who are ready to pay. For the amount you're paying, you get a superb set of features like AirPlay support and ultimate compatibility.
Having tried Elmedia Video Player for a while now, I can firmly say that the app delivers what it says. The video player has stood up to my expectations.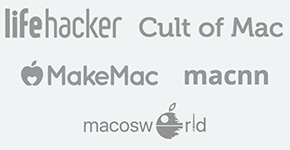 #1 at Video
Elmedia Player Free
Get a download link for Desktop
Submit your email address to get link for quick download and get started!
Languages:
Deutsch, English, Français, 日本の, Español, 中文