Elmedia Player - The Best Free Media Player for Mac
If you haven't tried Elmedia Player on Mac yet, then you're missing out. Jam-packed with advanced features and controls, this Mac media player is the most ideal choice for any beginner or advanced user. This free media player for Mac is the all-in-one solution for all things video and audio.
Good looks combined with high quality
Here's a sneak peek of some top of the line features you get with Elmedia Player:
Play, Stream, and download virtually any video and audio file format available (MP4, AVI, MOV, FLV, MKV, MP3, WMV, etc.)
Stream content wirelessly from your Mac to AirPlay, Chromecast, Apple TV, and other DLNA-enabled devices
Watch videos from YouTube, Vimeo, and Dailymotion completely ad-free
Advanced subtitles and video playback controls
Download HD videos and music from popular online resources in minutes
High-quality audio exclusive support and user experience
Media player Mac
Mac Media Player Playback Features and Controls
This media player was created with HD video playback and the finest user experience at its forefront. We wanted you, the user, to be in complete control and have everything you need to be able to enjoy your videos to their full potential. The playback features we included allow for that to happen.
Unique Playlist Creation
Set up your videos and audios in a unique playlist so you can just hit play and enjoy. No need to keep playing each file one by one.
Full Playback Control
Everything is in your control. Set playback speeds, sync and adjust subtitle design and layouts, bookmark favorite scenes, and more.
Fullscreen Capabilities
Deep dive into an immersive experience with full-screen mode. For more options, connect to other devices or another Mac as well.
Fine-Tune Videos to Perfection
Picture seems off? Fine-tune brightness, hue, noise reduction, sharpness, and more with a touch of a button to get the perfect video.
Unlimited Loop
Watching your favorite scene on repeat is so simple on Elmedia Player. Go ahead and loop continuously for as long as you like.
Screenshots
Use the screenshot feature to capture any moment in your video. Also, you can set up automatic screenshots of the entire video too.
Sync Video and Audio Perfectly
Video and audio delays and lags can be frustrating to put up with. Why not use Elmedia Player to sync video and audio to perfection?
Video Deinterlacing
Elmedia Player's deinterlacing feature gets rid of any flickering, blurriness, and hiccups on screen. No more annoying distractions.
Media player Mac
Media Player Mac Enhanced Sound Settings
It's only appropriate to pair great videos with unbelievable audio capabilities. That's what we did with this free media player for Mac. You get the best of both worlds with Elmedia Player.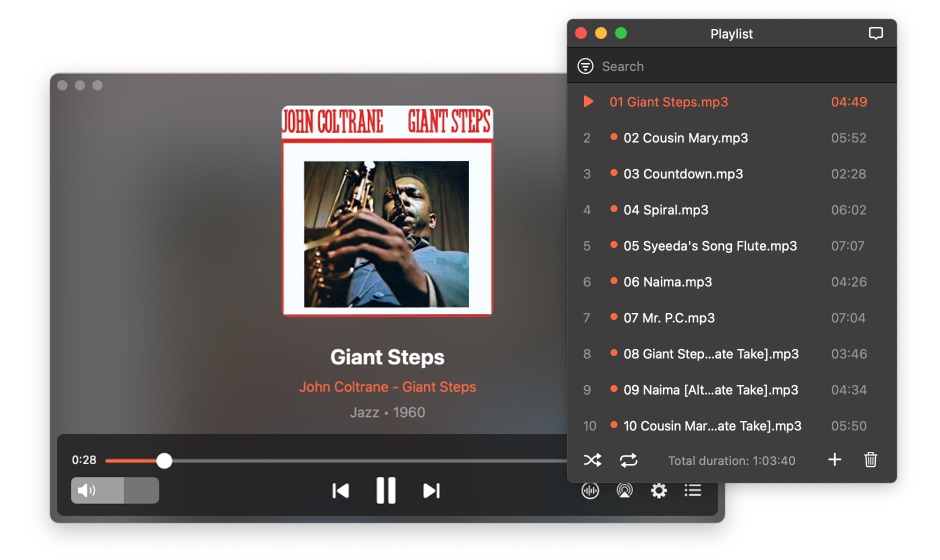 App-Specific Volume Settings
Don't let your system audio settings interfere with Elmedia Player. Enjoy the benefits of the native volume control feature to separate the two.
Autoload External Tracks
Autoload your external soundtracks and audio files into the same folders for total ease and convenience. You can also manually locate files too.
Surround Sound with AC-3/DTS
For the ultimate surround sound experience on your Mac, take advantage of Elmedia Player's passthrough feature with hardware decoders AC3/DTS.
10-Band Equalizer
The 10-band equalizer gives you the option to fully dial in your audio the way you like it. Or you can even use any of the simple presets given.
Manage subtitles
Media Player for Mac Offers Advanced Subtitles Support
To fully enjoy your videos, the media player you use has to cater to all needs. So whether using subtitles for viewing videos in a foreign language or simply to catch every last word, there's no compromising quality with subtitle support. And with Elmedia Player you get just that.
Customize

Customize your subtitles to how you like. Choose from fonts, size, colors, layouts, and more.

Autoloading

Set up your video subtitles for automatic uploads and even choose your preferred language.

Find Subtitles Online

Use Opensubtitles.org to locate the appropriate subtitles for you. Super simple and intuitive.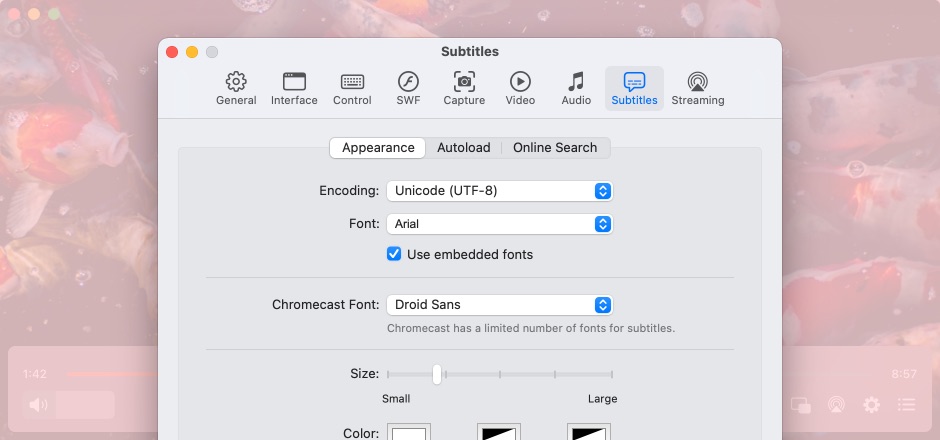 Media player Mac
Mac Media Player Equipped with Chromecast, AirPlay, and DLNA Support
For even more possibilities, Elmedia Player made sure to include a robust system for streaming your local content wirelessly on the big screen. Using this powerful media player on Mac, you can cast your HD videos and audio wirelessly to Apple TV, Smart TV, Chromecast, AirPlay, or any other DLNA-enabled devices. Streaming music from your phone to your Mac is also possible. Connect to large external speakers for an unforgettable listening experience.
AirPlay and Apple TV
Use this media player on Mac to wirelessly stream your videos and audios seamlessly over AirPlay to any Apple TV or other devices.
Chromecast and Chromecast Ultra
Elmedia Player lets you easily cast any local video and audio from your Mac to a TV set up with Chromecast or Chromecast Ultra.
DLNA-Certified
Use this feature to connect wirelessly to any DLNA-enabled device or Smart TV and start enjoying your content on the big screen.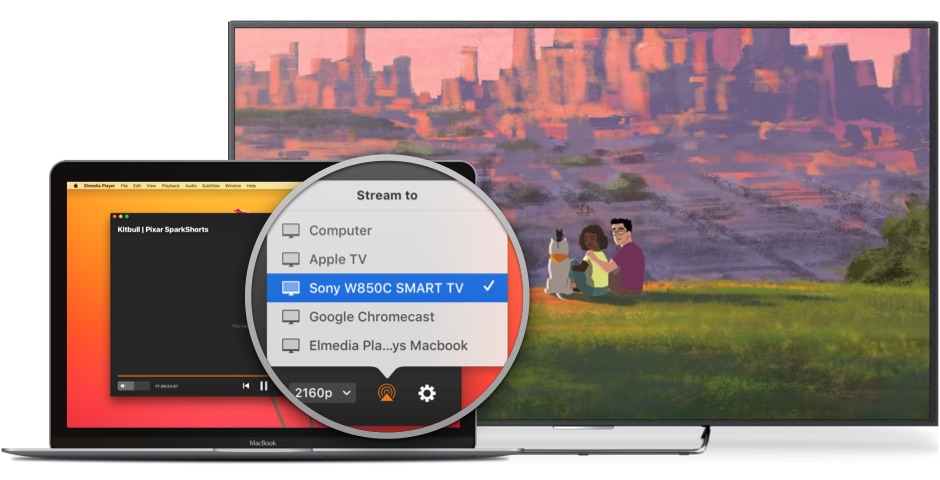 Open Online video
Watch Online Videos without Ads on this Mac Media Player
Enjoy watching videos on YouTube, Vimeo, and Dailymotion with Elmedia Player - completely ad-free - by using the Open Online Video feature.
What other users are saying about Elmedia
If you are searching for an advanced movie Player for Mac, then Elmedia Player 7 is here for you. Elmedia Player 7 is known as the best media player amongst the new generation of Mac users.
Elmedia Video Player for Mac offers a wide range of features to meet all your multimedia needs. You can stream directly to Smart TV or Apple TV.

#1 at MultimediaApplication
Elmedia Player
Universal video player for Mac
Get a download link for Desktop
Submit your email address to get link for quick download and get started!
Category:
MultimediaApplication
Languages:
中文, Český, Deutsch, English, Français, Italiano, 日本の, 한국어, Polski, Русский, Español, Svenska, Nederlands