Elmedia Player
Elmedia Player is fully compatible with MPEG and any codecs this format may contain. It will play MPEG and many other formats without the need to convert them. Elmedia allows you to play videos with external subtitles and audio tracks, control brightness, contrast, and hue, adjust playback speed, and equalize volume. But that's not all. This app can create bookmarks for videos or even export the playlists you create. And if you need to, Elmedia PRO will easily stream your media through AirPlay 2, DLNA, or Chromecast.
How to Open and Play MPEG/MPG File On Mac Using Elmedia
You will need to follow these steps to open and play a MPEG/MPG file on a Mac using Elmedia.
Step 1. Download, Install and Run the Player
Download and install Elmedia Player on your Mac. Make sure to download it from the official website. Once Elmedia is installed, double-click on it to open the application.
In the main window of Elmedia, click on the "File" menu and select "Open." This will open a file browser where you can navigate to the location of the MPEG (or MPG) format file you want to open.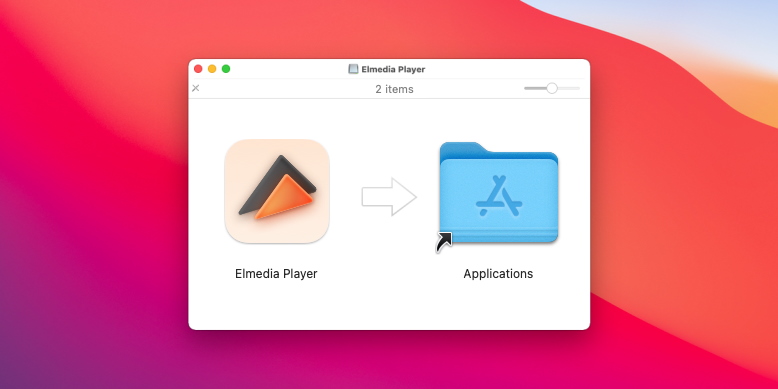 Step 2. Select the File you Need to Open
Select the MPG/MPEG file format and click on the "Open" button to begin playback.
Step 3. Enjoy Playing MPG/MPEG on Your Mac
Congratulations! You are now playing MPEG on Macbook. If you want to adjust the playback settings, such as the audio and video quality, you can do so by clicking on the "Preferences" option in the "Elmedia" menu.
In case you want to tinker around with the video settings, you can use the built-in controls in the Elmedia player, such as the play/pause button, the seek bar, and the volume control.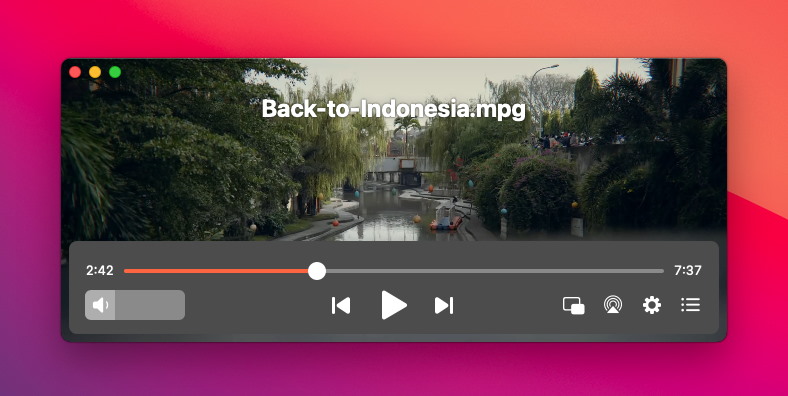 Useful Elmedia Features
As you would expect, Elmedia Player comes with some of the most useful features a video player can have. Let's take a look at some of them.

Say Goodbye to Converting Playlists
Elmedia Player is a versatile media player for Mac that allows you to play different file formats without converting them. This means you can open and play MPEG/MPG, as well as a wide range of audio and video files, without changing their format. This saves a lot of time and is an extremely convenient feature that comes built-in with the app.

Create and Manage Playlists
Elmedia Player allows users to create personalized playlists, which are collections of media files that can be played in a specific order. This feature is helpful if you want to organize your media files and play them back in a particular sequence. Take control of your experience and always play your favorite playlists or content through Elmedia.
Take Control of the Volume
Elmedia Player allows users to control the volume of individual audio and video files, known as app-specific volume control. This means that users can adjust the volume of each file independently rather than using a global volume control that affects all audios and videos.
Never-ending Loops
With this application, users can take advantage of the never-ending loop feature, which allows them to play a specific part of a video or audio file in a continuous loop. This can be useful if you want to repeat a specific section of a file, such as a song or a scene from a movie.
Alternative MPEG/MPG Video Players For Mac
Many options are available if you are looking for an alternative MPEG video player for Mac. Below, we will explore some of the best alternatives, including their features and compatibility with different file formats. Whether you are a casual user or a professional video editor, you will find software that meets your needs.
VLC Media Player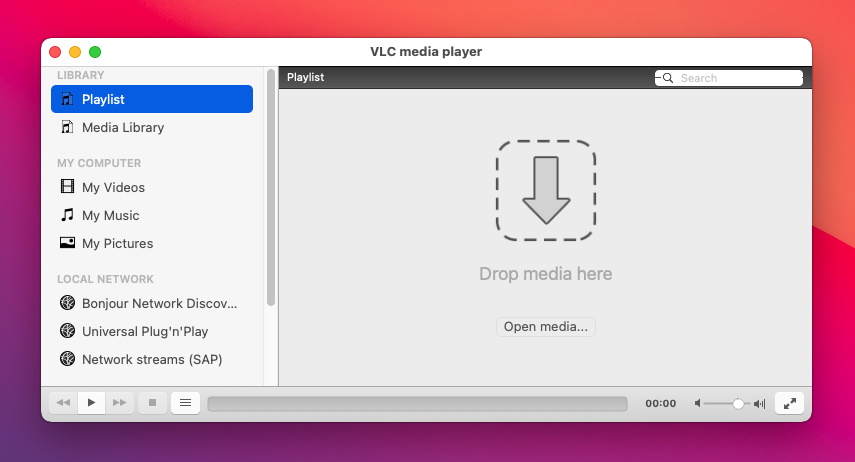 VLC is an MPG/MPEG player that's also open-source and completely free. The application is known for its ability to play various file types and the customization that it brings to the table. It also supports subtitles, video and audio tuning, and interface customization. VLC is available for most major platforms and is one of the most popular video-playing applications of all time. Unfortunately, the clunky interface and user experience have drawn users to try other players.
VLC vs Elmedia:
Elmedia makes a great contender for the throne. It comes with almost all of the main features that VLC has, but without compromising the aspect and easiness of use.
Elmedia Pros:
The ability to organize playlists
Full control over audio
Well-designed interface
Apple QuickTime Player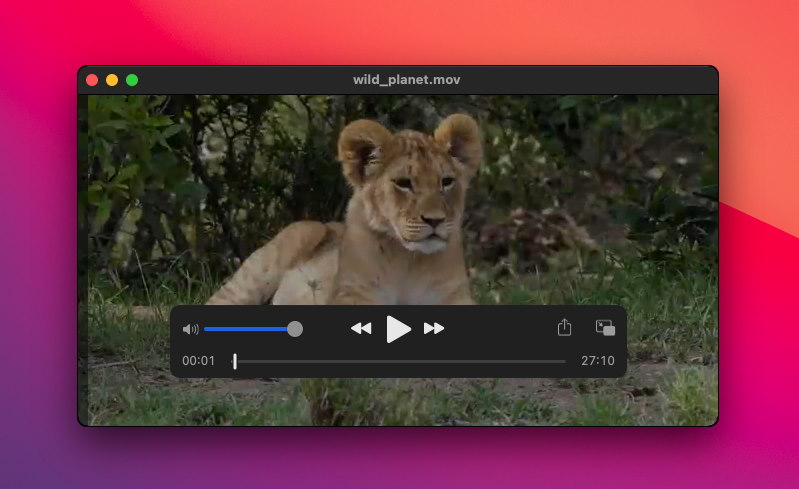 QuickTime is a free media player integrated within macOS that allows users to play, view, and share audio and video files on their Mac. It supports a wide range of file formats and offers built-in support for streaming audio and video. The player also includes basic editing tools and the ability to export files to other formats. Overall, it's a simple built-in media app that gets the job done. However, it does not play MPG videos at all.
QuickTime vs Elmedia
While the built-in player is pretty decent for something of its kind, it's not enough to beat its competition. Elmedia surpasses QuickTime when it comes to features, aesthetics, and the ability to play file multiple file formats.
Elmedia Pros:
Can play various formats, including MPEG/MPG
Full audio and video control
Subtitle support and customization
5KPlayer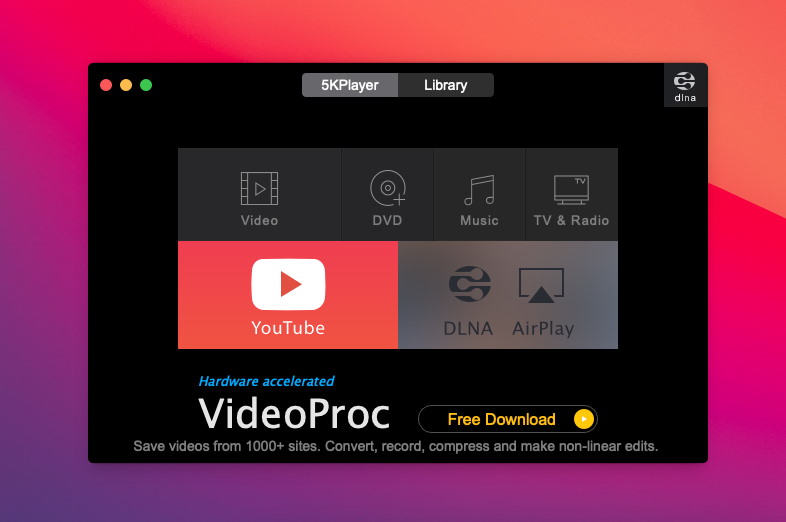 5KPlayer is a free MPG and MPEG videos player that allows users to stream and play their content on a Mac. It supports a good deal of various formats, including high-definition ones. It can also stream via AirPlay, Chromecast, and DLNA-compatible devices. Overall, 5K Player is a solid choice for those looking to play MPGs or MPEGs with a decent player. However, it also has its shortcomings, such as the lack of constant updates and features.
5KPlayer vs Elmedia
5KPlayer does have some nice features and keeps up with some of the features that Elmedia has, but overall the best choice for users looking to have a great experience is still Elmedia Player.
Elmedia Pros:
The ability to play videos without converting them
Supports a wider variety of formats
Receives constant updates
Aiseesoft Blu-Ray Player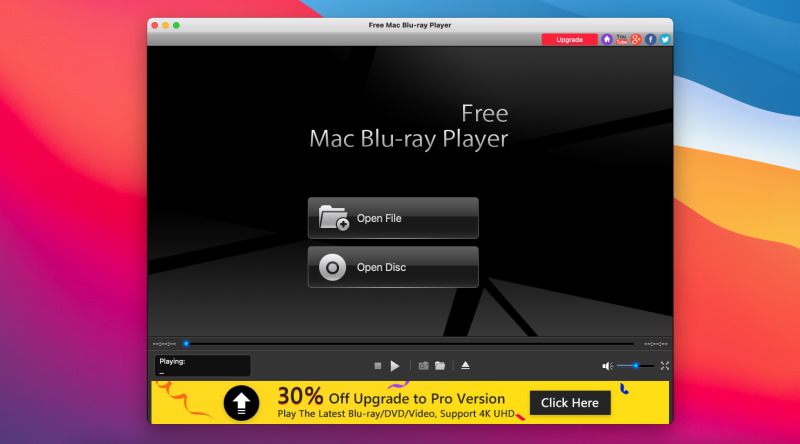 Aiseesoft Blu-ray Player is a free media player for Mac that allows you to play DVDs, Blu-rays, and videos in MPEG format. It can also play Blu-Ray DVDs and has support for almost all of the most popular formats and codecs. It might not have the best interface ever, but it's a good alternative to play MPEG formats if you don't care about those details. It's also not receiving constant updates and lacks some great features that other tools might have.
Aiseesoft vs Elmedia
Although Aiseesoft might seem like a good idea for those looking for a decent experience, Elmedia offers much more. From the ability to control volume to audio and video settings, there's much more you can do with this powerful tool.
Elmedia Pros:
Full control over audio
Can play MPEG formats without converting the files
Supports many more audio and video codecs without the need of installing third-party ones
Comparison Chart for Defining the Best MPG/MPEG Player for Mac
Want to take a closer look at these tools and how you can benefit from them? Take a look at the comparison chart below to find out the best MPG/MPEG player app.
Scroll to view more

| | | | | | | |
| --- | --- | --- | --- | --- | --- | --- |
| | | | | | | |
| Top features | | Elmedia Player | VLC | Quicktime | 5KPlayer | Aiseesoft |
| Support for various video formats | Support for various video formats | MPG, VOB, OGV, 3GP, 3G2, and ASF, MP4, AVI, MOV, MKV, FLV, and SWF and more | MP4, AVI, MOV, MKV, FLV, WMV, MPG, VOB, OGV, 3GP, 3G2, and ASF and many more | MOV, MP4, 3GPP, 3GPP2, AVI, DV | MKV, M2TS, MP4, AVI, WMV, FLV | MP4, MKV, MOV, M4V, WMV, AVI, FLV, MPG, TS, 3GP, FLV, ASF, VOB |
| Audio formats that it can play | Audio formats that it can play | OGG, WMA, AC3, MP3, M4A, WAV, FLAC. | MP3, M4A, WAV, FLAC, OGG, WMA, and AC3 | M4A, M4B, M4P, MP3, CAF, AIFF, AU, SD2, WAV, SND, AMR | AAC, AC3, WMA, MP3, WAV, FLAC, ALAC | MP3, AAC, AC3, AIFF, M4R, WAV, WMA, AMR, AU, FLAC, MP2, M4A, OGG |
| Create and Edit Playlists | Create and Edit Playlists | | | | | |
| Paid Version | Paid Version | | | | | |
| Audio Equalizer and Video Settings | Audio Equalizer and Video Settings | | | | | |
| Subtitle Support | Subtitle Support | | | | | |
| | | | | | | |
What are MPG and MPEG Files?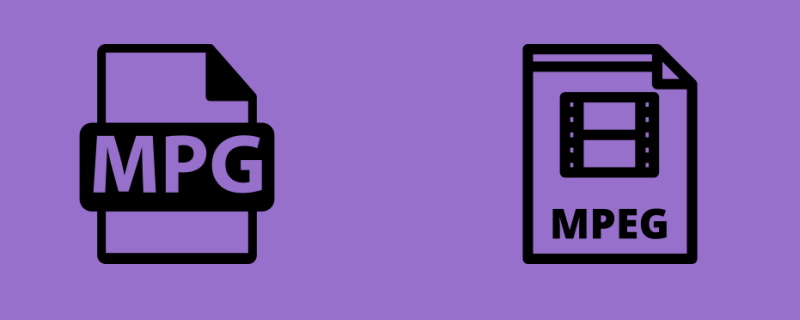 MPEG and MPG files are both used to store video files on your computer. The first is a compression format that allows you to store more data in the same space. This means you can fit more videos on your memory card or hard drive. It also makes for faster playback, as MPEGs are smaller than MPGs.
Both files use a form of lossy compression, meaning that some of the original data is lost when the file is created. This makes the files smaller and more easily transmitted over the internet, but it also means that the quality of the audio and video may not be as good as the original. Despite this, MPG and MPEG files are still widely used because they balance file size and quality well.
MPEG Formats
The most commonly used versions of the MPEG standard are MPEG-1 and MPEG-2. These standards are used for various applications, including digital television, DVD movies, and streaming media.
MPEG-2 is an extension of the MPEG-1 standard and is designed to provide even better compression and improved video and audio quality. It is commonly used to store video files on the internet and create DVD movies. MPEG-2 files are larger than MPEG-1 files, but the improved quality makes them worth the extra size.
Also, there are several other versions of the MPEG standard, including MPEG-4 and H.264/MPEG-4 AVC. These standards are designed for even higher levels of compression and improved quality and are commonly used for storing and transmitting high-definition video.
What other users are saying about Elmedia
If you are searching for an advanced media player for your mac system, then Elmedia Player 7 is here for you. Elmedia Player 7 is known as the best media player amongst the new generation of Mac users.
Elmedia Video Player for Mac offers a wide range of features to meet all your multimedia needs. You can stream directly to Smart TV or Apple TV.
Elmedia Player has a wide variety of other features and capabilities, but having the ability to play just about every possible video format, tweaking settings as needed for sync, audio and video problems.
It can play any file format including the widely-used ones like AVI, MP4, FLV, SWF, WMV, MKV, MP3, M4V, etc without the need of installing any other plugin or codec.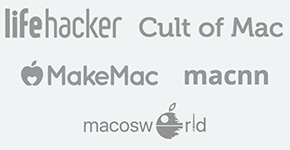 FAQ
Take a look at some of the most frequently asked questions to make sure that you are not missing anything about the best MPEG player.
The size of an MPG file can vary depending on a number of factors, including the video's length and resolution, the audio's bitrate, and the level of compression used. In general, MPG files tend to be larger than other video formats because they use a high-quality, lossy compression scheme. While newer video formats may offer some advantages over MPG, such as better quality or smaller file sizes, MPG is still widely used and supported by many media players and devices.
The best way of playing MPEG/MPG movies on macOS is by using Elmedia Player. It comes with all the features you need such as volume and playback control, audio and video customization and subtitle support. It's all packed in a lightweight application with powerful features. Simply click on the 'open' button at the top and select the desired file. After that, the playback will begin.

#1 at Video
Elmedia Player Free
Get a download link for Desktop
Submit your email address to get link for quick download and get started!
Languages:
Deutsch, English, Français, 日本の, Español, 中文