What is an MTS File
MTS stands for MPEG Transport Stream. It's a form of Advanced Video Coding High Definition (AVCHD) format. MTS is used extensively by digital camcorders and cameras as a format for saving video, unsurprising given that the format was developed by Sony and Panasonic. It's also the file type used for Blu-rays in the form of an M2TS file. M2TS provides high-definition playback with a moderate level of compression and also offers support for subtitles and menus. The main difference between MTS and M2TS files is that the former is used with cameras, the latter with Blu-ray.
MTS File Extension vs M2TS
| Comparison options | MTS | M2TS |
| --- | --- | --- |
| Main use | Mainly used as a storage format for digital cameras and camcorders | The most widespread format used for storing Blu-ray video |
| Production | Camcorders use Advanced Video Coding High Definition (AVCHD) to output MTS files | Recorded MTS data is converted to M2TS for Blu-ray storage |
| Compatibility | No issues copying to a video file | Cannot be directly copied to a computer |
| Video playback | Limited support, third party player probably necessary | Supported by most modern TVs, smart devices, consoles etc. |
How to Open MTS Files On Mac With Elmedia Player
Using Elmedia MTS video player to open MTS files is simple, just follow these steps:
Step 1. Download, Install and Launch the App
First of all, download the installer from the official page and install it on your device. Once installed, launch the app.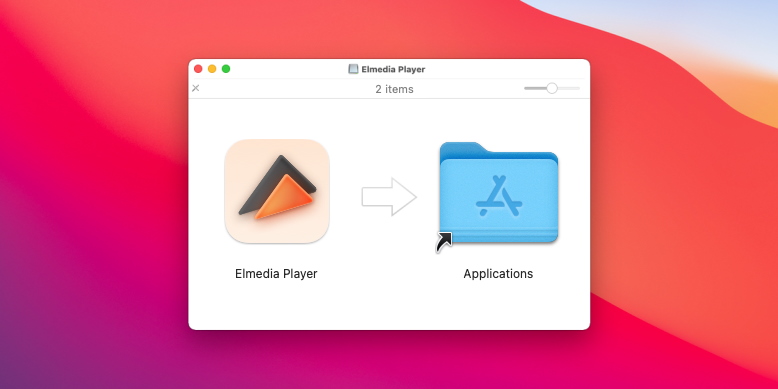 Step 2. Select the Video File you Want to Open
Next, select the file you want to run. There are a few different ways you can play a file. You can drag and drop the file to the Elmedia app. You can also click on the file and choose Elmedia as the player. Or you can search for the file through the Elmedia Player's interface.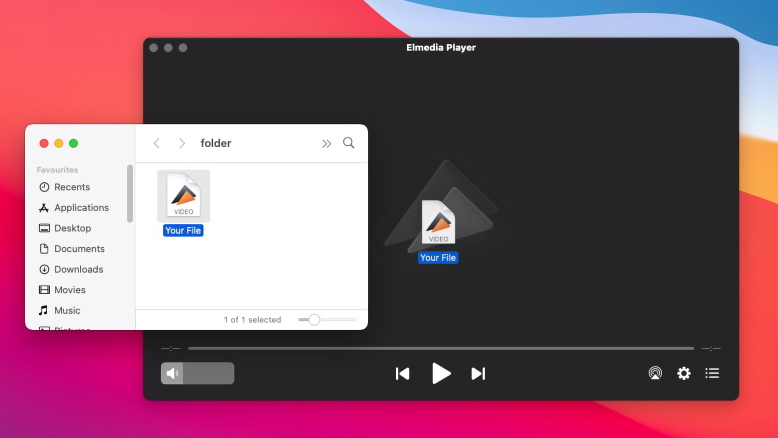 Step 3. Enjoy Playing MTS on Your Mac
Your MTS player will start playing directly through the Elmedia, with zero need for conversion.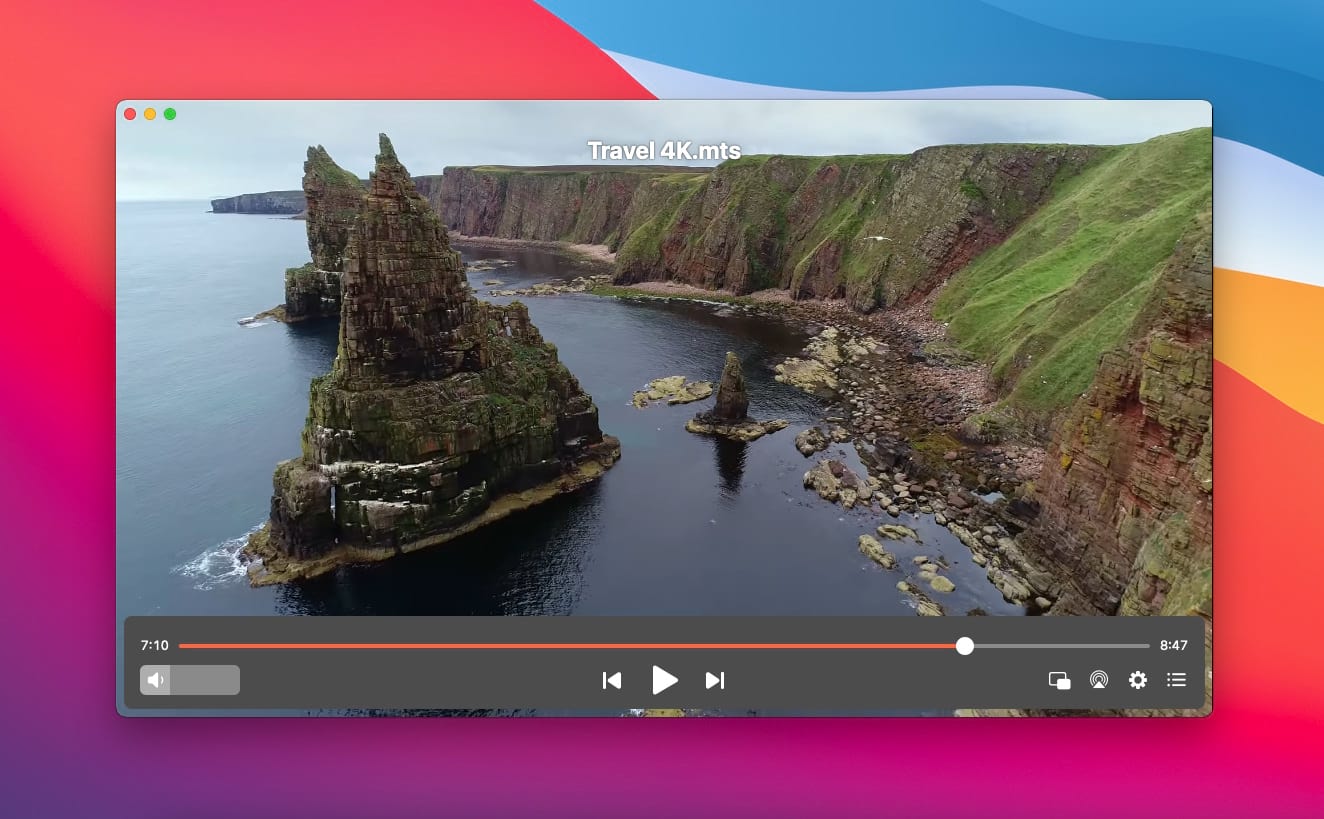 Elmedia Features
Elmedia isn't just a simple MTS M2TS player. Here are some of the other features:

Forget About Converting Files Formats
In the past, the only way for a lot of people to play niche file formats was to convert them, either online or through a dedicated conversion program. However, Elmedia lets you play a huge range of files directly without any need for conversion. It saves both time and storage space.

Create Your Unique Playlists
Elmedia is a great tool for managing files and folders. The playlist feature lets you put together a complete playlist of either videos or audio, letting you easily access all of your favorite content.
Control Your Media Volume on the App Level
App-specific volume controls mean that your Elmedia player will not interfere with any other audio you have going on in the background. You can run Elmedia at whatever volume you prefer while keeping your general system audio at a different level.
Set Your Audio or Video for a Continuous Loop
Elmedia features a never-ending loop option that lets you take either an entire file, or a fragment of a video or audio file, and set it for a continuous loop. It's particularly useful with albums that are saved as a single file.
MTS Video Files Players
The following are some of the other players out there that can play MTS file on Mac. If you're looking for a decent alternative to Elmedia, these are some of the other options.
5K Media Player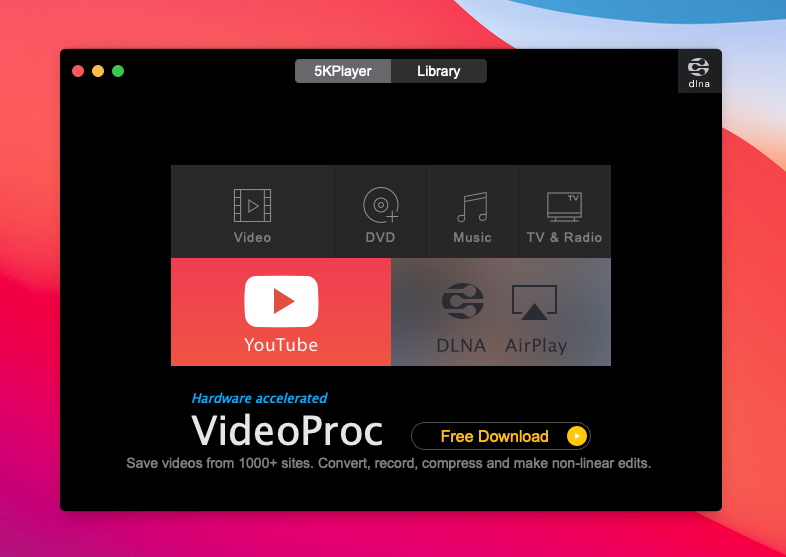 5KPlayer is a fairly well-known player that's been around for a while and is fine to play MTS videos. It has quite a few users and is mostly known for being compatible with a wide range of different file types. 5K has plenty of other features on it such as audio configurations, and the chance to broadcast directly to an external device through functions like Airplay. However, a lot of users complain that the application interferes by constantly throwing up annoying popups. In addition, it is extremely difficult to remove from a device once it's installed. It may be worthwhile looking for other options.
5K Media Player vs Elmedia
As we've mentioned, 5K is ok for playing MTS files, but it does have some issues. Some users have described it as intrusive and had issues removing it from their devices. Elmedia has no such issues and, in addition, benefits from regular updates to ensure that it's always working at its best.
Elmedia Pros
Easy to install.
Regular updates.
Can handle a wide range of different file types.
VLC Media Player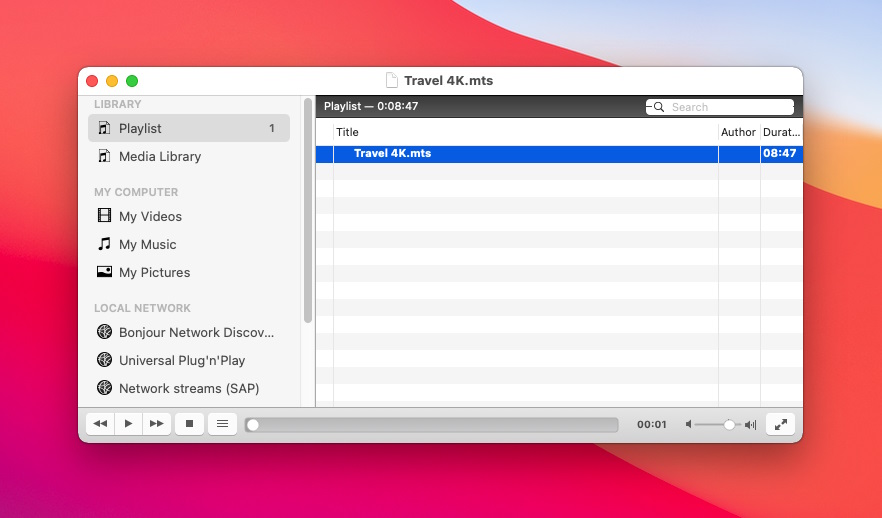 VLC Media Player is one of the most popular media players around and can be used to open MTS files. It's open source, meaning that it's available for free and can be modified by just about anyone. As a result, there are plenty of downloadable plugins you can use to adjust your experience. VLC supports a huge range of different file types and also offers compatibility with external devices. Some users have reported occasional bugs and issues with playback, but generally, it's pretty popular.
VLC Media Player vs Elmedia
VLC is a great player for watching MTS video files, but we still generally prefer Elmedia. The two players have many of the same features, but Elmedia stands out for its ease of use. The interface is easy to get to grips with. Also, the fact that VLC is open source means that it's not as reliable as a dedicated program like Elmedia when it comes to supporting.
Elmedia Pros
Easy to use interface.
No bugs.
Dedicated support team on hand if necessary.
GOM Player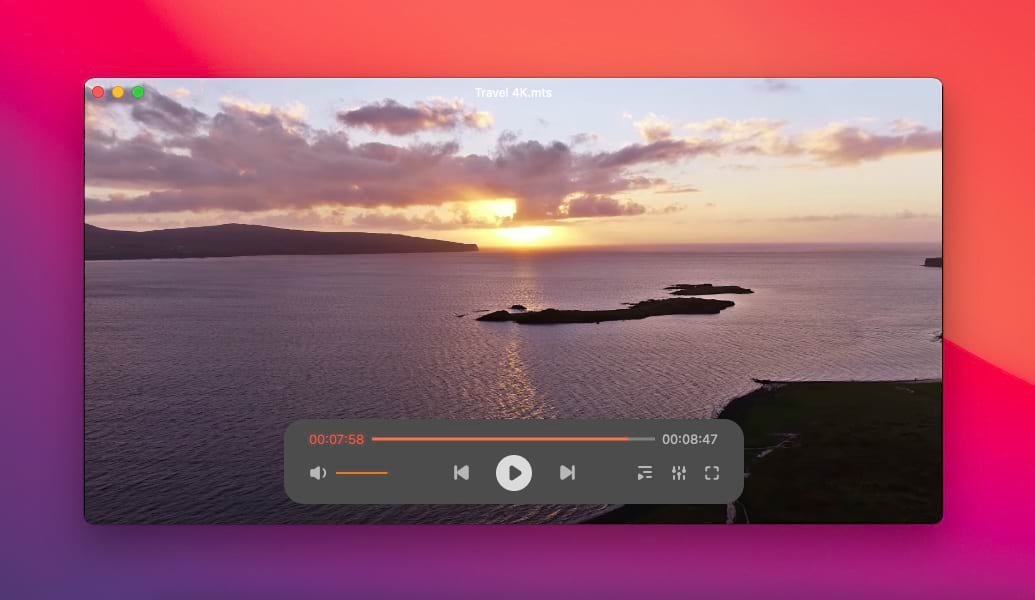 GOM is a pretty good player with lots of decent features. The main thing that sets it apart from the other players we've looked at is its compatibility with VR. GOM can cast content to 360-degree TVs as well as VR players. In addition, it's got solid subtitle support that lets you automatically load subtitles. Unfortunately, you need to invest in the paid version if you want to get the most out of it.
GOM Player vs Elmedia
If you're looking for a player specifically for VR viewing, GOM is probably a pretty good option. However, if that's not a priority, Elmedia can give you everything you need. Elmedia also lets you stream directly from your Mac OS to your TV and Chromecast.
Elmedia Pros
MPlayer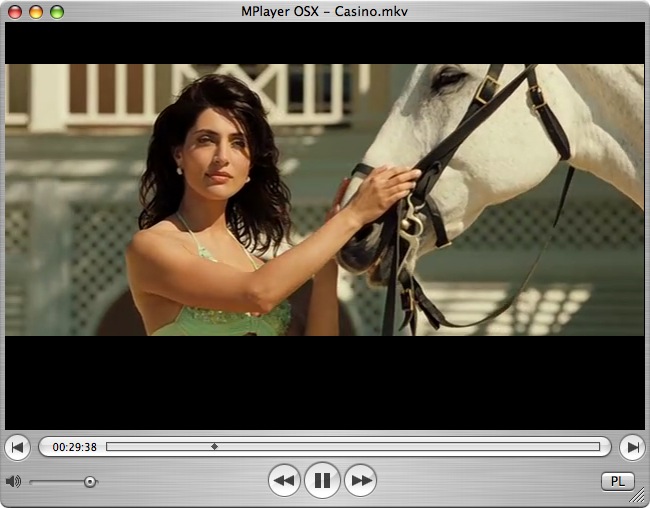 MPlayer is a fairly popular open-source player mainly focused on playing videos. It's got plenty of useful features when it comes to this. For one thing, it's completely free, since it's open source. It also handles a good range of different file formats without any requirement for additional codecs, which is a useful time saver. However, some users have claimed that audio lags occasionally. In addition, as open-source software, you won't be able to benefit from the kind of solid support you can expect from paid services.
MPlayer vs Elmedia
MPlayer is good, though it is mainly focused on video rather than audio so don't expect much in the way of playlists or advanced audio features. And as we've already mentioned, a player like Elmedia usually has more reliable updates and support. It's also had no reported issues with audio files lagging.
Elmedia Pros
Smooth playback and plenty of audio configuration options.
Screenshot option for taking pictures of media.
Compatible with macOS Big Sur, Ventura.
Comparison of the Best MTS Video Players for Mac
Scroll to view more

| | | | | | | |
| --- | --- | --- | --- | --- | --- | --- |
| | | | | | | |
| | | | | | | |
| Range of different video formats | Range of different video formats | Yes (MTS, M2TS, MKV, AVI, Divx, FLV, SWF, MPG, MP4, WMV, M4V, DAT, MOV, RMVB) | Yes (MTS,M2TS, RMVB, MPG, AVI, MKV, WMV, VOB, MP4 and others) | Yes (MKV, MP4, AVI, M4V, MOV, MTS, M2TS and others) | Yes (MTS, M2TS, FLV, MKV, WMV, M2TS, RMVB, AVI, MP4 and others) | Yes (MTS, M2TS, Cinepak, DV, MP4, HuffYUV, Indeo, RealVideo, Sorenson, Theora, WMV, Bink) |
| Range of different audio formats | Range of different audio formats | Yes (AAC, MP3, FLAC, WMA, OGG, AC2, MKA and others) | Yes (ALAC, AAC, MP3, AC-3, FLAC) | Yes MP3, AAC, MKA, FLAC, OGG, M4A, WAV and others) | Yes (ALAC, MP3, AC3, FLAC, WMA, AAC) | Yes (AAC, AC3, ALAC, AMR, DTS, FLAC, MP3, WMA) |
| Stream to external devices | Stream to external devices | | | | | |
| | | | | | | |
| | | | | | | |
| | | | | | | |
| | | | | | | |
| | | | | | | |
| | | | | | | |
What other users are saying about Elmedia
If you are searching for an advanced media player for your mac system, then Elmedia Player 7 is here for you. Elmedia Player 7 is known as the best media player amongst the new generation of Mac users.
Elmedia Video Player for Mac offers a wide range of features to meet all your multimedia needs. You can stream directly to Smart TV or Apple TV.
Elmedia Player has a wide variety of other features and capabilities, but having the ability to play just about every possible video format, tweaking settings as needed for sync, audio and video problems.
It can play any file format including the widely-used ones like AVI, MP4, FLV, SWF, WMV, MKV, MP3, M4V, etc without the need of installing any other plugin or codec.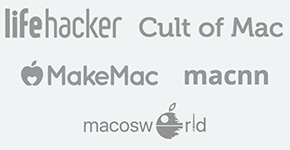 FAQ
Video players are generally focused on playing MTS files, or possibly converting them into a different file type. There are free online tools for basic editing, but for more advanced editing a program like Mojave or another professional video editor is more suitable.
Any of the above players are great tools for opening MTS files, but we recommend Elmedia as the most useful one due to its wide range of different features.

#1 at Video
Elmedia Player Free
Get a download link for Desktop
Submit your email address to get link for quick download and get started!
Languages:
Deutsch, English, Français, 日本の, Español, 中文