How to Open an SWF File on Mac Using Elmedia Player
Step 2. Choose a Video or Movie to Watch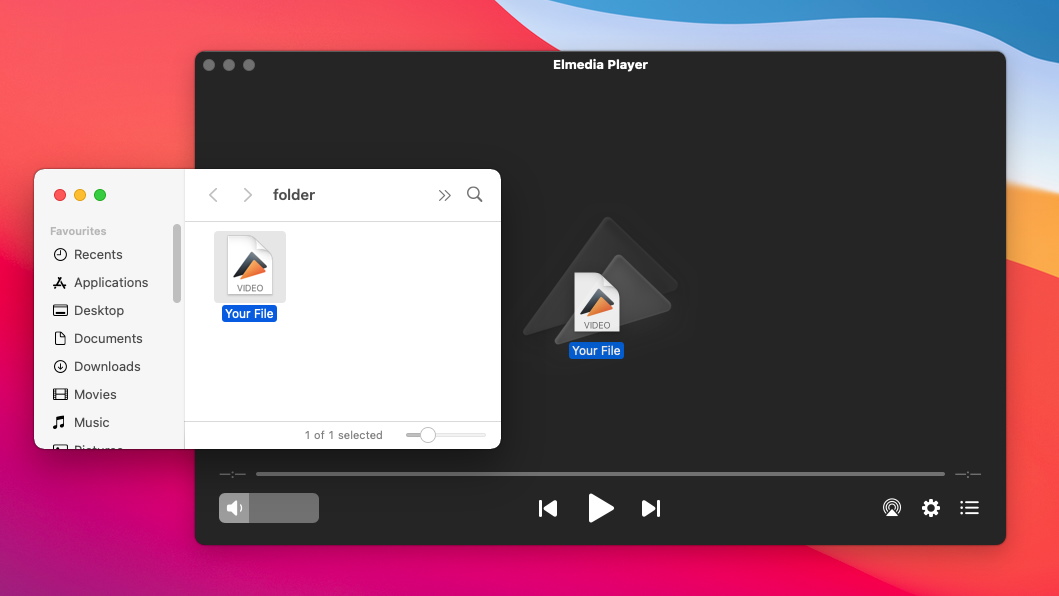 Playing SWF on Mac with Elmedia
There are a lot more benefits of using this SWF file player for Mac than you might think.

Apple TV, Chromecast, and DLNA Support
Own an Apple TV or Chromecast? No need for any complicated third-party application since
Elmedia can stream
directly from the app. It takes only a couple of clicks to start displaying media files from your macOS device to your TV. And with DLNA-certified support, you know for sure that most of your devices are supported by Elmedia Player. So what are you waiting for? Start streaming now!

Extended Audio and Video Customization
When playing SWF files on your Mac, one of the caveats of Elmedia Player is the ability to customize audio and video playback. For audio, you can enable surround virtualization which will make everything sound like you are sitting in a cinema theater with all the speakers lined up correctly. You also have the option of selecting the audio playback device straight from the application.
For video, you can add and sync up subtitles, speed or slow down content, use the timeline to precisely navigate the video, and even bookmark your favorite videos. There's also full control over your image with the possibility of editing brightness, contrast, hue, gamma, and sharpness.

Manage Playlists
Stop feeling like doing chores when you're watching movies or SWF files on your computer and organize your playlists easily through Elmedia Player. It only takes a few steps to have a perfectly organized library. The greatest benefit perhaps is having more time to watch your favorite content rather than taking precious time to find it.
Volume control
Take full control over your content with Elmedia Player. This SWF file viewer allows you to control the volume and even mute video files with the touch of a button.
What is an SWF file?
SWF, often pronounced as Swiff, is a file format created by Adobe that houses animation-based content often used for online games or interactive movies. This format rose to prominence in the past, when the internet was filled with creative projects such as movies or online flash games that became one of the most popular things on the internet at that time. Even though they are not used anymore, they can still be played through software such as your favorite childhood games or movies that were stored in this format.
If you have lived through the great era of the internet where flash games and interactive animated shorts ruled it, you probably don't need an explanation for what an SWF is. But for those who didn't or would like a reminder, it's worth knowing that SWF, often used as Swiff, is a file format created by Adobe for Adobe Flash Player files. Although it is known as ShockWave Format, SWF really stands for Small Web Format. This file extension type houses animation-based content often used for online games or interactive movies.
How to Play SWF Files Online in a Web Browser
Unfortunately, modern browsers do not come with built-in support for opening SWF files, even though this feature was present in previous builds of Chrome, Firefox, Safari and all popular browsers at the time.
While they do not have the same functionality as a standalone player, you can still use the browser to read SWF files. By installing the Adobe Flash plugin (if you don't mind it, because it could be risky), you can enable support for this Flash file format and enjoy your favorite content. All you have to do is install the plugin, refresh your browser, and drag and drop any SWF file directly into the browser.
For easy and safe audio and video playback, download our free Elmedia player. Enjoy playing media files of various formats.
List of Alternative SWF players for Mac: pros and cons
1. SWF Player
Flash player for Mac that can open SWF files was a minimalist application for Mac devices that focused on playing one single format. Although the design might seem bland initially, the software was designed to open just this format and nothing else. As for playback features, they were limited to pause and play and volume control, allowing users to adjust the volume or turn off the video completely. All in all, it was a great option for those who were looking for a hollow version of the SWF player for Mac.
But unfortunately, to date, it is impossible to download this app. It is not updated, and what's more, when you start looking for where to download it, you may come across some crappy resources and pick up a virus on your computer.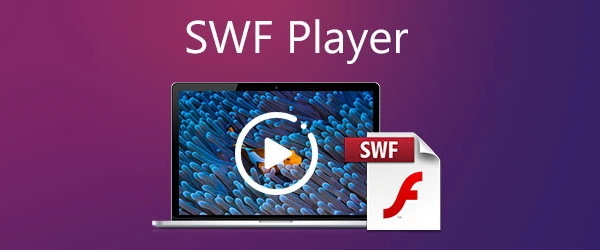 Pros
Played SWF files flawlessly
Had a simple and effective design
Was completely free
Cons
Had limited Playback Options
Only played one single-file format
It is no longer supported by the developer and may pose a threat when downloaded
SWF vs Elmedia
An obvious advantage of Elmedia is the ability to play audio and video of a wide range of file extensions.
Electronic Team developers are constantly working on Elmedia updates. Check the version history here.
2. VLC Media Player
One of the most popular entries on the list is perhaps Flash free SWF player for Mac VLC which manages to draw a lot of users for its simplicity yet effectiveness. It can handle up to 8K resolutions in some of the most popular formats such as AVI, MP4, MP3, MOV, WMV and many more. The fact that it's open source makes it amazing for those who like to tinker around with their applications or add new plugins and addons. This one also supports playing SWF files directly from URLs rather than standalone files, which makes it extremely convenient.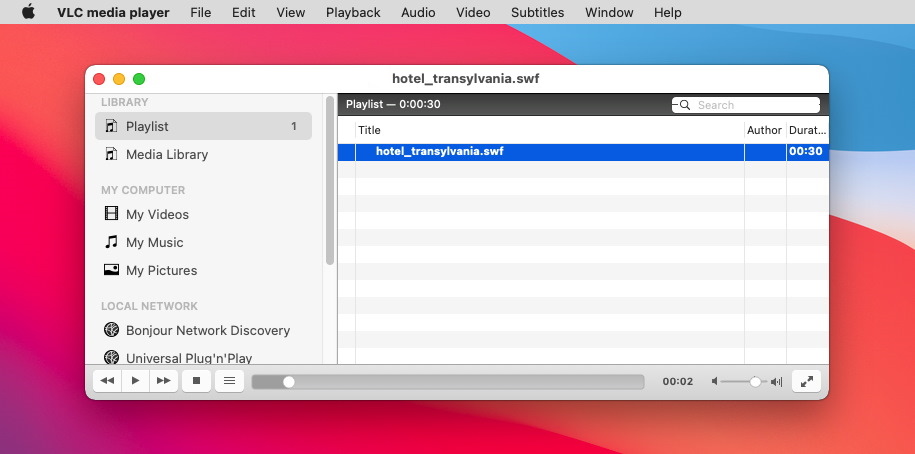 Pros
Supports a wide array of formats
Can play SWF files from URLs
Easy to use
Cons
The design feels cluttered
VLC vs Elmedia
The appearance of Elmedia has nothing superfluous. You will not get confused about the functions.
3. Jihosoft SWF Converter for Mac
This application does not play SWF files but only can convert them to other formats for better use. All you need to do is import the source file into Jihosoft and then choose the desired output from a large selection of formats. The program also supports the browser, detecting SWF files and automatically suggesting possible options for their conversion.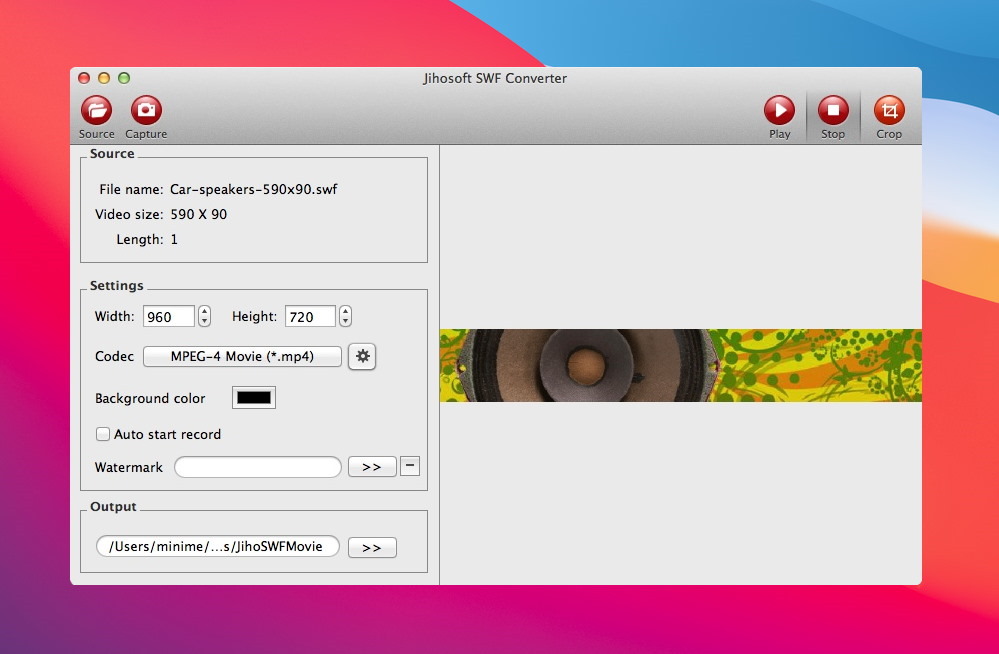 Pros
Ability to convert SWF files and play them
Browser integration
Cons
No major playback features
Direct playback of SWF files is not available
Jihosoft vs Elmedia
There is no need to convert anything in Elmedia. Just open and play.
Compare and Choose The Best SWF Player
Scroll to view more

| | | | | | |
| --- | --- | --- | --- | --- | --- |
| | | | | | |
| Top features | | Elmedia Player | SWF Player | VLC Player | Jihosoft SWF Converter for Mac |
| Support for several file formats | Support for several file formats | Yes (SWF, AVI, MP4, WMV, MOV, DAT, DivX, MKV) | | Yes (ASF, AVI, FLAC, FLV, Fraps, Matroska, MP4, MPJPEG, MPEG-2 (ES, MP3), Ogg, PS, PVA, QuickTime File Format, TS, WAV, WebM) | Yes (MP4, MOV, FLV, AVI, WMV, MKV, MPEG, RMVB, 3GP) |
| Create and Edit Playlists | Create and Edit Playlists | | | | |
| Built-in Equalizer | Built-in Equalizer | | | | |
| Subtitle Support | Subtitle Support | | | | |
| Streaming Support (Airplay 2, Chromecast, Apple TV) | Streaming Support (Airplay 2, Chromecast, Apple TV) | | | | |
| | | | | | |
What other users are saying about Elmedia
If you are searching for an advanced media player for your mac system, then Elmedia Player 7 is here for you. Elmedia Player 7 is known as the best media player amongst the new generation of Mac users.
Elmedia Video Player for Mac offers a wide range of features to meet all your multimedia needs. You can stream directly to Smart TV or Apple TV.
Elmedia Player has a wide variety of other features and capabilities, but having the ability to play just about every possible video format, tweaking settings as needed for sync, audio and video problems.
It can play any file format including the widely-used ones like AVI, MP4, FLV, SWF, WMV, MKV, MP3, M4V, etc without the need of installing any other plugin or codec.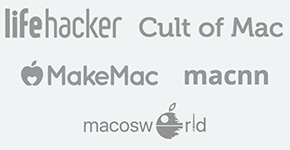 FAQ
Adobe Flash Player no longer receives any support. Therefore, everyone is searching for a unique media player. If you want to play SWF files on Mac, you need to use Elmedia Player. It's as simple as installing the application and dragging and dropping your SWF videos directly on top of it to begin playback.
Absolutely, all of the mentioned applications on this list are alternatives to QuickTime, which unfortunately does not support SWF files natively. With Elmedia Player you can enjoy all of the benefits of using different types of files and having extensive playback options and volume control over them.
You will need to choose one of the above-mentioned solutions for playing SWF files. As Flash Player is no longer supported, a tool such as Elmedia Player should read and run Flash files flawlessly.

#1 at Video
Elmedia Player Free
Get a download link for Desktop
Submit your email address to get link for quick download and get started!
Languages:
Deutsch, English, Français, 日本の, Español, 中文