How to Open a WebM file on Mac
Elmedia is a WebM player for Mac that also supports many other audio and video formats. Follow our step-by-step guide below using this app:
Step 1. Download Elmedia Player.
Download and install the program on your Mac. Launch the application.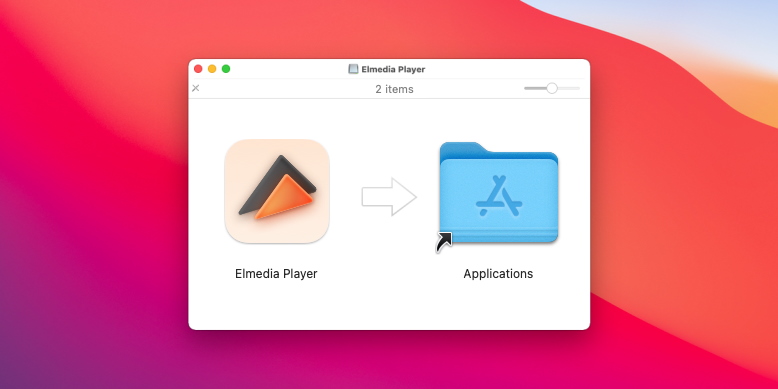 Step 2. Drag and Drop your Video File
There are three ways to open WebMs (or any file format):
Drag and drop your file onto the app window, or the icon on the dock.
Right-click with your mouse, click your file from the drop-down menu, then select Open with and choose Elmedia Player.
Open the file from the app's main menu. Just select Find file > Open.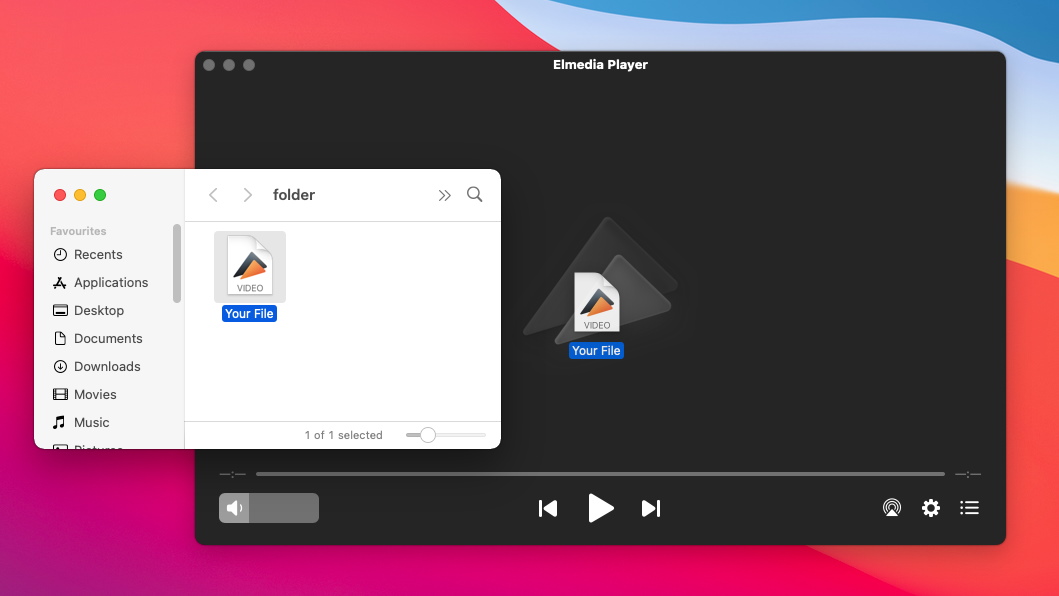 Step 3. Play WebMs on your Mac and Enjoy watching!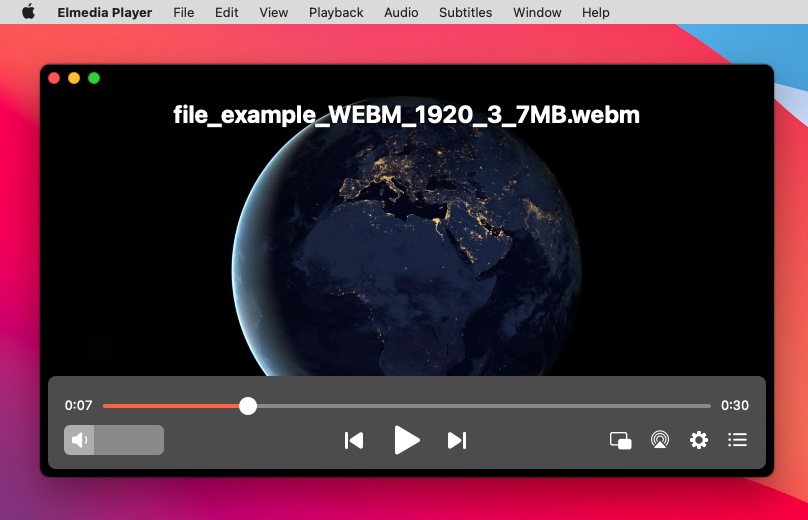 WebM Player Elmedia Features

Stream media files with AirPlay, Chromecast, and DLNA Streaming
Stream your WebM files to Chromecast
, Apple TV, smart TVs, and any other AirPlay or DLNA-certified devices. You can also stream media from your phone to your Mac if you want to listen to audio tracks on louder speakers.
Customize Subtitles
A wide range of subtitle formats are supported, including SRT, ASS, and SMIL, as well as both embedded and external subtitles. Choose how your subtitles will look, from the font and size to the text color and background, and load them manually or automatically. For files with issues, you can set a custom delay to sync your subtitles with the audio or video, and you can even search for subtitles online through the extensive database in the app.
Customize Audio and Video Settings
Every setting for audio and video playback can be adjusted. For video, adjust brightness, saturation, hue, contrast, sharpness, gamma, and noise reduction. For audio, there's a 10-band graphic equalizer and audio visualizer to manually tune sound, plus playback speed settings, a range of presets, and the option to add external audio tracks. You can also sync sound by adjusting the audio delay.

Create and Manage Personalized Playlists
One of the software's best features is the option to create and manage personalized playlists, a feature not included with every WebM files player. It's easy to pick and choose tracks to create your own playlist, and set tracks to repeat or shuffle. You can even export your playlist to watch or listen later on your widescreen TV.
Capture Screenshots
You can take precise frame-perfect screenshots, great for sharing or using as wallpaper. You can also make a series of evenly-spaced screenshots of your current video.
Multitask with Picture-in-Picture Mode
Because you're probably doing ten different things at once on your computer, the program has Picture-in-Picture mode. This lets you keep Elmedia playing in a small window on top of your other apps. The widget also provides plenty of control over playback, so you can watch or listen to video or music while you get on with other tasks.
Enjoy Videos in Ultra HD Quality
With Elmedia video player for Mac, it's easy to stream Ultra HD videos to all your 4K compatible devices, including your Apple TV 4K, Chromecast Ultra, or your Smart TV from brands such as Samsung, Sony, Panasonic, or LG.
What is WebM Format?
WebM format is a royalty-free audiovisual media format designed for the web, as it's supported in HTML5. It's a popular format as it's compatible with most popular browsers, including Safari, and can be uploaded to YouTube. The video format is based on the Matroska container, so it supports excellent video quality, while the audio format supports Vorbis audio. WebM video streams are compressed using VP8 or VP9 video codecs.
Other Players to Consider
We provide a list of alternatives to make it easier for you to choose the most convenient software, that is able to run WebMs on Mac OS. Continue to read our review and choose the best one!
1. VLC Media Player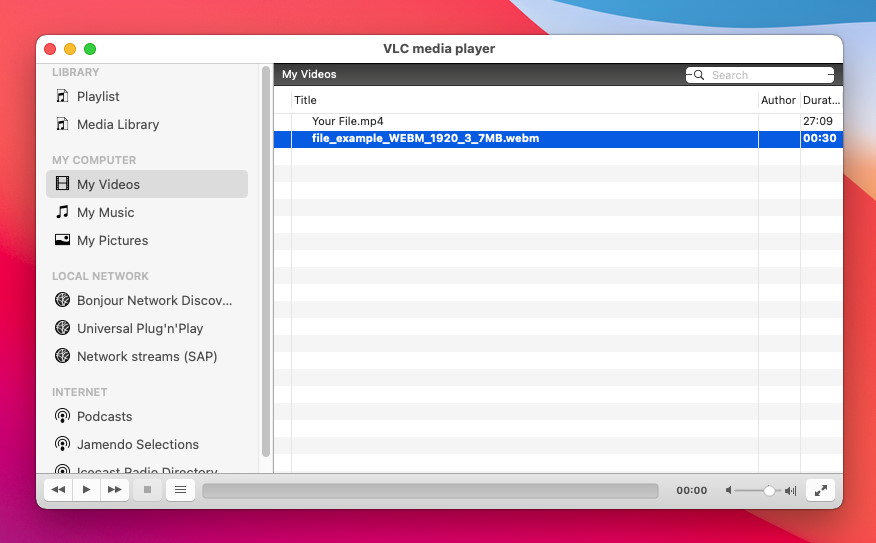 If you're looking for a free WebM media player, then VLC is easy to recommend. Though it's free, this open-source, cross-platform application doesn't skimp on features, and you'll find it plays most audio and video formats. As well as watching videos, you can use it to record, edit, and cut video, and features include video and audio filters, subtitle support (including syncing), and more. Play videos from any source including your computer, DVD, and streams, with hardware decoding for better performance.
You can also use VLC Player's graphic equalizer to adjust how your favorite tracks sound, convert videos to any format, stream to your TV or smartphone, rip a DVD, and even record your screen.
VLC vs Elmedia
Without a doubt, VLC is multifunctional and can be used for a wide range of user tasks. But if your goal is lightness, simplicity, and no need to convert files from one format to another, then Elmedia is the best choice.
Elmedia Pros:
intuitive and easy-to-use interface;
support of tons of formats;
customization of hotkeys.
2. 5K Player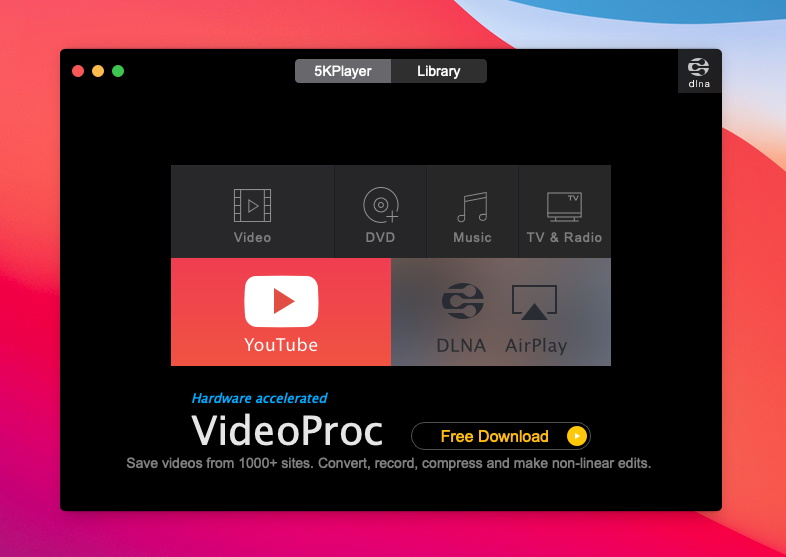 5K is a free video player that can also play your audio tracks and stream audio and video via DLNA and AirPlay. With support for the most popular formats including WebM, it's easy to get started using the app. Features include the ability to download videos from popular sites such as Vimeo and YouTube, wireless streaming to your TV, tablet, or smartphone, and an in-built radio player that allows you to listen to your favorite satellite radio stations.
5K Player's hardware acceleration means you can enjoy watching movies, shows, and more without bottlenecking your computer's CPU and GPU. You can also use the software to edit videos, including cutting, cropping, merging, and more, as well as converting videos to a different resolution. The app also has a range of presets, and it will choose the best one to ensure optimum playback on your TV, tablet, phone, and so on.
5K Player vs Elmedia
Elmedia is designed for Mac users and aims to make it easier for them to work with any media type. So, who knows your needs better than anyone?
Elmedia Pros:
possibility to clean playlist upon exiting;
iOS devices streaming to the player;
Roku devices are supported.
3. Cisdem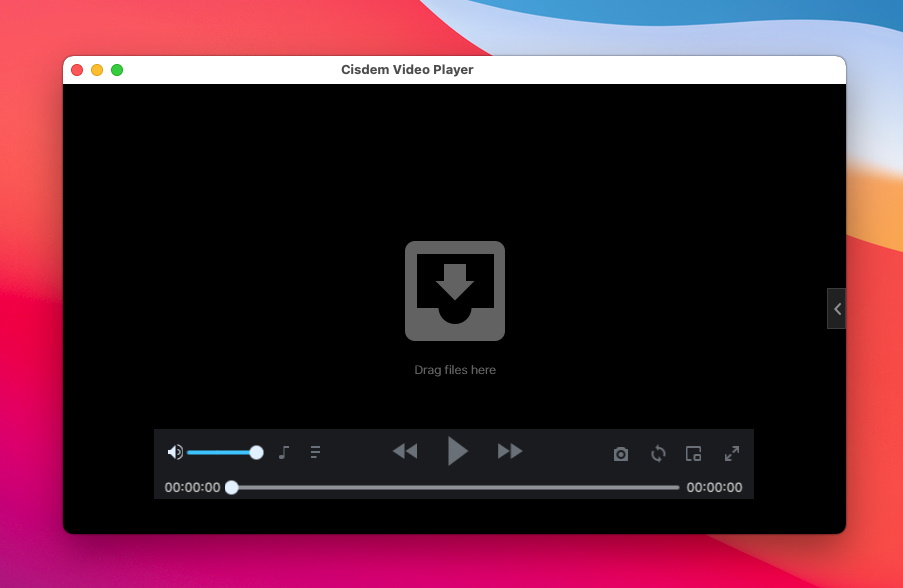 This 100% free video player supports WebM, as well as other variety of formats. Features include optimization for UHD videos up to 8K, screenshots, and full advanced video playback control. Though the player is free, you can upgrade to the Pro version which offers advanced hardware acceleration, the ability to convert files to various different formats for playback on your tablet or smartphone, and more.
It is easy and intuitive to use, allowing you to drag and drop videos onto the interface to begin playback. You can create and edit playlists in the integrated playlist window and import subtitles from external sources and adjust how they appear – and the software is light to start and fast to load. Keyboard shortcuts are also supported.
Cisdem Player vs Elmedia
Elmedia's intuitive interface for the most effortless playback will please you at first sight. We make it very convenient for our customers to play videos, movies and listen to their favorite tracks.
Elmedia Pros:
open URL feature;
rotate and mirror video;
playback in a loop.
4. MPlayerX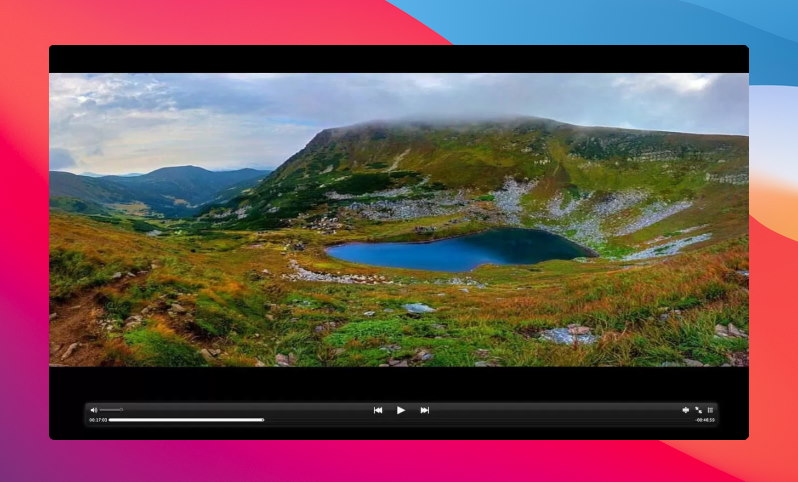 This popular video player for Mac supports a vast range of formats without any extra plugins or codecs. With MPlayerX you can also stream WebM movies to your TV, smartphone, or tablet. The software is beginner friendly and intuitive to use, and it's free too. Features include Apple Remote support, drag-and-drop functionality, and plenty of options for customizing your video and audio playback. The player also automatically detects the encoding method used for subtitle files. If you want to use the app to play online videos from sites such as YouTube, Facebook, or Vimeo, simply drag the video link directly onto the app interface.
MPlayerX vs Elmedia
Elmedia will not overload your CPU by playing various video and audio materials. And timely updates ensure that using this application will be easy and smooth.
Elmedia Pros:
safe and has no ads inside;
UHD videos support;
the development team regularly works on bug fixes.
Comparison Chart of Apps That Can Open and Play WebM Files on Mac OS
If you're looking for apps that can play WebM files on Mac, the below table lists some excellent alternative options. We've also compared key features for each app, to help you choose the one that's right for your needs.
Scroll to view more

| | | | | | | |
| --- | --- | --- | --- | --- | --- | --- |
| | | | | | | |
| Top features | | Elmedia Player | VLC Media Player | 5K Player | Cisdem | MPlayerX |
| Supports different video formats | Supports different video formats | Yes (WebM, AVI, FLV, SWF, MP4, WMV, MOV, DAT, M4V, MPG, DivX, MKV) | Yes (WebM, MKV, MP4, VOB, WMV, MPG AVI, etc) | Yes (WebM, MKV, M2TS, MP4, AVI, WMV, FLV, etc.) | Yes (WebM, MKV, AVI, FLV, AVCHD, WMV, etc.) | Yes (WebM, AVI, MKV, MOV, MP4, MPG, OGM, etc.) |
| Ability to play various audio formats | Ability to play various audio formats | Yes (WebM, MP3, WMA, AC2, MKA, OGG, FLAC, AAC) | Yes (WebM, AAC, AC-3, FLAC, MP3, ALAC, etc.) | Yes (WebM, MP3, AAC, AC3, WMA, FLAC, ALAC) | Yes (WebM, MP3, OGG, ACC, WMA, AIFF) | Yes (WebM, MP3, WAV, OGG, WMA, ASF, MP4, CD audio, XMMS) |
| Supports streaming various formats to TVs and other devices | Supports streaming various formats to TVs and other devices | | | | | |
| Create, share, and edit playlists | Create, share, and edit playlists | | | | | |
| Has a video tuner | Has a video tuner | | | | | |
| Audio equalizer built in | Audio equalizer built in | | | | | |
| Subtitles support | Subtitles support | | | | | |
| Picture-in-picture mode supported | Picture-in-picture mode supported | | | | | |
| Screen recording | Screen recording | | | | | |
| Free version | Free version | | | | | |
| | | | | | | |
What other users are saying about Elmedia
If you are searching for an advanced media player for your mac system, then Elmedia Player 7 is here for you. Elmedia Player 7 is known as the best media player amongst the new generation of Mac users.
Elmedia Video Player for Mac offers a wide range of features to meet all your multimedia needs. You can stream directly to Smart TV or Apple TV.
Elmedia Player has a wide variety of other features and capabilities, but having the ability to play just about every possible video format, tweaking settings as needed for sync, audio and video problems.
It can play any file format including the widely-used ones like AVI, MP4, FLV, SWF, WMV, MKV, MP3, M4V, etc without the need of installing any other plugin or codec.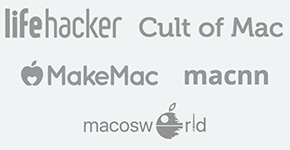 FAQ
Because QuickTime can't open and play this file extension, the easiest way to view it on macOS is to use a third-party WebM viewer such as Elmedia Player. No codecs are required, and you can drag and drop your file onto the player to start playback.
The best way to cope with this task is to use an Elmedia video player that supports the format. With this app, you can either drag and drop video files onto the player, open them from the player's main menu, or right-click your WebM file with your mouse, choose your file from the drop-down menu, select open with, and choose Elmedia.

#1 at Video
Elmedia Player Free
Get a download link for Desktop
Submit your email address to get link for quick download and get started!
Languages:
Deutsch, English, Français, 日本の, Español, 中文