If you are just now discovering the wonders of 8K video resolution, but you have a hard time finding the best video player in terms of compatibility with Mac, you need not look further! We have compiled a list of the top-performing video and movie software of the moment, and we will walk you through everything there is to know about each media player in part.
Stay with us until the end so that you can decide with ease what is the best program that will allow you to watch movies 8K smoothly and hassle-free!
Top 3 8K Video Players for Mac 2023
Elmedia Player
We like to answer to users' demands, and most often we are asked to start with the best software that we have reviewed. In this particular case, the No. 1 on our list goes out to Elmedia player. This is by far the most versatile program in terms of… just about everything, really!
Not only is Elmedia compatible with literally any type of video format, be it FLV, MKV, SWF, MP4, MOV, WMV, etc., but it's also your safest bet when it comes to playing 8K videos on a macOS operating systems. Furthermore, it allows you to nit-pick playback options, to customize video/audio settings with ease, and it can even create galleries of screenshots for keeping track of your video content.
Whether it's 4k or 8K, and we're sure even the upcoming 16k resolution, Elmedia can play just about any video file on any interface smoothly, with no hiccups, and no errors. This applies to MacBook users just as well, which is understandable given that Elmedia was designed as a Mac DLNA player. What does this mean? Well, it means that you will be able to cast to any Chromecast device from your Mac, so that you can enjoy all your video content on an Apple TV.
For all these reasons and more, we gladly recommend giving Elmedia player a try, and we're sure that any Mac user out there will be pleasantly surprised.
How to Play 8K Movies and Videos on Mac?
Nothing can be easier, actually! The ease of use is another one of Elmedia's major pros, so this will prove the quickest 2-step task that shouldn't take any user more than a minute or two.
Step 2: Playing Video Files
That's right, you're all set and good to go, all that's left is for you to open your desired files, and watch movies 8K on Mac.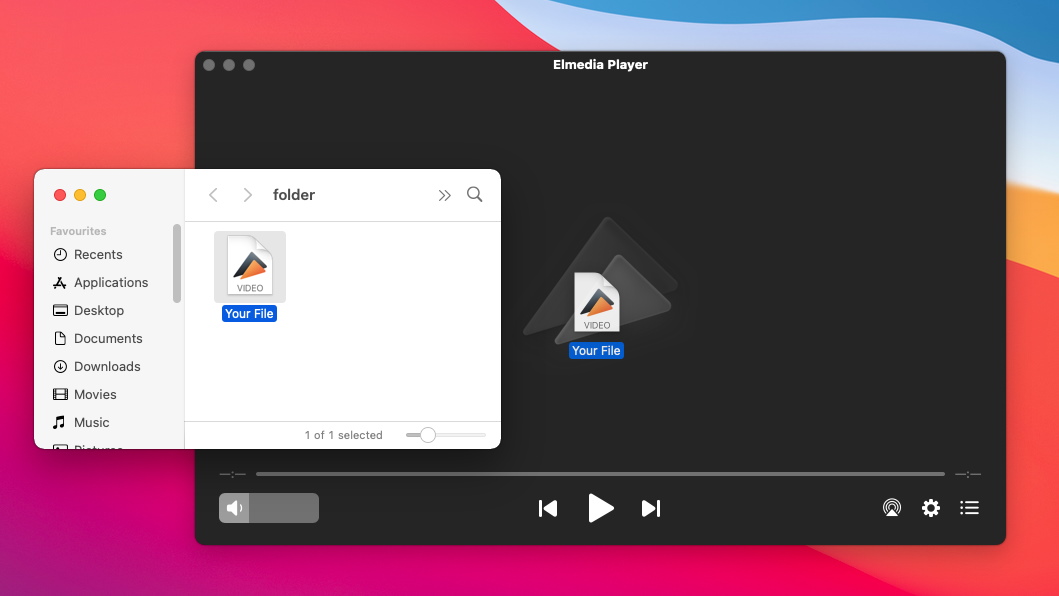 And it's from this moment on that you will start to familiarize yourself with all the advanced features and versatile options this video player has to offer.
Pros
Advanced options for fine-tuning playback
Can be easily connected to hardware and/or wireless speakers
Smart playlist management and tracking
Corrupted SD card, or files stored on a malfunctioning drive
Possible viruses or malware that alter the structure of video files
Video compression issues
Video files that have been edited with inadequate software
Cons
Pro version with all features included requires a purchase
5KPlayer
The second-best software in our list has to be the popular 5KPlayer. Launched quite some time ago, this is yet another ideal video player that will handle a wide range of file formats with ease, and that offers HD playback of FLV, SWF, MOV, mp4, and numerous other types. This, along with its ability of handling region and multi-region free DVD, has gathered an impressive user base in the last couple of years.
But the perks don't stop here! macOS users will be thrilled to learn that 5KPlayer incorporates Apple's streaming tech as a stable and highly reliable AirPlay Receiver, thus providing the easiest possible way for you to display the screen and contents of your iOS or iPadOS on your MacBook via external projector. It also offers subtitles and rotation functions and will even allow you to download FLV straight from YouTube in case you don't have the time nor patience to go through interminable adds before reaching your desired 8K content.
Pros
Very fast video to audio file conversion
AirPlay and DLNA support
Media library features for sorting audio/video files based on your preferences
Cons
Difficult navigation for new users
VLC Media Player
VLC certainly needs no introduction, being one of the most used media players of its generation, all over the world. It's safe to say that VLC has been around for ages, and also that it still remains the go-to video player for a lot of users out there. Much like the first two entries on our list, VLC can play FLV video files on mac without requiring any additional codecs. However, some minor compatibility issues that don't always make this process as smooth and as straightforward as it should be, are the main reason for which it occupies only the 3rd position in our top.
Regardless, VLC remains a versatile solution for playing any kind of file or resolution video format, and the best part, it allows users to open and play only partially downloaded videos and movies, as well as to stream 8K content from the Internet.
Pros
Very large number of features and settings
Compatibility with almost any file format
No predatory or hidden costs
Cons
Difficult settings for new users
Streaming can be a drag
8K Video Players Comparison Chart
| # | Top Features | Elmedia | 5KPlayer | VLC |
| --- | --- | --- | --- | --- |
| 1 | 8K support for various file formats | yes (AVI, SWF, FLV, MP4, DAT, MKV, DivX, MP3, WMA, WMV, MKV, AAC, OGG, FLAC, etc.) | yes (MKV, MP4, AVI, M2TS, WMV, FLV, etc.) | yes (MKV, MP4, WMA , VOB, WMV, MPG MP3, AVI, AAC, etc.) |
| 2 | Supports streaming to other devices (TV, Streaming devices, etc.) | yes (PRO version) | | yes (albeit a difficult process) |
| 3 | Subtitles support | | | |
| 4 | Hardware-acceleration | | | |
| 5 | Audio Equalizer function | | | |
| 6 | M1 support | | | |
What is 8K Video Resolution?
Let's start from the beginning, namely by introducing and explaining what 8K support means, and what major improvements it brought to the video industry. Unveiled in 2019 at CES, 8K was the latest and highest display resolution at that time, taking over the reins of 4K.
It basically stands for an image or display of 8,000 pixels width, give or take, and 7680×4320 resolution, namely 8K UHD. Simply put, in 2020 it was the highest resolution available on the market by Rec. 2020 standards. As of late, the race for 16K has come a long way, so we will also address what each macOS media player can do in terms of 4k vs 8K vs 16k.
Conclusion
As you probably learned by now, there are several key factors you need to take into consideration to determine what is the best 8K video player of the moment. From advanced levels of customization to the variety of supported file formats, from a user-friendly interface and navigation to the compact size and minimal storage requirements, and many other key features, we have concluded that Elmedia Player is the most complete and most advanced software we have reviewed.
Thus, we recommend downloading and giving it a try right away, as we are sure that it will shine a new light on 8K video resolution and allow you to watch movies 8K on Mac without any further effort or hassle!
Frequently Asked Questions
There are a few options for users that want to play 8k videos. However, if you want an all-in-one software that handles a long list of formats, and brings you many customization opportunities, Elmedia Player is the best choice.
All you need is an advanced video player of the industry-leading software available for free download these days. Elmedia is our top recommendation, and you can easily download and install it from the homepage in a couple of minutes tops.