When it comes to playing videos, users want only the best solution that guarantees an excellent experience. However, since there are many players out there, doing your comparison can be difficult and time-consuming. That's where we step in! 
You won't have to compare media player functionalities because we put 5K Player vs VLC vs Elmedia to explore all their pros and cons. You'll find all the details below and we start with Elmedia Player because it stood out from the crowd in multiple aspects.
Compare 5KPlayer vs VLC vs Elmedia
We jump straight into the analysis of the three players to highlight their functions and overall rating. It's just the first step and it should give us an impression about which is better then more comparison protocols will follow.
Elmedia Player
It's not a coincidence that we start our reviews with Elmedia Player. Even though the comparison also includes 5KPlayer vs VLC, this software's functions and versatility made it  stand out from the crowd immediately.
One of the most impressive things about this macOS video player is the massive range of formats it supports. You won't ever have to worry about installing plug-ins or codecs to watch almost any video file you can think of. From the popular MP4, AVI, or MKV, and all the way to SWF, FLV,  WMV, or OGM, this player has you covered. 
Besides being able to play just about anything, Elmedia also gives you full control over playback and customization. Seamlessly adjust playback speed, navigate to your favorite parts of the video, or adjust brightness, contrast, hue, sharpness, and gamma. Dealing with a damaged video file? No worries, Elmedia can deinterlace and repair it during playback so you won't have to do a thing. You can also easily add subtitles or search for them online, sync them with the video, and modify their appearance. 
The same versatility is offered when it comes to audio settings and customization. You get a 10-band equalizer, AC-3/DTS surround sound, and even visualization for an excellent experience.
Another feature that makes Elmedia an outstanding video player is the ability to stream directly to Apple TV, Chromecast, or DLNA-enabled devices. In just a couple of clicks, you will be ready to watch your favorite videos on the big screen. On top of all these features, navigation is smooth and intuitive thanks to the user-friendly interface.
How to Open Videos with Elmedia Player:
2. Run the app and open the file you want to play using one of these three methods:
Click on File from the menu, select Open and navigate to the file's location
Simply drag-and-drop the video over the app's window or dock icon
With Finder, navigate to the file location to right-click on it, and select Elmedia from the available programs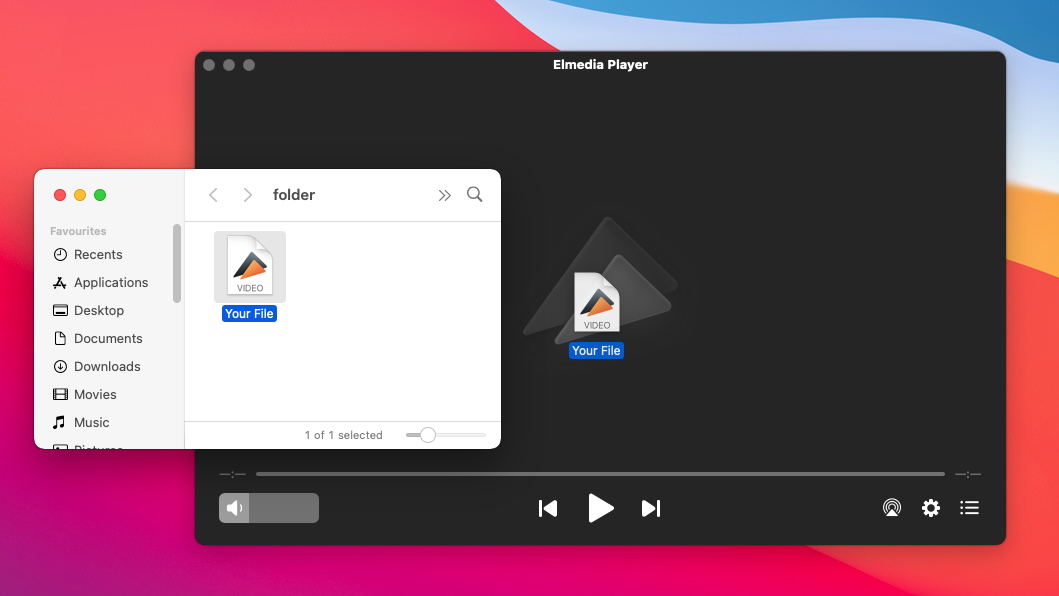 3. Make the most of watching your favorite videos.
VLC
When you compare media player software solutions to determine the best, VLC can't be overlooked. It is a free and open-source app that can play almost any video or audio format. Furthermore, the video player is compatible with macOS, Windows, Linux, iOS, and Android. So, whether you want to install it on a Macbook or a PC, you can count on full support and functionality. 
When it comes to the settings VLC Mac users can access, the software does not disappoint. It offers various playback controls, such as speed control, equalizer, and looping, to enhance the viewing experience. Additionally, VLC supports a wide range of subtitle formats, making it easy to watch movies or TV shows in different languages and adjust any inconsistencies.
Furthermore, it allows users to customize the interface and choose different skins. However, it's also true that VLC would benefit from a design revamp as the current user-experience feels a bit outdated. 
5KPlayer
We've finally reached the 5KPlayer review, and it's time to look closely at what this app can do. It definitely passed the test of time since it's been around for many years and has a solid user base. Just like its competitors, it can handle numerous video formats and supports 4K playback. 
Available for Mac and Windows, 5K Player allows users to customize their experience all the way. Video navigation, changing playback settings, or loading subtitles are just a few of the perks offered by this app. Additionally, it offers support for AirPlay, which enables media streaming to and from other macOS or iOS devices. 
Another impressive feature is 5K Player's ability to download online videos from popular platforms like YouTube, Facebook, or Vimeo. You can also count on it to download entire playlists, making it an excellent tool for anyone looking to save videos for offline viewing.
Video Playback Ability
It's time to compare media player solutions offered by Elmedia, VLC, and 5K Player to determine which offers a better playback experience. We're mainly looking at the supported formats, customization capabilities, and additional features that make a difference when it comes to watching your favorite videos. 
When putting Elmedia head to head with VLC and 5K Player, we observe that all three apps can handle numerous formats without needing anything extra. You can watch MP4, AVI, MKV, FLV, WMV and many more video formats with no additional plug-ins or codecs. Furthermore, when talking specifically about 5KPlayer vs VLC, the latter comes out on top regarding playback versatility, but nothing beats Elmedia. 
Elmedia Player and VLC can also play damaged or corrupted files while 5K Player does not offer this important function. Additionally, Elmedia is also capable of real-time deinterlacing, so you won't notice any inconsistency during playback.
Appearance Design
It's time to focus our comparison on an aspect that is often overlooked – design and user experience. Indeed, it's vital for a player to handle multiple video formats and to offer numerous playback settings or customization options. However, the appearance and user experience are just as crucial. 
Elmedia has a modern and intuitive interface that allows all user types to easily navigate and get the most out of the player. 5K Player is also easy-to-use and comes with a design that's similar to macOS functionality. VLC, on the other hand, looks a bit outdated and can be difficult to use at times. Therefore, we can conclude that Elmedia is better then 5K Player follows in its steps, while VLC takes the last place.
Video/Audio Resources and Download Ability
Finally, we look at Elmedia vs 5KPlayer vs VLC from a video and audio resources perspective as well as the ability to download media from the internet. 
All three players come with numerous video resources like the ability to build playlists or change the settings for brightness, contrast, gamma, and sharpness. However, Elmedia stands out thanks to its multi-monitor setup support and the Picture-in-Picture mode. It's something you don't get with VLC and 5KPlayer. 
Besides their outstanding playback capabilities, Elmedia Player and 5K Player can also download online media from various platforms like YouTube, Facebook, or Dailymotion. It's true that you will need to upgrade to Elmedia Player PRO to unlock this feature while its competitor offers it for free, but the functionality is also far superior. VLC can only start playing files that are not fully downloaded and stream content from the internet.
Feature comparison
| | | | |
| --- | --- | --- | --- |
| Main Attributes | Elmedia Player | VLC | 5KPlayer |
| Multiple Video Formats Supported | MPG, VOB, OGV, 3GP, 3G2, and ASF, MP4, AVI, MOV, MKV, FLV, and SWF and more | MP4, AVI, MOV, MKV, FLV, WMV, MPG, VOB, OGV, 3GP, 3G2, and ASF and many more | MKV, M2TS, MP4, AVI, WMV, FLV |
| Range of playable audio formats | OGG, WMA, AC3, MP3, M4A, WAV, FLAC. | MP3, M4A, WAV, FLAC, OGG, WMA, and AC3 | AAC, AC3, WMA, MP3, WAV, FLAC, ALAC |
| Playlist Creation and Customization | Yes | Yes | Yes |
| Payable Upgraded Version | Yes | No | No |
| Video Tweaking and Audio Fine-tuning | Yes | Yes | No |
| Offers Subtitle Support | Yes | Yes | Yes |
Our Verdict - The Best Video Player
After going through all the crucial aspects, options and functions of these three video players, it's time to come with a verdict. And while in some areas the differences were hardly visible, one solution did stand out from the rest. 
All three players can handle lots of formats but Elmedia displays an impressive list of supported video and audio files. Furthermore, the endless playback features like picture-in-picture, on-the-go deinterlacing, or multi-monitor setup make it the best choice. 
Finally, 5KPlayer has a great user interface that's also intuitive and easy to use. However, Elmedia overcame its competitor through multiple ways to open videos, hotkeys, and an overall smooth design. 
So, in the battle of Elmedia vs 5KPlayer vs VLC, the first-mentioned app gets the title of the best video player for all type of users.
FAQ
When putting 5KPlayer vs VLC head-to-head it can seem hard to determine a winner. The answer depends on what the user needs from the app. If you're all about being able to play many formats without issues, VLC is your top choice. However, if you're looking for a friendly interface and easy navigation, 5K Player is best.
While VLC is one of the best video players out there, it can do better when it comes to audio playback. Once again, the interface is the main aspect dragging VLC back as an audio player. Elmedia Player, on the other hand, has a great interface, a 10-band equalizer, and AC-3/DTS support. Just a few of the features that make it a better music player than VLC.