While WMV files aren't native to Apple's operating system, the good news is that there's a range of different solutions available for users who want to open WMV files on Mac. Whether you want to convert the file to a compatible format, or find a player that supports native WMV playback, we're going to find the best WMV player for Mac in 2023 and look at a range of alternative solutions available.
Third-Party Solutions for Playing WMV Files on Mac
In our experience, the easiest method for watching non-proprietary video formats on Mac is simply to use a media player compatible with the .wmv file in question. Of course, there's more to consider when choosing the right option, and a good media player should offer compatibility with the most popular video formats and offer users value with features and playback options. Here are some of the best around.
Elmedia Player
For a comprehensive media player solution that effortlessly handles WMV files, Mac users need look no further than Elmedia Player. Elmedia Player supports a massive range of the most popular video formats such as MKV, MP4, MOV, FLV, and, of course, WMV. Additionally, Elmedia also supports a wide range of audio formats and provides customizable playlist support for a tailor-made music player. There's also an excellent suite of video playback customization, letting you adjust the viewing experience to your preferences. 
Upgrading to Elmedia Pro unlocks powerful features such as DLNA, AirPlay 2, and Chromecast streaming support, letting you cast video and audio from your MacBook to your smart TV with just a couple of clicks. There's also versatile subtitle support and content streaming options to enhance your viewing experience. 
Overall, Elmedia Player has plenty to recommend it thanks to a wide range of powerful features and an attractive interface to help get the most from WMV files and other media formats.
How to Play WMV Files with Elmedia Player
2. Open the file with any of the following methods:
Drag and drop the file from Finder into the Elmedia Player window
Right-click on the file in Finder, select "Open With" and choose Elmedia Player
Navigate to the file with "File>Open"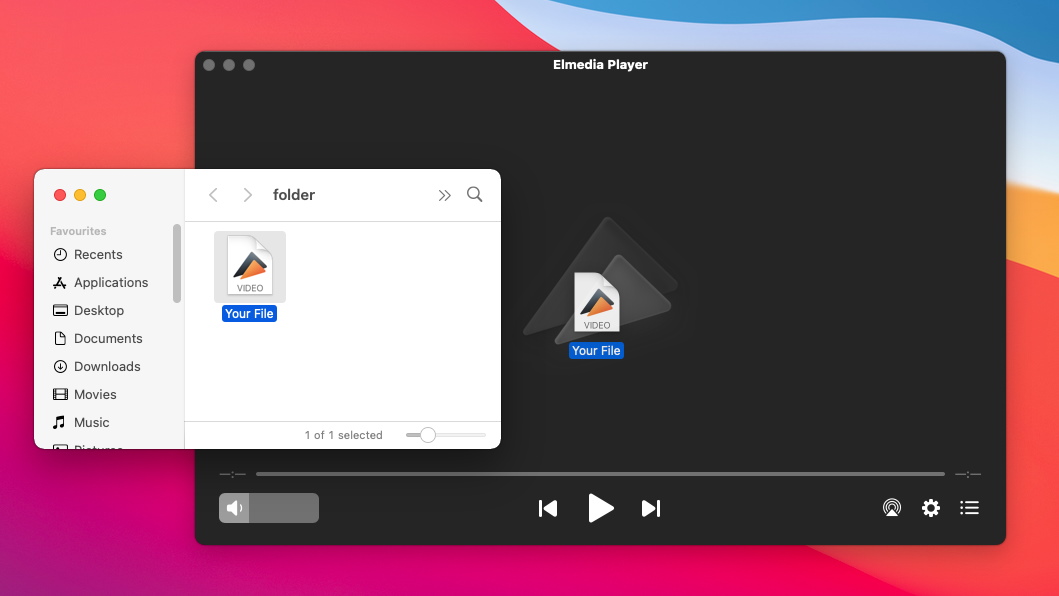 3. Enjoy effortless WMV file playback.
Video tutorial on how to open any video file on Mac
VLC
An old favorite, VLC is an open-source freeware media player that's built a firm following thanks to its modular design and non-existent price tag. The open-source design means it's compatible with a wide range of codecs allowing it to play virtually any media file imaginable, both new and old. Other strengths include a comprehensive graphic equalizer and lots of options for playlists and subtitle support. 
One of the main downsides of VLC is the interface, which is a little old-hat compared to more modern media players. Additionally, it lacks some of the latest premium media player features like DLNA streaming that you can find with newer alternatives.
Switch Player
More than just a simple media player, Switch is an app for monitoring and recording digital video footage at a professional level, letting users inspect frame elements and monitor metadata, loudness levels, and more. Unsurprisingly such features come with a hefty price tag for the pro suite, but the media player itself is considerably cheaper and, in addition to WMV, plays other popular formats such as MP4, MOV, the newer HEVC format, and more. 
It's a good player, but for the average user, many of the extra features won't add much value to their viewing experience.
Play a WMV File by Converting to the QuickTime Format
If for some reason you want your WMV videos playable on macOS's proprietary QuickTime Player, you could use a converter app to convert them into MOV files for native playback on Mac devices. If you're wondering how to change WMV to a format Mac devices can launch, there are many free and premium converter apps available for this purpose, in addition to online conversion sites that offer the same service. 
However, this approach takes considerably more time than using a third-party media player app for Mac with native WMV compatibility, as you will have to manually convert each WMV video that you want to watch. Additionally, making MOV copies of several WMV files will also lead to greater disk space consumption.
UniConverter
If you want to forge ahead with using a converter to turn WMV files into MOV videos for QuickTime, UniConverter is a solid option. It boasts a wide range of conversion formats to choose from, and you can also use the app to rip videos from social media and online tube sites to your preferred video format. There are also editing and merging features for converted videos, and you also have the option of ripping files to old-school physical media like CDs and DVDs.
Common Workaround in The Past
Another potential method to play a WMV file on Mac that didn't involve downloading a new app was using a plugin to enable WMV support through the existing QuickTime Player. Once installed, the right plugin could enable support for extra video formats such as WMA and a range of other media file types. 
One of the popular QuickTime WMA plugins was Perian. It was a working solution with QuickTime 7, however, nowadays the is no such possibility to add additional plugins to the current version of QuickTime. Besides that, Perian support and updates ceased a long time ago. The same situation is with Flip4Mac, the software is no longer supported higher than OS X El Capitan.
What is a WMV File?
A WMV file, short or Windows Media Video file, is Microsoft's proprietary video format designed for their Windows operating system. Due to its close association with Microsoft, WMV has not proved quite as popular as more universally adopted video formats such as MP4. However, Microsoft still supports the WMV format moving forward, and it continues to offer users good performance compared with comparable video file formats. Since it was developed for Windows, we'll need to look to third-party solutions to run WMV files on macOS.
Conclusion
From what we've seen, it's clear that there's no shortage of options available to users who want to play WMV on Mac. Using converters and plugins can be fiddly and time-consuming, so we'd recommend picking a third-party media player as the best choice for enjoying WMV videos. For a great all-in-one media player that ticks all the right boxes and offers a powerful set of features, we'd have no problem recommending Elmedia Player as one of the best available that handles native WMV playback with ease.
Frequently Asked Questions FR
WMV isn't compatible with Apple's proprietary QuickTime Player, so users will need to choose a media player like Elmedia Player that offers native WMV compatibility.
A free media player like Elmedia Player lets users easily watch WMV files on Mac. Users could also use a free converter app or a plugin that enables WMV in QuickTime.
A converter app like UniConverter allows users to convert WMV files into a file format compatible with QuickTime Player such as MOV, AVI, and MPEG-4.