Stumbled upon video file with an .mpv extension but can't open it? The fact is that Mac users cannot play MPV files, since QuickTime Player does not support this file format and its codecs. But there are still options to help you get the job done. You can convert MPV to a compatible format, or just use the MPV file player for Mac. In this article, we've covered both of these ways and rounded up the best players and converters.
What is an MPV file?
MPV stands for MPEG Elementary Stream Video Format and consists of raw, uncompressed video data conforming to the MPEG-1 or MPEG-2 compression standard. Created by Moving Picture Experts Group, it belongs to the Video Files category. 
MPV files are used to process raw, uncompressed videos from digital video recorders or to store such video content on supported DVRs. Also, MPV files do not contain audio data. To open and manage MPV files, you can use Windows Media Player. They are also easily played in media players that have the appropriate codec.
How to Play MPV Files?
MPV is an obsolete file format, but some media players can still open it. If you double-click an MPV file, your computer will associate it with a player that supports it. If it doesn't, right-click on the MPV file, select Open With and choose the right player. For example, you can choose Elmedia Player to open MPV files on Mac.
Meanwhile, you can convert MPV files to other widely used formats like MP4 and play them in any video player.
Programs that open MPV files
Elmedia Player
Elmedia Player is the best solution to open .mpv file on Mac. With a wide range of codecs, it ensures that you can play almost any audio and video file stored in your library. And MPV is no exception, you can open this file format like AVI, MP4 and other ordinary formats. On top of that, Elmedia offers its users a variety of video enhancement and fine-tuning options, comes with a playlist management tool, and supports subtitles.
Elmedia PRO gives even more features. It's great for streaming from Mac to TV. Once upgraded, you will be able to stream local files wirelessly to your Apple TV, Smart TV, Chromecast, or any other DLNA or AirPlay-compatible device. Thanks to Elmedia's intuitive and clean interface, versatility and a rich set of features, Mac user gets everything for the best playback experience.
How to Open MPV File on Mac
2. Add MPV file to Elmedia. 
Use the "File" option in the player window and select the video you want to open, or simply drag and drop the file.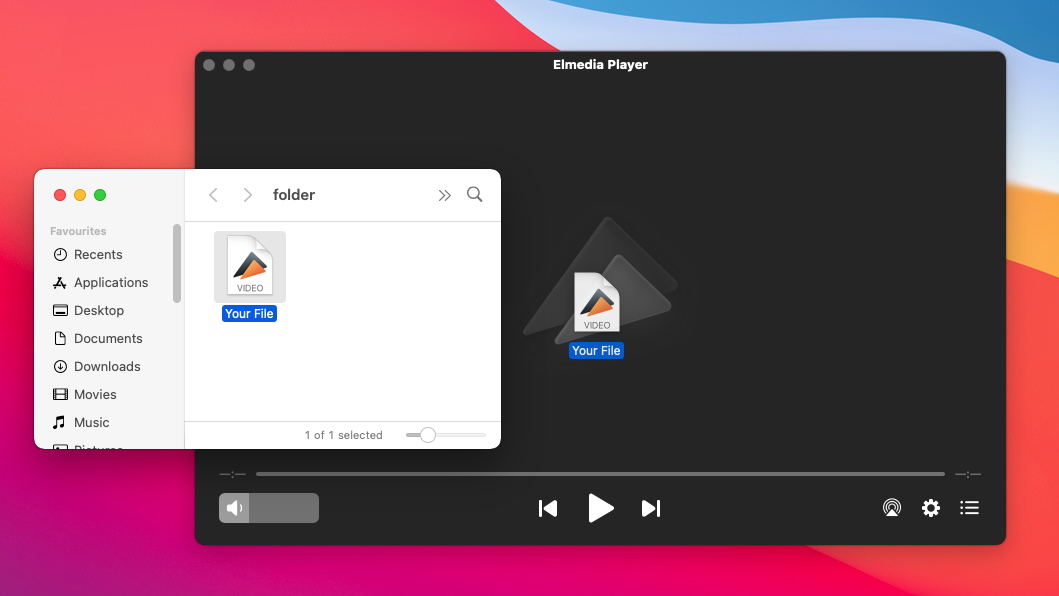 3. Enjoy watching MPV files on Mac.
VLC
VLC is another MPV video player you can rely on. It has been around for a long time and is very popular among users. It supports many formats and makes it easy to play almost any media without the need for additional codecs. The VLC player comes with video/audio filters and various customization options. It's also worth noting that VLC is open source, free, and available on multiple platforms.
Convert MPV to the Supported Format
If you don't want to download and install any additional software on your computer, you can opt for online services and convert MPV to MP4 or other easier-to-play formats. Although it is a simple and convenient way, the quality of the video may be reduced after conversion.
FreeConvert
FreeConvert is a free video converter that supports lots of conversion combinations. It allows you to convert more than 60 video formats to popular ones like MP4, MKV. The maximum file size is 1GB. Besides, FreeConvert can be used as an image, audio, document converter.
To convert MPV, follow these simple steps:
1. Go to FreeConvert from your browser.
2. Click the "Choose Files" button and upload your MPV file.
3. Select the output video format from the list.
4. Click the "Convert" button and wait for the file to be converted.
Online-Convert
Online-Convert is a browser-based file converter capable of converting video, audio, archives, images, etc. For a video file, you can choose a preset, change the screen size, change the bitrate or frame rate, as well as tweak audio. 
Here's how to use Online-Convert:
1. Go to the Online-Convert website > Video Converter section.
2. Drop your file in the appropriate area or click the "Choose File" button.
3. Adjust your video if needed.
4. Click the "Start Conversion" button.
Problems with MPV Files: How to Fix
Problems with MPV files can be caused by various reasons. Here are some common problems you may encounter while working with MPV: you may not have the proper software to work with these types of files, you have an outdated version of the software, the MPV file is corrupted or infected with malware, or you may not have the appropriate rights to open the file. All of the above problems are easily solved – you just need to install the right player, check for updates and make sure the file is error-free.
Conclusion
We have listed the best players that can play MPV files and converters to change them to popular formats, and hope you find one that suits your needs. We'd recommend using a dedicated MPV media player such as Elmedia Player. It ensures smooth playback of MPV files and offers other advanced options that you won't find in the converter.
Frequently Asked Questions
As we already mentioned, you can use Elmedia Player to play MPV files on Mac. It supports a wide range of formats and offers extensive playback features.
Files with an MPV extension contain raw video data compressed with the MPEG-2 codec.
Unlike MPV, MP4 is a container format. MP4 is also more compatible with a wide range of players.