MP3 is one of the most popular audio formats around due to its small file size. If you're wondering how to play MP3 on Mac, it's easy, but you'll need the right media player.  Keep reading and we'll introduce you to some of the best MP3 player Mac options, to help you choose the right player for your needs.
What is an MP3?
A .MP3 file is a digital music file that uses a compression algorithm to reduce the overall file size. This makes MP3 easy to store and transfer due to their smaller size, however it does result in reduced sound quality compared to some other formats. As well as storing music data, MP3 files can store audiobooks, too.
How to Play MP3 on Mac: MP3 Players
In order to play MP3 files on your Mac desktop or MacBook, you'll need a media player capable of handling the MP3 format. Most media players should be able to play MP3s, but with so many out there to choose from, how do you know which one best suits your needs? Below, we'll take you through some of the most popular MP3 players and explain the features, pros, and cons of each to help you decide which one to use.
Elmedia Player
Elmedia Player is first on our list of the best MP3 players for Mac. This easy-to-use, versatile program not only plays MP3 music files but a huge range of other audio and video formats and file types too, from MP4 to FLV, MOV, WMV, and more.
The app offers plenty of customization when it comes to audio and video settings, so you can fine tune your playback settings to perfection. You can cast video or stream audio to another device, such as your smartphone or smart TV, or create a gallery of screenshots to organize your video content.
Video tutorial on how to open mp3 file on mac
Though the player is free, there's a Pro version available which packs in even more features, including subtitles support and the ability to stream video from popular platforms.
We highly recommend Elmedia Player for its wealth of features and usability, whether you're a beginner to using a media player or an experienced user.
How to play MP3 files on Mac using Elmedia Player
2. Launch the software and select your content.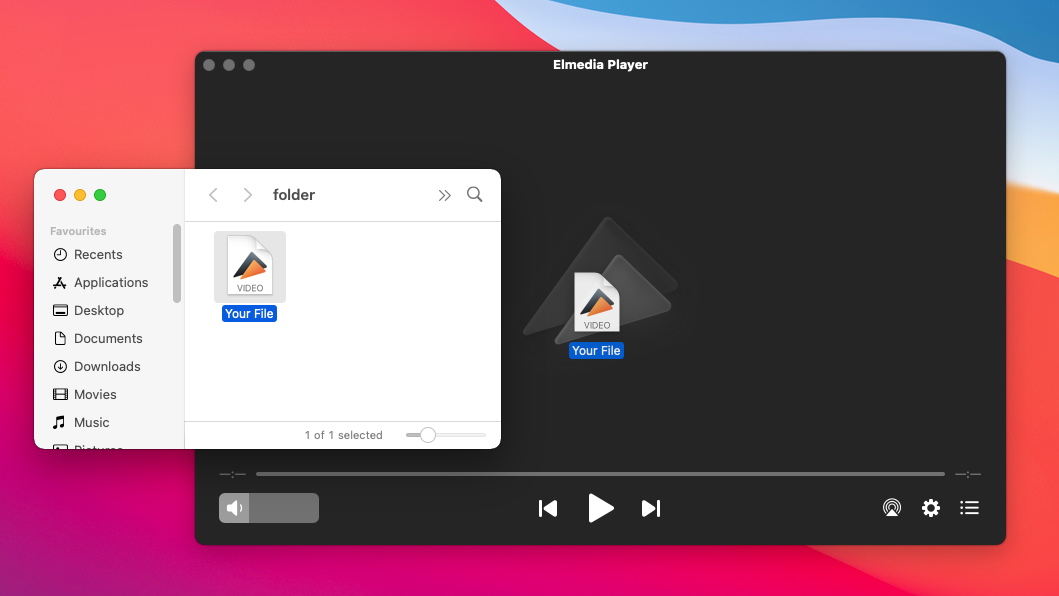 3. You can do this by dragging and dropping MP3 files directly onto the player, searching directly from the Elmedia interface, or right-clicking a file and choosing to play it with Elmedia.
VLC
VLC Media Player is one of the most popular free cross-platform media players for Mac. You can use the software to play MP3 files without any additional codecs, and the app is compatible with all the most popular audio and video file formats, making it a solid choice for all your media player needs.
It packs in a ton of features despite being open source and totally free to download and use. You can stream content from sites like YouTube and Facebook, customize your audio and video playback using the graphic equalizer and playback options, and preview partially downloaded files, and there's support for subtitles, too.
Vox
Vox is a free media player for Mac that also offers a Premium subscription. It supports a huge range of file formats and types, including MP3, and also lets you play Hi-Res Audio (HD Audio) with up to 24bit/192kHz, at four times higher than the standard 44kHz sound resolution. Upgrade to Premium and you can access features such as a graphic equalizer, SONOS support, a built-in radio app to stream thousands of radio stations, and enjoy Vox Music Cloud, allowing you to store and manage all your music, including your iTunes library, with no storage limits.
Vox also offers many advanced settings and preferences for audiophiles, including BS2B, gapless and overlapping mixing, Synchronize Sample Rate, HogMode, and more
Play MP3 on Mac with iTunes
If you don't want to download a third-party media player but you're wondering how to find MP3 player on Mac, you could always use iTunes to play local MP3 files. iTunes is a free program that's pre-installed on most Macs and acts as a media library and media player. You can purchase and download music through the iTunes Store, organize your media library, import tracks from other sources, and listen to all your favorite tunes.
It's worth noting here that some people have reported compatibility issues when trying to import their MP3 files into iTunes, and the software doesn't provide as many options for customizing your listening experience as some of the third-party apps mentioned above.
Provided you don't run into any importing issues, it's easy to play your favorite MP3 files without adding them to your iTunes library. Here's how open MP3 files using iTunes:
Launch iTunes on your Mac computer.
From your Mac's file system, find the audio file you want to play in iTunes.
Hold down the OPTION/ALT key, then drag and drop the audio file into iTunes.
This will add the file to your iTunes playlist, but won't copy the file to your iTunes media library.
Play MP3 on Mac with QuickTime
There's another way to play MP3 on Mac, and that's using QuickTime Player. The software allows you to play audio and video files and supports a wide range of popular audio and video formats, including MP3.
The player has fairly basic controls that let you play, pause, fast-forward, or rewind your audio. Though the app should let you play MP3s, depending on how your files have been encoded, you may encounter issues that require you to download and install codecs, which can be time-consuming and confusing, if you have never done this before.
QuickTime remains a popular player for MP3 files due to its ease of use and the fact that it's free. The software offers various options for editing your movies or audio files, too.
Here's how to use QuickTime Player to play MP3 songs on Mac:
Launch QuickTime on your Mac.
Choose File > Open File, then select your file and click Open.
You could also double-click the file in the Finder.
Play MP3 After Converting to Mac Supported Format
In order to play an MP3 file on your Mac, you may think that you need to convert it to a supported format. While this may be true if you're using a media player that isn't able to play MP3 files without conversion, Elmedia Player can play MP3s without the need for any conversion, codecs, or anything else.
How to Choose Best MP3 Player
With so many MP3 players out there, how do you choose the best one for your needs? There are a few factors you should consider:
Supported Formats: Make sure that the media player you choose supports playback of MP3 files. As a general rule, it's best to pick a player that supports a wide range of file types and formats, in case you want to play other audio or video formats in future.
Compatibility: Always ensure that the MP3 player you choose is compatible with the version of macOS that your MacBook or Mac desktop computer is running. Even though the player you've found has a version for Mac, it's still important to check it works with your version of Mac's operating system.
UI/UX: User interface and user experience are both important factors to consider when hunting for the best MP3 player. If you've never used a media player before, you'll want to look for something that's intuitive to use and easy to navigate. Likewise, you should also look for players that have excellent reviews from other users, as the last thing anybody wants is a player that keeps crashing, fails to play certain file types, or just doesn't work.
Features: Always make sure to check out the features on offer with any media player. If you're just looking for a simple player to play MP3 files, great. If you need more advanced features such as a graphic equalizer, audio and video editing, streaming to Chromecast, etc, ensure that the media player you choose offers these features.
Price: Some media players are open source and completely free, others require a purchase, and some have both free and premium versions. For the latter, some features may be locked away behind a premium subscription, so always check.
Frequently Asked Questions
QuickTime comes installed on newer Macs, as does iTunes. You can use either of these programs to play MP3 files. However, you may run into compatibility issues when using QuickTime, depending on how your file has been encoded. For this reason, we'd always recommend using a third-party media player.
While you can use free, pre-installed programs such as QuickTime or iTunes, downloading a dedicated third-party media player is by far the best option. Not only will a media player allow you to play audio files on Mac, but most will also play video files and offer a range of other features to fine-tune your experience.