WMA files don't work with Mac's native media player QuickTime, which can be frustrating if you don't have a Windows PC. If you're looking for a reliable WMA player for Mac, then you're in luck because there are tons of third-party applications you can use to play these audio files.
In this article, we'll review three such players and also explain how you can convert WMA files to other, more accessible formats.
The Best Free WMA Player for Mac
We tested several WMA players on our Mac and have narrowed the list down to the following three:
Elmedia Player
Elmedia Player takes the crown for being the best and most reliable WMA player for macOS. Despite its minimalist look, it packs multiple features that you can take advantage of to improve your viewing experience.  
You can easily adjust audio settings thanks to Elmedia's intuitive playback controls. It also allows you to stream WMA files wirelessly to other devices such as Chromecast, Roku, and AirPlay 2-enabled TVs. 
The media application supports over 70 other file formats, so if you're looking to switch to a more diverse player, we highly recommend Elmedia.
Here's how to listen to WMA on Mac using Elmedia Player:
2. Install the app by dragging Elmedia to the Applications folder.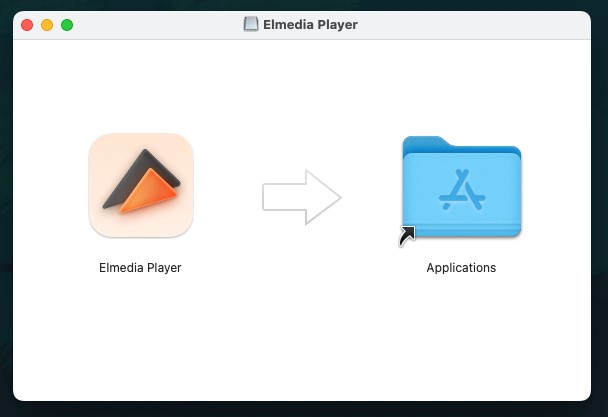 3. Open the app and play your WMA file using one of the three methods:
Drag and drop the WMA file on the player.
Go to File > Open in the menu bar and double-click (or secondary-click) on the WMA file. 
Drag the file and drop it over Elmedia Player's icon in the Dock.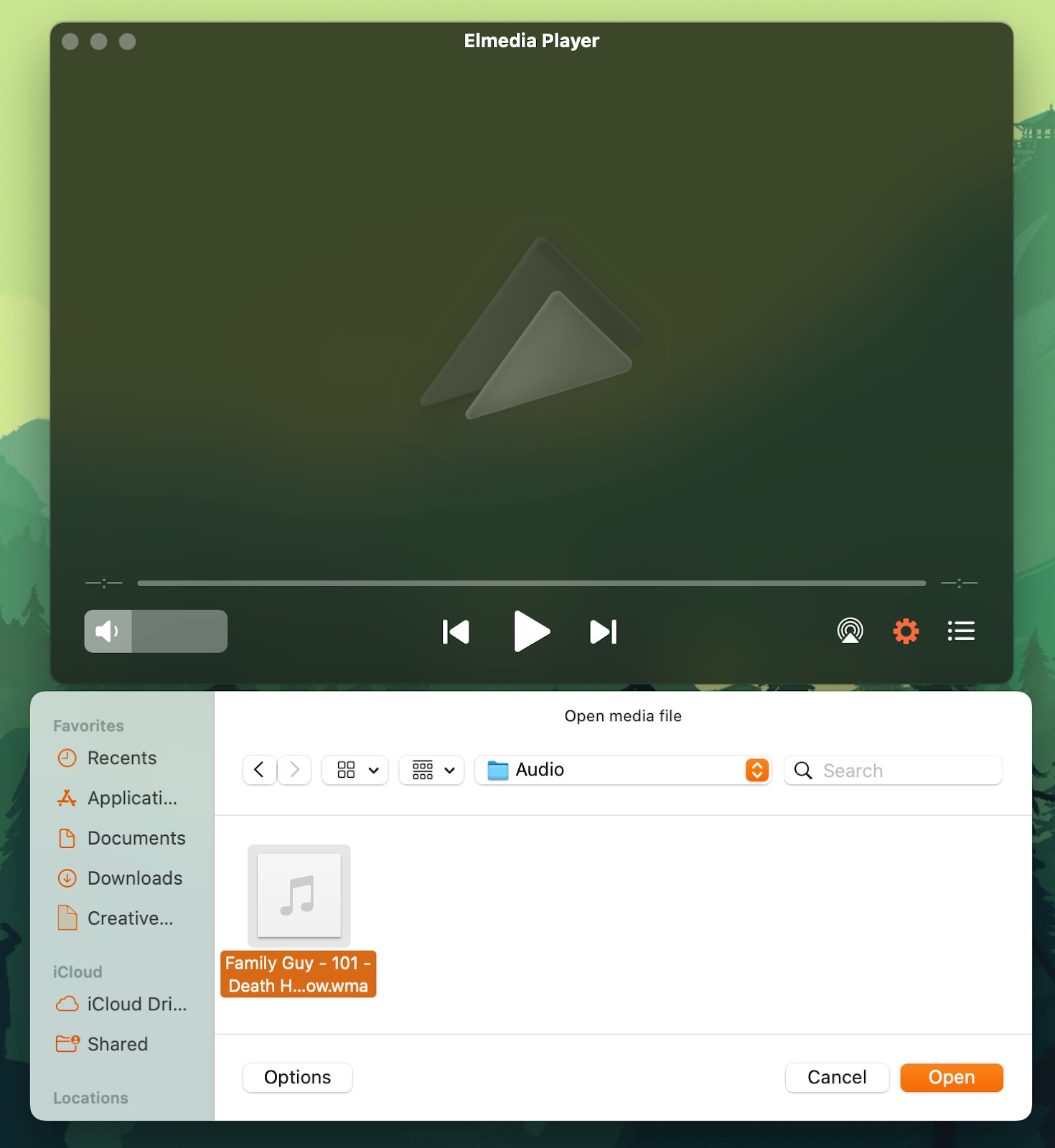 4. The audio file will start to play!
Pros
Streams WMA files wirelessly to other devices.
Supports over 70 file formats.
Doesn't require additional codecs.
Especially developed for Apple computers.
Cons
Some features are locked behind a paywall.
Cisdem
Cisdem Video Player is another minimalist yet powerful video/audio player for opening WMA files on Mac. It has convenient playback options, allowing you to have full control over your media files. 
The player gives you the option to make a variety of audio adjustments, including changing the sound quality and equalizer settings. You can also customize the player's appearance by adding new skins. 
There's no need to download plugins or codecs to open WMA files as it already comes pre-installed with the ones you need for them. It also supports hardware acceleration if you're playing files that are large in size. 
With the Pro version, you can use the player's built-in converter to convert your WMA files into other formats such as MP3 or AAC.
Let's take a look at how to open WMA files with Cisdem Video Player:
1. Download Cisdem from its official site and install it by copying it in your Applications folder.
2. Launch the player and then open your .wma file by clicking on File in the menu bar.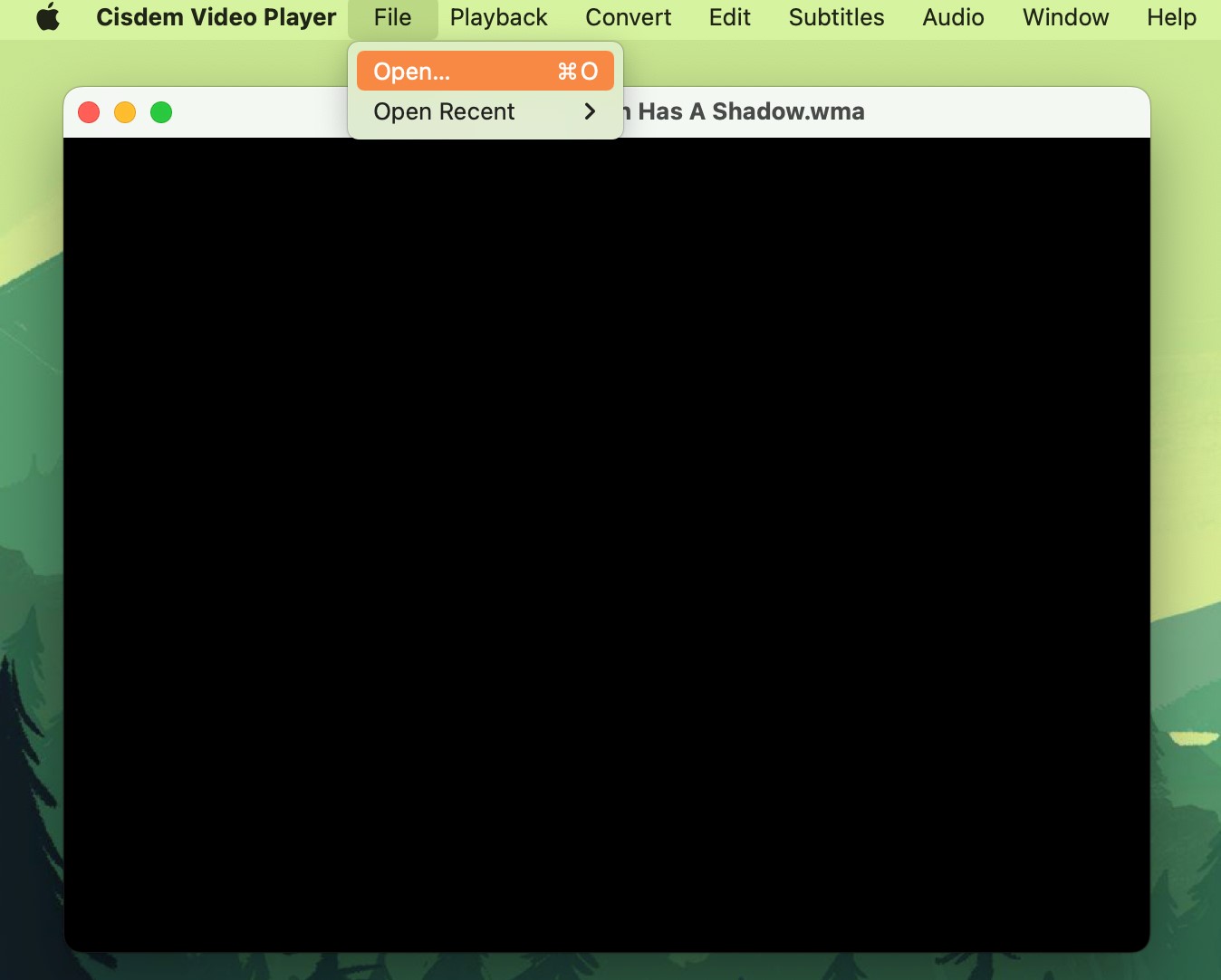 4. Double-click (or secondary-click) on your WMA file or highlight the file and click on Open.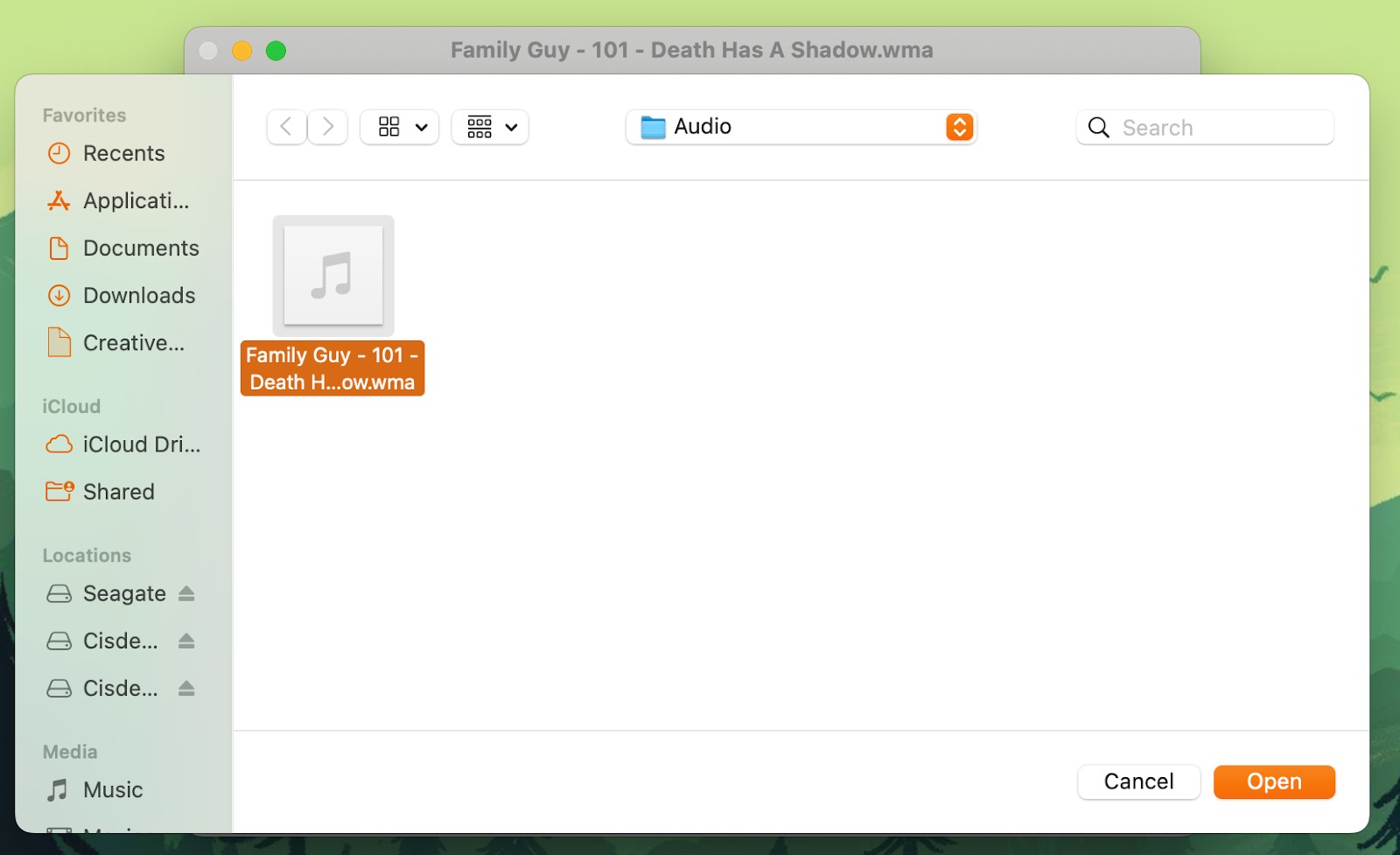 5. Click on the Play button and your audio file will start playing!
Pros
Can be customized with the help of skins.
Supports hardware acceleration.
The Pro version has a built-in file converter.
VLC
VLC is one of the most popular cross-platform media players. It's an open-source application that's compatible with a large number of file formats. There are some formats you need to download codecs for, but it has built-in support for WMA files.
It's one of the few media players that's completely free to use. It supports hardware acceleration even on Android and iOS, and you can also customize the player's skin to change its look.
There's a wide variety of advanced features, but because the main interface isn't as intuitive as that of other modern players, it can be difficult to find and access most of the options that are available.
Nevertheless, becoming familiar with VLC is no difficult task and you can quickly learn to navigate through its features.
Here are the step-by-step instructions on how to play a WMA file with VLC:
2. Launch the player and click on File in the menu bar.
3. Select Open File in the dropdown menu.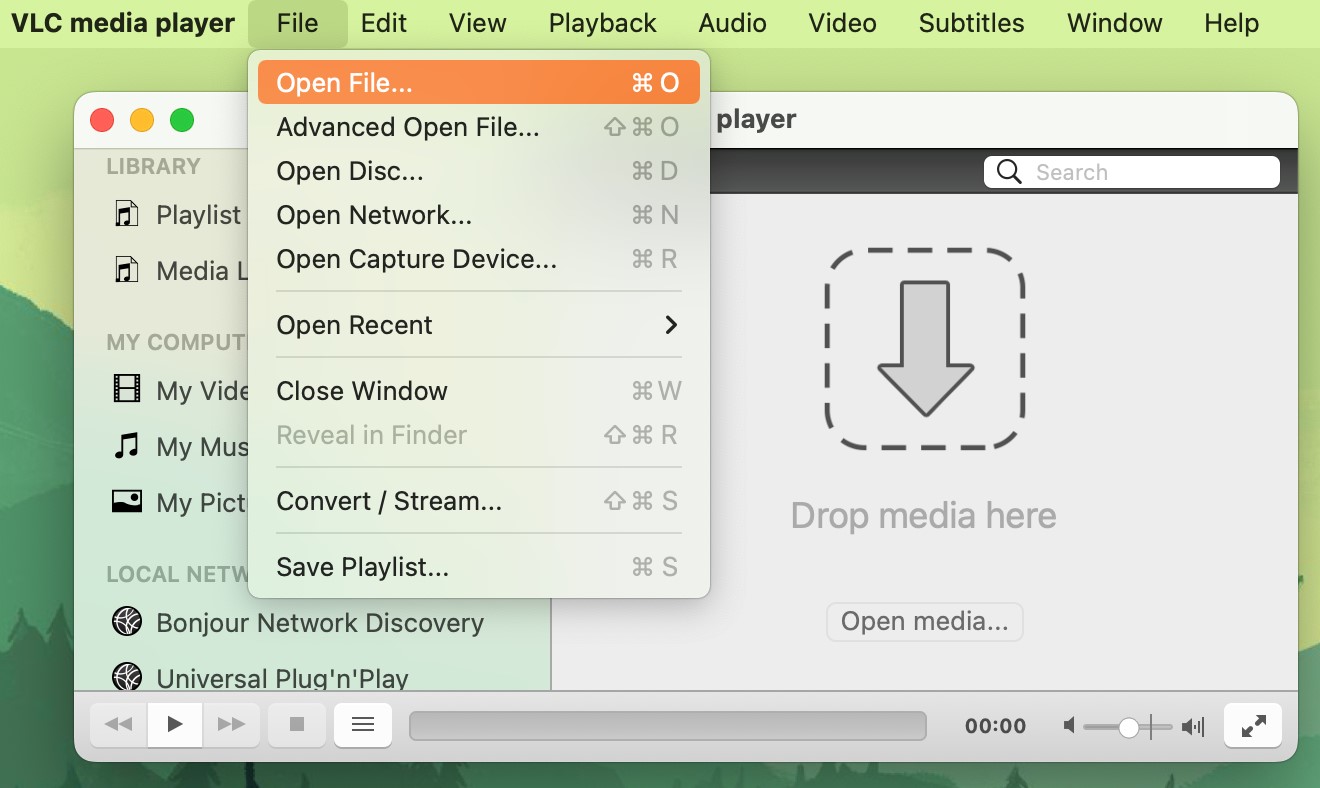 4. Choose your WMA file and click on Open.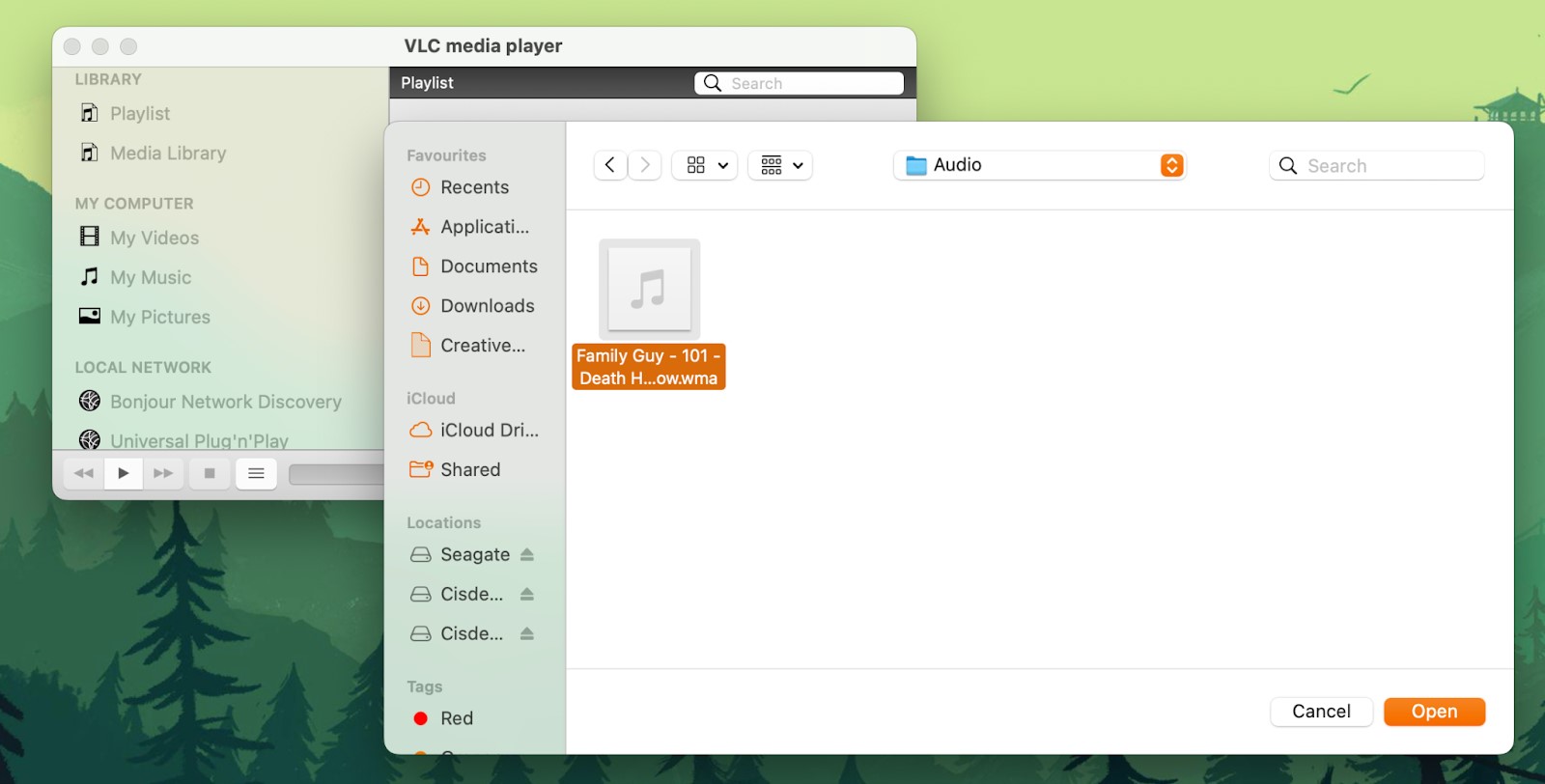 5. The audio will begin to play.
Pros
Available for almost every platform.
The player's skin can be customized.
Comes with several advanced features.
Cons
There are many features that are difficult to find because of the player's confusing UI.
Some users may find the UI outdated.
Convert WMA to MP3 or Other QuickTime Format
If you convert WMA to QuickTime, MP3, or some other format, you can easily share the file with your friends and family without worrying about them not being able to open it. There are many third-party converters on the market that are capable of converting a WMA file type into many different formats.
As mentioned above, Cisdem's Pro version has its own converter which you can get by paying a one-time fee of $19.99. It also has a separate app for media conversion, called Cisdem Video Converter. The application supports more than 600 output formats. 
Another WMA converter we recommend is Wondershare's UniConverter. With this application, you can easily convert WMA files into MP3 or any other format. You can also use it to edit your audio files.
If you don't want to spend any money or download a new application, then we recommend checking out online converters. CloudConvert is a free online converter that you can use to convert WMA into MP3. 
Here's how to use it:
2. Select From my Computer in the dropdown menu.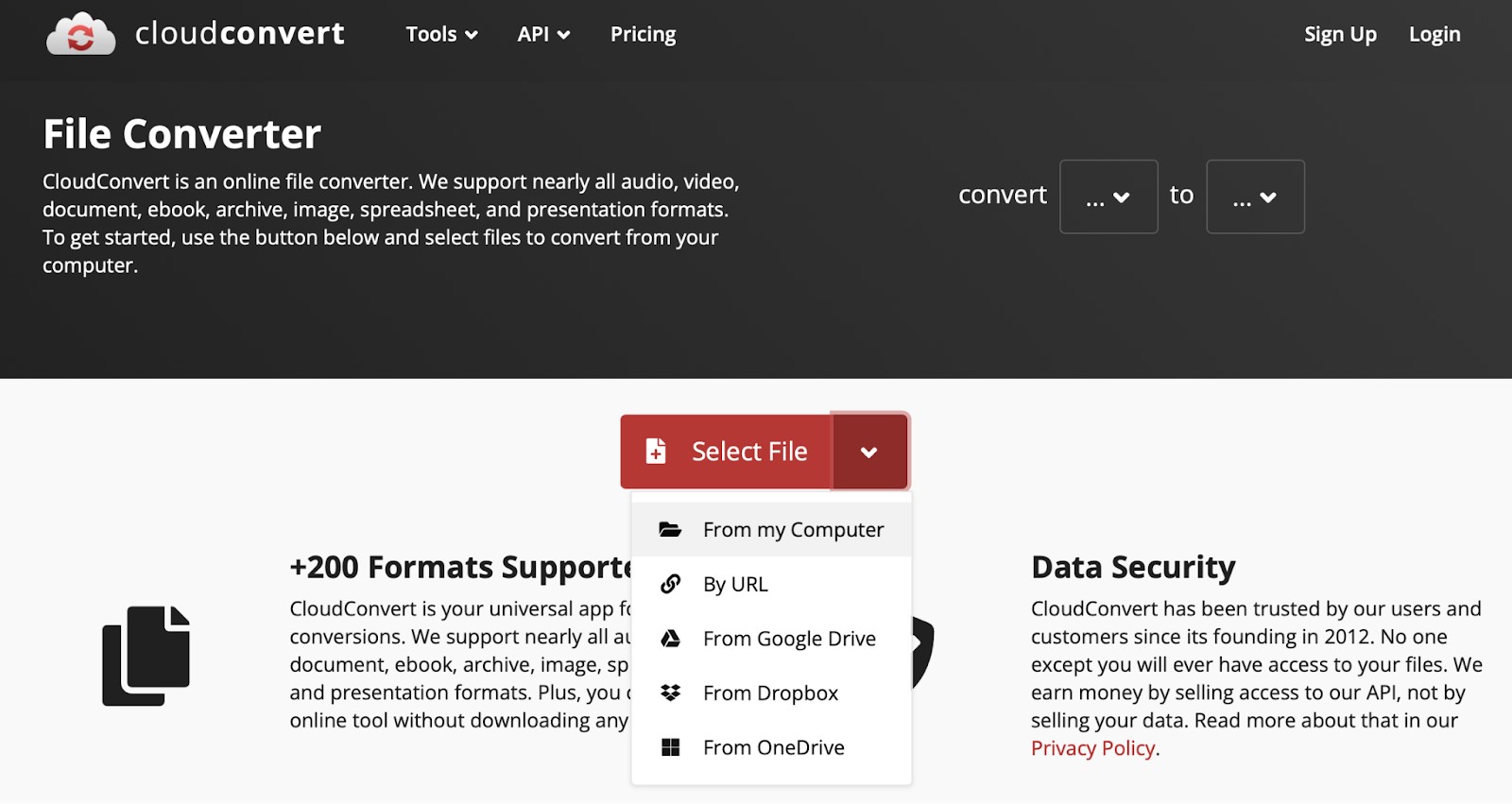 3. Choose the WMA file you want to convert and click on Upload.
4. Click on Convert to and select the output format.

5. Hit the Convert button.

6. Once it's finished converting, the file will be downloaded automatically in the format you chose. 
Note that it's much easier to open WMA files using a compatible player such as Elmedia Player instead of converting them since you don't have to deal with multiple programs that way.
What is a WMA file?
Windows Media Audio or WMA is a Windows-exclusive audio file that's native to the Windows Media Player. Created by Microsoft, the format was intended to be an alternative to MP3 files for Windows users.
Microsoft has claimed that the audio quality of WMA is generally better than that of MP3, even if the WMA file is at a lower bit rate than the MP3 file. 
Its only downside, as you might have guessed already, is that it doesn't work on any other operating system unless you use a compatible video player like Elmedia.
WMA itself is a lossy format, but it has a lossless codec available called WMA Lossless. It has a total of four codecs; WMA, WMA Lossless, WMA Pro, and WMA Voice.
Can QuickTime Play WMA on Mac?
No, QuickTime can't play WMA files on Mac. QuickTime supports a very limited number of audio formats and unfortunately, WMA isn't one of them. If you try playing it, you'll just get an error saying, "QuickTime can't open the file."
Your best bet is to convert the WMA file into another format that QuickTime is capable of playing such as MP3 and WAV. You can do this by either downloading a dedicated video converter or using an online one such as the one we've mentioned above. 
Once you've converted the file, you can play it using QuickTime as you'd play any other file. 
Conclusion
The WMA format was created by Microsoft for Windows Media Player. Unfortunately, you can't play it on Apple computers with QuickTime since it doesn't have native support for it. Instead, you have to rely on third-party applications such as Elmedia, Cisdem, and VLC. 
You can also convert your WMA files into other formats such as MP3 with the help of a converter software such as Wondershare's UniConverter. 
If you're looking for a WMA player that's easy to use and doesn't require you to download plugins and codecs, then we recommend trying out Elmedia Player.
Frequently Asked Questions
Yes, WMA files do work on Mac, but you'll have to download a third-party player that's capable of playing them. Mac's native player QuickTime doesn't support them. Elmedia Player is an application that can play WMA files without any codecs or plugins. Another way to play WMA files on Mac is by converting them into MP3 using a third-party application or an online converter. 
One of the best programs for opening WMA files on Mac is Elmedia Player. It has a modern UI which makes it incredibly easy to use and has some of the best features you'll find in a media player. It also has AirPlay support, so you can easily stream your WMA files to your smart TV or other Apple devices such as MacBooks or Mac minis.