As a frequent user of VLC media player, you may have experienced the frustrating issue of not being able to play MP4 on the software. This problem can arise due to various reasons such as missing codecs, outdated software versions, corrupted files, or incompatible settings. It can be especially annoying when you have a favorite video or movie that you want to watch, but the software just won't cooperate.
The inability to play MP4 on VLC media player can also disrupt your work or personal projects that require the use of video files. In some cases, you may have already tried various fixes and troubleshooting methods, but nothing seems to work, leaving you at a loss on what to do next. However, there is no need to panic, as there are reliable solutions to fix the problem that can save you time and stress.
In this article, we will discuss some effective methods to solve the "VLC Won't Play MP4" problem. You will learn step-by-step guides on how to fix the problem, regardless of the cause, so VLC plays MP4 files for you smoothly.
Why is VLC Not Playing MP4 Video Files?
It can be frustrating when your media player fails to play a video file you need, especially when VLC will not play MP4. But don't worry, there are a few common reasons why VLC may not be playing your MP4 files, and we're here to help you troubleshoot and solve the issue.
Here are the most common issues that prevent VLC to play MP4:
your VLC player version may be outdated;
missing MP4 codecs within the app;
not optimal video settings – MP4 may not be enabled or the output modes could be select wrongly;
corrupted MP4 file;
the bitrate of the MP4 file is too high.
Proven Ways to Fix VLC Can't Play MP4
Update your VLC Media Player – Download and Install the Latest Version
One of the main reasons why VLC can't play MP4 files could be that the version of the VLC player you're using is the culprit. That might happen because older versions of VLC may not have the necessary codecs or updates required to play newer MP4 formats that are being used nowadays. If that's the case, you may want to update to a more recent version of VLC. Additionally, you might find that some MP4 are encoded with a codec that's not supported by VLC. In such cases, you're going to want to use a different media player or maybe convert the file to a different format that's compatible with VLC.
Fix CLV MP4 Codecs Issues
As mentioned previously, not having the codecs updated in VLC might also be the reason why your MP4 videos are not playing. The solution for this MP4 problem here might be simply upgrading to a newer version of VLC or updating the VLC MP4 codecs in your current installation. Always check if your system is up to date and that you have the necessary codecs installed – this will go a long way in ensuring smooth playback of the MP4 format in VLC.
Disable Hardware Decoding Limitation in Preferences
If the issues come from the decoding limiation, you need to disable this function from the VLC preferences. To do so, simply:
Open VLC Media Player and click on "Tools" in the menu bar.
Click on "Preferences" at the bottom of the drop-down menu.
In the "Show settings" section, select "All" to display all settings.
In the left pane, scroll down and click on "Input/Codecs".
In the right pane, scroll down to the "Hardware-accelerated decoding" section.
Change the "Hardware decoding" option from "Automatic" to "Disable".
Click on "Save" at the bottom to save the changes.
Adjust Video Output Modes
Another possibility for why VLC doesn't play MP4 files could be something related to your video settings. Specifically, certain video settings may need to be enabled or tunned for VLC to play MP4. For example, you may experience issues with video playback if hardware acceleration is not enabled. Additionally, it could just be that the output mode is set incorrectly. Always check your video settings and make sure they are properly configured for the type of file you are trying to play.
Repair Corrupted MP4 Videos
This might sound like we're stating the obvious, but if VLC is unable to play your MP4 file, the issue may well be related to the file itself. Sometimes the files can be damaged, either due to errors during the download process or particular issues with the original file. When this happens, VLC cannot play the file, or you'll be experiencing issues with video playback (stuttering, freezing, lagging MP4 file, audio sync issues, etc). If you suspect that your MP4 file has been corrupted, try downloading it again in the first instance or maybe find a different copy of the file.
Alternatively, you might have to use a specialized file repair tool to attempt to fix a pixelated MP4 file. Keep in mind that not all the files with issues can be repaired, and in some cases, you may need to seek out a different video file entirely to ensure smooth playback in VLC.
MP4 file has High Bitrates
High bitrates in MP4 are known to sometimes cause playback issues like stuttering or freezing. This might also be a reason why your MP4 video not playing in VLC. The explanation for this behavior is that high bitrates require a lot of processing power to play, so if your computer or media player is not up to the task you might experience some of these problems. When this happens, what you want to do is adjust the file's bitrates either by compressing it or converting it to a different format. Always makes sure that your computer meets the necessary hardware requirements to get VLC to play .mp4 high-bitrate files smoothly.
Use Alternative MP4 Video Player
If none of the above solutions work to allow you simple playback of MP4 videos on your device with VLC, it's time to look for an alternative application. Why waste undless hours trying to find a fix for a software that simply doesn't work? There are multiple players out there that can easily handle MP4 and many other formats as well. However, if you want to make sure you get an excellent service and multiple features, Elmedia Player should be on your short list.
Prevent MP4 Videos Issues by Playing Them With Elmedia Player on macOS
Are you tired of dealing with the hassle of converting your MP4 files or installing codecs just because  MP4 is not playing in VLC for Mac? Look no further than the Elmedia Player for the most convenient way to playany videos. With this app, you won't need additional software or to convert your files to play MP4 files directly. On top of that, the video player is updated with bug fixes regularly, so you can trust that it's always up to date and running smoothly.
Besides being a hassle-free solution for playing MP4, with Elmedia Player you also get access to a wide range of functions that'll make watching or listening to media content super easy. We're talking about the possibility to adjust the playback speed, control the volume, or even create playlists to organize your media content. The app even supports subtitles and offers the option to adjust subtitle synchronization for a fully customizable viewing experience.
Furthermore, Elmedia Player is a versatile media player that supports a wide range of video formats, besides MP4. AVI, MOV, MKV, and many others are easily handled by the software and the resolutions range is just as wide. You can play videos in 4K smoothly without needing any other add-ons to do so. Overall, Elmedia Player is a reliable and feature-rich media player that offers excellent compatibility and playback options for a wide range of video formats.
Looking to install Elmedia Player and start playing your favorite media content hassle-free? Follow these simple steps:
1. Install the software on your Mac device.
First, you must visit the official Elmedia Player website and download the latest version of the software. Once that's done simply double-click on the downloaded file and follow the on-screen instructions to install Elmedia Player on your macOS device.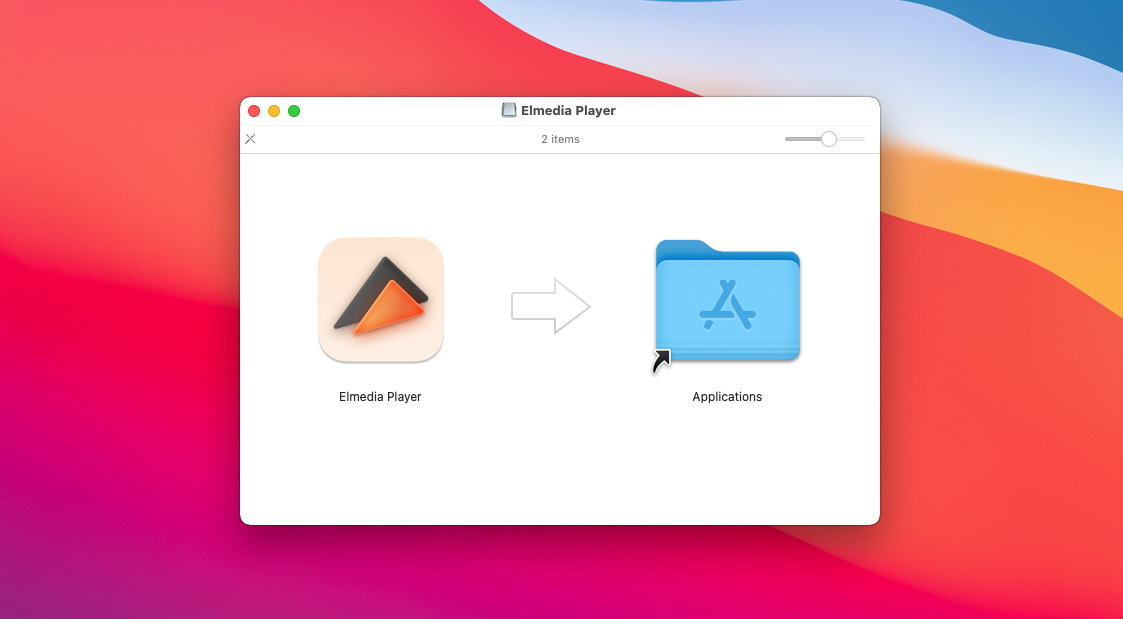 2. Launch Elmedia Player.
To open a media file, simply drag and drop the file onto the Elmedia Player window or click on the "Open File" button in the app and select the file you wish to play. Alternately, you can locate the MP4 file, right-click on it and select Elmedia from the available list of players.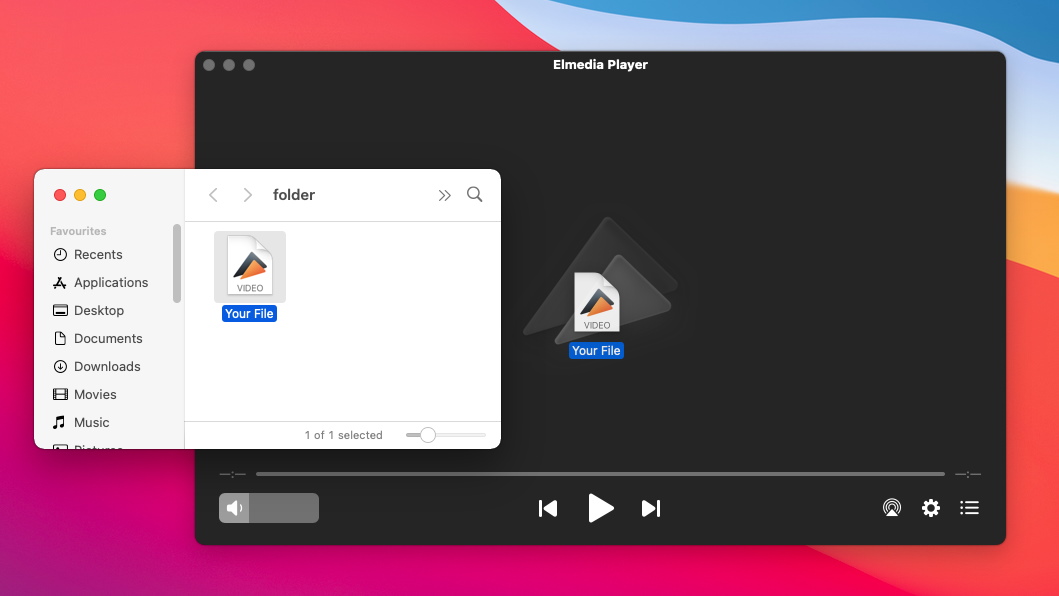 3. You're done! Now you can enjoy your media content with Elmedia Player's hassle-free playback experience.
With these simple steps, you can easily install Elmedia Player and start playing your favorite files on your Mac device without any sudden crashes trying to play MP4. Whether you're looking to watch movies or listen to music, Elmedia Player has you covered with its range of playback functions and customizable settings. Go ahead and give it a try!
Frequently Asked Questions
If you're having trouble playing MP4 on VLC, there are several potential solutions. You may need to check and update your VLC version, install the necessary codecs, adjust your video settings, or repair or convert the file itself. However, if you're looking for a hassle-free solution, you can also try using Elmedia Player for macOS, which allows you to play MP4 without the need for converters or additional software.
There are several reasons why MP4 video files may not be playing in VLC. Some common issues include outdated versions of VLC, missing or outdated codecs, incorrect video settings, corrupted MP4, or high bitrates.