When you play music on macOS, whether with WAV or MP3 format, you have plenty of options for a media player for your playlists. Even as a casual music listener, you probably pay attention to where you get your music, the size and quality of the files, and the caliber audio player you use. For the best listening experience, choosing a music player for macOS like Elmedia Player means you can listen to playlists with customizable features that consider the differences between WAV and MP3. With Elmedia Player, every music file sounds its best.
Play WAV or MP3 files with the best music player for Mac, Elmedia Player
Elmedia Player
You're likely already familiar with the two most popular music players on macOS: Apple Music and QuickTime. They're both adequate audio apps for listening to MP3 files. But what if you have playlists that include both WAV or MP3 files? Ignoring questions about MP3 vs WAV quality, for the time being, you want a music player that can make every playlist, regardless of file format, sound incredible.
Elmedia Player is the best audio player for bringing out the best WAV and MP3 sound quality with a 10-band equalizer with optimized presets. It has an Apple-inspired design with an intuitive interface for iOS users to fit in with a dock of native apps. Elmedia Player is also compatible with late macOS updates, including Ventura. 
When you play music on your Mac, you want an app that's as easy to use as Spotify and SoundCloud. Elmedia Player offers seamless wireless connectivity, playlist creation, and management and supports all audio file formats to be your WAV files player of choice on Mac. Elmedia Player makes listening to music on macOS easy while still delivering powerful playback and customization.
How to Play WAV or MP3 files in a single playlist with Elmedia Player
2.  You can build and manage playlists or instant-play your music by loading the files, whether WAV or MP3, in three ways:
Locate your stored music in your macOS Finder window and drag and drop the files onto Elmedia Player's icon in the dock or the open app window.
Right-click on the music files you want to open, whether WAV or MP3, and select "Open With." Elmedia Player will be on the list of apps.
Direct from the Elmedia Player's "File" menu, choose "Open," and then find your WAV and MP3 files in the pop-up window.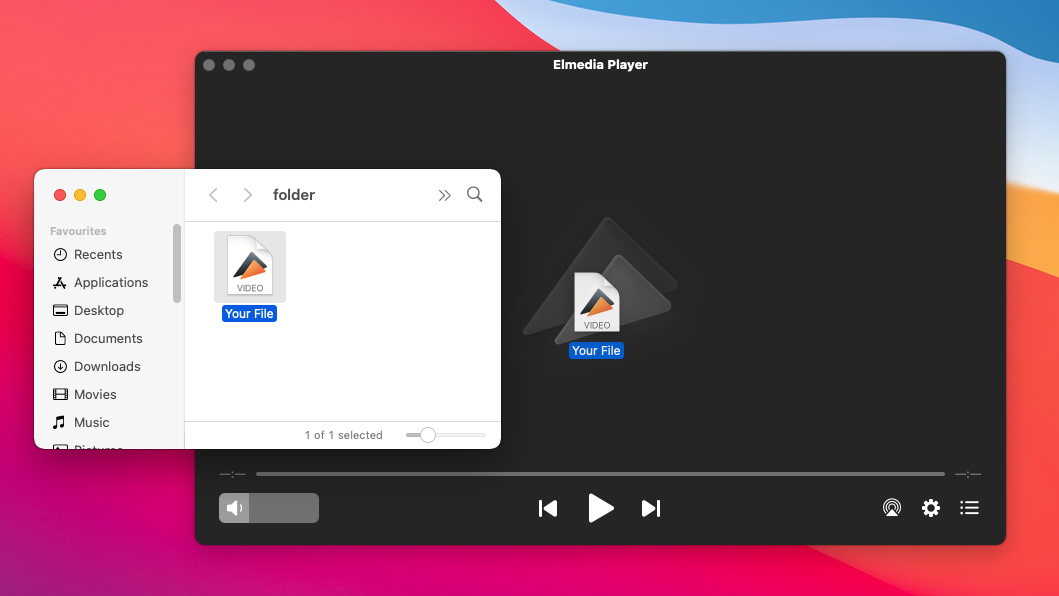 Loading your music into Elmedia Player is just the beginning. The third-party app offers unique customizations, easy playlist creation and management, and advanced features for high-quality playback. Determine for yourself whether WAV vs MP3 sound quality is better when you use the most powerful audio player for macOS.
WAV vs. MP3: which one should you use?
Most music listeners don't care as much about the file format as they do the sound quality. When people build their music collection, they want to know the difference between MP3 and WAV regarding the availability of files, ease of playback, and quality of sound.
People often have questions about MP3 vs WAV because they are the two most common file formats for digital music worldwide. Before determining which is better, WAV or MP3, we'll go over the benefits and downsides of both.
Whether you listen to music on iOS or macOS, you've likely encountered both file formats. Keep reading for the key differences between WAV and MP3.
WAV vs MP3: Get to know the WAV format
WAV's popularity isn't surprising, given it's one of the oldest formats for Hi-Res audio. Microsoft and IBM developers created WAV to preserve the original quality of audio recordings in a digital format. Apple also has a version of WAV for macOS called Audio Interchange File Format (AIFF). It uses the same process for storing audio files and converting audio signals into binary data for a computer to read.
Audio files stored in the WAV format offer a few unique benefits for music listeners.
WAV and AIFF are uncompressed, so nothing is lost from the original recording by storing the music digitally.
The file format offers users simplicity for easy editing and processing.
Listen to music with the highest recording rates of audio formats with dynamic ranges of up to 192 kHz.
WAV vs MP3: Understanding the MP3 popularity
In terms of popularity in digital music, there's no competition between WAV vs. MP3. Most music bought online or downloaded from streaming services like Spotify is in MP3 format. Just like WAV, it's one of the oldest formats out there.
The most significant difference between MP3 vs WAV is the compression of the files. The compression process eliminates extraneous data to create smaller file sizes, which can affect the WAV vs MP3 sound quality.
There are a few reasons MP3 is the most widespread audio file format today:
You can't beat the file size of MP3, especially if you have an extensive music library. They're easy to share online, download from online platforms, and don't take up much space when stored on a hard drive or in the cloud.
When you consider the quality of headphones and speakers of the average listener, there's no noticeable difference between MP3 and WAV playback when listening to music.
It's easy to convert WAV into MP3 to downsize the amount of space your music collection takes up on your hard drive or cloud.
For fast, easy music sharing, whether WAV or MP3 is better is clear: smaller is critical. When you're streaming on Spotify, downloading entire albums, or sharing songs with friends, the faster, the better, making MP3's small file size has a clear advantage.
But if WAV vs MP3 sound quality matters to you more, there are real downsides to compressing files. If you have high-quality speakers or headphones, you may notice minor distortions in playback or a difference from the richness of the original recording.
Further, if you're doing any recording, editing, or mixing of tracks, compressed files like MP3 aren't an option. Deciding which is better, WAV or MP3, often comes down to user priority–smaller file size or superior sound quality.
FAQ
As with any file format, there are some downsides to storing your entire music library as WAV. The most common ones that users contend with are:
Large file size: Because WAV is uncompressed, the file sizes are bigger. Sharing your art becomes more costly and time-consuming with WAV files if you're a musical artist, producer, or DJ. The difference is substantial: WAV files can be ten times the size of their MP3 counterparts. If you have an extensive music library that you want to be the best quality possible, how you'll store it becomes an issue.
Limited file support: Beyond data and storage issues, apps and devices don't widely support WAV files. If you're trying to share your music with as broad an audience as possible, using WAV files limits who can access and hear your music or podcast. If you prefer listening to WAV vs MP3, you may have limited playback options.
The quick answer is, it depends. Listeners who only use their computer's built-in speakers or the headphones that come standard with iOS devices won't notice a difference in WAV vs. MP3 sound quality. Some professional musicians and musical artists may have highly trained ears that can detect the missing data from MP3 files. Still, for general listeners, the difference is negligible.
WAV isn't the only uncompressed file format available. FLAC files are also lossless and present many of the same benefits and downsides as WAV. If you're considering FLAC vs MP3 for your musical library, you don't have to choose if you pick the right music player. Elmedia Player lets you listen to WAV, FLAC, AIFF, and MP3––all in a single playlist.
Many macOS users never have to consider the differences between MP3 and WAV because they use native apps that don't support the Windows-based format. But using Elmedia Player not only lets you play WAV files on Mac, but it also supports almost every audio format in existence. You never have to worry about error messages or distortion with Elmedia, and it's compatible with even the latest versions of macOS.
Change your music-listening experience on macOS but using a third-party app like Elmedia Player. You can collect a more extensive music library with diverse file formats and listen to them with superior support from the 10-band equalizer. Elmedia Player supports wireless connectivity to your other iOS devices like iPhone and iPad or high-quality speakers and headphones.
We love Elmedia Player as a Mac music player because it makes music listening easy and fun, whether you choose WAV or MP3 files as your preferred format.