If you watch something with the audio and video out of sync it can be really frustrating, and even ruin the experience altogether.
With Elmedia, a Mac video player with reliable playback no matter what the file type, sync issues are very rare, but they may be ingrained in the video itself, leaving you looking for a fix. In this guide, we've explored causes of audio synchronization issues and provided information on how to fix those problems quickly and easily.
Why Causes Audio Delay? [2 Common Reasons]
Unfortunately, if you find your audio is not synced with video, you may be experiencing a pretty common issue. Files may have errors in them that make the audio slower than video, for instance. The most common reasons for audio delay are:
The source is delayed. This means that audio may be slow, and the video out of sync when you go to play it back. This is a problem with the soundtrack itself and the way the video is made.
Transmission of the video is unsynced. Even if the file has the correct video and audio sync, you might find that a slow network, or a problem with your display device such as a television screen, causes the audio to fall behind. The video player needs to render the video and audio signals properly and quickly. 
There are a lot of other potential problems that can crop up when you are playing videos. It is also possible that the file has corrupted. Every time you upload or download a video there is the chance for the video to develop further issues.
How to Sync Audio and Video on Mac with Sync Software?
Whether you are on a Macbook or other form of Mac operating system, you can repair potential issues with synchronization. Some ways to fix audio delay on Mac can involve downloading software that is built for quality payback.
Elmedia Player 
Elmedia is one of the easiest ways to fix Mac audio delay, as well as being an incredible option for those of us who want  to be able to play a lot of different file types on MacOS. A lot of files don't have native compatibility with Mac, and using other media players will often lead to problems. However, with Elmedia Player, you can enjoy new functionality and a reliable way to play your videos. There are many different supported files including AVI, FLV, SWF, MKV, WMV, MOV, MP3, DAT, FLAC, M4V, MPG, DivX and MP4. You don't have to install different codecs just to play a video file, as Elmedia can understand and play these for you.
This multimedia player also gives you a variety of playback options including a way to tweak playback and crucially, fix audio and video sync so that you can enjoy your video as it was intended. There are even options for things like looping and screenshots within the media player. 
Elmedia has a PRO option too, which has been made to provide a DLNA player, enhancing casting such as Chromecast device streaming.
How to Fix Audio Delay in Elmedia Player
If you load your video within Elmedia player and find the video and audio aren't perfect, you can make changes. To easily synchronize sound with video on Elmedia Player:
2. Open the video you want to edit, you can click and drag it into Elmedia's interface.
3. Click "Audio" from the menu bar of the software.
4. Use "Decrease/Increase Audio Delay" menu items to nudge the audio either way, work out if you are dealing with audio faster than video or audio slower than video first.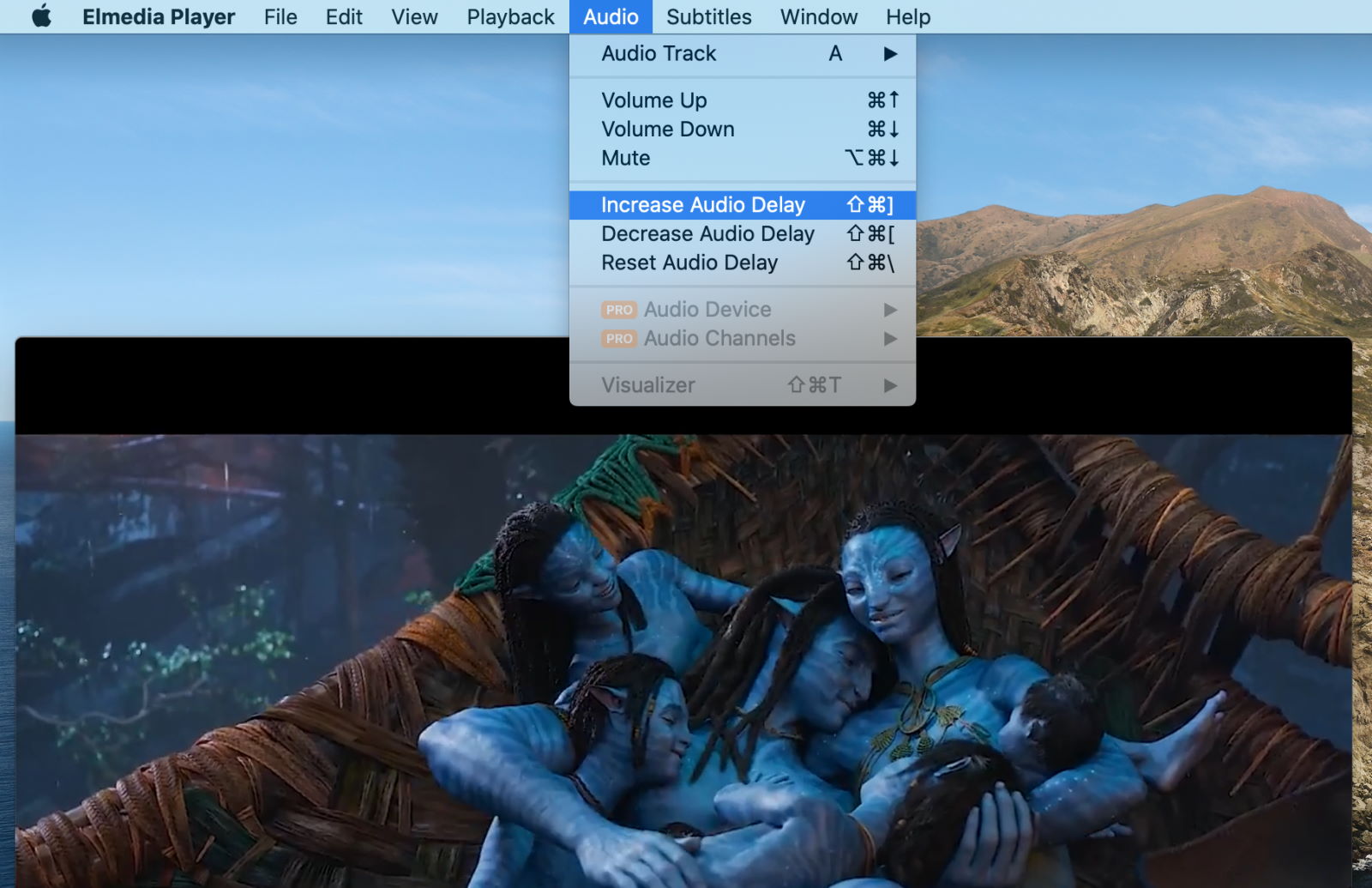 5. Check the video playback to see if the audio playback has been corrected, if not, you can alter it again.
By setting Elmedia Player as your default media player, you will be able to open any type of media and enjoy the numerous options to tweak audio and video when you load it.
How to Set Elmedia Player as Default Video Player on Mac
Sync Audio to Video on Windows
If you are a Windows user exploring how to sync audio with video then VLC Media Player may be an option for you, allowing you to tweak the video and audio and line it up as per your needs.
VLC
VLC is free, open source software that can be used on many different devices and platforms, including both Windows and Mac OS. The software relies on donations to operate, but unlike some of the other options on the market that are free, it is regularly updated with new functions and to support new updates. 
VLC Media Player is capable of playing most media files, especially on Windows devices, but it can run into problems on macOS. 
Along with being able to open files from DVDs, and other files you have downloaded, VLC is compatible with a lot of different streaming platforms and protocols. It is also probably the most-downloaded free option for media players out there, and it has over 131,876,000 downloads at the time of writing. While offering a good option for a lot of Windows users, the Mac features can be a little clunky at times.
How to Synchronize Audio and Video using VLC
How to Fix Out-of-sync Audio in VLC
If your video is out of sync and you are looking to fix it by using VLC Player then it is a relatively simple process, and you can follow these simple instructions to shift the audio and keep it in sync.
1. Download and install the correct version of VLC Media Player for your device. Keep in mind that there are many different versions.
2. Open the video in VLC Media Player by opening VLC first and then going to File and Open.
3. Navigate to the Menu bar and click on "Tools" and then the "Effects and Filters" option.
4. Click on the Synchronization tab to control the sync and make changes
5. Enter a value under "Track Synchronization Value" in this tab. A positive value will delay the audio but if you want to bring it forward you can enter a negative value.
Go back to your video player and check whether the video has been fixed, or repeat the last three steps to make further changes if needed.
iMovie
If you are struggling with Mac delay audio output or you wish to make further changes, you can use the video editing software that comes with your Apple device. When you buy a Macbook or iMac, you will find that iMovie is already installed. iMovie is a simple video editing suite with a lot of different options, and if you have access to the original video file you can make edits. 
You may have used iMovie before. Many people who have become familiar with the software have done so by making simple YouTube videos or home videos. You can use video that you have taken on your phone, add a soundtrack, and even add titles and cool effects before exporting straight to YouTube (or to many other platforms). 
So, with powerful editing tools like iMovie it makes sense that you can bring audio forward or push it back in the video.
Sync Up a Video in iMovie
How to Sync Up a Video in iMovie
If you have iMovie installed on your Mac already then you may want to try this method to correct video and audio issues.
1. Check iMovie is installed on your Mac, if not, it is free to download and install from the App Store.
2. Create a new, blank project within iMovie.
3. Click on File and then Import Media, and navigate to the clip that you want to edit. iMovie recognizes a variety of different styles.
4. Select the added clip, right click on it and select "Detach Audio" which will put the audio and video on different lines, making them easy to edit individually.
5. Select Edit. Then, press Trim to Selection and adjust the audio so that it perfectly matches up with the timings of the video. This might take a little bit of editing and perfecting.
How to Fix Audio Delay on TV
When you are streaming to your TV or using another method to play videos, you might find that the video is not perfectly synchronized. There are a lot of different potential causes, so you need to troubleshoot these to find out what is causing the delay.
Make sure you have checked that the problem does not stem from the video itself. The audio and video should be edited if they are not synchronized in the file. The problem may stem from the WiFi dongle or streaming device, recorder, amplifier, or anything else in your audio/visual system. If you don't see which is causing the delay instantly, disconnect them individually to see what the cause of the problem is. 
You may also take your device, such as a Chromecast, and connect it to another television, for instance, to check if this is the cause of the delay or not. If you have a Bluetooth device playing your audio then it is possible that this could be causing problems. Disconnect it and check if the sound within the video is as expected.
The more that is in the signal chain, the more potential there is for issues. If you are only using a TV and a single connected device like a Chromecast or even a media player, then it is a good idea to check the settings to see what might be causing the problem. This can involve a bit of investigative work, and it could be that you need to replace or repair something in the signal chain (or improve your WiFi speeds).
Conclusion
We're so used to hitting the play button and things just working perfectly in the modern age, but it isn't always that simple.
Though it is frustrating when your audio and video do not synchronize, this doesn't need to be a problem for long. This is especially true if you are watching the video  on a device like a Mac. As you can see there are numerous solutions to the problem and ways to edit the final video. If you want to fix audio video sync permanently then you might need to make use of a video editor. 
Elmedia is an amazing option both to prevent issues with your video and to ensure you have a quick way to repair and sync any videos that aren't working as you expected. There are so many different file types that you can play using Elmedia, and you can increase the functionality of your Mac in the process. Moving the audio around, synchronizing the audio and video couldn't be easier than with Elmedia.
Frequently Asked Questions
There are many potential reasons audio can be out of sync with video. For example, it is possible that the file has corrupted and that there are issues with playback. Failing this, it could be the TV or streaming setup interrupting the synchronization. A quality media player can make all the difference.
With many different media players, you can alter the playback temporarily so that there is a compensation factor. This means the rest of the video will play in sync. However, if you are looking for a permanent fix you will need to make full edits to the video using something like iMovie or other editing software.
If you have delayed audio on your video then you can move it forward in the video. You can do this within Elmedia Player easily, or if you want to make a more permanent fix you can use video editing software such as iMovie.