Not all music files are the same–depending on the format, they may take up more precious storage space or offer lower quality playback. It's easy to play MP3 files on Mac, but what if you have music in diverse formats like MP3 or FLAC, WMA, or AC3. This article discusses the differences between MP3 and FLAC. We also highlight the Elmedia Player, which offers high-quality playback for all audio files, regardless of format.
The Elmedia Player plays both FLAC and MP3
Elmedia Player
Playing MP3 files on Mac is straightforward––all the native macOS apps support the world's most popular audio file format. But you might end up with an assortment of file formats if you source music in your playlists from places other than online purchases, such as FLAC or MP3, WMA, AC3, and others.
You don't need to download a separate audio player for your FLAC files. Elmedia Player is not only a popular MP3 player; it can also handle almost any audio file format in the world today. Its versatility isn't the only reason it remains a Mac user and music lover favorite. It offers high-quality, customizable playback, easy playlist creation and management, and is compatible with macOS––including Big Sur.
Elmedia Player caters to Mac users' love of design and smooth interface, whether they're playing FLAC or MP3 files. Using the 10-band equalizer with diverse presets and wireless connectivity, it's easy to get your playlists to sound incredible, even in surround sound.
Whatever file format you have in your music library, Elmedia Player is the best audio player for macOS for FLAC or MP3 files.
How to play FLAC and MP3 files on your Mac
2.  Load your FLAC or MP3 music into Elmedia Player to start listening. You can load playlist files in one of three easy ways:
Drag and drop your FLAC or MP3 files either into the player window or onto the icon in the dock.
Navigate to wherever you store your music files on your computer and right-click on the files you wish to play. Select "Open With" from the right-click menu and then pick Elmedia Player from the list.
Open Elmedia Player and navigate to the "File" menu at the top, then "Open," and find where you store your audio files on your computer.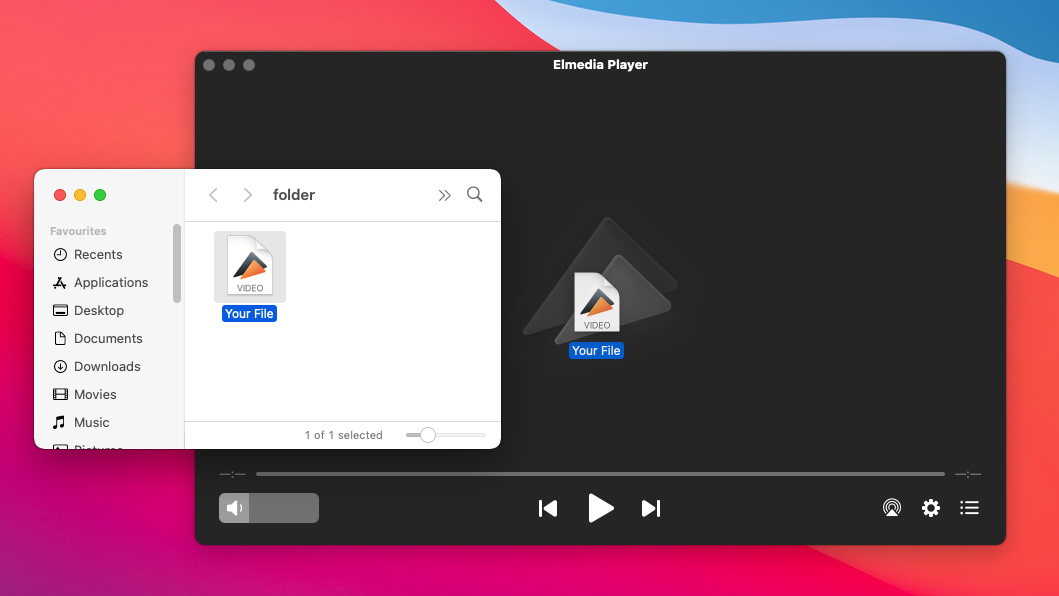 Even if you're not tech-savvy, Elmedia Player is intuitive to use. Spend some time exploring the variety of possibilities for playlist playback, the 10-band equalizer presets, and the options for surround sound.
Regardless if you use FLAC vs. MP3 for your audio files, you can hear them in a completely new way with Elmedia Player.
Is FLAC better than MP3 for music files?
The file format you pick for your playlists and music library may depend on a variety of things. Playback quality and file size are the two big factors in choosing FLAC vs. MP3. This article goes over the major differences between the two file formats, so you're able to decide if FLAC is better than MP3 for how you listen to and store your music playlists.
When people discuss the difference between MP3 and FLAC, the two words you'll hear the most often are "lossy" and "lossless."
MP3 is a lossy format
FLAC is a lossless format
Let's get into what these two types of formats mean for music lovers.
What do "lossy" and "lossless" mean for MP3 or FLAC?
The words themselves show what separates FLAC vs. MP3. For "lossy" files, some amount of data is lost during the compression of the file. With "lossless," there's no data lost, but the result is a larger file.
MP3 compression combines good quality audio files with a small file size because the "lost" aspects of the file are inaudible to most people. What's lost isn't noticeable to the casual listener, and the resulting file is much smaller.
FLAC files keep all audio aspects of the file, even if they're not audible to most listeners. The result is a larger file, but one that hasn't "lost" anything during compression.
MP3 vs. FLAC: does better quality mean better sound?
When we dig deeper into the difference between MP3 and FLAC, it gets down to whether a better quality file sounds better to the listener.
The answer is: it depends! It's unlikely you'll hear a difference between FLAC and MP3 if your favorite headphones are inexpensive, or you listen to music mostly on your laptop without an external sound system.
However, there's no denying that FLAC is a better quality file that maintains the rich sound of the original music recording. By using premium headphones or an exceptional surround sound setup, it's obvious there's little competition between FLAC vs. MP3. But in terms of file size and the amount of storage the music takes up on your computer, MP3 outshines FLAC because the compression leads to a much smaller file format.
If you're trying to decide which is right for your music: MP3 vs. FLAC, it comes down to a few factors. Consider your available macOS storage, the quality of your speakers and headphones, and the audio player you're using. There's no comparison for FLAC files played with Elmedia Player for music lovers who want complete immersion in their playlists.
FAQ
It depends. There's a definite difference between FLAC and MP3. FLAC files are lossless, keeping the original recording quality of the music through compression. However, if you don't use premium listening equipment, it's challenging to hear the quality difference between the two files.
Many people claim that MP3 and FLAC sound the same, but that doesn't reflect on the file format but the quality of their listening equipment. Another significant factor in how MP3 and FLAC files sound is the audio player you use for your playlists. Elmedia Player is not only the best MP3 player for macOS, but it also brings out the best in all audio file formats, including FLAC.
There's no doubt that lossless compression like FLAC provides the best sound quality for your music playlists. But FLAC isn't the only lossless format; WAV and AIFF files are both hi-res audio. Overall, when supported by the right audio player and listening equipment, these formats provide you with a listening experience that's equal to or better than CD quality.
It might seem like there's no competition with FLAC vs. MP3. And that's true for audio quality. But the tradeoff is the file size for FLAC is much larger than MP3. If you have a massive music library stored on your hard drive, lossless files may not be an option for you.
Regardless if you choose to store your music as FLAC or MP3 files, you need a music player that will make every playlist sound its best. MacOS has several native apps that support MP3, such as Apple Music or QuickTime Player. Neither one plays FLAC, and they offer a stripped-down playback experience that may not be sufficient for many music lovers.
Elmedia Player not only supports all audio formats, including lossless like FLAC, WAV, and AIFF, but it also brings out the best in MP3 files. Music lovers can take advantage of the 10-band equalizer with easy-to-use presets, custom playlist creation and management, hardware passthrough for AC-3 and DTS, and wireless connectivity to stream playlists through your home sound system.
For all music formats on macOS, Elmedia Player is the best music player available.