Default players for Mac generally have compatibility issues with AVI. However, a reliable player can let you open .avi files, as well as a range of other formats. We're going to look at some of the best players around, and what you can expect from each one. Read on to find out what the best AVI player for Mac is, and how to get an AVI file to play on a Mac.
Use Third-party Mac AVI Player to Play AVI Files on Mac
AVI files are commonly used files for audio and video. They've been around for a long time, and it's likely that you'll have a few of them on your macOS. However, you won't be able to play them. Macs are not designed to be compatible with AVI files. However, you can play them when you get an additional app. There's a wide selection of different apps available, and each has something different to offer. This article aims to explain what the best players for AVI are, and how you can make use of them, and how to play AVI file on Mac.
Elmedia Player
We recommend Elmedia Player as the best option for Mac users. Elmedia has been designed specifically for Mac, and has a huge range of different features to enjoy. It handles AVI files with no problems, as well as a huge range of other file types. One of the great things about Elmedia is the fact that it doesn't need to convert files to play them – it simply plays them directly, saving time and effort. Elmedia offers a range of different playback options that let you configure your audio and video files according to your preferences. It's also compatible with a number of playback devices such as Airplay, meaning that you can easily stream your content to an external device.
Elmedia can stream directly from a number of online platforms, letting you enjoy videos with extra options. It's got dedicated subtitle options, and also boasts a snapshot option that lets you create snapshots at intervals throughout an entire video. Playlists are easily manageable, and there are a number of functions that allow you to easily organize your files and folders. All in all, it's a great option for anyone looking for an effective media player.
How Do I Play AVI Files on Mac with Elmedia Player?
Playing an AVI movie, video or audio file on Elmedia is simple, just follow these steps:
1. First of all, download the Elmedia Player from the home page. Make sure that you get it from the official site to avoid any risks of downloading malware.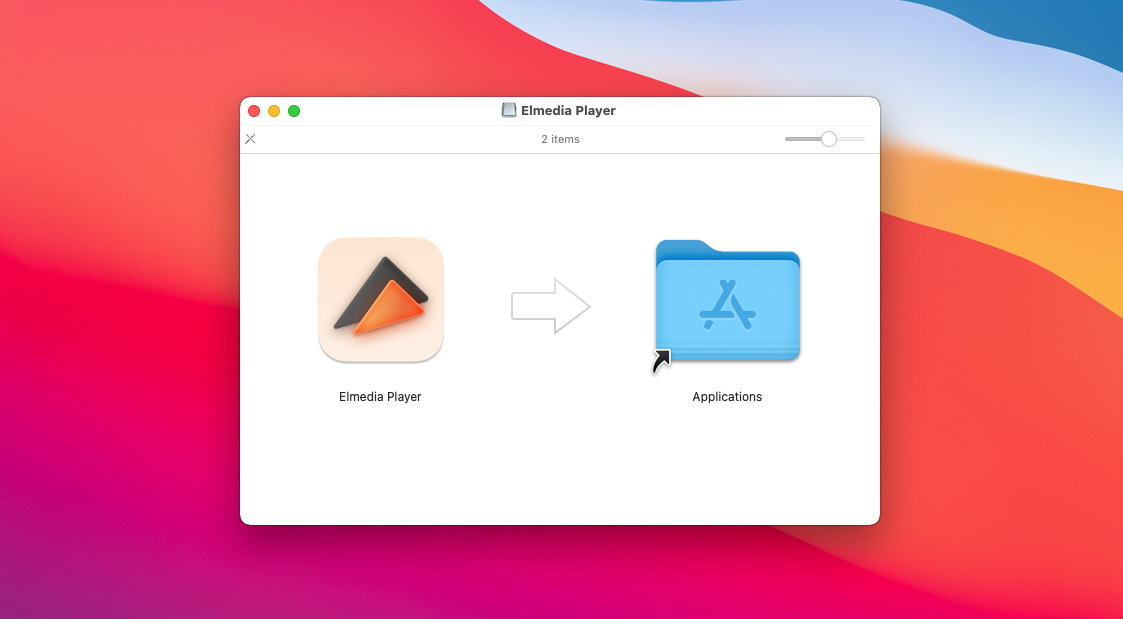 2. Once downloaded, install Elmedia Player to your device.
3. Open the Elmedia Player.
4. There are a few different ways you can open files with Elmedia. You can either drag and drop the files onto the player. You can also click on the files and choose to open them with Elmedia. Or you can search for files directly through the app.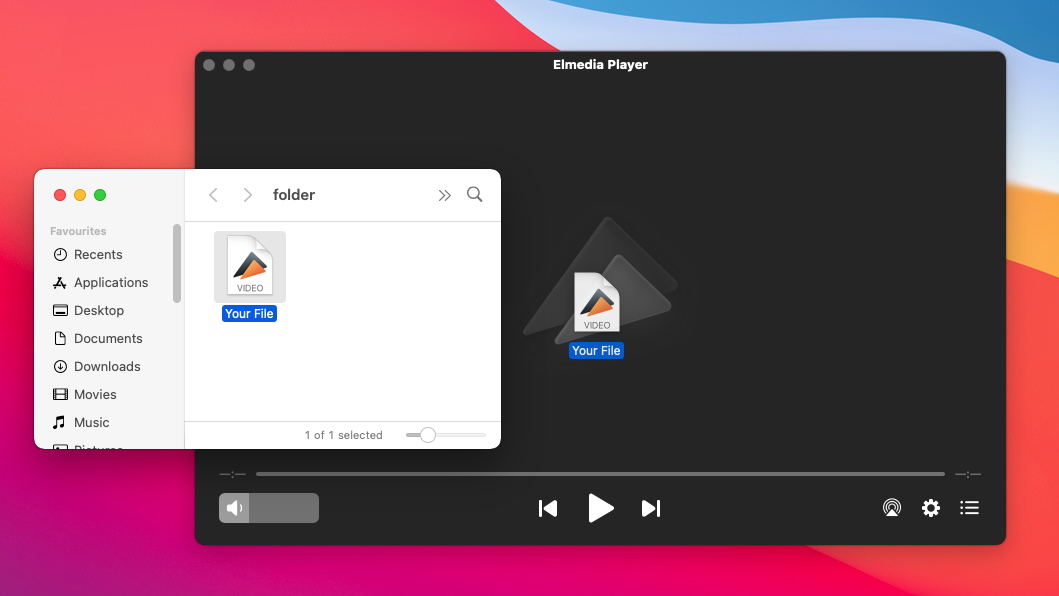 5. Now, just sit back and enjoy your content.
Video tutorial on how to play avi files on mac
5KPlayer
5KPlayer has been around for a while, and has something of a mixed reputation. The product is billed as being an effective player, and it does offer compatibility with plenty of different file types. It also has a number of playback options that allow you to configure your audio and video files depending on your preferences. However, users do have a number of complaints. The most common one is that the player has a lot of intrusive popups that can interfere with other functions you might be carrying out. On top of that, the player is extremely hard to remove from your device once installed. For these reasons, you might want to think twice before choosing the 5KPlayer.
IINA
IINA began life as an open source project. That means that it benefits from programmers around the world working on it. It also means that it's available completely free. IINA has a number of great features that make it the ideal choice for many users. Its dark screen mode is perfect for playing an AVI video at night. It's compatible with plenty of different file types and has no problems playing most things. In addition, it lets you stream content directly from a number of different online platforms. It also has a few playback settings. The main issue with IINA is that these days it benefits from fewer updates than in the past. In addition, there's no effective support provider.
Convert AVI for QuickTime to Play on Mac
While players are certainly the most effective tools to view AVI files on Mac, there is another option. You can simply convert your AVI files to a format compatible with a QuickTime player, such as M4V, to open AVI in QuickTime. There are a couple of different ways to do this. A few players offer conversion tools, meaning that you can use them to convert files into a new form. The other option is to use online conversion tools. There are plenty of browser-based converters that offer this function. Generally, all you need to do is drag and drop a file into the browser. Then, you download the converted file in a compatible format.
Movavi
Movavi is a potential option for anyone looking to play AVI files, though it's not the most straightforward one. Movavi isn't so much a media player as it is a video editor and converter. It's got plenty of features for anyone, including professionals, to edit videos and create new ones. In addition, it has an effective tool for converting files. This means that you could use Movavi to convert your AVI files to a different file type in order to play them on your Mac. As we've mentioned, Movavi isn't the most obvious option for anyone looking for a way to play AVI on Mac. However, you can get a basic version of the app completely free, so it may be the solution you're looking for.
Popular Yet Not Working Methods
You may also find lots of methods over the Internet for solving the QuickTime not playing AVI issues. However, most often people forget to mention that these workarounds are outdated and can't help you. Below we have listed the two most widely used recommendations yet not working.
Install AVI Codec for Mac to Open AVI Files
Back in the day, if you wanted to open QuickTime's non-compatible format, you could install additional codecs. These codec packs decoded the AVI files and allowed you to play them via your QuickTime player. However, it wasn't as easy as just downloading a new player. You had to search online for the right codec pack, and even then, it was hit or miss if it would work. Besides that, codecs were a popular workaround for QuickTime version 7. The current version of QuickTime Player doesn't provide support for any additional codecs.
Open AVI Using a Plugin or Add-On for Your Player
Like codecs, plugins were another way to play AVI files on Mac without changing your player. The earlier versions of the leading Mac player, QuickTime, supported a number of different plugins from different providers, all of which were designed to let you play AVI files on the player. Perian was a popular choice, but unfortunately, it's been discontinued since 2011 and is not supported by the current version of the QuickTime Player.
What Is an AVI File?
What is AVI? AVI stands for Audio Video Interleave. AVI files were developed in the early nineties as a way to store small clips of audio and video without using too much compression. By avoiding excessive compression, it was possible to save content in fairly compact form while still maintaining good quality. Since AVI was a format developed by Microsoft, it was designed for compatibility with Windows systems, and Mac users will have issues trying to play AVI on their Macbook and other devices as Apple never planned for any compatibility. While AVI files used to be extremely common, they've become less so over the years. Other technologies and file formats such as MP4 have taken their place. That said, AVI is still widely used, and especially present on older games and pieces of software.
Frequently Asked Questions
AVI files were developed by Microsoft for use with the Windows operating system. Mac has never implemented AVI compatibility in their products, including their default media players. However, you can convert AVI to QuickTime with one of the solutions above.
Elmedia Player is the ideal tool for opening AVI files on Mac. All you need to do is follow the steps outlined above.
Most of the players we've mentioned in this article are able to play AVI without the need for conversion. However, if you need to convert an AVI file to MP4, you can use one of the browser-based free converters to convert files.