When playing their favorite videos, users want a smooth experience with a player that is capable of handling everything excellently. Since there's no shortage of great applications , comparing their functionalities to pick the best can seem overwhelming. But you have nothing to worry about because we have you covered!
We did a VLC vs DiVX vs Elmedia comparison to examine their pros and cons so that you won't have to. Spoiler alert! Elmedia Player has a clear advantage when it comes to the versatility and benefits offered. Keep reading to find out all the details about these video players and choose the absolute best.
Elmedia Player
As promised, we start with the review of Elmedia Player. This is a top-notch free video player for Mac that supports all the popular video and audio formats. These include AVI, FLV, SWF, MKV, WMV, MOV, MP3, DAT, FLAC, M4V, MPG, DivX, and MP4. 
This player delivers an exceptional HD experience without causing any CPU-related problems. With Elmedia Player, users can rest assured that they won't encounter any slowdowns or synchronization issues.
Pros
Supports numerous video and audio formats
Allows for wireless video streaming
Offers useful features such as screenshot capture, picture-in-picture mode, and playback controls
Enables users to create, manage, and enjoy playlists
Cons
Limited to Mac users only
Setup
2. Run the player and pick the best method to open your file:
Simply drag the file over the app window or dock icon and drop it to start playing
Click on File from the menu, then select Open and locate the file on your computer 
Open Finder to find the desired file and select Elmedia from the list of players displayed when you right-click and choose Open with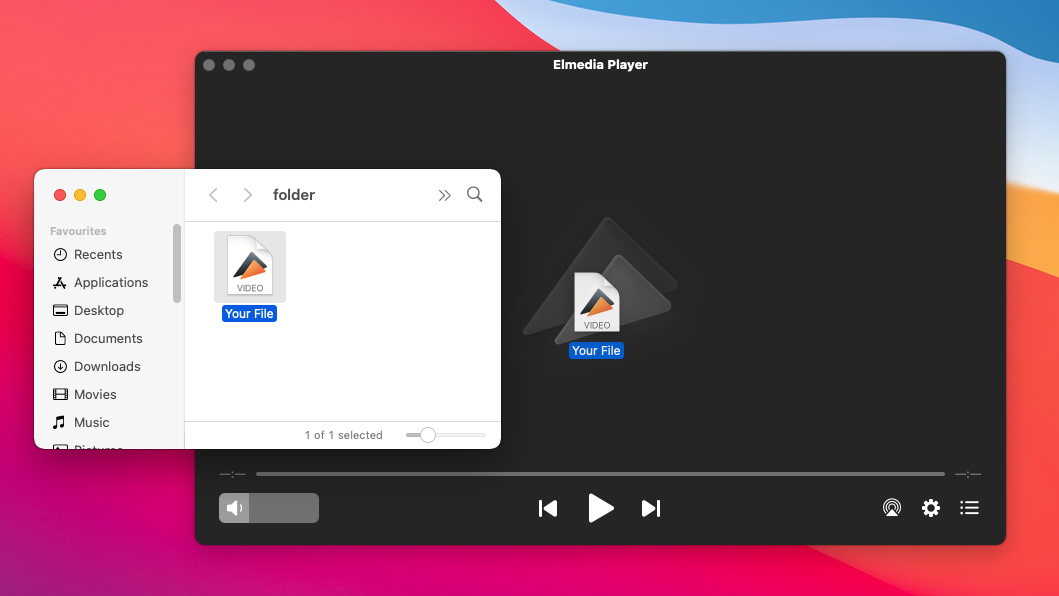 3. Get comfy and enjoy an amazing playback experience.
Features
Elmedia comes with a huge list of features like the ability to control everything regarding video playback. You can easily sync subtitles, speed up the movie, take screenshots or add bookmarks. 
This player also allows you to build playlists and watch all your favorite media. The same goes for subtitle support as you can search online, automatically load them, and customize everything. 
Last but not least, Elmedia can be used to stream to Apple TV, Chromecast, and DLNA-enabled devices. Furthermore, you can use the picture-in-picture widget and deinterlace low-quality videos on the go. 
From an audio point of view, this player offers a 10-band equalizer and surround sound to give you an extra advantage.
Pricing
You get lots of features in the free version of Elmedia player for everyday use. However, for $19,99 you can get the PRO version and unlock a lot more functionality for an even better experience.
VLC
Before we get to the step where we compare media player solutions, it's important to first make a review for each of the selected ones. VLC is a highly renowned video and audio player for all types of users. With a long-standing reputation in the market and its open-source platform, this free player can handle a long list of video and audio files. Whether you choose the VLC Mac version or the Windows app, you can always count on a smooth playback no matter what you want to open.
Pros
Can handle any file format you try to open with it
Streamlined for excellent video and audio playback
Supports numerous plug-ins and skins to change the interface
Cons
The user experience feels outdated to most users that prefer a modern design
You can experience issues when playing files that need advanced processing capabilities such as 4K videos
Setup
1. Download VLC for your operating system macOs or Windows (select the download location when asked) and install it on your device
2. The video player will automatically open once the installation process is over (except in the case when you uncheck the "Run VLC media player" box)
3. Load the file you want to play by either selecting – Media -> Open File or dragging the file to drop it on the player window
4. Sit back and enjoy your favorite content
Features
VLC is capable of playing files even if they're only partially downloaded and this is one of its best features. Furthermore, it comes with many playback customization options and can even repair damaged or corrupted files. 
You can also manually load subtitles or search for them online and customize font, color, or sync them with the video. There's also the ability to build playlists so you won't have to load your files manually every time.
Pricing
When comparing VLC vs DivX or Elmedia, this player has a clear advantage. It's an open-platform app, so you won't have to pay anything to access all its features, it's absolutely free. This means that if the price is what helps you determine which one is better then you have your answer.
DivX
The final review in our journey to compare media player apps is DivX. Like its competitors, the player can handle a wide variety of video and audio formats, including MP4, AVI, MKV, and AAC, besides the dedicated DivX files. It also supports streaming to Apple Tv, Chromecast, Xbox, Playstation, and many more. If we were to compare the VLC vs DivX sound quality, it's safe to say that the latter has the advantage thanks to the AC3 surround and DTS-HD plug-ins. However, some of the advanced features are only available in the paid PRO version.
Pros
Comes with unique features that you can select
Seamless playback of video and audio files
Comes with accelerated technology support
User-friendly interface on Macbook and PCs
Ideal for inexperienced users
Cons
The free version comes with limited features
You need to upgrade to unlock all its power
Requires quiet a lot of system requirements
Comes with additional installations if you're not careful
Setup
1. Simply download DivX from the website and start the installer
2. Select your preferred language and accept the license agreement
3. Choose the DivX components you want to add to your device
4. Open the app once it's installed and play your files
Features
The player offers several advanced features, including customizable subtitles and a video editor that enables users to trim, crop, and adjust video quality. It also has an audio enhancer that provides an immersive sound experience by optimizing the audio output. Additionally, the player offers various playback options, including fast-forward, slow-motion, and frame-by-frame playback. 
You can also use the app to stream online content and even download videos from various platforms.
Pricing
The cost of DivX pro depends on the additional components you select. However, for €16,99 you can enjoy the AC3 edition and DTS-HD sound, the Cloud Connect, Video Pack, and the removal of all ads.
Verdict
Now that we've seen VLC vs DivX vs Elmedia, it's time to draw a conclusion. Is DivX Pro the best player out there? Or does the VLC vs DivX sound quality discrepancy make a difference? After carefully going through each review and doing a thorough comparison, it's neither VLC or DivX that come out on top. 
Elmedia Player outperforms both when it comes to supported formats, playback settings, and additional features like taking screenshots or deinterlacing. So, if you want to have an all-in-one player on your device that can handle everything you throw at it, Elmedia is the answer.