Imagine having just downloaded the last episode of your favorite TV show, yourself comfortably in front of your computer, hitting the Play button, and then seeing that yellow error sign: Unable to play this file. But first things first, why doesn't VLC play AVI?
There are a number of possible reasons for this, and in the article ahead, we will walk you through the most frequently encountered ones, as well as the best practices and fixes for such bugs.
Most Common Reasons Why You Cannot Play AVI Files in VLC
Straight off the bat, the most common issue and the most likely reason for which an AVI file won't play on VLC, is bad sectors on your partition hard drive. The second most probable cause is a corrupted or damaged file, but if you only acquire your video files from trusted sources, chances are it's option one. You'll know that this is the case when your Video Lan Player refuses to launch any AVI video, regardless of its size and quality.
Does VLC play AVI?
It goes without saying that the VLC media player is very stable and highly reliable software that supports AVI file format, and should have no trouble playing them. Besides being a very compelling player, and by far the most compatible one with Mac, Windows, and Linux operating systems, it's also perfectly capable of repairing most file types.
So, you need not worry when VLC will not play AVI files, you just have to identify the root cause and apply the corresponding fix.
Root Causes for "AVI File Won't Play on VLC" Error
As mentioned before, VLC is one of the most stable and performant media players nowadays, yet it can still hit some snags when trying to play certain file formats, and the AVI codec is one of these. This is due to the AVI codecs used to compress files, which are not entirely compatible with VLC. Thus, when you cannot play AVI file in VLC, it's because the media player cannot decompress the codec used for compression.
Other possible root causes may include:
Reading and writing errors in your video file.
An incomplete or incorrect download of the AVI video.
An incorrect system shutdown during the download process.
Corrupted SD card, or files stored on a malfunctioning drive.
Possible viruses or malware that alter the structure of video files.
Video compression issues.
Video files that have been edited with inadequate software.
Best Solutions When VLC Can't Play AVI on Mac
We need to take several steps when we cannot play AVI files in VLC to fix the issue at hand. The main goal is that of repairing the file or any compatibility issues between this and your media player.
Isolating the AVI Not Playing in VLC Problems
Like any other file format, AVI can also get corrupted. This is can be due to a number of reasons, which include:
Received files that are already corrupted.
Files with read and write errors.
Files downloaded incorrectly.
File transfer errors.
Broken AVI videos.
Video compression.
Video format changes.
Besides file corruption, there are other possible reasons for which VLC can't play AVI on Mac, the main ones being:
Incompatible versions of media player.
Malfunctioning media player.
Incorrect decompressors used for particular compression formats.
Viruses and malware.
System shut down incorrectly.
Corrupt systems crashing.
As you can tell, there are several probable causes for why you are unable to play AVI, so it's essential to identify the problem at hand first.
Solving VLC Media Player Issues
And, once you have identified the reasons you can't open and play AVI videos, you will be able to easily identify the best fixes or courses of action. Depending on the nature of said issues, you can resort to any of the following resolutions:
Repairing Broken AVI Files in VLC
Corrupted video files, including AVI, can easily be repaired using VLC's built-in repair function. This highly efficient tool can get the job done in a matter of minutes.
Using Alternative Repair Options
If the VLC function fails to resolve the problem, or doesn't bring in any results, you can always try to repair files and AVI codecs with more advanced alternative software available on the web.
Changing the Caching Value
Another course of action would be to change the cashing value. Whenever your VLC player is overdue when playing a video file, you can easily sort this by adjusting its cashing value.
Disabling File Preloading
Alternatively, you can also disable the AVI Preloading. Many users reported having overcome AVI not playing in VLC issues just by taking this quick and easy action.
Disabling Hardware Decoding
This is yet another quick fix you can try, however, you should be aware that in more cases than one, this has caused conflicts with some specific drivers.
Reinstalling Your Video Lan Player
However, if neither of the above proves successful, you might have to resort to more drastic measures, and the first one would be reinstalling your VLC media player entirely. So make sure to use the Uninstall version first, and completely remove the previous version from your Mac or PC.
Opting for Alternative Media Players
If everything else fails, consider giving other media players a try. Believe it or not, there are several high-quality AVI player alternatives on the market, and if you are not familiar with any of these, we also have a solid recommendation for you to try first.
Forget Everything and Start Playing AVI Files Easily on Mac with Elmedia Player
Why lose all this time trying to isolate bugs and determine the best fixes, when you can go for one of the most convenient and user-friendly alternatives for Mac users?
We're talking about Elmedia player, a reliable and dominant alternative available for you to try right away, that will make VLC AVI codecs a thing of the past and allow you to play any AVI movie with ease and zero hassle!
Here are some of the main reasons why you should try this:
No converters required.
No codecs needed.
Constant and efficient updates.
Instant bug fixing.
Advanced playback functions that will make media content super easy to view or listen.
And the best part, the installation and setup process is even easier:
2. Launch the app and add the AVI videos you wish to play.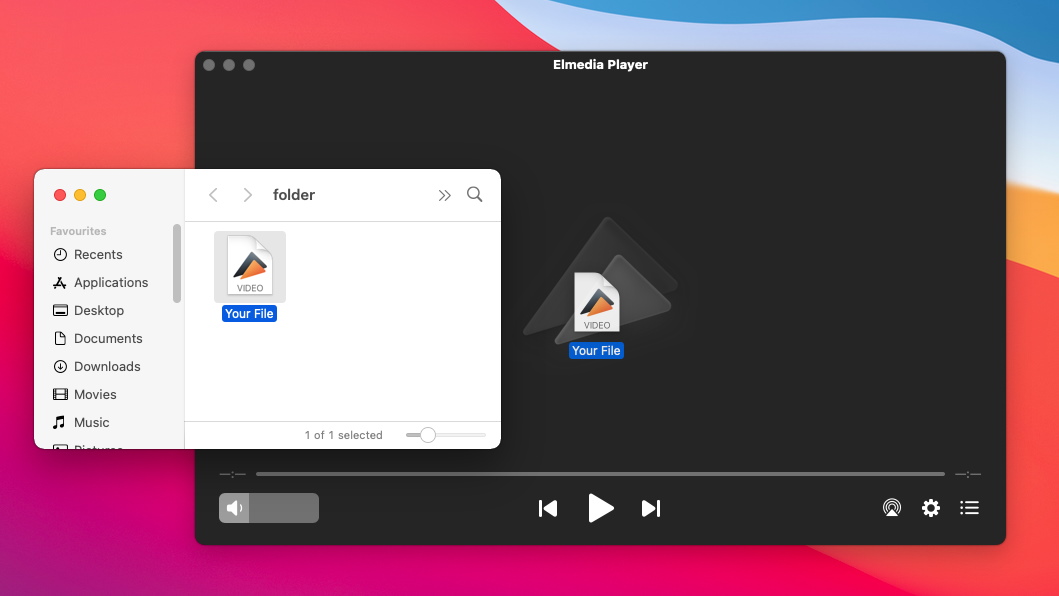 3. That's all really, you're good to go!
Would you like to be able to play videos and sound on Mac easily and with no hassle, no crashes, and no headaches? The solution is quite simple, you can start by installing Elmedia and learning more about its compatibility with all file formats and video or audio settings right now!
Frequently Asked Questions
From corrupted AVI videos, to bad sectors on your drive unit, from incorrect downloads to viruses and malware, there are numerous reasons for which VLC can't play AVI files. The key is to identify the nature of the issue to determine the best possible fix. If the problem is too serious and there's no easy fix, one solution that always works it to use alternative video players that support the AVI format, like Elmedia Player.
Yes, VLC is also a competent video converter that can easily help you turn AVI files into MP4. To do so, just open access the VLC menu and click on Media > Convert / Save. Add the video you want to convert, and then choose the output format and codec for the new video.