VLC is a free and open-source platform that pretty much everyone has heard of. It comes packed with features, and you can use it on both Mac and Windows. 
While there are hundreds of different file types you can play using VLC, you may occasionally encounter an error telling you it doesn't support the UNDF format. In this article, we'll explain what the format is and how you can get it to play on your computer.
What is the UNDF file format?
UNDF isn't exactly a file format like MP4 or AVI. It stands for "undefined file format," which essentially means the application you're using to open it is unable to recognize the file format.
Simply put, UNDF is an error message that your player displays if it doesn't support the format or lacks the codecs required to play it. It usually happens with the VLC media player, which is the default media application for many people.
There are many reasons why a media file might appear as a UNDF, and we've discussed some of them below.
Why a user encounters the error VLC Does Not Support UNDF Format
One of the most common reasons why VLC player might show the UNDF format error is because the file is corrupted or incomplete. If you copied it from another source and something went wrong while it was being transferred, it won't play correctly, and the aforementioned error will appear.
Let's take a look at some of the other reasons why this happens:
The application doesn't recognize it – If VLC fails to identify the file format, then it'll just show it as UNDF. This usually means that it's incompatible, and VLC doesn't support the audio or video format "UNDF."
Not downloaded correctly – If you downloaded the video from the Internet and something happened to your connection, or you try to play the file before it's finished downloading, VLC will flag it as a UNDF. This usually happens if your Internet disconnects while the file is still downloading.
VLC hasn't been updated – Older versions of VLC are incapable of playing some file formats. If you don't regularly update your application, formats that are incompatible will show up as UNDF, and if you try to play it, you'll get the following error on VLC: "No suitable decoder module."
You don't have the right codecs – If the VLC player tags a file as UNDF, it could be because you haven't downloaded the right codecs for the format you're trying to play. Depending on what format the video is, VLC may not even support the codecs required for it.
How to fix VLC Does Not Support UNDF Error
Now that you know why VLC shows the error, you can get a better idea of how to fix it. Here are some of the best solutions that we recommend:
1. Check the file – The first thing you need to do is check if there's something wrong with the file you're trying to play. If you downloaded it from the Internet, then try downloading it again and see if that fixes it.
Keep in mind that Google Chrome often resets current downloads if your Internet stops working, so use a download manager if you're experiencing problems with your connection. Make sure it's finished downloading before you open it because otherwise, it won't have all the elements required to play it.
In case you transferred the video from another source (an external HDD, for example), then try copying it again. This way, you can easily restore the video, and VLC should start playing it. Of course, if the application doesn't support the original file format, then this method won't work.
2. Update VLC – VLC periodically releases new updates to introduce new features, fix bugs, and add support for more file formats. If you're on an older version, there's a good chance it won't be compatible with the file format you're trying to play.
To check what version of VLC you're on and whether or not it needs to be updated, just go to VLC Media Player > Check for Updates in the menu bar.
It'll automatically look for new updates and download them if it finds any. If you're already up-to-date, then it'll let you know and show you what version you're currently on.
Another way to check what version you're on is by clicking on VLC Media Player in the menu bar and then choosing About VLC media player. A window will pop up showing you what version you're using, along with some other information about the application.
3. Use Elmedia Player – If you still can't get VLC to play your video, then it's time to switch to another application. We recommend Elmedia Player. It's a video player for Mac that's capable of playing almost every file format you can imagine.
Here's a list of some of the compatible file formats: MP4, AVI, WebM, M4V, FLV, MOV, MKV, AAC, VOB, etc.
The full list of Elmedia's supported formats is much longer, of course.
Elmedia is optimized for macOS, and you can run it on both Intel and Apple silicon Macs (M1 and M2). It has an incredibly minimalist app design, which makes it extremely easy to use it. You won't have to download any codecs to play your video, and there's little to no chance the application will mark it as a UNDF file.
4. Install codecs – If nothing works, you'll have to download the appropriate UNDF codec for VLC. If you're on Windows, download the Combined Community Codec Pack or K-Lite Codec Pack.
For Mac users, we recommend getting Elmedia Player since it has all the codecs you need to play most file formats.
5. Conversion – Since UNDF isn't a specific file format and it only appears as such because the application you're using to play it doesn't recognize it, it's not possible to convert it. To convert a media file, the application has to know what the file format is before it's changed into another one.
No format converter will work with UNDF files, and there's no application made specifically for converting them.
How to play UNDF files on Mac with Elmedia?
If you're a Mac user, then you're in luck because, with Elmedia, there are hundreds of file formats you can play without downloading codecs or converters.
Elmedia Player comes pre-installed with many different codecs, so you won't have to go around looking for solutions to fixing UNDF file-related playback problems. You won't even have to worry about downloading new updates constantly.
The UNDF video player comes with a large set of playback functions and other features which you can use to improve your viewing experience. 
You can conveniently control your video or audio playback with your keyboard shortcuts and even download subtitles from within the application. It also lets you adjust subtitle and audio delay using keyboard shortcuts.
Here's how to set up Elmedia Player on Mac if you want to skip the UNDF problem and view videos or listen to music in different formats:
2. Once the DMG file has finished downloading, install it by copying the file to the Applications folder.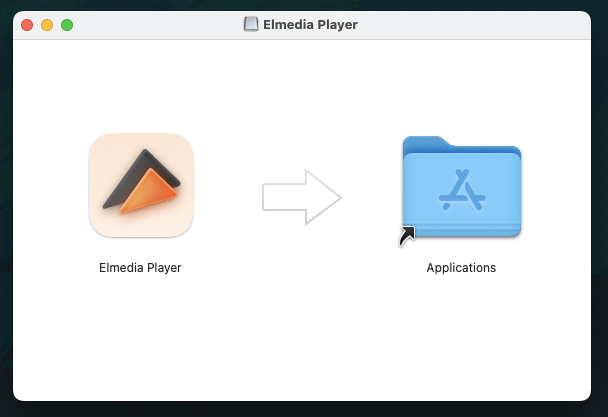 3. Launch Elmedia Player and click on Continue in free mode. You can choose to pay for the PRO version later.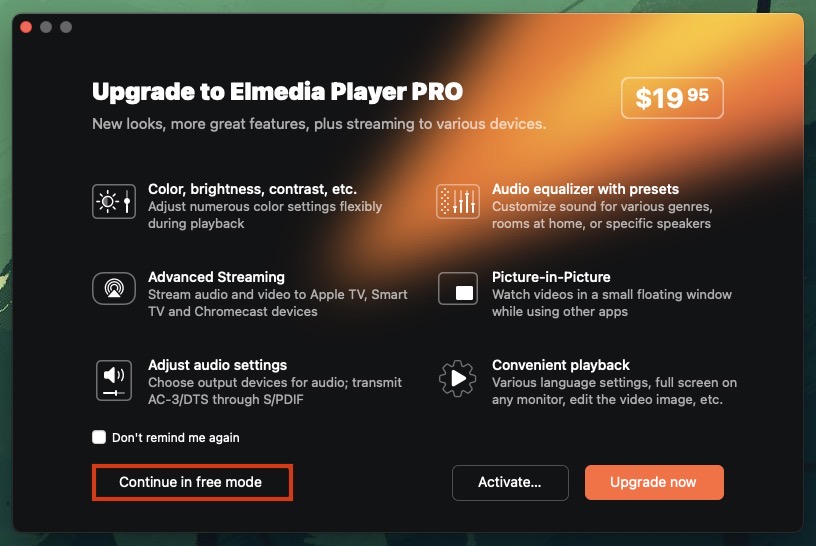 4. There are three ways to play your media content with Elmedia:
Drag and drop the video or audio on the application, and it'll automatically start playing.
In the menu bar, click on File and then Open. Choose your audio/video and click on Open to start playing it.
Drag the file to Elmedia's icon in the Dock.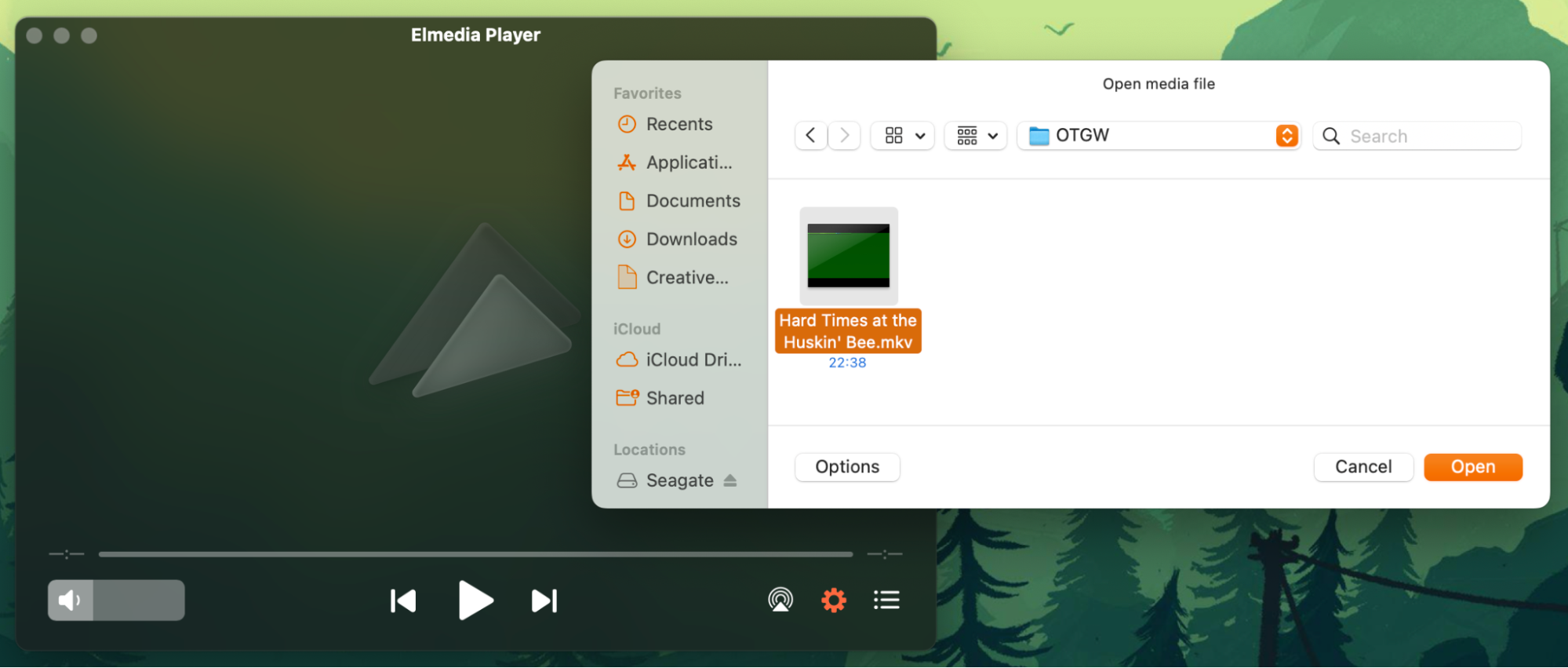 5. You can now enjoy your video clips or songs without encountering any playback issues!
If you're still having trouble installing the Elmedia Player, we recommend checking out this helpful video on how to do it:
Setting up the Elmedia Player on your macOS
Closing Words
VLC Media Player is a popular application, but it doesn't support every file format. As a result, you're bound to run into problems. One of the most common errors people encounter is when VLC fails to open UNDF files.
UNDF is an unrecognized file type that doesn't work with VLC because the application isn't compatible with it. It often happens because the file you're trying to play is corrupted, downloaded incorrectly, or needs codecs.
We recommend using Elmedia Player to play your media content because it supports various formats and won't ask you to install new codecs.
Frequently Asked Questions
No, VLC can't play UNDF files because it doesn't support them. You'll either have to download codecs to play these files or switch to another media player. Elmedia Player is a great alternative that's capable of playing files that are generally marked as a UNDF by the VLC player.
If you're having trouble playing MKV files on Mac, one option is to convert the file to a different format like MP4 or AVI. However, a better choice would be to select a media player with native MKV compatibility, such as Elmedia Player. To fix the UNDF error in VLC, you'll either have to download new codecs or update your application to ensure it supports the format you're trying to play. VLC may not fully support your video, which is why it displays it as a UNDF file. If you can't fix the error, then try using Elmedia Player. It supports hundreds of formats without requiring you to download codecs or updates.