Are you struggling to open M4V files on your Mac but not seeing any results? Today, this article will help you play M4V on your Mac without any hassle. You'll discover effortless options to convert M4V to MP4 on Mac. So, let's explore how to play or convert your video content below.
Elmedia Player - The Best Solution to Play M4V and MP4 Videos Without Losing Quality
You no longer need to worry about converting M4V to MP4 to play iTunes store content on your Mac that comes without Apple FairPlay DRM copyright protection. Just get the Elmedia Player for Mac. It runs both non-DRM-protected Apple's proprietary M4V videos as well as MP4 videos without compromising the content quality and playback features.
Elmedia Player is the best and top-ranked free software for opening non-protected M4V on Mac in the App Store. You can also directly download the app from its official website. This effortless media player offers great cinematic playback quality without putting a strain on your hardware.
It comes with convenient and advanced functionalities like creating and adjusting media playlists. Thus, you can create an organized and easily accessible playlist of M4V files on your Mac and play it when working, studying, or researching online.
Furthermore, you get enhanced audio and video playback support along with better and more accurate subtitle compatibility. You even get the option to automatically fetch closed captions for movies from online portals.
You can, if needed, speed up or reduce the video playback speed or enhance the image quality on the Elmedia app. Also, there are ways to customize the content audio profile and listening experience by using the built-in sound settings and equalizer. Apart from this, Elmedia Player offers advanced video output customization options. These modifications include brightness, saturation, hue, and more qualities to get personalized HD playback.
To capture breathtaking cinematic and panoramic views from videos such as wallpapers, home screen backgrounds, etc., Elmedia Player allows you to take screenshots on the app interface. This feature eliminates the need to pause or exit the movie to use a third-party application for screenshots.
Supported Formats
The application supports a lot of popular audio and video formats such as Audio Video Interleave (AVI,) MPEG-4 Video (MP4,) Windows Media Video (WMV,) DAT, Shockwave Flash (SWF,) DivX, Free Lossless Audio Codec (FLAC,) Advanced Audio Coding (AAC,) MPEG-1 (MPG,) and so on.
Why is there a Need for M4V to MP4 Conversion?
Apple iTunes store allows you to buy Apple DRM-protected M4V videos that don't play on most machines and operating systems. Here comes the need to convert M4V to MP4 format. There are converter apps to transform M4V videos and TV shows into a popular video profile like MP4. Thus, you can play content like iTunes movies on almost any device.
Are MP4 and M4V the Same?
MP4 and M4V aren't the same files. The first one is an open-source video encoding system that most free video files use that is available on the internet. The latter is an advanced MPEG-4 video file only Apple uses to deliver content to iTunes. An authorized Apple iTunes content subscriber can easily play a MPEG-4 Video file on their Apple devices. No other users can copy this iTunes store file and play it on their Apple or non-Apple devices. Find below an easy-to-understand comparison of these two video file containers:
| # | Compared Features | MP4 (MPEG-4) | M4V (MPEG-4 Video by Apple) |
| --- | --- | --- | --- |
| 1 | Organization who developed | Moving Picture Experts Group (MPEG) and later versions by ISO | Apple Inc. |
| 2 | The scope of the video container | MP4 is the universal video container. Almost any device and media player can play this file. | Apple developed M4V on MP4 to enhance its iTunes store revenue. Content delivery to subscribers as M4V prevents unsolicited copying or sharing of content. Apple device owners must buy TV shows and movies from iTunes since M4Vs are DRM protected and can't be shared. |
| 3 | Compatibility | Compatible with any digital device that can play video files, including media player applications and internet browsers | Only suitable for approved Apple devices like MacBook, iMac, iPhone, iPad, iPod, Safari, QuickTime Player, Apple TV, etc. |
| 4 | Supported video codecs | AAC, MPEG-4, H. 264, HEVC, etc. | H.264, Dolby Digital, AAC, etc. |
| 5 | Content restriction algorithm | None | Apple FairPlay DRM copyright protection |
| 6 | Usage | Non-Apple device users mostly use MP4 to playback, share, or upload videos to the internet using the MP4 file type. Even Apple device ecosystem users also use this file type for content sharing and uploading. | Used by Apple on its iTunes store to deliver copy-restricted content to subscribers |
| 7 | Container for | Video, audio, and text | Video and audio |
| 8 | File extension syntax | .m4a, .mp4, .m4b, .m4p, .m4r, and .m4v | .m4v |
Option 1: Select the Best Method to Convert M4V to MP4 on Your Mac or Windows
You can change the file extension from M4V to MP4 using file renaming or the Get Info. That's applicable only for M4V files from personal sources like a video recording from an iPhone or iPad. For other cases, this method won't work. Here, you'll find the following video converters useful:
VLC Media Player
WinX HD Video Converter Deluxe
HandBrake: Open Source Video Transcoder
Method 1: Convert M4V to MP4 with VLC for Free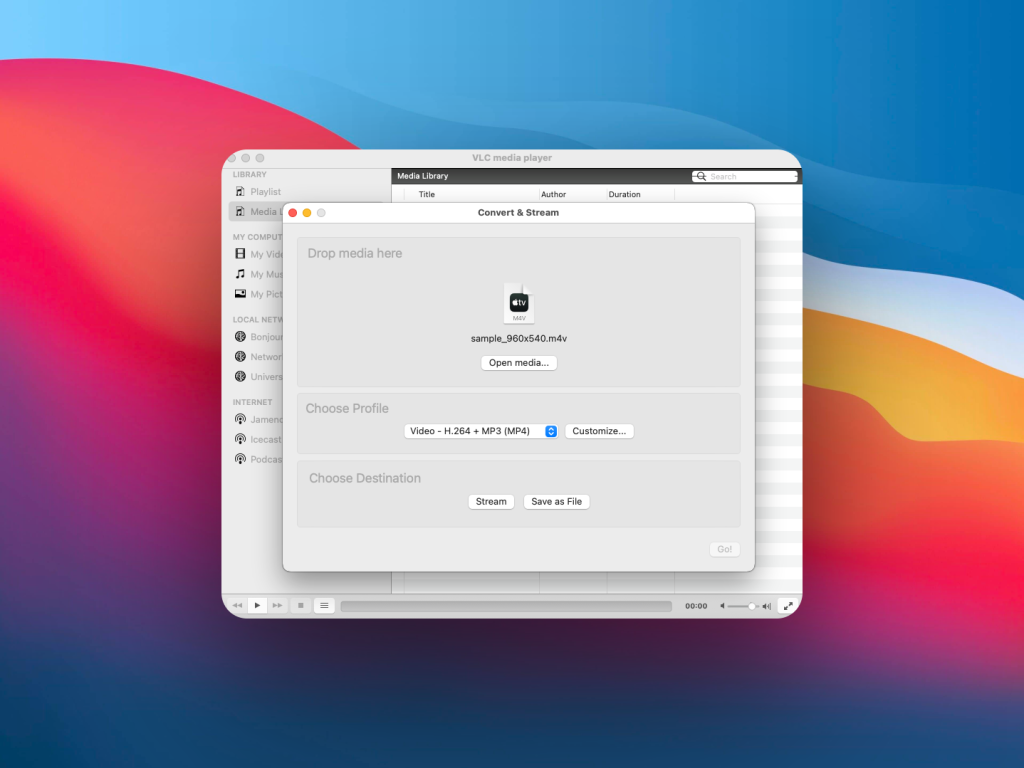 One of the most trusted options to convert M4V to MP4 is the VLC Media Player. It's a free app. The application is available for free for macOS, Windows, Linux, iOS, and Android devices. The Convert & Stream module is the section where you can do conversions of different formats. Its conversion customization options include Video (Codec, Bitrate, Frame Rate), Audio (Codec, Bitrate, Channels, Sample Rate), and Subtitles.
Method 2: Convert iTunes M4V to MP4 with WinX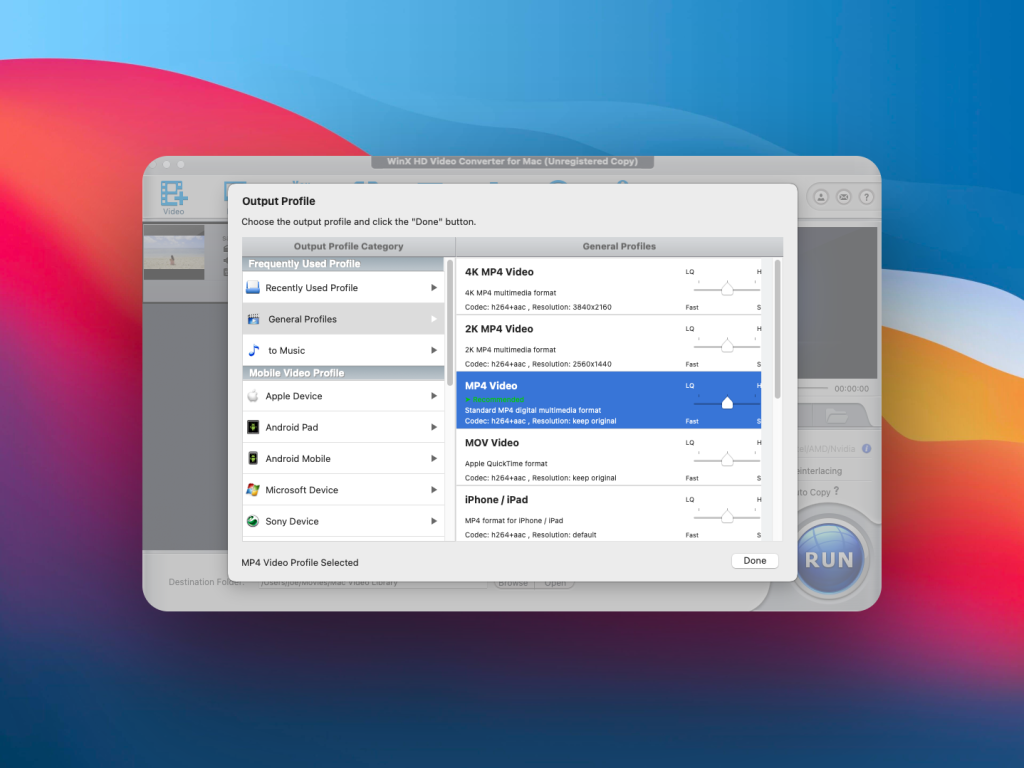 WinX HD Video Converter Deluxe could be your other choice for converting file formats. The software is available as a standalone application for macOS and Windows. It automatically creates a conversion profile as soon as you select a file for changing its extension. There aren't any customizations for the general settings that auto-populate. If you want to modify these, you need to create one from scratch, and that requires advanced tool knowledge. Since it's not a freeware tool, you must buy a paid license that ranges from $29.95 for Premium License to $39.95 for Ultimate License.
Method 3: Convert M4V to MP4 HandBrake for Free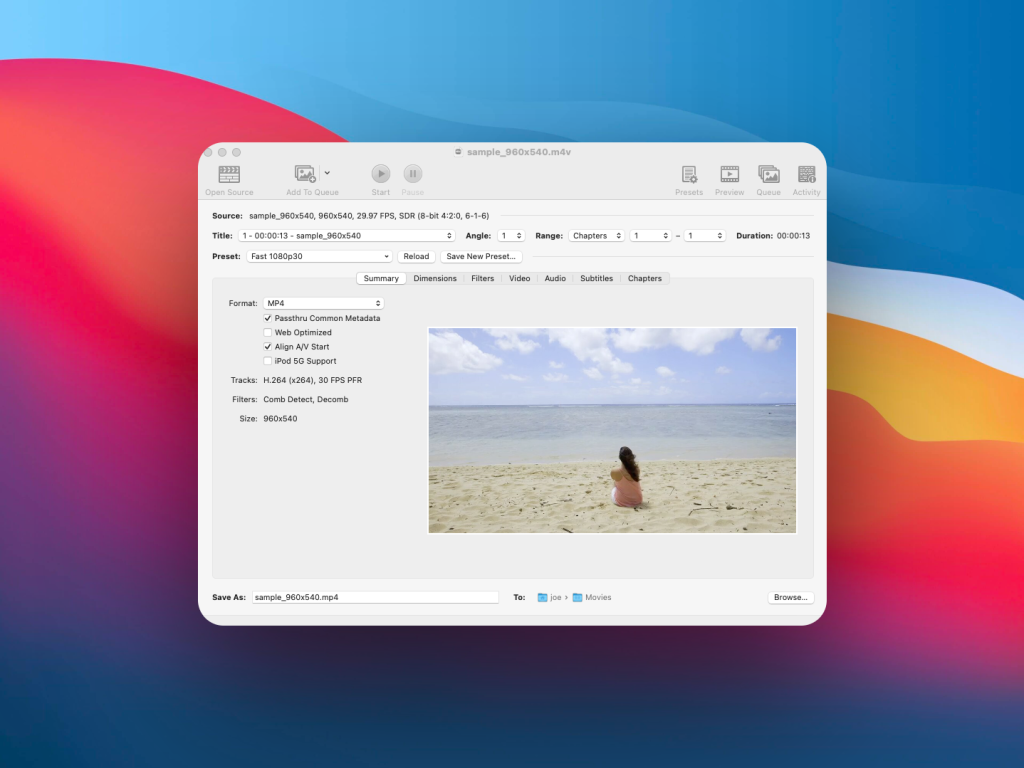 HandBrake is an open-source video conversion tool for Mac. It also works on Windows and Linux-based computers. Since the app comes with an open-source license, it's free for various use cases. However, if you use it for professional or commercial purposes, you must give credit to the developer. It offers extensive customization options in its different menu tabs like Summary, Dimensions, Filters, Video, Audio, Subtitles, and Chapters.
Method 4: Free M4V to MP4 Converters Online
If you don't want to go through app installations, there are plenty of online video converters. Find below the trending web-based tools you must know:
1. CloudConvert Online Service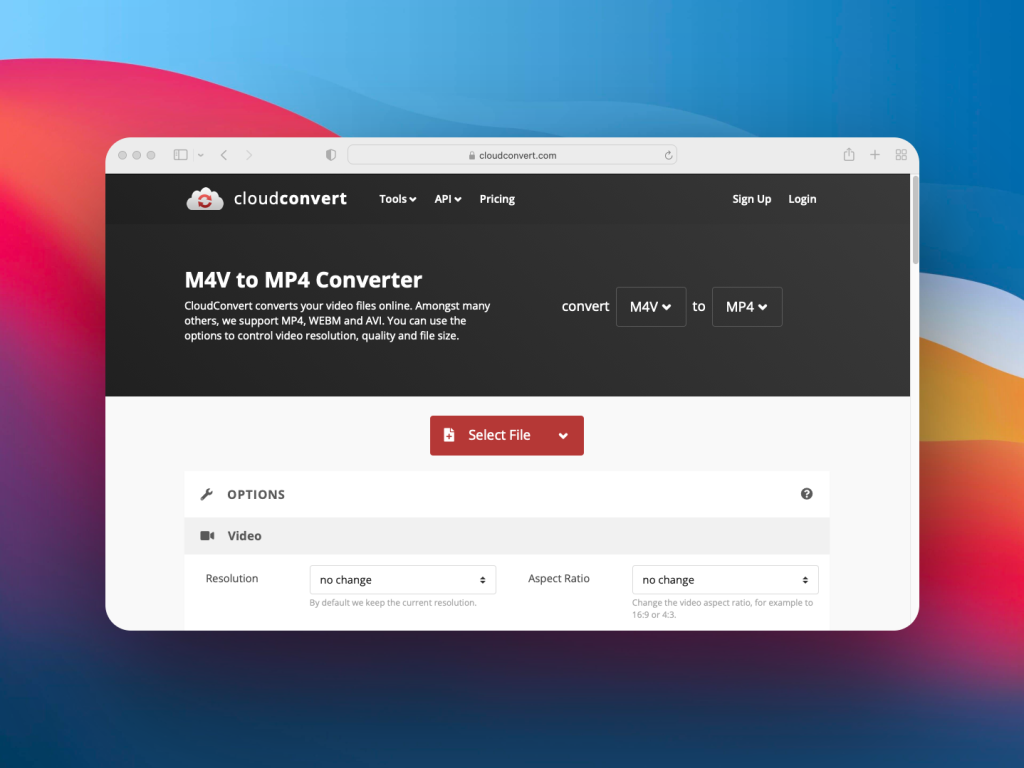 CloudConvert is an online service for video file conversions. Its video profile modifications include video resolution, frame per second (FPS), Audio Codec, Volume, Trim Start and End, Subtitles, Watermark, etc. You can use any web browser like Safari or Google Chrome and access the site from any operating system. To use CloudConvert, you must buy credits and pay for file conversions using this in-app currency. For 1,000 conversion credits, you must pay $17.00 for a one-time package. Alternatively, it'll be $9.00 / month if you choose a monthly payment mode.
2. FreeConvert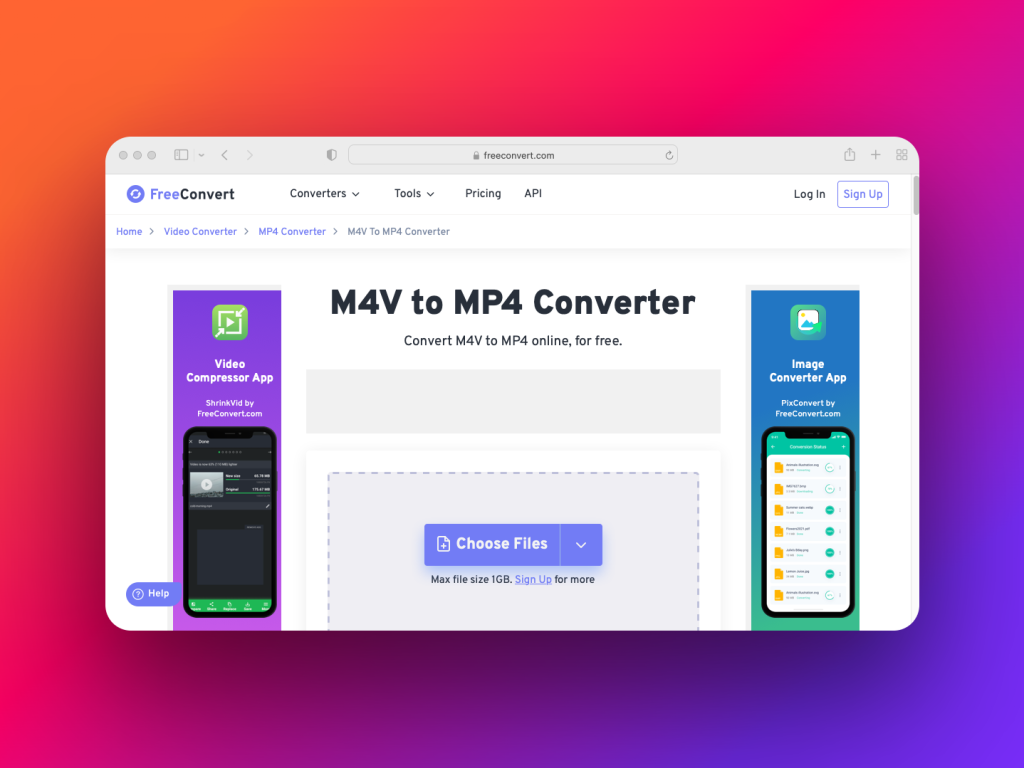 FreeConvert also lets you convert M4V to MP4 using any web browser. You must sign up for a subscription package from various available choices like $9.99 for Basic, $14.99 for Standard, $25.99 for Pro, etc. Its video conversion settings include Video Screen Size, Video Aspect Ratio, Audio Codec, Remove Audio, and a few more. Finally, the tool works on Mac, iPad, iPhone, Windows PC devices, etc.
3. ConvertFiles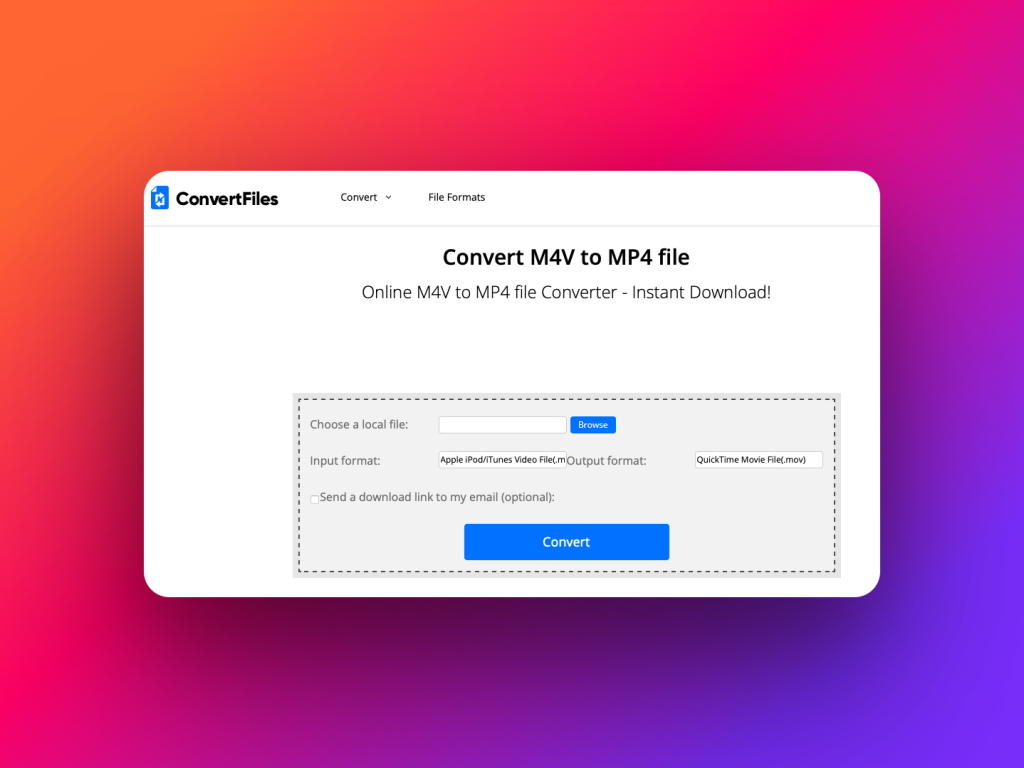 You can use the ConvertFiles web portal for video conversion. This web-based video conversion tool is free and offers instant downloads of converted files. Besides selecting an output MP4 file type, there aren't any custom modification options. Users can send the converted file link to anyone. It works on devices that can run web browsers.
Option 2: Play Videos Simply With No Need of M4V to MP4 Conversion Using Elmedia Player
There are many M4V to MP4 video converters online. You can download some of these on MacBook and iMac for offline use. But, doing so only increases apps on your Mac, slowing down the device. You shouldn't just try every other free media converter on your Mac. When installing random apps, there are unnecessary chances of getting malware. To use these apps effectively, one must learn how all these individual apps work.
Why would you go through all these troubles when you can get a robust Mac media player that can play almost any video and audio? That's right, you don't want to, and you just need the Elmedia Player to play anything whenever you want. With this app, no need to go through the trouble of converting M4V to MP4. Simply play the content, stream to other devices, add to playlists, etc.
Find below the convenience features of the Elmedia Player:
No need to convert, just download and play
You no longer need to search the internet for codecs, Elmedia Player has all of them
The Elmedia Player development team constantly updates the app
Super easy media watching and listening with easy to operate media playback functions
How to Watch M4V Videos with Elmedia Player
Are you wondering how to go about playing M4V files using the Elmedia Player? Follow this step-by-step guide and you'll see how convenient the media player is: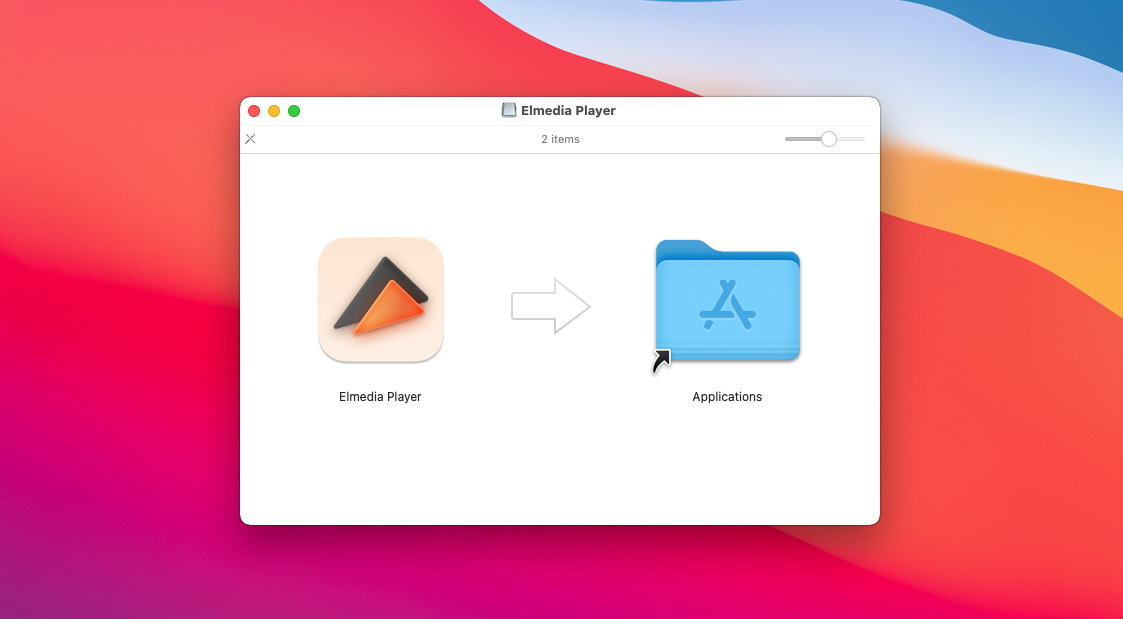 2. Now, install the media player by double-clicking on the downloaded file. If you downloaded it from the Mac App Store, it'll install automatically.
3. From the Dock or Spotlight app, open the Elmedia app.
4. Then, you need to import M4V files on the app by following any of these steps:
Go to the M4V file directory, select it, and drop the file on Elmedia by dragging it.
Also, you can press the Command + O keys on your keyboard to go to the Open media file window that lets you navigate to files.
You can select a file, right-click on it, and click Open With to find Elmedia Player as the default player.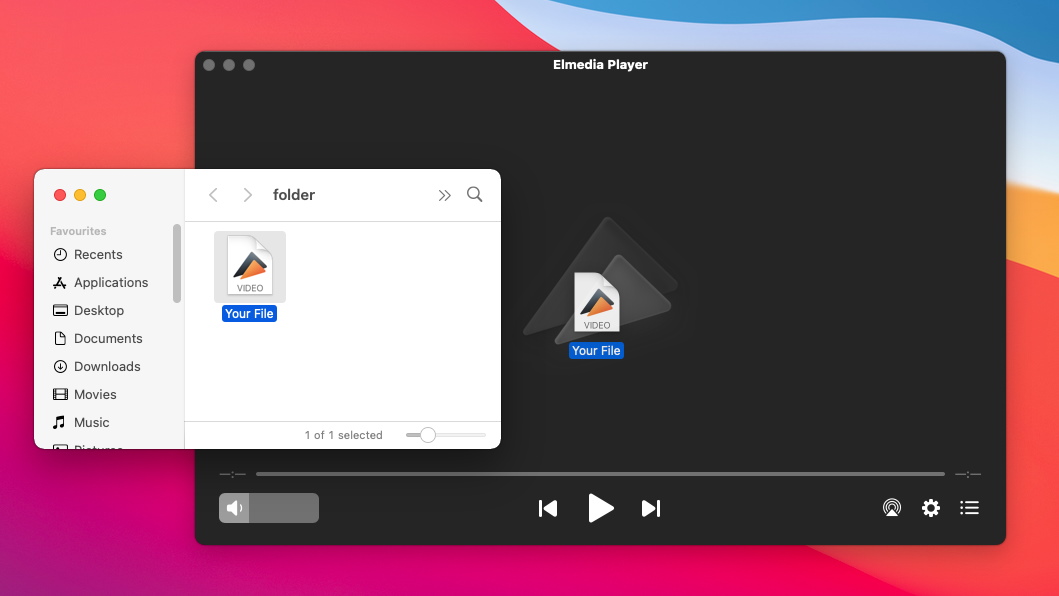 5. Now, you just need to enjoy your favorite TV shows or movies in high-definition M4V format.
Do you want to play M4V on your Mac in a hassle-free way? Install Elmedia Player right now and also learn more about what Elmedia can do with M4V format by clicking the hyperlink.
Elmedia Player's Streaming Feature
Streaming video or audio to a device like Chromecast, Roku, etc., has become the new trend in home entertainment. You can use screen mirroring at the workplace for presentation purposes. To do all these, you don't need to buy and learn another application. Simply use Elmedia Player, as it integrates with Apple AirPlay-enabled devices smoothly.
Find below its outstanding yet convenient Apple AirPlay features:
Third-party device auto-detection on Elmedia Player user interface
The tool supports live content broadcasting via AirPlay
Streams audio files to supported smart speakers
Also sends video resolution, audio settings, subtitles, and other playback modification data to the target device like a Smart TV
It can playback both internal and external audio files
Users can attach custom subtitles when broadcasting using Elmedia Player
Content mirroring program suitable for Intel-based Mac and Apple Silicon (M1 or M2 chips) Mac
Most of the above functions of Elmedia Player, like conversion-less playback of un-restricted iTunes video files in M4V format, iTunes movies, limited live streaming (5 minutes), etc., are available on the free Elmedia Player. However, if you buy the app for a lifetime by just paying $19.99, you get unlimited streaming videos to a Smart TV.
Frequently Asked Questions
No, you don't need to convert AVI to MP4 for playback on a Mac. While this is one of the options you have, it is much easier to download and install a media player capable of playing AVI files, such as Elmedia Player. This makes it super simple to play the file and means you don't risk making a mistake during conversion.
These are similar video containers. The difference lies in the fact that M4V is a proprietary file system of Apple Inc. Apple can inject DRM protection into iTunes content using the M4V file type. Also, since M4V uses only H.264 codec for videos, the file offers better HD properties than its MP4 counterpart.