QuickTime Player comes natively installed on Mac, so you might be thinking it's the perfect solution to play MP4 files. However, you can only play files that have been encoded in a specific way using QuickTime Player, so you may need to look for a third-party media player like Elmedia to play your MP4 files. If you don't want to use a third-party app, you could convert your MP4 files to a playable format that works with QuickTime. However, it's easier to just use a third-party MP4 player.
Why Is MP4 not Playing on Mac?
MP4 files, or MPEG-4 files, are natively compatible with Apple's QuickTime Player. However, that doesn't mean you can use QuickTime Player to play all MP4 files. MP4 files can include various different audio video codecs, and QuickTime is only designed to play MP4 files that have been encoded to meet Joint Video Team (JVT) standards.
That means by default QuickTime Player will only play MP4 video files encoded with MPEG-4 or H.264 video codec and AAC audio codec. If your file's encoding doesn't meet these standards, you'll find that QuickTime Player can't open MP4 as it doesn't have the right codecs to recognize – and play – the files, and you'll see an error message such as "MP4 file not compatible with QuickTime" when you try to open the file. You may also find that your file isn't playing as it's damaged or corrupted. So what can you do if MP4 files are not playing on Mac?
You could use a converter to convert unplayable MP4 files into formats that are compatible with QuickTime player, or apply Mac-supported codecs. Or you could switch to a fully-featured MP4 player for Mac that will play back all your MP4 files, regardless of encoding.
How to Play MP4 on Mac without QuickTime?
Elmedia Player
Elmedia Player is one of the best media players around, and if you're wondering how to open MP4 on Mac, you can do so with this app, as well as playing most other popular audio and video files such as MKV, WMV, MOV, WMA, M4V, DivX, and more. Unlike QuickTime Player, the app can handle a variety of different codecs and container formats, so you won't experience any issues playing back MP4 files.
Elmedia's intuitive interface makes it easy to get started using the player, and it's packed with features such as playlist creation, picture-in-picture mode, streaming via Chromecast, AirPlay, Roku, and DLNA devices, and more. There are several advanced features, too such as speeding up or slowing down movies, watching frame-by-frame, bookmarks, a timeline with preview thumbnails, so you can find the exact moment you want to watch, and subtitles and audio syncing, plus the ability to play multiple MP4 on Mac.
You'll find free and paid versions of the app, with the free version capable of opening and playing back MP4 files on Mac. The Pro version adds more advanced features.
Here's how to open .MP4 files on Mac using Elmedia:
3. There are several different ways to open an MP4 file.
4. You can either drag and drop a file directly onto the player icon in your Mac Dock or drag the file onto the player's window.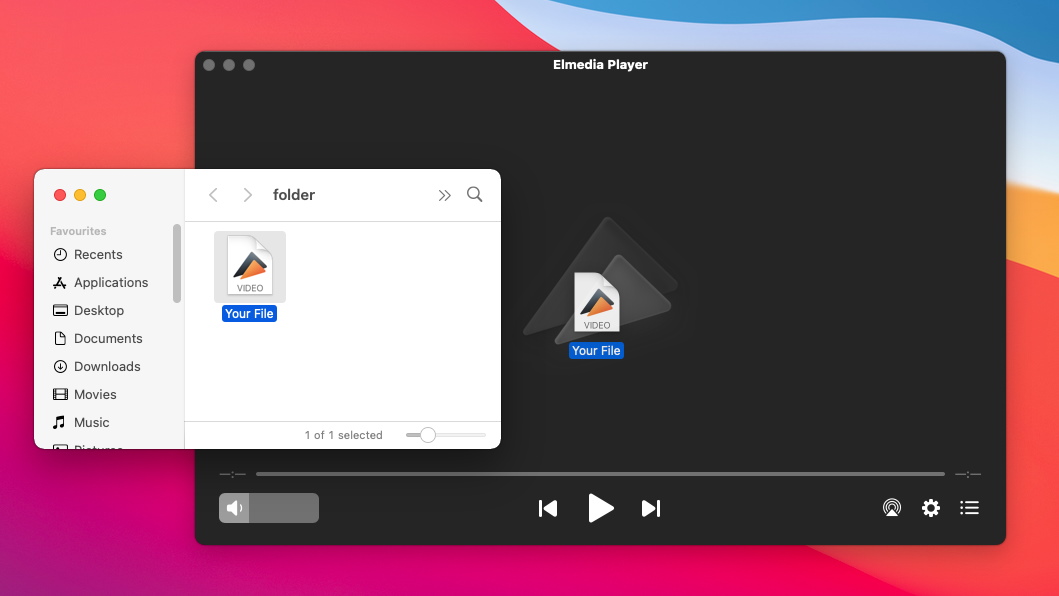 5. Or you can select File > Open from Elmedia's main menu, or right-click the file of your choice and select Open With.
Alternative Video Players to Watch MP4 on Mac
Although Elmedia Player is, in our opinion, the best MP4 player around for macOS, you might be looking for an alternative. There are many different programs to choose from, and here are a few of the most popular players for MP4 movies.
VLC
VLC Media Player is a free, open-source, cross-platform video player that supports almost all formats, including MP4 files. It's packed with advanced features to customize your video and audio playback, offers deinterlacing to improve video quality, and can play MP4 video files up to 8K resolution. You can also play DVDs and audio CDs using the player. The only negative is that VLC's menu isn't the most intuitive for beginners, and finding some of the more advanced features can be tricky.
JustPlay
JustPlay is a free compact video player that supports almost all video and audio formats, including MP4. It supports resolutions up to 8K, offers TouchBar support, and packs a wide range of advanced settings to customize playback, plus deinterlacing to improve video quality.
Movist
Movist is another Elmedia alternative app to play MP4 movies on macOS, with a free and paid version available. This highly customizable player was developed based on FFmpeg and QuickTime decoders, so it should be capable of playing any MP4 file out there. There's a Safari extension for the player, and it packs in a ton of features including streaming from YouTube, the option to use multiple subtitles simultaneously, accelerated decoding with H.265, auto-playlist generation, and more. You can even play videos directly from network servers without downloading (Pro version only).
5KPlayer
5KPlayer is a free media player for Windows and Mac that is also a music player, online downloader, and media streamer. Supporting up to 4K resolution and 360-degree video, 5KPlayer can play MP4 files and a wide range of other formats. It can also play audio files such as MP3, AAC, and more, wirelessly stream video and audio files via AirPlay and DLNA, or download videos from over 300 sites such as Vimeo, YouTube, and others. This media player even has a built-in radio player so you can listen to online radio.
Ways to Convert MP4 Video
If you don't want to use a third-party player to play MP4 video and prefer to stick with QuickTime, you could always use a converter. There are a ton of different converters out there to choose from, but here are a few of the most popular ones.
MacX Video Converter
MacX Video Converter is a video converter for Mac that also allows you to compress files without loss of quality. The software can also be used to download videos from popular sites such as Youtube, Vimeo, and more. It can convert files into over 420 different formats, compress video to save space, or upscale to 4K to improve quality. It also offers screen recording and streaming video capture, and editing options such as cut/rotate/trim, and more. There's no free version, though you can download a free trial.
Wondershare UniConverter
Wondershare UniConverter is an easy-to-use yet powerful video converter that can easily convert MP4 files so you can play them on your Macbook. You can use the app to convert video and audio files to a wide range of formats, edit videos, compress files to save space, burn media to a physical disc, and even carry out batch conversion if you have multiple files to convert. There's a free trial, after which you'll need to purchase the software.
Permute
Permute is a simple media converter for macOS that's a great choice for beginners. It lets you convert video, audio, and image files and supports almost every format, including rare ones. Permute offers a free trial, and its intuitive interface makes it easy to navigate, with drag and drop functionality and super fast conversions. It also comes with device presets for easy conversion.
Advantages and Downsides of MP4
MP4 files have a range of pros and cons, but here are some of the most common ones:
Pros
Quick to encode and good compression ratio
An excellent choice for online streaming
Fast decoding means HD playback is easier
Cons
There are formats with better compression ratio
Limited metadata compared to some other formats
Quality loss when compressed
Supported MP4 Codecs and Types of Apple MPEG
The MP4 container format can hold most codecs, but not all are natively supported or considered "correct". Using other codecs to encode your MP4 may leave you unable to play MP4 video with QuickTime or other natively installed system players. MP4s should contain any of the below:
Video — MPEG-4 Part 10 (H.264) and MPEG-4 Part 2.
Audio — AAC, ALS, SLS, TTSI, MP3, and ALAC.
Subtitles — MPEG-4 Timed Text.
In addition to standard M4A and MP4 file formats, Apple itself owns a few MPEG format variations which are designed to add functionality, increase macOS compatibility, and add DRM. These file types include:
M4P — Audio encrypted by FairPlay Digital Rights Management.
M4B — Audiobooks and podcasts.
M4V — MPEG-4 Visual bitstreams.
Conclusion
We hope this article has helped you realize that playing MP4 files on Mac doesn't have to be complicated, as well as explaining how to open MP4 on Mac and some of the best options to play MP4 video. If in doubt, you can always use the default player on macOS. If you find QuickTime won't play your MP4 file, for whatever reason, you can rely on a third-party app such as Elmedia Player to get the job done.
Frequently Asked Questions
If you can't open .MP4 file on Mac, it may be that your MP4 file has been encoded in a way that isn't compatible with QuickTime, which may mean you'll need to convert your file to a compatible format or use a third-party player to play your file. Or it could be that your file has been damaged or corrupted.
QuickTime is the native player that comes pre-installed on Macs, and you can open most MP4 files on Mac using it, provided they have been encoded in the correct way. If QuickTime player can't open MP4, you can use a third-party player.
MP4 files are natively compatible with QuickTime, but because these types of files can be encoded in different ways, you'll need to ensure any file you want to play has been encoded with MPEG-4 or H.264 video code (and AAC audio codec). If your file uses different encoding, you won't be able to play it with QuickTime.