One of the most popular file formats when it comes to media content is FLV, and when it comes to Mac users, it's been notoriously hard to enjoy this format on macOS. Since the QuickTime player included with the system is not able to run it properly, users are left stranded. Thankfully, there are ways to enjoy your favorite FLV videos and movies with the assistance of an FLV player for Mac. Carry on reading and find out everything you need to know about the file format and how you can play FLV on Mac without much hassle.
Tips on Choosing the Best FLV Video Player for Mac
Nowadays, when it comes to playing FLV videos on Mac there are various things you need to take into account prior to making a choice. No worries though as we have gathered some of the most important things to keep in mind when choosing the best FLV video player for your Mac.
The first thing you should pay attention to when choosing the right software is availability. Make sure that the application is compatible with your Macbook. For example, some tools might not be available for M1 or M2 processors. 
Another useful tip is to pick a well-rounded video player that comes with useful features such as playback control, the ability to add subtitles, an audio equalizer, video enhancement tools, and more. These will ensure that you have the ultimate viewing experience and take control into your own hands.
Make sure that the application you choose has a good design, after all, you will be looking at the user interface and interacting with it most of the time. Although it might not seem like much in the beginning, having an application that respects your time and has an intuitive interface can save you a lot of nerves and improve your watching quality. This is why choosing a stylish and easy-to-use tool will always trump anything else.
The fourth and final piece of advice is to pay attention to the price, but not in a way where you should go with the cheapest option. It's quite the contrary when it comes to choosing the right FLV media player. Some of the best tools you can have that offer the most brilliant watching experience will often be the paid ones. 
Open FLV on Mac with Third-Party Video Players
Fortunately enough, if you are looking to know how to open .flv files on your Mac you've come to the right place. With the helpful aid of third-party video players, you can enjoy your favorite content in this format right on your macOS device. You need a reliable one that comes with features that will make your life easier and watching content a breeze. Take a peek at our list of some of the best third-party video players you can find for your Mac right now.
Elmedia Player
Elmedia Player is the best free software for opening FLV on Mac and comes with compatibility for all of the other popular formats such as MP4, AVI, WMV, SWF, DAT, FLAC, DivX, MPG, and many more. It offers great cinematic quality with little to no strain on your system itself. 
With the functionality of creating and adjusting playlists, you can say goodbye to not having an organized list of your favorite content. More than this, you get full control over playback with enhanced subtitle support and even the ability to automatically download them from the biggest subtitle website. 
Speed up the video, slow it down, or enhance the image with Elmedia Player. You can also tinker around with the sound to get that perfect audiophile experience with the included equalizer and sound settings. This also applies to the video aspect, where you can play with the brightness, hue, saturation, and more to get that crisp HD image you've been looking for.
Last but not least, if you ever see something you like in a movie or video, you can always take a screenshot using the built-in feature in Elmedia Player. Overall, it's the best option when it comes to having the ultimate media-watching experience on your Macbook.
How to use Elmedia Player
1. Download and install the application from the official website. This should not take more than a couple of minutes.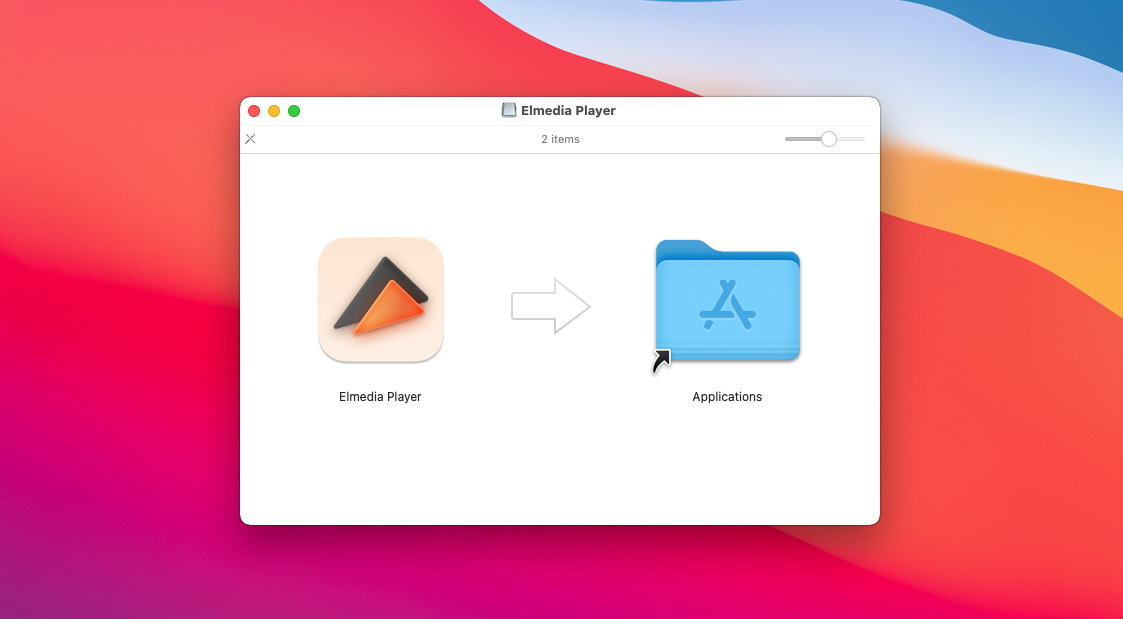 2. Open Elmedia Player and drag and drop your FLV files onto it. This should begin the playback.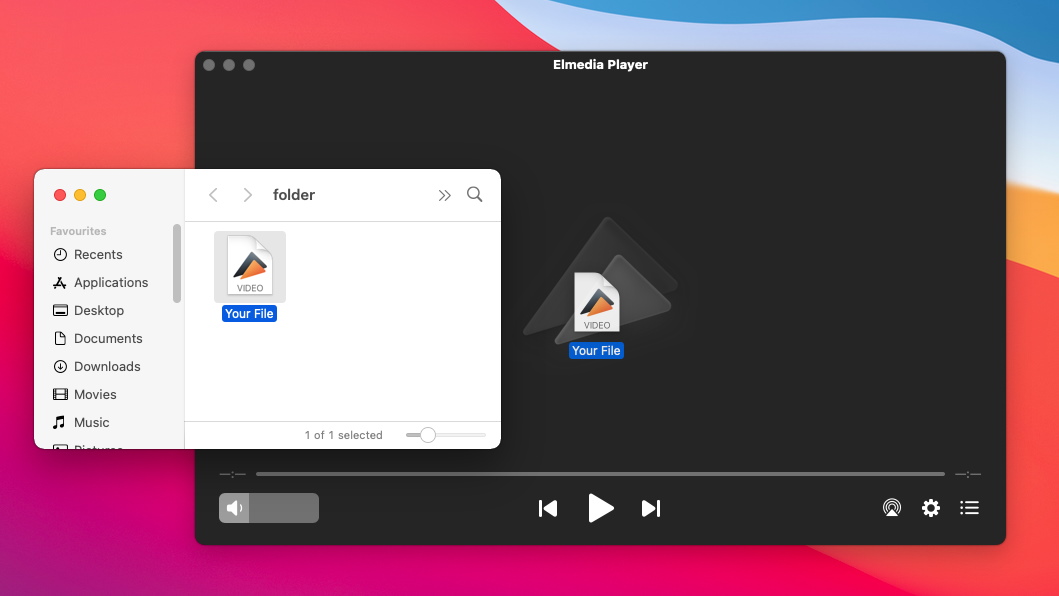 3. Optionally, you can double-click on the FLV files after the application has been installed and it will open the media content in Elmedia Player.
VLC
One of the most popular players out there, VLC is a free software to use that is available on Mac. It comes with support for almost all formats that you could imagine including FLV, MOV, SWF, DivX, DAT, Flac, 3GP, MP4, AVI, and many more. Subtitles can be added.SRT format is supported and many others and can also be customized from the application settings. When it comes to the design, this is where VLC lacks the most, as it sports an outdated design with a user interface that seems clunky at times and hard to use.
Wimpy Player
Wimpy FLV Player is a free media player that can play your desired format on Mac. Other than that, it also has support for MP4, 3GP, and MPEG-4 video formats. Although it may seem outdated at first, Wimpy Player's purpose is to play your videos and that's mostly it. It doesn't come with any flashy features or too much control over your files, but it will get the job done. If you are looking for that sort of media player, you can rely on Wimpy Player.
Convert FLV to Other File Formats
If you are not looking to use any FLV player, you can rely on converting the file from FLV to another friendlier format. Many people have resumed using third-party applications that can convert file types. However, these applications can sometimes have an impact on the quality of the output video. Some users might care a lot about how their content looks, so this is not really the best strategy when it comes to it. If you are looking to change FLV to MP4, you might want to rethink that if you are someone who wants video quality.
Although, with Elmedia Player, you won't have to change FLV to MP4. This is due to the fact that the application is extremely lightweight and can cover all your needs and then more in one simple package. Elmedia is not a simple media player for FLV files, it's the ultimate one for all formats. There's no need to convert your files when they can be played with an excellent media player.
Find the Right Codec to Play FLV on QuickTime
As you are probably aware, the default media player that comes with your Mac does not really support FLV right out of the box. However, through the power of codecs, you can make this a reality and play FLV files through QuickTime. While it might not be the best approach when it comes to enjoying FLV files, it's definitely an option. You can find the codecs online and the installation process might be a bit difficult for some but in the end, you will be able to play flv files with QuickTime Player.
What Is a FLV File?
A FLV file is a Flash-compatible video file that is exported by the Flash Video Exporter plug-in or another program that supports FLV files. It consists of a short header, audio, video, and interleaved metadata packets. The file stores audio and video data in a format similar to that used by standard Flash files (SWF).
More Information on Flash Video Formats
Flash Video Formats have pioneered online media content through the power of Adobe Flash. Whether we are talking about FLV, F4V, or SWF files, all of them have helped revolutionize this area of the internet and bring interesting and entertaining videos to the masses through the power of their browsers. These flash files have been predominantly used during the first part of the 2010s. They are also known as Shockwave Media formats.
Frequently Asked Questions
Unfortunately, while there are workarounds such as converting FLV file to any other format or downloading codecs for QuickTime Player, your Mac does not natively support FLV formats. No worries though, as you can always rely on Elmedia Player to assist with that.
With Elmedia Player you can enjoy FLV files directly on your Mac without any other third-party tools. Simply load and play a video with .flv extension. You even get access to extra features that make it even more entertaining.
Absolutely, Elmedia Player is safe to use on your Mac device. Make sure to download the application from the official website.