MKV is a popular and versatile video file format, which is, unfortunately, not natively supported on Mac devices. So, to get around this, we need to find a solution to play MKV on Mac. The good news is that there are lots of options available, but users may find some solutions prove more suitable than others. So, let's look at the best ways to watch MKV on Mac for hassle-free video playback.
What is an MKV File?
Short for Matroska Video, an MKV file is a multimedia container file that can hold a wide variety of different media data streams such as audio, video, subtitle, and chapter information, in a single file. Unlike other container formats like AVI, an MKV file can be of unlimited size, and their lack of compression allows for higher video quality. All these features have made MKV files the go-to file format for many users for encoding and distributing digital video, and the MKV format is definitely one that Mac owners will want to be able to take advantage of.
Third-Party Apps
As we've seen, Apple's first-party media player struggles with .MKV files, so the easiest solution for users is to select a third-party app that offers native compatibility without the need for extra plugins and updates. When choosing a media player for MKV videos, it's important to pick an app that also offers compatibility with other popular file formats and offers value for money with useful main features and a pleasant experience for users.
Elmedia Player
For a powerful and intuitive all-around media solution that can effortlessly play MKV video files on Mac, look no further than Elmedia Player. As well as MKV, Elmedia Player easily handles a wide range of other popular media formats including AVI, FLV, MP4, MP3, FLAC, AAC, WMV, and more, while letting users fine-tune their AV experience with an excellent EQ function and internal and external subtitle support. 
Playlist creation and online subtitle sourcing are just some of the many useful features available, while Apple AirPlay2 and DLNA-streaming support mean users can cast music and video through Elmedia Player from their MacBook to any compatible device in their media ecosystem. 
Fast, smooth, and a pleasure to use, Elmedia Player guarantees easy MKV playback and more with no plugins or extra downloads required.
How to Play MKV Files With Elmedia Player
2. Open .MKV files with any of the following methods:
Click "File" in the Elmedia Player main menu and open the MKV file from its folder location
Drag and drop the file into the Elmedia Player interface
Right-click on the file in Finder and select Elmedia Player to open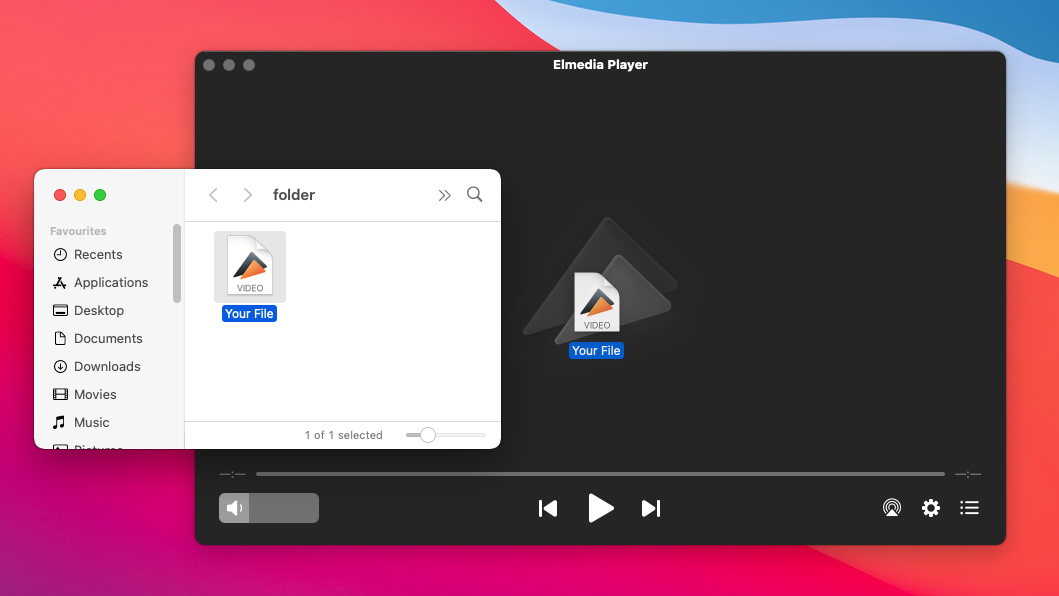 3. That's it! Start watching all your MKV videos right away.
VLC Media Player
Although pretty long in the tooth by now, VLC Media Player is still very popular with users, thanks in no small part to it's free, open-source design and impressive list of customization options. Additionally, it supports playback of a huge number of popular and not-so-popular audio and video formats.
Where VLC shows its age is in the lack of ongoing updates to the base product compared to premium media players, which is why you won't find handy features available like AirPlay and DLNA streaming. The interface can also feel a bit outdated when compared to sleeker, more modern alternatives, and performance on macOS can occasionally be vulnerable to stability issues.
Play MKV Files by Converting into a Compatible File Type
Another methods for playing MKV files on Mac involves using an app to convert the MKV file into a file format that's compatible with Apple's video player.
Apowersoft
Apowersoft is a well-rounded tool for converting videos for Mac that can convert a wide range of audio and video codecs to the user's preferred file format. Apowersoft supports lots of formats, but for users looking to play files on Mac, the most relevant formats for conversion will be those that work with QuickTime like AVI, MP4 and QT. Apowersoft also lets you extract audio-only data from video files into a QuickTime-compatible format like MP3 or AAC. 
Elsewhere, Apowersoft offers various screen capture and online video downloading features, while you can edit videos before conversion, and play your files in Apowersoft's in-built media player. Overall, it's a solid value proposition, but be prepared to pay top-dollar for access to the most powerful features.
HandBrake
HandBrake is an open-source video transcoder app enabling users to convert files such as MKV to those more compatible with Mac devices, and the good news is it's totally free. As well as MKV files, HandBrake can convert files from many other input formats, and even BluRays and DVDs. There are lots of options available for users who want to tweak specific settings for video output, such as filters, subtitles, and chapter breaks, which will be useful if users want to make any changes to the content or play order in their original MKV files. 
However, if you're planning on watching lots of MKV movies, the conversion method isn't the most efficient, as it will take up considerable time and hard drive space since you have to create an extra copy for every MKV file you want to watch.
Movavi Video Converter
Movavi Video Converter is another great option that can convert MKV files into formats compatible with your Apple devices. It also has lots of extra features which make it very easy to use, and let you customize the output format before conversion to get the best result. In addition, Movavi lets users crop, trim and rotate videos, as well as apply various effects such as color correction and split-screen effects.
The downside of this video converter for Mac is that you have to pay quite a bit for access to its full feature set, although there is a free trial available if you want to test out what it offers first. All in all, Movavi provides an effective way of converting MKV files, so they are compatible with Macs, and it's worth considering if you're willing to pay for the extra features.
Popular Workaround in The Past
QuickTime Player is the native media player that comes preinstalled on all Mac devices. Unfortunately, the vanilla QuickTime software doesn't support MKV files. One of the popular yet no longer working methods to make the default player play MKV files was installing a plugin called Perian that enabled format compatibility. 
The Perian plugin allowed the QuickTime player to run MKV files, along with other formats not supported by the base QuickTime and also added extra features such as subtitle support. However, it is worth mentioning that Perian is only compatible with QuickTime up to version 7.6.6, and is not supported by QuickTime 10. Both support and development of the plugin have been stopped by the developers.
The Bottom Line
MKV is one of the most widely used container formats for enjoying high-quality video, so any Mac user will want a hassle-free solution for playing them. While video conversion has its uses, it's not the easiest solution for anyone who wants to quickly open MKV files on Mac. 
We would suggest a third-party media player app, and one of the best around could certainly be Elmedia Player, as it offers native support for many other file formats as well as MKV and is packed with useful features. It makes the perfect replacement for QuickTime player, allowing Mac users to get the best out of the MKV format with a minimum of fuss.
Frequently Asked Questions
QuickTime is the default media player that comes with Mac devices, but it doesn't support the MKV codec. You need to download a Mac app like Elmedia Player that offers native support for MKV playback.
To convert MKV to MP4 soon Mac, you need to download a video converter app like HandBrake or Apowersoft. Converting an MKV file to MP4 means you can watch it in QuickTime Player and other media players that aren't compatible with MKV, although this method is not particularly efficient.
If you have QuickTime 7.6.6, you can install a plugin called Perian that enables MKV compatibility. However, this doesn't work with later versions like QuickTime 10, so it's easier to use a third-party app such as Elmedia Player that handles MKV files without the need for extra plugins or extensions.