VLC Player is one of the most widely used free media players available, but many users have reported problems trying to use it to play videos in the popular MKV format. Audio issues, stuttering, and blank screens are some of the playback problems commonly encountered. So let's troubleshoot some of these difficulties and discover the most effective fixes and alternative solutions to allow hassle-free MKV playback.
Does VLC play MKV files?
VLC is an open-source media player that's found a large following of enthusiastic users thanks to its versatility and cross-platform availability on most mobile and desktop operating systems. In theory, it should play most media file formats, including AVI and MP4, as well as MKV.
MKV, short for Matroska Video file format, is a media file container format similar to AVI and MP4 that can hold video, image, audio, and subtitle data in a single file. While MP4 might be more commonly used, MKV has an advantage since it can contain multiple audio and subtitle tracks for a single high-definition video. This means you can play an MKV file in VLC and then choose your preferred langue from a range of different options. Additionally, MKV supports the FLAC audio codec so that you can encode audio tracks at the highest lossless compression for superior sound quality.
While VLC Player should theoretically be able to handle the MKV format, there is a range of playback issues that users can potentially encounter.
Common Issues Playing MKV in VLC
Black Screen
Sometimes playing an MKV video file in VLC will result in a lack of video image while audio keeps playing.
No Sound
Playing an MKV file results in video playback without audio.
Stuttering Video
Playback results in choppy or pixellated MKV video with missing frames, image distortion, or crashing.
Skipping Files
Playback results in stuttering run time and missing sections of the video due to the MKV file lagging in VLC.
Unidentified Codec Error
Attempting to play MKV videos may result in the error message "Unidentified codec: VLC could not identify the audio or video codec" and the file failing to load.
Causes of Errors Playing MKV in VLC
Missing Codecs
While VLC Player should be able to play the MKV container format, the app may not be compatible with the audio or video codecs within the MKV file itself that compress the audio and video data necessary for playback. If the application can't handle the codecs in your MKV file, its usefulness as a media player becomes severely limited.
Conflicting VLC Settings
Your current settings configuration may be causing a hardware or driver conflict that results in the MKV file not playing in VLC. Without changing the settings inside the Preferences menu, you're not going to fix the problem.
Misconfigured Audio and Video Codec Settings
The settings under the "Input/ Codecs" section of the Preferences menu in settings may be causing errors in playback or not allowing the file to play at all.
Outdated Version of VLC Player
Older versions of VLC won't play MKV files and other newer formats without you downloading and installing an updated version of the app. Even then, having the latest version of the software doesn't always guarantee that it'll work with all your media files.
MKV File is Corrupted
VLC can't play MKV files that are corrupt or broken until they're repaired. Of course, some files may be irreparably corrupted, and you'll have to find a backup or alternative copy elsewhere.
Proven Solutions for Fixing MKV Videos Not Playing in VLC
Convert MKV Files to a Compatible Format
While MKV is a popular file format, it's not as widely supported as other file containers, so using a file converter app like HandBrake to convert MKV files into the AVI or MP4 format may make them compatible with your current media player. The downside of this approach is that converting every file you want to watch is time-consuming and takes up a lot of disk space and operating power, so it's worth looking at some more lightweight alternative solutions to the problem.
Repair Corrupted MKV Files
VLC actually has an in-built feature to help reconstruct damaged or corrupted file data. To activate this feature:
Select "Preferences" from the Tools menu in the dialog window
Navigate to "Input/ Codecs"
3. Next to the option "Damaged or incomplete AVI file," select "Always Fix"
4. Click on "Save" to save your changes
While this won't guarantee an MKV is repaired, it's worth trying before looking at further measures.
Change Input/ Codecs Settings
In "Preferences," click on the "Input/ Codecs" sub-menu. To access some of the settings we want to change, you'll need to select "All" under the "Show settings" option at the bottom left of the menu. In the "Input/ Codecs" menu, navigate to the "File caching (ms)" option under "Advanced" and set the value to "1000", then save your changes. This may fix problems with MKV videos stuttering.
Configure Audio & Video Output Settings
While unlikely, it's worth checking to make sure that both audio and video are enabled if you're experiencing a black screen or lack of sound. Navigate to "Audio" in "Preferences" and make sure the box marked "Enable audio" is ticked, then do the same in the "Video" menu if VLC is not playing video only audio.
Turn Off Hardware Acceleration
While hardware acceleration should provide a better performance, sometimes activating it means that VLC stops playing MKV videos. In the simple mode of "Preferences," navigate to "Input/ Codecs," and in the "Hardware-accelerated decoding" option, select "Disable" and save changes.
Update Your Version of VLC
If you're using an older version of VLC, this might be causing conflicts trying to play MKV files containing newer codecs. Uninstall your current version of the software, then download and install the latest one.
Find a VLC Alternative
If you're struggling to play MKV and other media files on VLC, it might be the right time to consider switching to a newer video and audio player that provides guaranteed compatibility and access to premium features that the VLC player doesn't support.
The Best Solution for Playing MKV Media Files on Mac
While VLC Player is an adequate freeware media player, it's beginning to show its age through its slightly dated interface and lack of advanced utilities. With newer media players, users can enjoy more reliable file support and up-to-date compatibility while taking advantage of the latest features like streaming to AirPlay and other DLNA-enabled devices.
Elmedia Player is an outstanding media player that combines reliability and lightweight design with a rich feature set and attractive user interface. With Elmedia, there's no need for converting files or downloading third-party codecs to watch MKV files, thanks to native compatibility with the newest and most widely-used file formats like AVI, MP4, WMV, FLAC, DivX, and, of course, MKV. This means no more worrying about black screens, choppy playback, or audio suddenly cutting out during videos.
There are also equalizers and custom playlists available, allowing you to fine-tune your playback experience and enjoy the high-definition video to your preferences. Elsewhere, there's subtitle support and a feature that even sources online subtitles for whatever you're watching. Users can also access premium features like streaming to AirPlay and Chromecast. Not to mention, the developers of Elmedia Player are continuing to update and refine the app, meaning you won't have to worry about long-term compatibility with newer file formats moving forward.
Overall, Elmedia Player is an excellent app with a strong range of powerful features that makes it quick and stress-free to play MKV videos with zero hassle.
Steps for Playing MKV Files With Elmedia Player
Getting up and running with Elmedia Player is easy, with no need for extra apps or codec packs. Just follow these simple steps:
2. Install and launch the Elmedia Player app, then launch your media files.
You can play files by dragging them into the Elmedia Player window, right-clicking on the file and selecting "Play with Elmedia Player," or search for the file in Elmedia Player itself.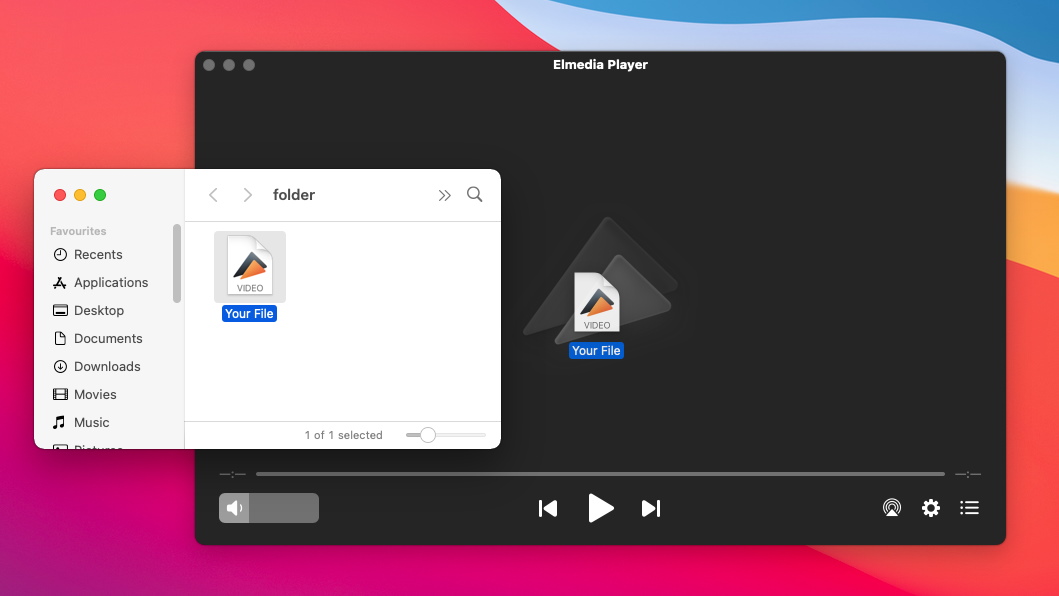 3. And that's all.
You're now enjoying perfect HD playback of your favorite media with just a few clicks.
With Elmedia Player for Mac, MKV playback issues will be a thing of the past. Why not check out the other great features on offer and find out why Elmedia Player could just be your new favorite media player for Mac?
Frequently Asked Questions
While the MKV format should be supported by VLC Player, the audio and video codecs within the video file itself may not be compatible with your currently installed version of VLC, or your settings are causing the video to error.
If you're having trouble playing MKV files on Mac, one option is to convert the file to a different format like MP4 or AVI. However, a better choice would be to select a media player with native MKV compatibility, such as Elmedia Player.