Ever wondered whether your media app might be leaving your device vulnerable to security breaches? Even as we use these apps on a daily basis, there remains the possibility that video and audio players can be exploited through a single critical flaw for the delivery of viruses and other malware to unsuspecting users.
These threats can come from opening malware files through a player, but they can also exist as security loopholes in the software itself or disguise themselves as codecs that need installing to play a media file format.
Therefore, it's vital that users educate themselves on how to choose a safe video player and understand the factors that can impact their device's security.
Consider Whether a Video Player Meets Security Requirements Such as:
Site security: is the site where you download the media app secure, and could hacks clone a download server to distribute malware through compromised downloads?
Updates: is the media app subject to regular security reviews and updates from developers to help secure it from any weak points that might emerge in the app, and will they respond to security threats in a timely manner?
App security: is the app itself safe to run on your device, and is there a danger of an app exposing you to trackers, non-essential code, or unwanted third-party software?
A popular and powerful media app enjoyed by a large number of users, Elmedia Player has a reputation for excellence in security. However, even with such a good track record, the app was not immune from security vulnerabilities. In 2017, Vice reported that the antivirus firm ESET discovered a vulnerability for a trojan virus for macOS known as Proton in the installer for the free version of the program available on the Eltima website, as well as the installer for the developer Eltima's download manager Folx.
Elmedia Player's developers worked quickly in concert with the App Store and ESET to fix the problem, and the company reported that the site and apps were fully secure within 48 hours. A productivity service Setapp independently checked Elmedia's safety and security and confirmed it was safe to use again.
Since then, there have been no more reported instances of security breaches within any Eltima products, thanks in no small part to ongoing updates to the company's products that, as well as improving functionality, help maintain the highest standards of security within their apps.
Play Media Files Securely and Safely on Mac With Elmedia Player
For robust security combined with a comprehensive feature set, Elmedia Player is a convenient player for Mac that's easy to recommend. It handles a wide range of the most popular media formats right out of the box, without the need for extra codecs or additional plugins, which means fewer potential security risks for users.
Elmedia Player is compatible with all the newest and most popular file formats, including MP4, MKV, MOV, and more, so there's no need to convert videos to appropriate formats, as Elmedia Player offers a broad range of native compatibility.
Elsewhere, useful features include sound and picture tuning and customizable playlists to help you personalize your playback experience. The Elmedia PRO Player enables automatic subtitle searching for videos, letting you source subtitles through the player for whatever you're watching in your preferred languages.
As we've mentioned, today's users will have no security concerns with Elmedia Player thanks to the Elmedia team providing constant updates that both improve functionality and performance to ensure that security features are as up-to-date as possible so the app is always safe to use.
If you want to play media with subtitles on Mac with complete ease and the peace of mind that your app is secure, look no further than Elmedia Player and install it through these simple steps:
2. Install the app and launch Elmedia Player, then open your media files
You can open files by dragging them into the Elmedia Player window, right-clicking on the file and selecting "Play with Elmedia Player," or by searching for the file in Elmedia Player itself.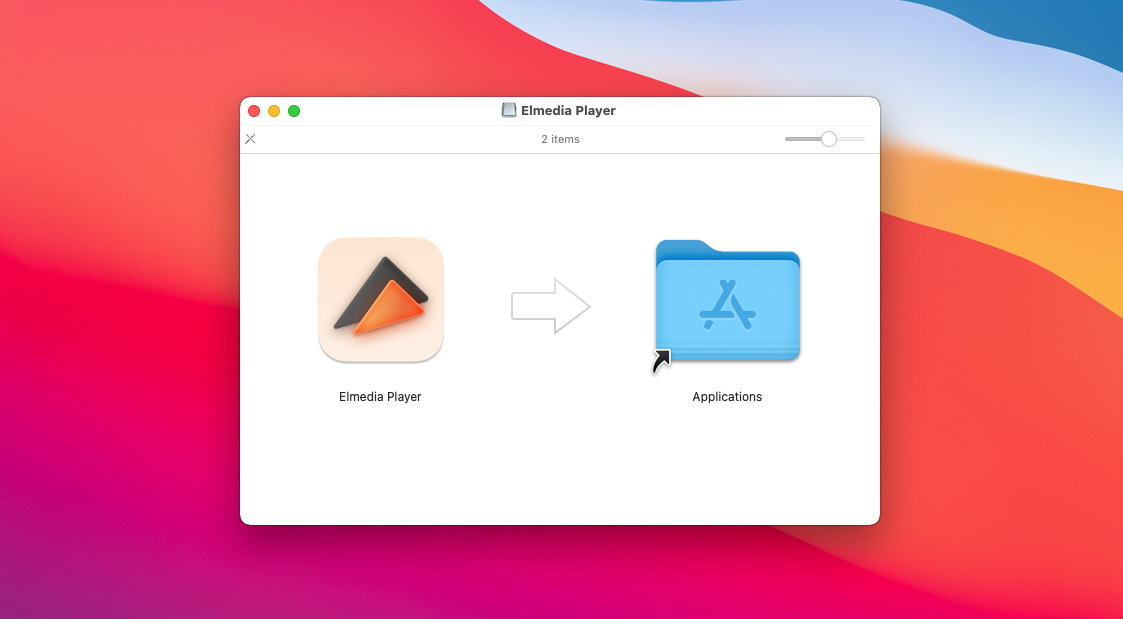 3. That's it!
Enjoy secure playback of all your media files.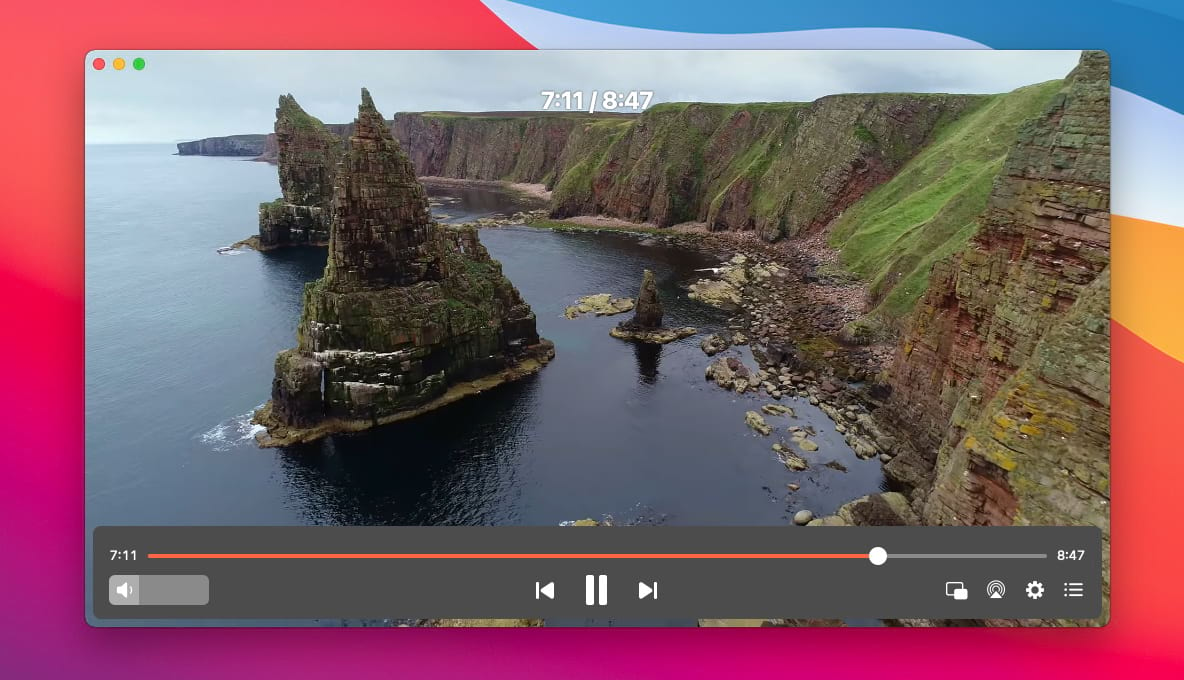 Are Other Video Players for Mac Safe?
Many of the most popular audio and video player apps have suffered security breaches over the years, so let's consider whether some of the most widely used are safe or not.
Is VLC Media Player Safe?
The hugely popular open-source VLC Player has been downloaded more than a billion times, so of course, it attracts those looking to exploit its popularity to spread malware. However, one benefit of VLC's age is that there's been plenty of time to reinforce the software's security, and as such, VLC is quite resilient to viruses and other malware in its current incarnation, while ongoing updates continue to minimize the risk of security loopholes. That said, reports did emerge last year alleging that hacker groups based in China were trying to distribute malware through VLC Media Player.
At the moment, you're most likely to contract malware from VLC by downloading a bogus installer file from a suspicious source, so the answer is to always go to the official VLC website, where it's safe to download and install the app.
Is 5KPlayer Safe?
5KPlayer is safe to run if you download it from the official site. However, many users report that 5KPlayer can be a tricky program to run due to the fact that it automatically runs in the background at all times without user consent and that many users are met with an error message that "App is open – can't uninstall" when attempting to remove the app from their devices. Additionally, 5KPlayer is very heavily laden with ad popups.
5KPlayer is legit and safe to download from the official site, and it's up to users to decide whether dealing with popups is a price worth paying to use the app.
Is QuickTime Player Safe?
As the official macOS video player developed by Apple, QuickTime Player is very secure and won't pose any security risks for Mac users. On the other hand, QuickTime for Windows OS hasn't seen security updates since 2017, when Apple announced that they were withdrawing support for the Windows version. For this reason, we'd recommend looking elsewhere for a safe media player for Windows OS, as any security exploits discovered since won't have been fixed.
Is PotPlayer Safe?
Is Daum PotPlayer safe to use? In a word, no. While earlier builds of PotPlayer received very positive reviews, users have recently been reporting that PotPlayer has started linking to intrusive third-party ads and bundled installers that attempt to add extra software like web browsers and antivirus programs onto people's devices during the PotPlayer installation process.
Along with the data tracking capability of such an app, the overall verdict would be to look elsewhere for a media app with less intrusive behavior that could potentially leave you vulnerable to unwanted or malicious software.
Final Thoughts
Since video players are so popular, they'll always be a target for anyone attempting to distribute malware to unknowing users. Unfortunately, many media apps use intrusive ads and trackers that further complicate security risks for anyone trying to use them. Users are then left to decide between official media apps like QuickTime, which are safe but don't have many features, or open-source shareware video apps like VLC.
The best option, however, is to choose a premium safe media player for Mac like Elmedia Player that enjoys ongoing support to ensure security exploits get fixed quickly so that the app stays one step ahead of the hackers at all times. Why settle for an app that leaves your device vulnerable when Elmedia Player offers top-notch security and an impressive set of features in the bargain?
Frequently Asked Questions
For a free app, VLC has decent security. However, it doesn't enjoy the dedicated support from developers in the same way that many premium media players do, so more secure media apps are available elsewhere.
QuickTime Player on Mac is very secure, being that it's a first-party app. QuickTime Player for Windows OS, however, hasn't had any security updates since 2017, so will be far more vulnerable to exploits from malware.
Elmedia Player is currently a completely safe and secure app to download and use. It has only reported one security breach in 2017, which was rapidly fixed, and since then, no further issues have emerged.