VLC Media Player is undoubtedly one of the most user-friendly players on the market, but when it comes to subtitles, you may often run into problems. This can be frustrating if you rely on them to understand videos.
There are many reasons why subtitles in VLC may not be showing or working properly. Oftentimes, it's because the file is corrupted, and you have to re-download it.
In this article, we'll explain all the possible reasons why you're facing subtitles issues in VLC and what you can do to fix them.
Why are Subtitles Not Showing in VLC and Not Working Correctly?
A corrupted or incompatible subtitle file is one of the most common reasons external or hardcode subtitles don't show or work correctly in VLC. There are many more, though, and before we start fixing things, it's important to know why they happen.
It's common to see users complaining about VLC subtitles on the VideoLAN Forum.
Let's take a more detailed look at some of the most common reasons why subtitles won't show or work in VLC:
Corrupted subtitle file – If you couldn't download the file properly due to network issues, it may be corrupted or damaged.
The subtitle's file name doesn't match the video's – If the subtitle file is named incorrectly or doesn't have the same name as the video file, VLC may not be able to automatically locate it for you.
Subtitles are disabled in the settings – Sometimes, subtitles will be disabled in the VLC settings, preventing them from showing in the video.
Subtitle doesn't use UTF-8 encoding – UTF-8 is the most commonly used encoding for subtitles, and if your subtitle file doesn't use it, it may not work properly.
VLC may be experiencing bugs – VLC is prone to bugs which can sometimes affect how it shows subtitles.
The VLC version is outdated – If the version of your VLC player is outdated, it may not be able to support the latest subtitle formats or have unresolved bugs.
How to Solve VLC Subtitles Not Working
As the old adage goes, there's a solution for everything. All the problems listed above have simple fixes that you can easily implement in a few simple steps. We've described below all the possible solutions to problems related to subtitles not showing or working in VLC.
Reason #1: VLC Subtitles Not Showing
First, let's take a look at what you need to do if the subtitles aren't showing in VLC.
Solution 1: Subtitle File is Corrupted or Empty
Subtitle files can become corrupted if they're not downloaded properly.
The best solution is just to redownload the file and make sure your Internet doesn't cause any problems while the file is downloading.
If you download a subtitle file while experiencing network issues, it'll either end up being damaged or be downloaded as an empty file.
In either case, you won't be able to see subtitle text in VLC, and sometimes it'll just appear as gibberish
Solution 2: The Subtitle File Should Match Videos' Filename
VLC player often automatically locates subtitle files if their names match the video files' names. If the SRT file title differs from the video file name and they're located in separate folders, VLC won't be able to display the subtitles.
To fix this problem, just rename the subtitle file and make sure it matches the name of the video. For example, if the name of the video file is "movie1.avi," the name of the subtitle file should be "movie1.srt".
Solution 3: VLC Subtitle File Format is Incompatible
VLC is quite versatile when it comes to subtitles. It supports many formats, such as SRT, ASS, and SSA, but some may not work properly.
If your subtitle file is in an incompatible format, you'd have to re-download it in the correct format supported by VLC.
Solution 4: Convert the SRT File to UTF-8
You have to make sure the subtitle file with the SRT extension is encoded in UTF-8. Here's how you can check:
1. Make a secondary click on Mac on the SRT file and open it with Notepad or TextEdit.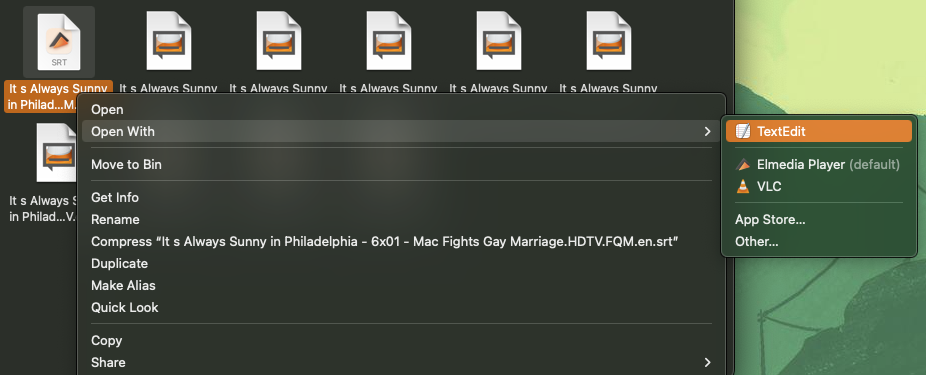 2. If you see strange characters and symbols, it usually means the SRT file wasn't encoded in UTF-8.
3. Open any online UTF-8 converter. For this guide, we'll use Subtitle Tools.
5. Click on Convert to UTF-8.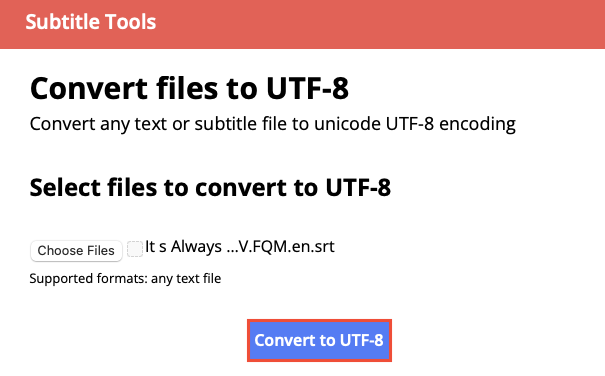 6. Once it's finished converting, download and save it in the same folder as the video.
Solution 5: Load a Subtitle File Manually to VLC Player
In case VLC can't load the subtitle file, and you're not in the mood to rename it, there's a way to open it manually in the player. Here's how:
1. Play your video in VLC.
2. In the menu bar, go to Subtitles > Add Subtitle File.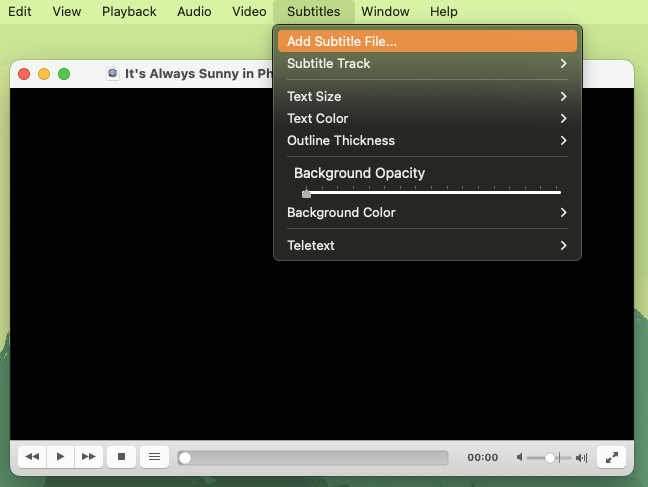 3. Locate and highlight the subtitle file, and click on Open.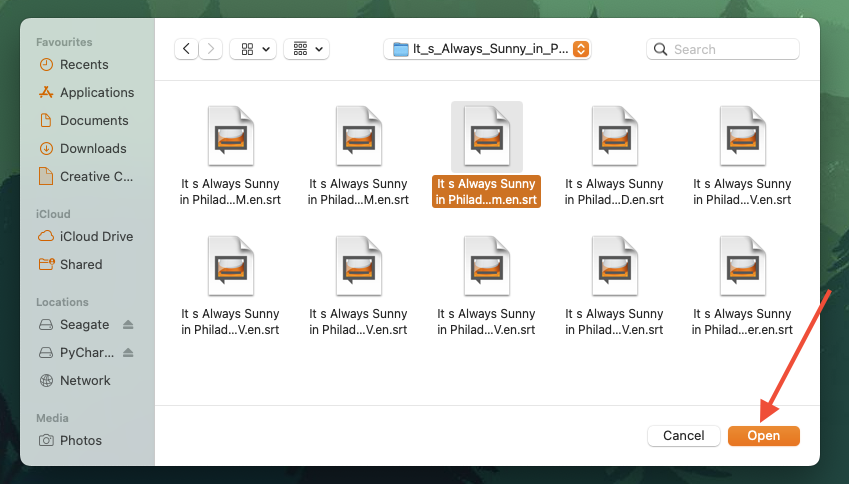 Solution 6: Disable and Enable Subtitles Again
VLC not displaying subtitles often happens if you've accidentally disabled them in the settings. Here's how you can change it:
1. Play any video in VLC.
2. Click VLC Media Player in the menu bar and go to Preferences > Subtitles/OSD.
3. Check the box next to "Enable OSD."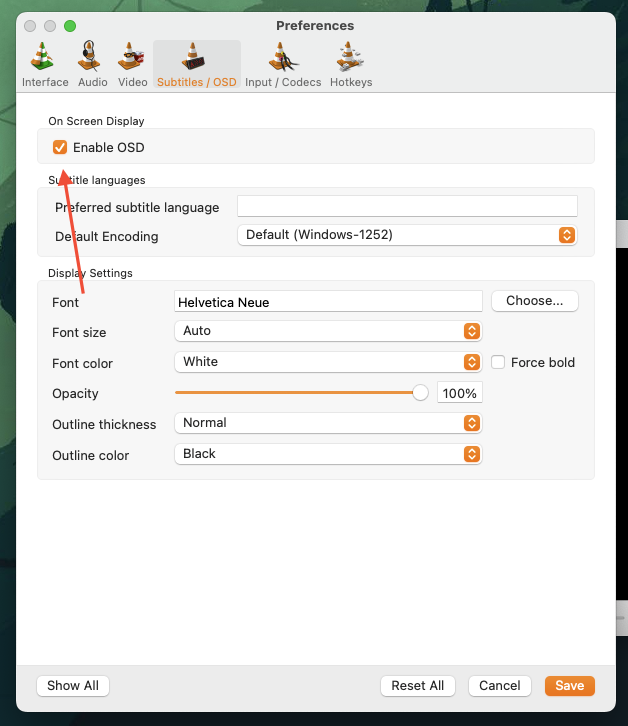 4. Click on Show All to see more advanced options, and go to Video > Subtitles/OSD.
5. In the field next to "Force subtitle position," enter 0.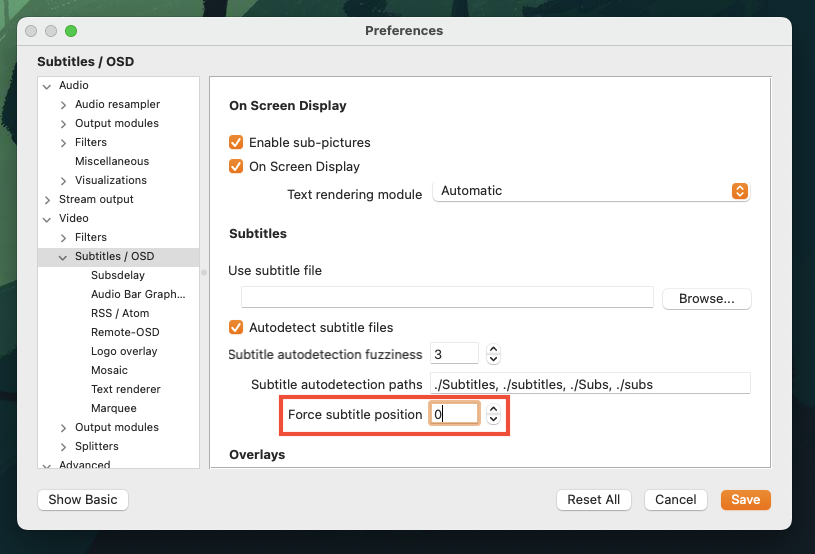 7. After you've added the subtitle file, click on Subtitles in the menu bar.
8. Click on Subtitles Track and make sure the subtitle file is selected.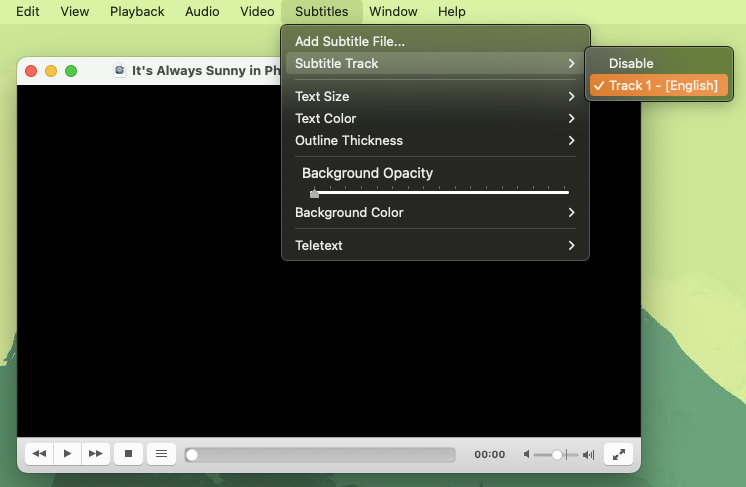 Solution 7: Reset VLC Player
If nothing works, your last resort should be to reset the application.
1. Click on VLC Media Player in the menu bar and go to Preferences.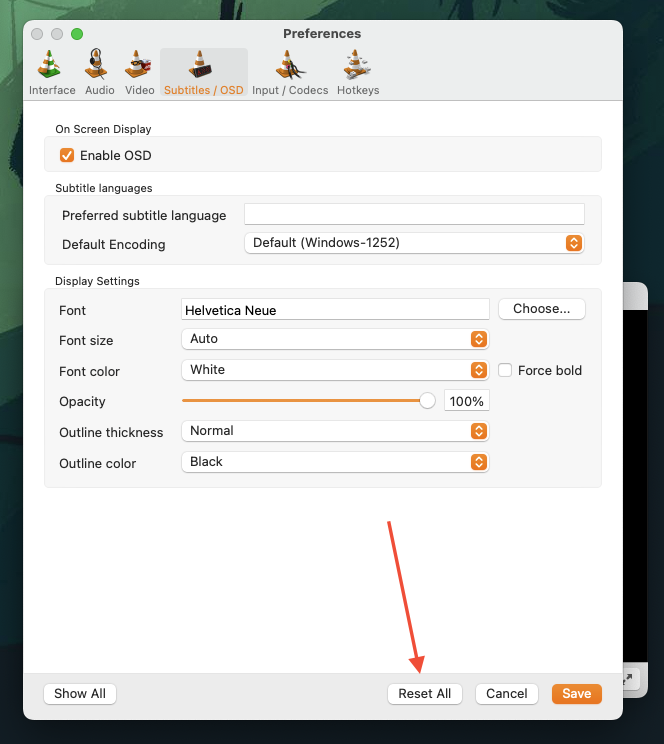 3. A confirmation box will pop up. Click on Continue.
Don't forget to add subtitles in VLC manually after it restarts!
Reason #2: VLC Download Subtitles Not Working
If you've tried all of the solutions above and you still can't get the subtitles to work, there are a few additional steps you can take to fix the issue.
Solution 1: Update VLC to the Latest Version
2. In the menu bar, click on VLC media player and then Check for Update.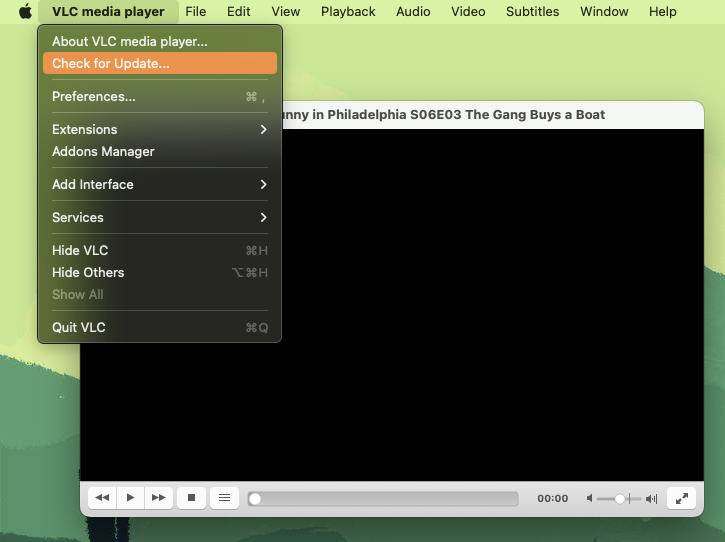 3. If there are any updates available, it'll ask you to download them. If not, you'll get a message saying you're up-to-date. Click on OK.
Updating to the latest version will help if VLC subtitles are not working. Make sure you add subtitles in the VLC's subtitle settings after you're done updating. If the names of the subtitle and videos are the same, VLC will automatically load them.
Solution 2: Try Subtitles Download Sites
If the subtitled video still refuses to work after you've tried every solution, it's time to download a different subtitle file. There are many subtitle download sites where you can easily find files for any video.
OpenSubtitles is a popular site that lets you download subtitles for free. If the file works, then you'll know for certain that the previous file was corrupted or damaged, and there's nothing wrong with the VLC software.
Reason #3: VLC Subtitles Out of Sync
Sometimes, the subtitles will work, but they won't be properly synced with the audio. VLC subtitles out of sync is a common issue, but there are multiple ways to fix it.
If you want the speed of the subtitles to slow down, press the J button on your keyboard. To increase the speed, press the H button. These hotkeys will increase or decrease the speed by 50ms.
To change the speed manually, click on VLC media player in the menu bar and go to Window > Track Synchronization.
Type in the exact speed you want in the box next to "Subtitle track synchronization."
Best VLC Alternative to Play Videos with Subtitles with No Lags - Elmedia Player
It's true that there are many solutions available for VLC subtitles issues. But how much better would it be if you didn't have to go through all those fixes at all?
That's where Elmedia Player comes in. You don't have to download new updates, missing codecs, or files in the correct format to make things work.
Elmedia Player automatically does everything for you and doesn't require any tinkering and tweaking.
Installing Elmedia Player on your Mac
2. Open the DMG file and copy Elmedia Player to the Applications folder.
3. Launch the app and click on File in the menu bar.
4. Click on Open and double-click on the video you want to play.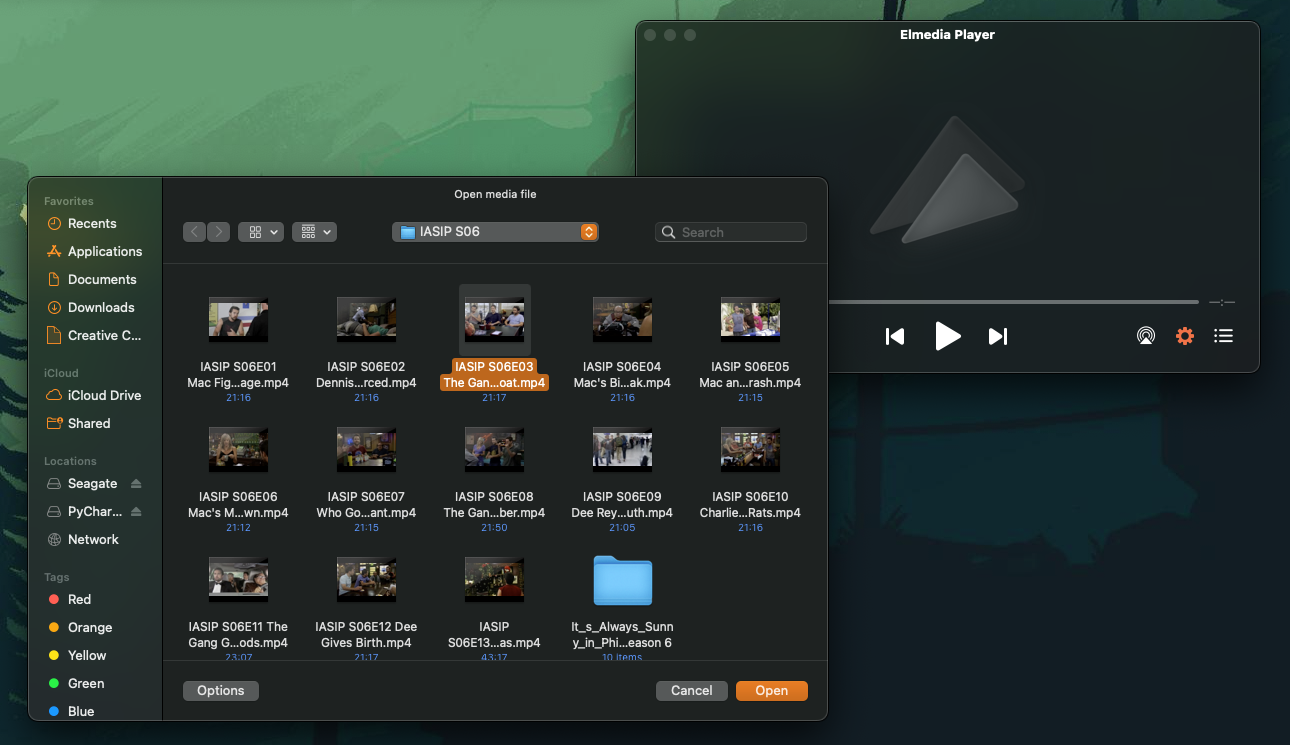 5. Alternatively, drag and drop the video you want to play over it.
Enabling Subtitles in Elmedia Player
Elmedia Player supports almost every subtitle file format, making it quite easy to add subtitles.
Here's how you can add or download subtitles in Elmedia Player:
1. Play any video in Elmedia Player.
2. In the menu bar, go to Subtitles > Subtitle Tracks > Add from File.

3. Locate and highlight the subtitle file and click on Open.
4. If you don't have a subtitle file downloaded, go to Subtitles > Subtitle Tracks > Search on OpenSubtitles.org in the menu bar of Elmedia Player.

5. Wait for a few seconds and then open the drop-down menu again. If the player has found any subtitle files, you'll be able to see them there.
6. Simply click on any subtitle file and start enjoying your video!
Want to watch videos on your Mac without running into subtitle issues? Learn more about how powerful Elmedia is when it comes to subtitles, and install it today!
Frequently Asked Questions
SRT files may not work in VLC if they're corrupted or damaged. You'll also have to make sure that they're encoded in UTF-8. If you don't want to deal with subtitle problems, we recommend downloading Elmedia Player, as it lets you download subtitle files from within the player.
You can make subtitles visible in VLC by manually enabling them in the settings. Open the preferences, and in the "Subtitles/OSD" section, click on the box next to "Enable OSD." In Elmedia Player, subtitles will be enabled by default.