Experiencing issues with VLC Player? It can be frustrating if you load the latest video that you have downloaded and find that it is lagging, skipping, or displaying in a choppy way. Generally, this will make the video unwatchable.
If VLC Media Player is choppy, there is potentially a wide range of causes. This means you'll have to spend some time working out the cause of the problem and why you have a jerking or lagging video.
Reasons for VLC Media Player Video/Audio is Choppy/Stuttering/Lagging Problems
Let's get straight into some of the reasons VLC keeps skipping or providing you with choppy video playback.
When you play a video on your computer, your computer will use both its CPU and GPU. While the CPU is seen as the "brains" of the PC, acting as a processing core, the GPU is the Graphics Processing Unit and specifically handles how media is displayed. If these are outdated or low-quality, they will not be able to handle the video. A 4k video lagging could be down to an underpowered CPU or GPU.
An older version of the VLC app is likely to become outdated, and this means you will eventually experience issues such as VLC player lagging.
For certain videos, you may need to check the player's settings. For instance, your choppy MKV, WMV file (or any other video type) could come from problems with your caching value. Simply tweaking this could fix things. You may also need to turn off hardware decoding and let the software do the hard work, and even tweak the video output module until you find one that works with your system.
Audio and Video codec issues such as errors or even outdated codecs.
Files are downloaded and shared a lot, and it is possible that they can get damaged or corrupted in the process, meaning you need to download the file again or find a way to repair it.
How to fix VLC Choppy Playback, Lagging, and Other Issues While Playing Videos
If the VLC video is choppy, then there are many things you can try to repair the issue. The vast majority of problems with choppy video/audio playback can be fixed by one of the methods below.
Download the Video Again
It is possible that the file has become corrupted. Some of the data might not have downloaded properly, or you might find that the file had an issue while saving on your system. Some viruses can also cause videos to corrupt and stop playing.
The first step to take is to download the video again and check whether this version works. If it now plays with no issues, it is likely the original file was corrupted.
Reinstall or Update Your VLC Application
Problems may arise because you have an out-of-date version of the program or even because of an installation error.
Another of the first steps to take is ensuring you are running a current version of VLC Player. Check their website for the current build and the appropriate version for your operating system. It is always worth keeping on top of updates.
As video technology changes and grows, VLC Media Player continues to add more support for HD videos, different file types, and more. There are also inevitably bugs that need fixing. The newest version is an essential way to try and avoid this.
Adjust VLC Player File Caching Value
This can help your computer system keep up with the flow of the video. Under the "Advanced" section of the "Preferences" tab, you will find the option to change file caching settings. It is set to milliseconds as a default, so if you want a buffering delay of 1 second, you need to set the value to 1000.
If you make it too long a value, then you might find that the content regularly buffers and lags, so it is sometimes frustrating trying to get the right setting.
Modify "Skip the Loop Filter for H.264 Decoding"
This setting does provide more quality in the playback, but if you find that VLC is skipping or you are experiencing other playback issues, it is worth sacrificing a little bit of that. If VLC is lagging on Mac, you can change these settings by heading to the Preferences tab and then "Input/Codecs." Under the option for "Skip the loop filter for H.264 decoding," change the setting from "None" to "All" before you click the "Save" button.
This may take some strain off the system and help it to play smoothly.
Disable VLC Hardware-Accelerated Decoding
Hardware-accelerated decoding is generally a good thing when it comes to decoding videos, but it can be disabled. Software decoding uses mainly the CPU of the computer. Switching to software decoding may possibly fix issues and allow the video to play smoothly, though there is a chance it may add some strain to your system, too.
To make these changes, go to the Preferences tab and click Input/Codecs before changing the "Hardware-accelerated decoding" option to "Disable." Save your changes and try running the video again to see if this has fixed the issues.
Change the Video Output Module
There are a wide variety of different output modules inbuilt within VLC audio/video player. Fixing your issues could be as simple as changing the video output module to another option that may work better on your device.
Once again, this is controlled from the Preferences menu. You will then need to click the "Show All" option on the left-hand side to see all of the preferences and options. Choose "Video" and then "Output modules," and from here, you will be able to test the different output modules. Change the option and see if this allows the video to play without issues like sound skipping or other annoying problems.
Change FFmpeg Threads Settings
If you have a stuttering MKV file, then a known fix is to change the FFmpeg threads. This controls how many threads the software makes use of on a multi-core computer. More could potentially mean that the MKV now plays more reliability.
To make the changes, from the Preferences window and "Input/Codecs" section, go to "Video Codecs" and then "FFmpeg." Where the "Threads" option is, you can change the value to 2 using your keyboard. Now check if the video is working.
Convert Video Using a Video Converter
One reason for the video playback stuttering is that the video player app may have an issue with the file type or specifications you are using. You can transform the video into another file format to see if this fixes things, and using a video converter is one convenient way to do so. Unfortunately, you may have to pay for additional software.
If you find choppy playback of MP4 and MKV files, these are some of the most common culprits. This means it is worth trying out a conversion.
Optimize the Video Resolution or Size
In the Inputs/Codecs section of VLC's Preferences, you can also change the preferred video resolution settings. It is possible that the video is struggling or you are experiencing 1080p videos lagging because of hardware problems, and 4K videos could be out of the question.
You can change settings within the media player options, but you can also convert the video to a lower-resolution file which may make it more manageable for your system to run.
Repair Video File With Choppy, Jerky, or Stuttering Playback Issue
Another thing causing VLC choppy audio and video could be that your system hasn't met the minimum system requirements. Most computers can run some form of VLC, but it is important that you have the right version for your operating system. Plus, you may need your OS to be a recent version. Mac users require macOS X 10.7.5 or later for the current build of the application.
There is a selection of older builds you can download if you need to run a historical version of the VLC app, but this could also have issues.
Check if Your Computer Meets the Minimum System Requirement
Another thing causing VLC choppy audio and video could be that your system hasn't met the minimum system requirements. Most computers can run some form of VLC, but it is important that you have the right version for your operating system. Plus, you may need your OS to be a recent version. Mac users require macOS X 10.7.5 or later for the current build of the application.
There is a selection of older builds you can download if you need to run a historical version of the VLC app, but this could also have issues.
Update Computer Settings and Drivers
As well as the latest build of VLC Media Player itself, it could be that bugs are caused by not having the latest version of your OS. This can cause jerky video playback. You may also need specific drivers to be updated, though you usually do this when updating the whole system.
Use Another Video Player
If you are having problems with VLC and find that it doesn't quite give you the level of playback you were hoping for, it is easy to switch to another media player. This can give you more reliability in playback and prevent stuttering video.
The No Issues Way to Play Videos on Your macOS - Elmedia Player
Elmedia Player means you can play a huge number of different file formats and play them on Mac, even if they're not natively supported. There are no additional codecs required, and the software is regularly updated.
Elmedia also gives you a huge variety of different playback functions, such as managing subtitles, looping sections of video, taking screenshots, and even synchronizing video and audio.
The software can provide you with more consistent playback and even open up a world of possibilities for streaming files to Chromecast or Roku, and via AirPlay.
To install and start using Elmedia Player:
1. Install the app on your Mac
By downloading Elmedia Player from the website or App Store and following the simple instructions.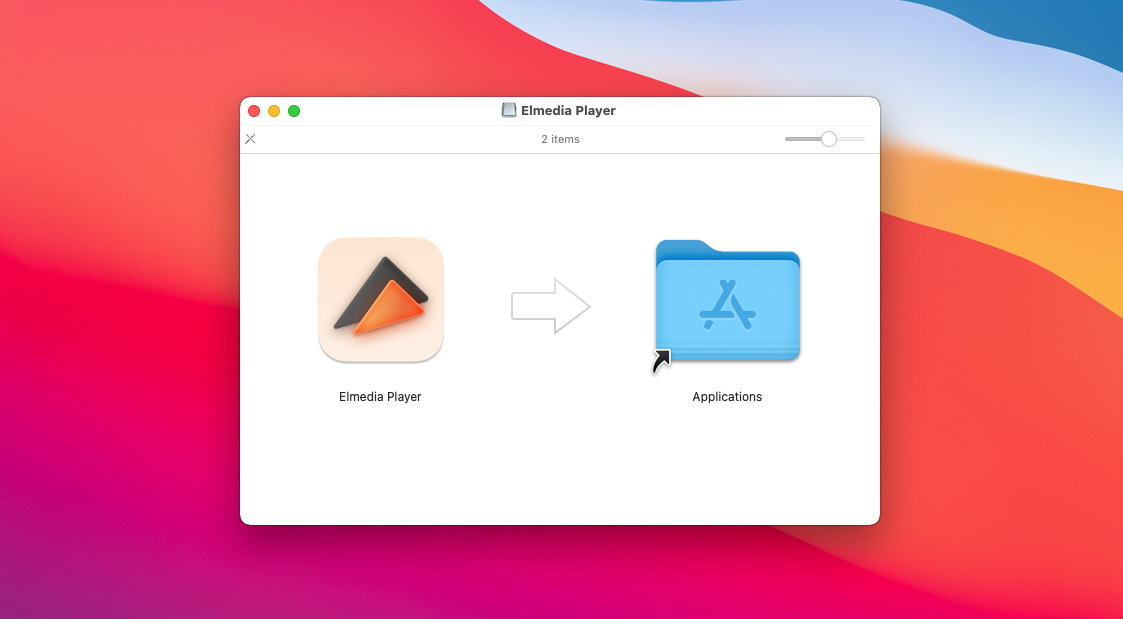 2. Launch the app and add the files you want to play
By dragging and dropping them or searching for the file within Elmedia's interface.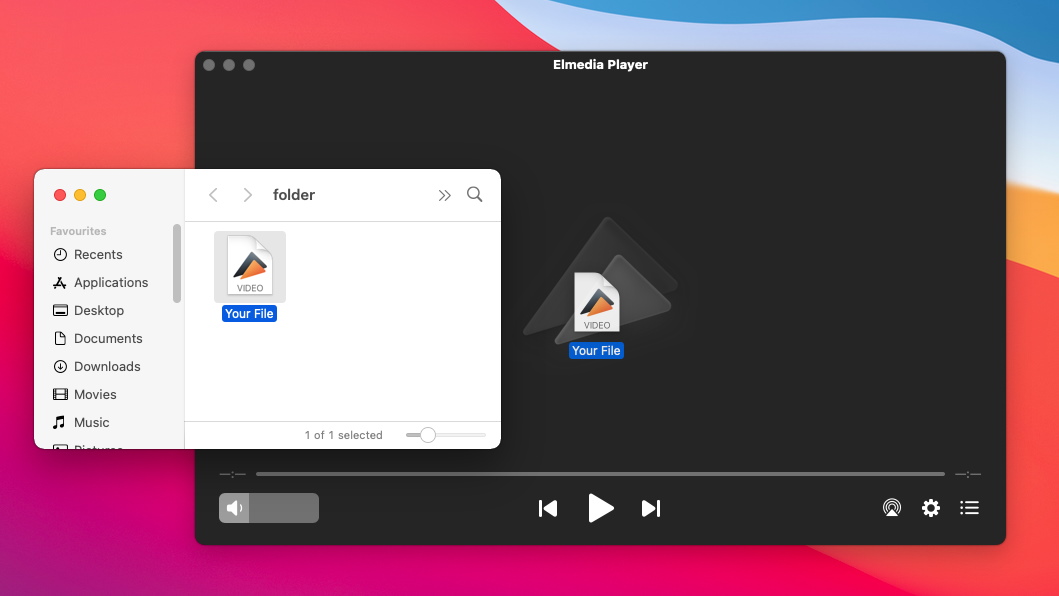 3. Enjoy a range of playback options and smooth playback.
Frequently Asked Questions
To play 1080p videos smoothly, ensure that you have the correct playback settings in the VLC Media Player, as well as check that your computer meets the minimum requirements to run the software effectively.
VLC Player may be choppy when playing certain file formats or struggle with some HD files you want to play. The freeware is not updated that regularly and this can lead to bugs, too.
There are many different troubleshooting steps you can take to try and stop VLC from stuttering and lagging, including updating your system and the video player itself and tweaking settings and output modules within the VLC preferences. Alternatively, you can switch to different software, such as Elmedia player, with better HD support.