Subtitles can be great for those who have hearing difficulties, or for watching films in different languages. Gone are the days of DVD players with an automated subtitle setting, and if you are watching on a Mac media player then you may need a reliable way to set up subtitles. 
The good news is that there are more subtitles available than ever before, and you can enjoy many different films in your native language. Let's explore how to add captions and subtitles.
Add subtitles to video on Mac with Elmedia Player
Elmedia makes it simple and straightforward for Mac users to play videos in a variety of different file formats. So many macOS users looking for a video player with subs turn to Elmedia Player for their video needs.
Elmedia is compatible with FLV, MP4, AVI, SWF, MOV, WMV, DAT, MP3, FLAC, MPG, M4V, MKV, and DivX, among other files, and can work as an srt viewer for subtitles. Enjoy HD video and none of the issues that are so common with other players on Mac devices.
You can also use either external or internal subtitles, and use many of the other features simultaneously. You can change the playback speed, rewind, change display settings or even adjust the delay for synchronization issues, something that can be pretty common with Macs playing videos.
Elmedia is a slick and easy-to-use video player. It's simple to find and add subtitles to video and you can even adjust them with custom fonts, sizes, and colors. You choose how you want to watch. Elmedia Player keeps up with the modern models of Mac you are using, M1 and M2 chip Macbooks and iMacs run the software with ease.
Pros
Enables your Mac to play a huge amount of different video files
Add subtitles to video on Mac including support for .srt subtitle files and .smil
Built for streaming across many different devices
Highly customizable, including the style and color of subtitles
Cons
Some features only available on PRO (paid) version
No Windows version
How to add subtitles in Elmedia Player
So, now that you have decided on a reliable player, how can you make sure that your videos reliably play with subtitles?
2. Run the app from the Applications menu of your Mac device.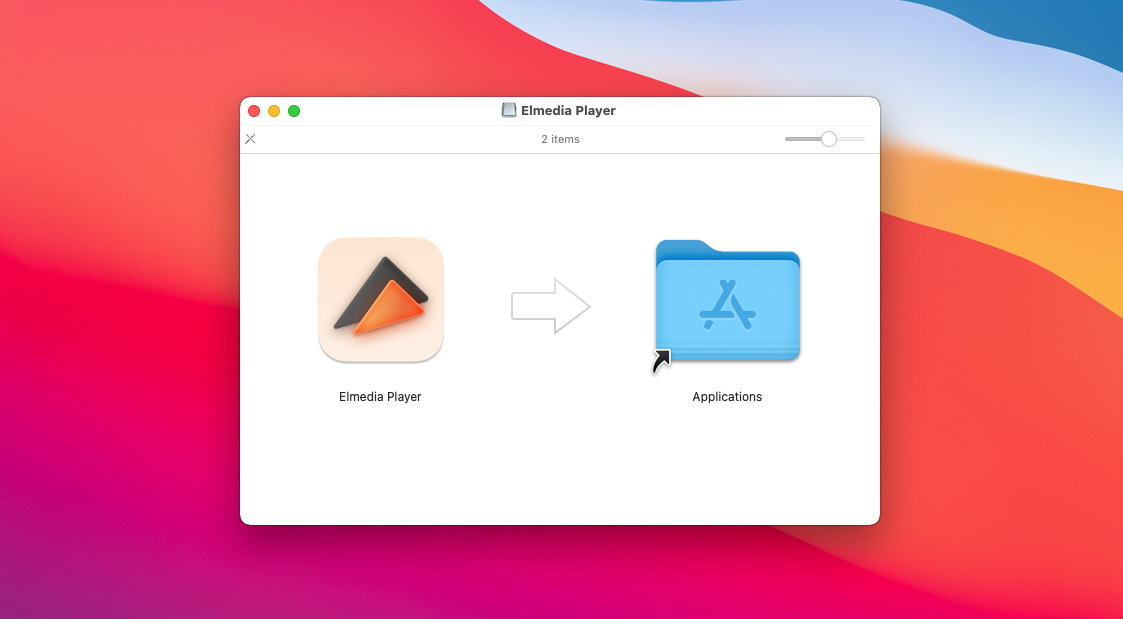 3. Ensure that you have downloaded the media file along with a subtitle file, and put these in the same folder.
4. Run the video. When you open up the file, the video should play with subtitles.
5. If there are multiple subtitle files then the video may play .srt files in the wrong language. Just hit the "S" button to cycle through the languages.
How to add subtitles to a movie on Mac
Troubleshooting
It is possible that you will run into some issues when playing videos that need subtitles. Fortunately, there's usually a quick fix.
There may be an encoding issue, or fonts may not load properly meaning that the subtitles don't render as expected. If the subtitles don't load as you expect, you should first try to load them with a different font. Simply go to "Preferences" and choose a different font (Arial is the default) and see if this now encodes as you expect.
If subtitles still don't load as expected, you can try these steps to get your video working:
Check that you have a subtitles file in the same folder as the video you want to play. To add subtitles to MP4 or other videos the software must be able to read a .srf file from this folder.
Change the encoding method or change the Autoload option. You can do this by going to "Preferences" and then "Subtitles" and choose a different encoding method, or select "Autoload subtitles" before trying to play again. 
If these fail, you can try to add the subtitle files manually. One method is to drag and drop the subtitle file into the window of the Elmedia Player. Alternatively, go to "Subtitles" and then "Subtitles Track" and "Add from File" before selecting the file containing the subtitles data.
It is important to know that Elmedia Player can only have limited access to the file system. If you use the Mac App Store version of application subtitles it may not load them directly. Go to "Preferences" and then choose the "General" option before "Movies Folder" to specify where the video is loading data from. You can also drag the directory folder onto the Elmedia icon on your Mac's Dock.
Use online search to add subtitles on video
Not only is Elmedia a video player with subtitle support, it allows you to find a variety of different subtitles online to play along with the video. That's because Elmedia Player works perfectly with OpenSubtitles.org. 
This means once you open a video, Elmedia Player will automatically start looking for subtitles on this platform. If it finds a suitable option you can potentially download these to play with the video. Go to "Subtitles" and then "Download from OpenSubtitles.org" to find a suitable file. If you register on the platform you get unlimited access to subtitles in all languages from Open Subtitles.
Not finding the subtitles you want? Adjust the type of subtitles
When you search on OpenSubtitles.org it is possible that you won't find the results you want straight away. If not, you can change the way that you search, by changing to a different kind of subtitles search query:
Name. This allows you to search just for the name of the video, and it is possible you may get more results but some of them may be imperfect.
Hash. Elmedia takes a hash code from the video and then combines it with the file details such as size to search for the suitable subtitles. The hash must be ready to use on the database.
Auto. This is the default for Elmedia Player where videos are searched by their hash value, and if they can't find them, they will move on to filename.
Finding the right subtitles also means that you will be able to choose based on desired language, too.
How to stream subtitles using Elmedia Player
There are three different methods for subtitles players to work with streaming.
External subtitles can be stored and transferred to a receiving device along with the video. For this to work, you need to ensure your streaming device supports external subtitles. 
You can use media files with subtitles already included, which are referred to as "embedded" subtitles. If you are loading a video in Elmedia player that has embedded subtitle support then you can stream these to the device. A list may appear on the screen allowing you to choose the subtitle language you want. Not every device can do this, Chromecast can only show pre-made subtitles as a text file, for example.
Burned-in subtitles are those that have been written over the frames of the video itself, so they are not able to be removed. Elmedia can burn these subtitles onto videos as needed, using image-based subtitles like DVD VOBSUB. You can choose whether you wish to do this by going to "Preferences" and then "Streaming" > "General" and then "Burn subtitles into video" which you will turn on. This is a great workaround if your device doesn't support other methods.
Alternative media and subtitle players on Mac
There are some alternative players built for Mac devices, which provide support for more file types and, of course, the option to add subtitles.
KMPlayer
KMPlayer is another option for playing media files on Mac. It solves some of the issues with subtitles Mac users tend to have and also allows you to load video from Google Drive, Dropbox and other cloud storage. There are a lot of controls over the picture and the option to change hue and saturation when watching a video. In terms of the subtitles, you can also change their size and position if you wish. KMPlayer is ad supported unless you buy the premium option so you might find some ads and popups.
VLC
VLC Media Player is extremely popular, and this donationware software has had millions of downloads. It works with Mac's operating system but there are still quite a few bugs that can crop up, and as with all donationware it is sometimes a while until they get fixed. However, VLC Media Player is still a very good option due to the fact it is free, and allows you to load subtitle files. There are also custom skins to change the look of VLC Player on your Mac.
GOM Media Player
GOM Player for Mac is another option, which is good for more unconventional file types and also offers a few different features you won't find on some other media players. GOM Player does have over 200,000 different subtitle files that can be loaded, and options like subtitle delays for your playback convenience. However, the Mac GOM player is still in beta, and this means it doesn't have full functionality.
The difference between SRT/ASS/SSA subtitles
SRT is a hugely universal format that is also very basic and simple. That means it can be incorporated into video platforms and even some social networks, but you don't get the option to customize the display of these subtitles. Knowing how to open SRT file on MacElmedia a video player with subtitle support devices is easier because they are so universally used.
ASS is the next step. It supports most people in their needs for captions and subtitles as it allows for styling and some basic animation, too. This means more detail can be stored in the file than a .srt file. 
SSA can be considered a more advanced version of SRT and ASS. It's a format that can encode settings for complex timing, and has been used by many anime fans. It's also what is used for some of the animations on lyrics for karaoke.
Conclusion
Using subtitles and closed captions can make videos far more enjoyable and accessible for certain people, and there are hundreds of thousands of files available through services like OpenSubtitles.org. But you do need a reliable player that loads subtitles in a variety of file types with minimal fuss, and can even load subtitle files automatically. 
Elmedia Player is one of the most straightforward and reliable ways to enjoy closed captions and subtitles on Mac. Unlike some other Mac-compatible options, Elmedia is reliable when it comes to playing a huge number of file types, even those not native to the operating system. Download Elmedia Player today and enjoy simple subtitles as well as HD support and plenty of control over the way videos play.
Frequently Asked Questions
QuickTime only lets you view subtitles if they are embedded using the CEA-608 format, so there is no support for the more advanced external file types. This means that if you get a video and don't already have the subtitles embedded, you're not going to be able to add them to QuickTime like you can with Elmedia and other options.
There are a few options for subtitles, but Elmedia's support of multiple different subtitle file types along with the reliability of the media player and all of the other options you have for playback make this the best choice for loading or even finding subtitles to add to a video. Plus, it lets you load video files in a wide range of formats.