Adobe Flash Player is one of the most popular video players, but it only works on PC. That means if you're using a Mac, there are fewer options for playing SWF files on your computer. Here are some tips for opening SWF files on Mac computers through the power of an SWF player for Mac.
What is an SWF file format?
SWF file format is developed by Adobe and used to store vector graphics, animations, and video clips. SWF files are often used to embed video clips in web pages. These files can also be played on the web with Adobe Flash Player.
SWF files are compressed archives containing all the information needed to display an animation. Adobe developed the SWF format in conjunction with Netscape Navigator and Sun Microsystems.
How to play SWF Files on Mac?
Unfortunately, you cannot play .swf on Mac natively. However, some very easy-to-use tools will help with that. If you are looking for a way to open these files, you must use a third-party application. These are created 
As you know, the most widely used video player for Mac is Elmedia Player. This program can play Flash animations and SWF files using Adobe Flash Player. Learn more about Elmedia Player in the following section.
Elmedia Player
Elmedia Player is a video player for macOS that can play SWFs that are in Flash format. It supports subtitles and captions, as well as audio tracks from multiple sources at once. The software has been perfected into being the perfect multi-media player not only for SWF files but other formats as well. Elmedia Player supports an extensive collection of formats and codecs without requiring third-party installations. With this app, users have complete control over playback controls like pause/resume, stop/play, and volume control. They're also able to skip back 30 seconds after playing a file so that you don't have to wait for it all (valuable if there are long pauses between scenes). 
The player is also resizable so that you can have it anywhere on your screen. Elmedia Player has a simple interface that allows you to play SWF files on macOS. The player also has a file browser for you to find your desired file easily. The player supports all essential features, including full-screen mode, speed control, and volume adjustment. You can also configure hotkeys for some of these features.
Elmedia Player allows users to stream content directly to their DLNA-compatible devices or through Airplay 2, Chromecast, or any other Smart TV.
Pros
Supports various file formats including AVI, MP4, DIVX, etc.
Subtitle support
Customizable video and audio playback settings
"Elmedia Player is a high-quality media player application that is designed specifically for Mac systems. The design of the app is intuitive and the UI is aesthetically pleasing."
How to use Elmedia Player
2. Once you've installed Elmedia Player on your Mac, open the application by double-clicking its icon in your Applications folder. You will see a window with various buttons and options. Click on Open File to open an SWF file.
3. Navigate to the SWF file folder and choose the correct file.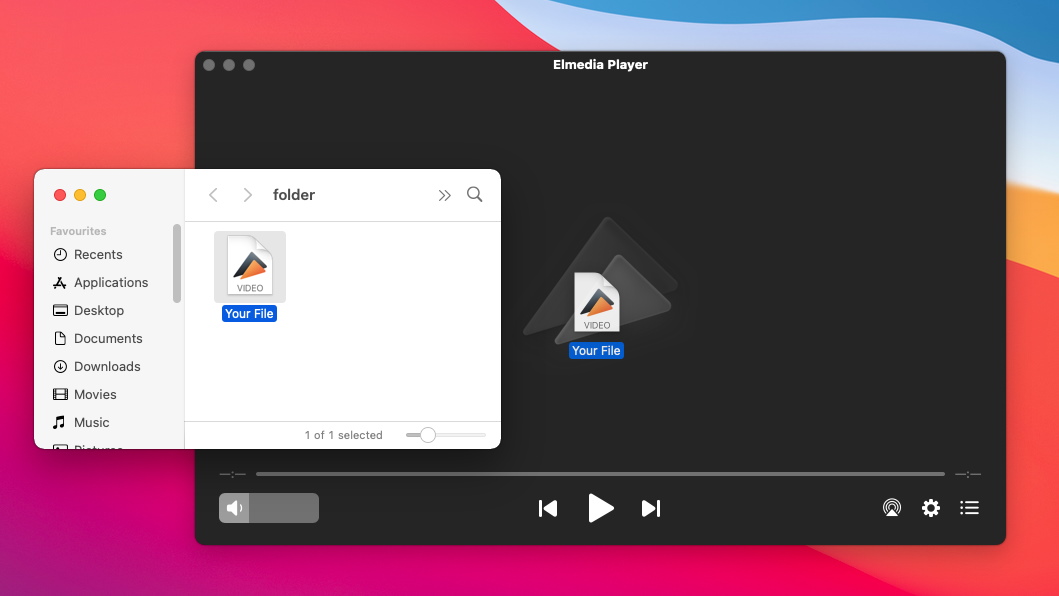 4. That's all! Your file should start playing, and you can use the playback control buttons.
VLC
VLC is a free and open-source cross-platform multimedia player and framework that plays SWF files and other standard formats. It also supports the import of subtitles. VLC is available for macOS and Windows, so you can use it to play any video file type on either version of the operating system. The app also supports audio formats like FLAC and MP3, meaning that if you have an audio file that you want to listen to but not watch at the same time, then VLC will do the job just fine. Unfortunately, VLC lacks a lot in the design and functionality aspect, having a clunky user interface that could be better designed esthetically.
Pros
Free and open source
Cross-platform
Cons
Some file formats require third party codecs
Glitchy, sometimes you need to restart the application to work correctly
GOM Player
GOM Player for Mac is a free download that allows you to play SWF files. It includes support for Windows and Mac operating systems. GOM Player offers several different formats: FLV, AVI, and MP4. GOM Player also allows users to pause, skip or go to a certain point on their videos through extensive playback support. Having been released originally in 2003, it does come with some caveats. One of the major concerns is that the application rarely receives significant updates and needs a lot of features from the tools mentioned above.
Pros
Seamlessly opens SWF files
Supports hotkeys
Cons
Non-intuitive user interface
Free version contains annoying ads
How to play and view SWF online
If you're looking to know how to play .swf files on Mac without using any third-party software such as Adobe Flash Player, we've got good news! There are several ways that people use to view SWF files online—and all of them work great on Mac computers. For example, you can use a website such as SWF Viewer that can open the file format with ease.
Simply upload the file and click on the play button, and it will start playing directly in the browser window. It is recommended, however, to use Safari or Chrome for the best playback experience. Even though SWF files open with flash player normally, using online methods can save you time and sometimes even money.
How to Open SWF Files on Mac with Adobe Flash Player
If you have a Mac computer, you will not be able to enjoy SWF files on your computer with Adobe Flash Player. So, if you want an easy solution on how to open SWF  files on Mac, you can always rely on Elmedia Player and its extensive suite of features. 
The application acts as a replacement for the now-defunct Adobe Flash Player, which is a secure and easy-to-use media player for Mac. It comes with all of the fantastic playback features you would expect from a media player on a Mac. The ability to stream through popular methods such as DLNA, Airplay 2, or Chromecast, support for subtitle customization and even automatic downloads, and extensive audio and video control over settings make Elmedia Player the best alternative to Adobe Flash Player on Macbook.
​Summary
In the end, what's worth knowing is that when looking to know how to play. SWF files on Mac, you will need to rely on a third-party application such as Elmedia Player. You can rely on this app as it comes with a suite of features meant to offer the ultimate playback experience for SWF files and many more. Hopefully, you've now learned how to open a SWF file on Mac.
Frequently Asked Questions
Look at the most asked questions about the SWF extension and how to play these files on Mac.
There are plenty of programs to open SWF files on Mac that you can download for free, such as Elmedia Player, VLC, GOM Player.
Yes, QuickTime can play SWF videos. It can also play back an SWF file converted to a QuickTime movie. However, QuickTime might not be the most suitable media player if you want a decent playback experience. This is why we recommend trying out Elmedia Player, as it's the complete one from our list.
When it comes to playing .swf files on Chrome, there's a simple way to do it. First, you'll want to go to the containing folder of your file. Drag the file and drop it into the browser's window and let it play. You will have minimal playback control over your SWF file, but it's better than not being able to play it all.
Since you cannot use flash player to open SWF video files, you will need to rely on a third-party application. No worries, as Elmedia Player is even better than the native application that Adobe created. Read more about it and how you can use it above.